Today I'm sharing my Target fall home finds with you guys. I recently had a chance to browse my local Target store (which honestly feels so incredible to do) and I walked the aisles, taking note of what good items that they had and what needed to come home with me. So much goodness. It had me so excited for fall.
I'm not one to decorate for Halloween much, but I will put out lots of fall home decor. Greenery, pumpkins, baskets with cozy blankets, lots of tall lanterns, and of course all the pumpkin scented candles I can find. When it gets closer to halloween, I'll add some specific decor for that holiday, but my fall decorations I normally put out last me until Christmas time!
My Favorite Decorating Tips For The Home
I enjoy light pops of color, but still neutral for the most part
I don't over do it. I just add pieces here and there
I like things that are multi-use. A basket or a tray that can be used differently for different seasons
I don't throw away my empty candle holders! I repurpose them.
I switch up my scents for the season. I love smokey, woodsy, pumpkin scents for this time of the year. I just ordered a Pura System to see what I think about that. I'll update you soon!
I like that pumpkins, leaves, etc can also transition to Thanksgiving decor
I even change up my bedding and bathroom decor. I'll throw on some decorative pillows and add some fall"ish" towels and scents in the bathrooms.
I like to keep a seasonal piece on our front door. Normally a wreath of some sort and a nice doormat.
I'll also switch out some decor for our porch and our pool area. Basically candles and pillows will be changed out.
Mums are my go-to for flowers. They're normally available already in a pot or a decorative basket. Easy! Plus, they won't break the bank.
Play up your dining room and change things up. I'll add in a fall theme and it will last to Thanksgiving. I'll change my chargers and plates. Add in candles and a few accessories.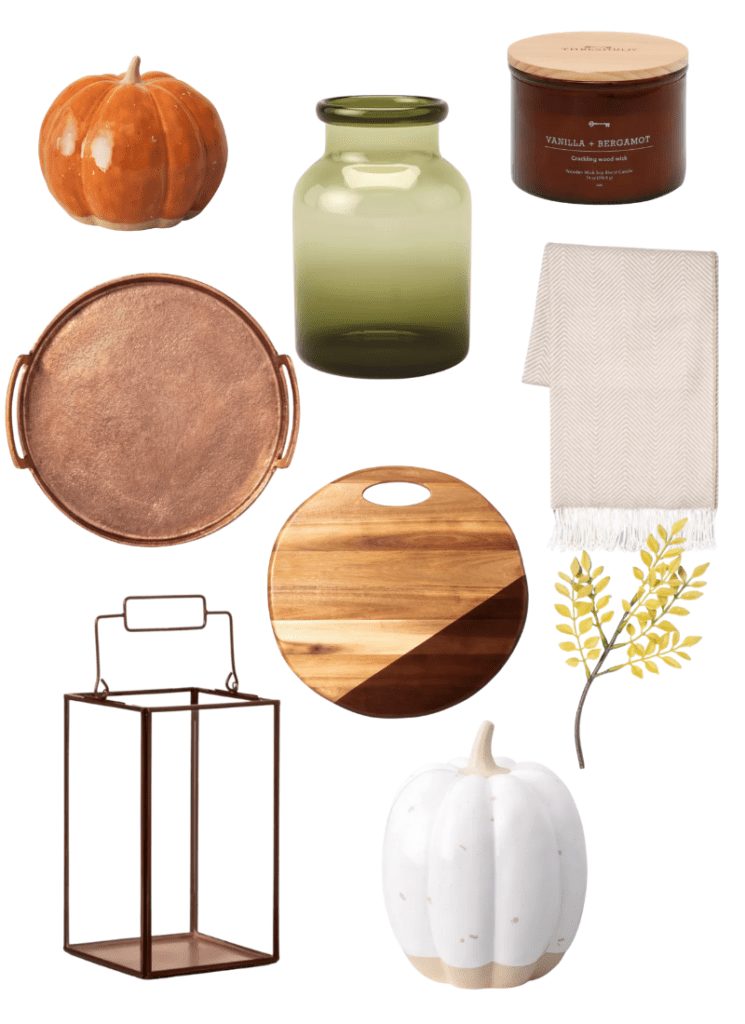 None of the items I found are crazy expensive, which my budget can appreciate. I'm not one to break the bank for decorations. Right now, I just want my home to feel cozy, smell good, and be a place I still want to spend time in. Afterall, we've all been in our homes so much more than usual this year.
Shop The Post