Welcome to my Four Fun Finds for Tuesday. (say that a couple of times, wow.)
I had the best weekend. I had no plans. No schedules. I did some extra cleaning. I started another SJM series. I listened to an audiobook I can't seem to put down. I cleaned out my closet and put together another donation pile. I enjoyed my fall candles using the candle warmer I ordered. Basically, a perfect weekend.
Sometimes we just need those weekends. Slow weekends. No schedules. No plans.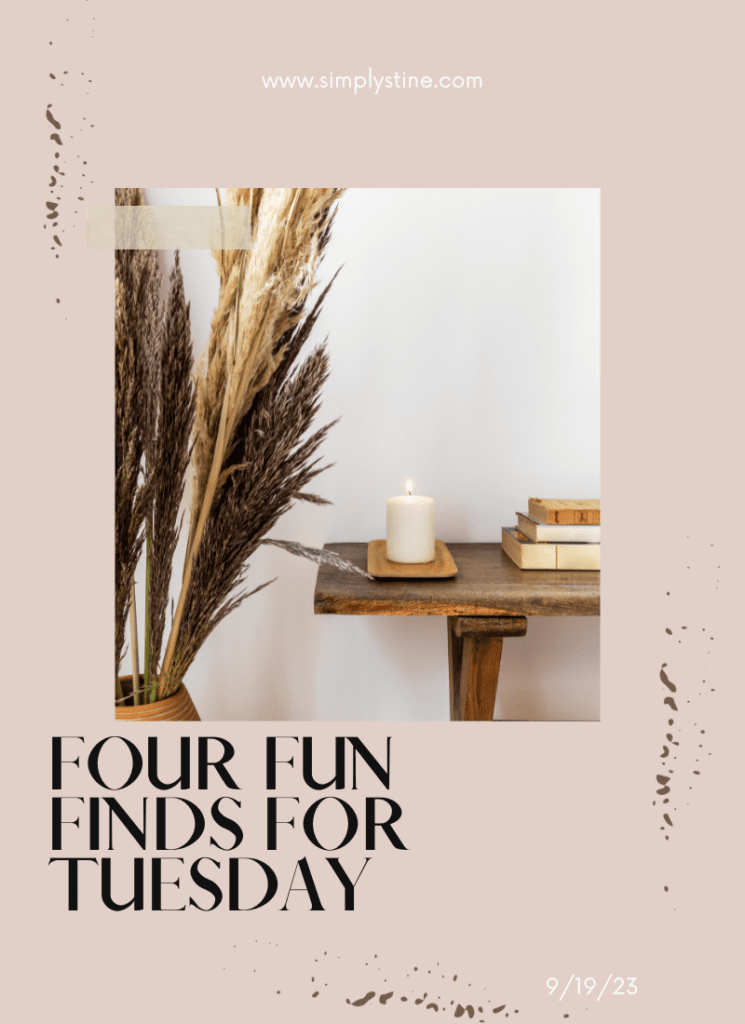 1. Blue Mercury Anniversary Sale Is Happening
Right now, if you spend $200 or more, you can get 20% off your purchase at Blue Mercury. If you're needing to stock up on anything, or you're doing some early shopping-this is the time to make that purchase. You can get deals on beauty, skincare and hair products like:
2. Fall Decor Around The House
I LOVE decorating my house for this time of year. Cozy neutrals that take me from now until I switch out to Christmas decor. I don't put up a lot of Halloween themed items, but I do add pumpkins, touches of fall colors with faux foliage and of course-mums. (I will be trying the tip to soak them for an hour) Here are a few items I have added.
My SIL recently had a birthday party for her daughter and we served the charcuterie board on this oversized carved wood tray. As soon as I saw it, I knew I needed it. This tray looks expensive and luxe, but is only $40.00. I can use this for every season as a focal point in our kitchen. I can also use it to serve food on like we did for the party. It's one of those versatile pieces that you can get so much use out of.
This vase is so beautiful in person. There are two sizes available and I feel like this could also be a piece that you could use for Christmas time as well as just everyday decor around your home. You could add in long stems of plants or flowers and I also like these Eucalyptus stems.
Even something as simple as adding a new glass to your table can make such a difference. I LOVE these highball glasses from Crate and Barrel. There are orange, green, and merlot shades available. Such a small touch, but it can really make such a difference. ALSO, these dinner plates are stunning in person. The best part? They're $5.00 and some change a piece. So affordable. They would look stunning with the highball glass.
These placemats are under $10.00 and they are gorgeous. Paired with the pieces I mentioned above and you'd have yourself a gorgeous table setting. I love a piece like this because it can take an ordinary, plain looking table and really elevate it a bit. If you'd like a more neutral placemat, I think this round one is a hit!
I don't really know how I even heard about Scribd, but my guess would be bookstagram or booktok. What is Scribd? It's an app that you pay a monthly fee for (100% worth it) and you have access to e-books, audiobooks, magazines, podcasts, and more.
A lot of people ask me how I get through so many books and honestly, I make time for it, BUT I also think that listening to audiobooks helps. I have a daily commute so I listen to an audiobook at least twice a day while I'm in the car. If I'm making dinner, I'll turn on an audiobook. Walking? I'm listening to an audiobook.
With this referral link, you get 60 days for free to experience Scribd. If you join, I get 30 days for free. I pay for this every single month and I feel like it's so worth it because just one audiobook normally costs $30.00 to purchase. A book will run me at least $15.0–$20.00, Scribd costs me $11.99. BARGAIN.
What I've Listened and Read on Scribd Recently
All The Light We Cannot See (Currently listening)
I finished the Shatter Me Series (e-books and a fascinating read)
Shark Heart
The True Love Experiment
Foe
Fourth Wing
I mention a lot of these books in my most recent review posts!
One of the things I've been trying so hard to figure out is which format I should use for my newsletter. I have been AWFUL about actually sending out newsletters weekly and I realize that. I needed/wanted something that was a bit easier for all of us. I want to be able to comment and interact. So, after doing some research I decided I'd use Substack as my newsletter.
What is Substack?
Substack is an online newsletter platform for writers and publishers. It allows me to send a newsletter to my subscribers, you, easily. Basically, you'll get an email when I publish a newsletter. It's no different than any other newsletter that you normally receive. You'll subscribe to my site and you'll have access to everything immediately.
How Do I Use Substack As A Reader?
You can download the app or just head straight to my site on Substack! It's so simple. I promise you.
I plan on sharing my weekly chit-chat posts on my substack page. I will also share products, random thoughts, and whatever else feels worth sharing. It will be a more newsletter type format, so obviously I will still have my blog, Simply Stine.