I reviewed the
Sugarbash
subscription box previously on Simply Stine and when they reached out to offer me another box, I accepted!  When it comes to subscription boxes, I feel like you really need to give it a couple of times before you make a good call on whether or not the box is for you or not.  So, consider this my second review of Sugarbash and I'll have more coming in the coming months!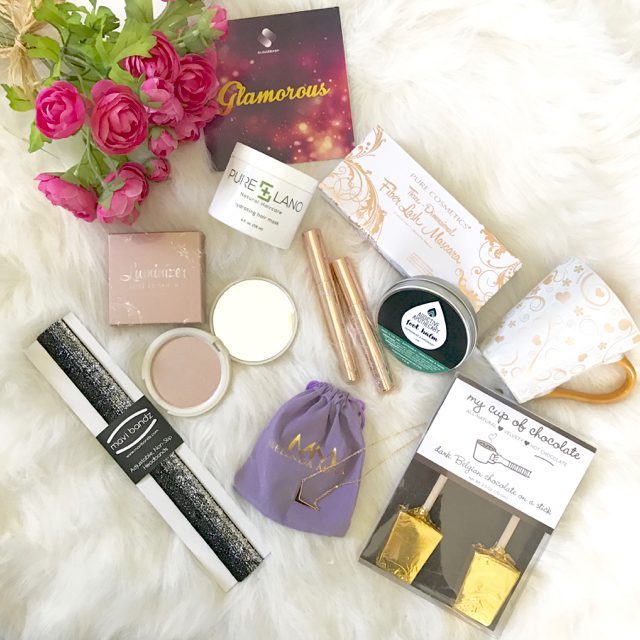 "Sugarbash is a discovery lifestyle smart box curated by female celebrities and social influencers founded in 2014 by CEO Samantha Kandah. Sugarbash is more than just a subscription box service, it's also an app where women can freely discuss their "Faves and Raves" in a safe, female-friendly environment and a place to finally ask for what they want from brand partners. What makes Sugarbash truly stand out is their dedication to providing quality, full sized products in their boxes as well as their dedication to empower women and give them a strong voice in the world. Consider Sugarbash this generation's women's club! Sugarbash is headquartered in Chicago with offices in Silicon Valley."
The theme for this month's
Sugarbash
Box is Glamorous and that is right up my alley!  The total retail value for this box is valued at over $150.00, but will only cost you $39.99! Below are the items that are included in this box! It's got everything for you to have a gorgeous glow, amazing lashes, hydrated skin, soft hair, jewelry and even chocolate!  Psst…you won't see a picture of the amazing cup of hot chocolate that's included in this package because well, I devoured it before I remembered to photograph it!
You'll, just see it in the picture above!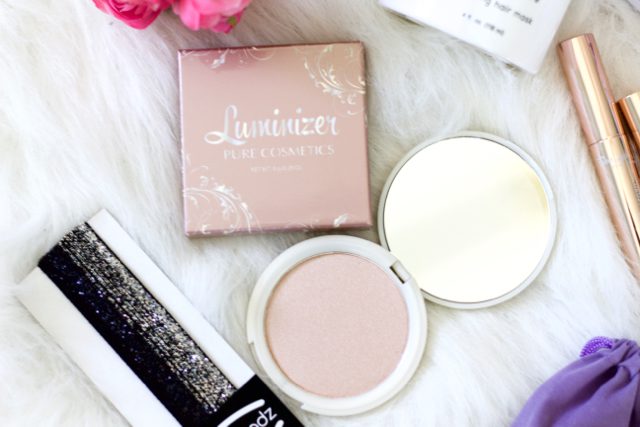 Pure Cosmetics Luminizer
This highlighter is so soft and creamy and impressed me sooooo much!  It gives the skin a gorgeous glow and it's valued at $28.00! A little bit of this goes a long way, so go easy with this one but get ready to have the most beautiful glow to the skin!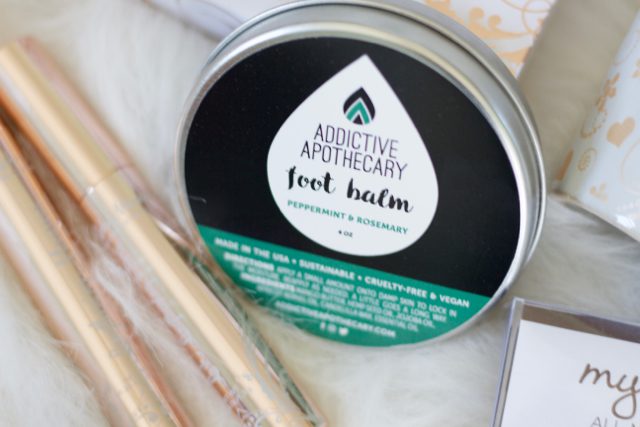 Addictive Apothecary Peppermint and Rosemary Foot Balm
This Foot Balm smells so good and feels even better on the skin!  I don't know about you, but the heels are always something that I'm working on keeping soft and let me tell ya, it's some work! Seriously though, this smells lovely!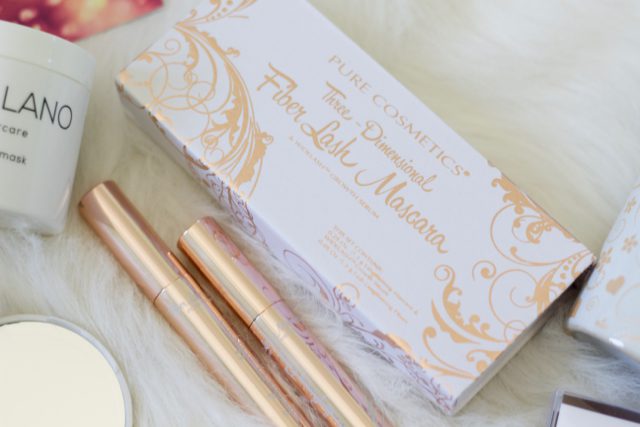 Pure Cosmetics Three-Dimensional Fiber Lash Mascara
If you haven't tried a fiber formula mascara, then I suggest giving this a try! For someone who has horrible lashes or lack there of, this really gives them a nice oomph and some extra volume.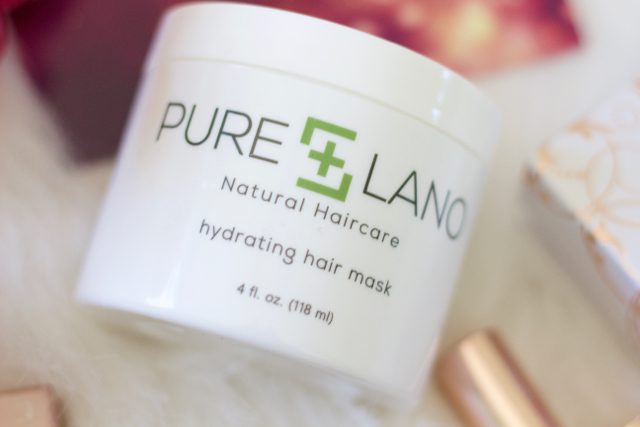 Pure + Lano Hydrating Hair Mask
I've only tried this hair mask a couple of times, but so far so good!  I'm always trying to keep my hair very healthy and soft.  This does a great job of that and I can't wait to see what happens when I use it more. Plus, it smells even more amazing!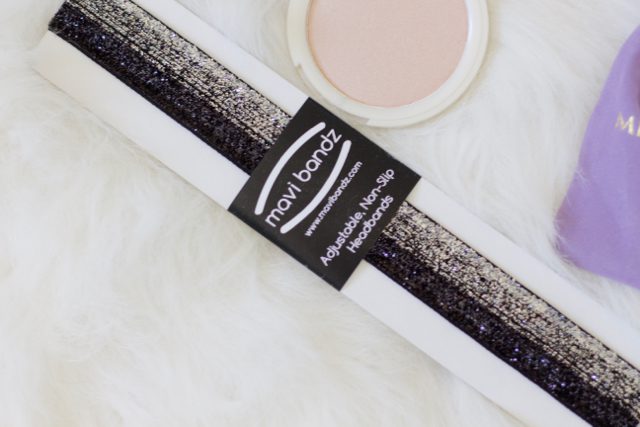 Mavi Bandz Non-Slip Headbands
Going to work out can be the most non-glamourous thing ever.  Luckily, these headbands add a little bit of sparkle to my workout attire! Plus, I always love a good headband that actually helps keep my hair in place!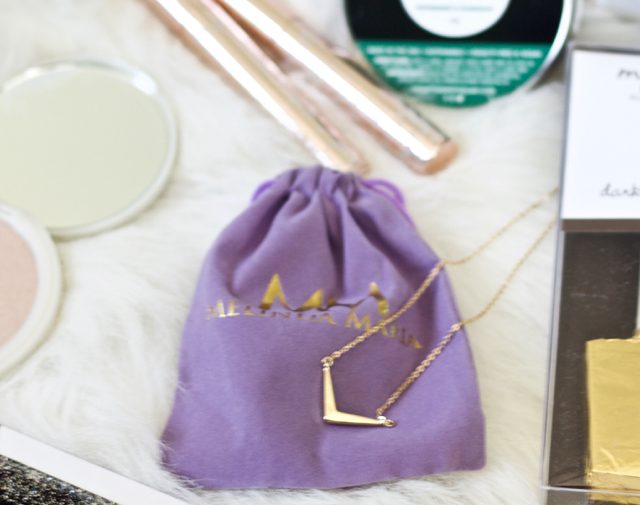 Melinda Maria Layering Piece (More pieces coming in future boxes) Amari Mini Necklace 
This is such a classic, but chic accessory to add to any outfit.  It's simple but just enough! I love that this can be worn with other pieces as well!
---
Overall, I'm really happy with the Sugarbash box!  I think that it has a good mixture of products that anyone can find useful in achieving that glamorous look and be able to spoil yourself with a little bit of chocolate! The Sugarbash Subscription Box is a bi-monthly delivery, so I like that this is something that I can look forward to every so often.  Plus, they're full size products.  No small samples!
The next Sugarbash box will have a customizable item
but you must be an active member before 

March 5th

 
in order to place your preference. Plus, the box will also be their limited edition version which means more goodies! If you're interested in signing up for your first box, please use the code below to receive $5.00 off your first box!
SIMPLYCHRISTINE
$5 off your first box

PR Box sent for review purposes only