The other day I got a package in the mail from one of my favorite companies, Peach & Lily and inside the package was an assortment of Saturday Skin products.  Saturday Skin is a weekend in a bottle.  That healthy, radiant, glowing complexion that we all love.  We're able to relax more, we're taking some extra time for ourselves. That's Saturday Skin.
"Saturday Skin is a weekend in a bottle!"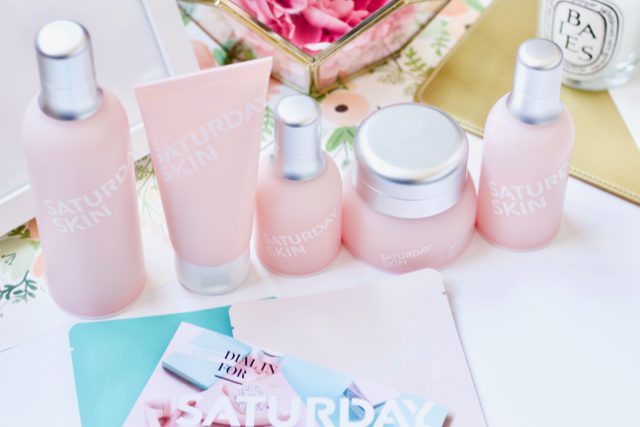 Saturday Skin is a small product line consisting of 8 products. It's free of added fragrance and colors as well! Saturday Skin helps to keep your complexion more balanced, increases collagen and elasticity and offers a more radiant, hydrated skin. We all want radiant, rested looking skin, right?!? That's what Saturday Skin promotes.
At the time that I started using these products, my skin has been inflamed, red and irritated.  I blame that on stress, diet, hormones and sensitive skin. I've been using the products for about two weeks and I can already see a dramatic difference in my skin and the way it feels.  I still have redness, but not quite as bad and my skin feels much more hydrated and soothed than it did before.  I'm excited to see what happens the longer that I continue to use the routine.
---
Saturday Skin is a skincare line that was developed by top health experts and world-renowned scientists behind the CHAUM wellness center in Seoul.  Honestly, this wellness center looks quite amazing!!!
Drawing on a deep knowledge of women's biology, researchers at CHAUM identified a unique phase in women's internal rhythms that promotes external radiance, vitality and youth. Dubbed "The Golden Phase", this period is defined by the cell division and differentiation that fosters bright, fresh and new skin. This singular discovery led to the development of a proprietary formula, the Cha-7 es complex™, which activates the skin's own naturally occurring regeneration process to extend this Golden Phase continuously. By suspending skin in this optimal stage, the Cha-7 es complex™doesn't fight aging—it preserves youth.
Cha-7/ES Complex
"Created by isolating and concentrating seven most effective anti-aging peptides (cytokine etc.), the Cha-7 es complex™ works to restore skin's optimal level of renewal, targeting key signs of aging skin: wrinkles, fine lines, visible pores, dullness, uneven skin tone and texture and loss of elasticity.
The Cha-7 es complex™ is unique in that it uses insight into women's biology to work with, not against, the skin' natural restorative processes, leaving the complexion more radiant, smooth, firm and refreshed."
---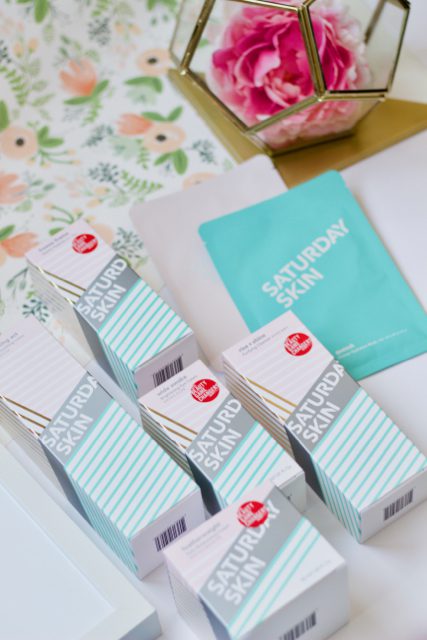 I did a little bit of research on their site and here are just some of the ingredients that they have listed that they are using in their products:
Lemon
Exfoliates, brightens the skin and helps clogged pores. Contains Vitamins A and C
Peach
Helps with smoothing fine lines and wrinkles, lighten dark circles and helps regenerate skin tissue
Honey
Helps acne skin types, antibacterial, helps the slow the signs of aging, contains antioxidants, helps moisturize the skin and give a radiant complexion
Ginko Biloba
Lightens dark spots, brightens the skin and gives a radiant complexion, helps protect from UV Rays, antibacterial and anti-inflammatory results. 
Fig
Heals and clears imperfections, moisturizes and exfoliates the skin
Palm
Full of Vitamin E and helps keep skin supple and hydrated
Orange
Brightens the skin, assists in collagen production, prevents acne, hydrates the skin and contains Vitamins C and A
Strawberry
Fights signs of free radical damage, oxygenates cells, prevents pimples, helps with promotion of new cells. Contains Vitamin C
Kiwi
Rich in Vitamin C, which brightens and helps give a radiant complexion
White Grapes
Reverses the signs of aging, promotes a hydrated skin, helps uneven skin tones, lightens scars, provides protection against sunburns
Apple
Offers UV protection, lightens and brightens the skin, anti-aging benefits and helps with hydrating the skin
Juniper
Helps with control of oil production, anti-inflammatory ingredient
Avocado
Helps keep skin hydrated, full of vitamins C and E, keeps skin supple and full of anti-oxidants
Watermelon
Helps control shine, reduces the signs of pores, helps hydrate and exfoliate dead skin cells, helps to prevent acne
Eucalyptus 
Calms angry, inflamed and irritated skin. Antibacterial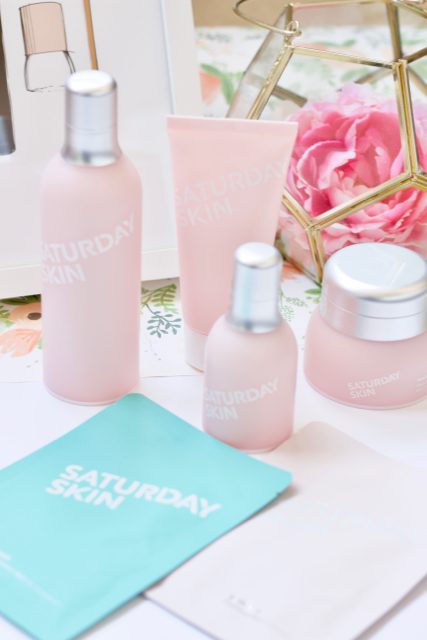 The Products:
The cleanser is rich and foamy and it leaves my skin feeling so dang good after I use it.  There is something about the cleansers in Korean Skincare that impress me so much and I find are so different from the cleansers I typically purchase from brands here in the US.
The essence featured in this product line is more of a gel type product and it instantly sinks into my skin.  I pat it onto my skin and my skin feels more hydrated every time I use this.  I'm telling you, an Essence is a game-changer for me!
The eye cream is what I've been using day and night and my under eye area seems much more hydrated and my concealer hasn't been creasing or anything, so it's working, even with my makeup. I like this eye product because it's deeply hydrating, but it doesn't leave my under eye area feeling like there is a lot of product left behind.  It sinks into the skin nicely.
There is a lotion and a cream moisturizer.  I've been using the lotion during the day, with an SPF and I've been using the heavier moisturizer at night.
There are two sheet masks.  One for brightening the skin and one for hydration.  I am serious when I tell you that if you haven't gotten on this whole sheet mask trend yet, you need to ASAP!
There is a hydrating mist that I wasn't sent, but I'd like to order it to give it a try!
The packaging is PINK!!! I couldn't have been anymore excited when I took the bottles out of  the package, ha! It is a little bit on the bigger side compared to what I normally have used.  Especially the eye cream and the hydrating lotion.  Now, that isn't a bad thing, unless you travel a lot. The one thing that I do love about the packaging is that everything pumps out and you don't need to use your hands to dig into it to get the product out. No double dipping and possibly adding bacteria to your product!
Saturday Skin, I'm impressed!  I want to continue to use the product line some more to see how my skin changes with continued use. I think this product line would work for all skin types, especially someone who's looking for a radiant, hydrated, glowing complexion and someone who's wanting to slow down this whole aging thing.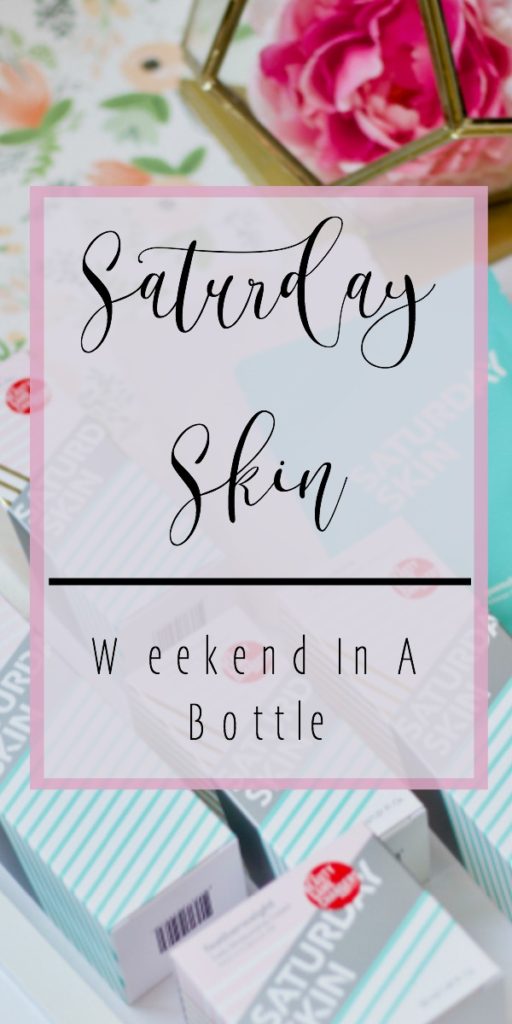 PR Samples provided.  All thoughts and opinions are my own.