Someone recently asked me what a skincare routine for teenagers would look like and this is such a great question! The good news is that it doesn't have to be difficult nor do you have to buy expensive products. In my opinion, starting small and incorporating a few products can make the biggest difference.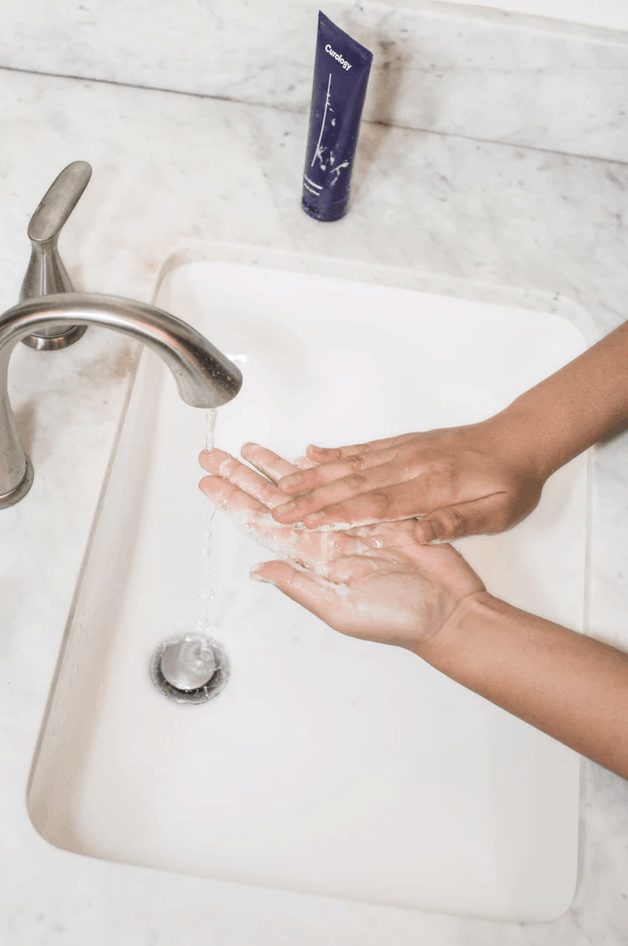 First Step: Get Them Using a Cleanser
What we're normally dealing with when it comes to teenagers is oily skin. They're getting clogged pores, whiteheads, blackheads, and acne. So the main thing that we want to make sure is happening is that they're cleansing their skin. Whether they're washing their face while they're in the shower or they're doing it separately; we just want them to cleanse their skin.
For the most part, unless they are super sweaty from athletics or other activities, we just want to make sure they are cleansing their skin at night. What I don't suggest is a bar of soap. Choose a cleanser that is going to help with pores, oily skin, and acne if those are there issues.
If your teenager has oily skin, I'd suggest a foaming cleanser. If they have normal to dry skin, I'd suggest a milky cleanser. Also, it's important to note that you have someone using makeup, you'll want to make sure that they're removing that at night AND cleansing their skin. I'd suggest a micellar water, cleansing oil or a cleansing balm to make sure they're removing their makeup, especially if they're wearing mascara or eyeliner.
This acne treatment cleanser has been a favorite as well. It contains sulfur to help get rid of acne as well as preventing new breakouts. Plus it also contains ingredients like honey, oat and rice bran to help calm the skin and help absorb excess oil.

Second Step: Exfoliate The Skin
When were talking skin with clogged pores, blackheads, whiteheads, and acne we need to make sure that we're exfoliating dead skin cells and also cleaning the pores. One of my favorite liquid exfoliants is this exfoliant from Paula's Choice. It's so simple to use and it's so gentle you can use it daily. If acne is an issue, I'd suggest this Salicylic Acid treatment.
Ideally you will want them using an exfoliant at least twice a week. It's depending on their skin type and their skin concerns that will determine how often they should be exfoliating.

Third Step: Moisturize the Skin
This might be the hardest step to get a teenager to do when it comes to their skincare routine. Heck, I know adults who still don't moisturize their skin. The thing that you want to make sure is that you are moisturizing their skin with the right type of moisturizer. Again, do they have oily skin? Are there breakouts? Is their skin dry? These are all questions to consider.
I really like to encourage use of a moisturizer with an SPF. This basically kills two birds with one stone. We're moisturizing the skin as well as making sure that they are using an SPF. I like this daily moisturizer from CeraVe that has an SPF. I use if often even for myself.
At night, I still really like the CeraVe moisturizer. It doesn't break the bank and it gets the job done. Other moisturizers like this one from Dermalogica is a great option as well as this moisturizer from Glow Recipe, which happens to be a Clean at Sephora brand.

Fourth Step: Spot Treat
One of the biggest struggles with teenage skin is dealing with the breakouts. It can be hell having acne at that age, but it can be prevented and also you can use a spot treatment to help the pimples heal quicker.
I really like these Peace Out Acne Healing Dots. They contain Salicylic Acid to help get rid of the acne causing bacteria, Vitamin A, and also Aloe Vera. They're clear, so they are so easy to apply and wear. I've even worn mine out of the house before. Not saying they would, but……
Another way of spot treating is applying a drying lotion. I LOVE this drying lotion from Mario Badescu . You simply apply to the breakout and let it do it's magic. It works great for shrinking a breakout. DO NOT SHAKE THE PRODUCT. Simply dip a qtip straight into the bottle and then apply to the breakout. This should be the last step in the skincare routine at night.
I'm also a big fan of these acne clearing pads by First Aid Beauty. They are medicated pads with Salicylic Acid that help to clear up the skin and prevent further breakouts.

Fifth Step: Masking
This is completely optional and depends on how involved they want their skincare routine to be. I like to add a mask into the routine because they can be beneficial for controlling oily skin types, helping reduce the size of pores and also helping with acne.
I love this mask from Origins. It cleanses the pores, but it also doesn't strip hydration away from the skin. Also, this Biossance Squalane and Tea Tree Mask is another great option. It's also a Clean at Sephora product!
Just make sure that they're treating issues at hand. Masks are obviously not a must-do part of the routine, but they can be so fun to incorporate! In a skincare routine for teenagers, think of it like what can we do now to help get their skin through all of the hormones and such that they're dealing with. Even a simple mask can help with excess oil control, helping clear the skin of blackheads and such. Simple step that can give big results.

Other steps not mentioned but I feel are very important are obviously the addition of an SPF. I mentioned the moisturizers with SPF included above, but if you are having them use a moisturizer without an SPF, you need to have them using one daily. Also for the adults reading this, YOU NEED AN SPF EVERY SINGLE DAY ON YOUR SKIN!!!!! It will help them be safe and prevent further sun damage.
How To Also Avoid Having Acne as a Teenager
Other than skincare, there are some ways that we can help with acne issues. Our phones are a cesspool for bacteria. Clean them! Also, don't touch your face!!! I can't stress this one enough, but DO NOT pop your breakouts. As annoying as they are, by popping them, you can scar your skin. Also, be sure to clean pillow cases regularly.
Also, I get asked a lot about breakouts and why they keep happening. One of the first things I will ask you is about your diet. Not to be mean, but more of a way for me to gauge what you're eating. We tend to see a lot more breakouts when people consume a lot of dairy, sugars and fried foods. Keep that in mind.
A good skincare routine for teenagers can make such a difference in not only their skin, but also in how they feel about themselves. Looking back on your teenage years, think about all the pressures we felt about ourselves and our appearance. A good skincare routine for teenagers can instill confidence in their appearance and hopefully, also result in less skincare issues for them to worry about in the future.
Shop The Post