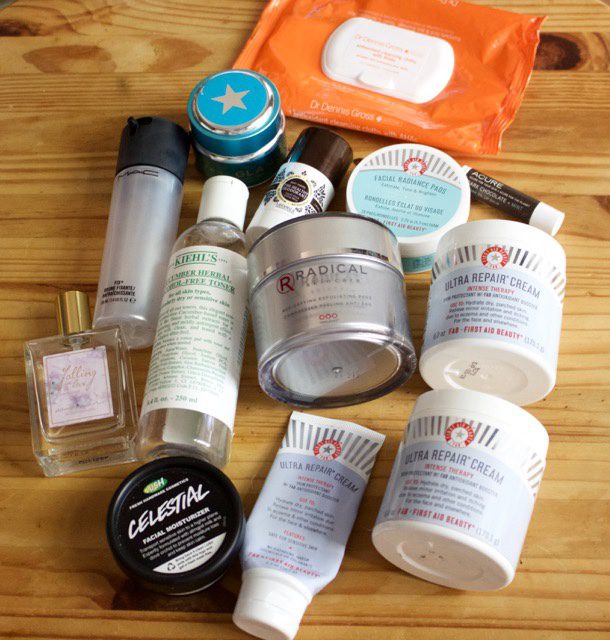 It's that time again! I've gotten quite a few empties lately and I wanted share with you guys the products that I've used up! If you aren't familiar with empties posts, it's basically me showing you my trash. HA! I keep a collection of all of the products I've used up until they're empty and then I share them with you guys! Why? Because in my head I like to think you enjoy these posts as much as I do. I find seeing what other people use up fascinating!
Lavanila Deodorant $14.00
A healthy deodorant that I've seen many bloggers talk about before, so I went with the hype and started using it also. It's kind of scary when you start to think of all of the harmful ingredients in normal drugstore brand deodorant, so I thought why not. I don't love it and I don't hate it. I'm not sure I'd repurchase this or not honestly. I might try some other organic brands and see what else is out there. I don't sweat a lot, but I just didn't feel that this did a lot for me for the price.
LUSH Celestial Cream $25.95
Have redness and irritation? This is a fantastic moisturizer to try! It features a cocoa butter base, vanilla water, dove orchid and almond milk, which will all help to moisturize and hydrate the skin. The best part about this moisturizer? It doesn't contain ingredients like citrus oils or alcohol which can be so bad for sensitive skin!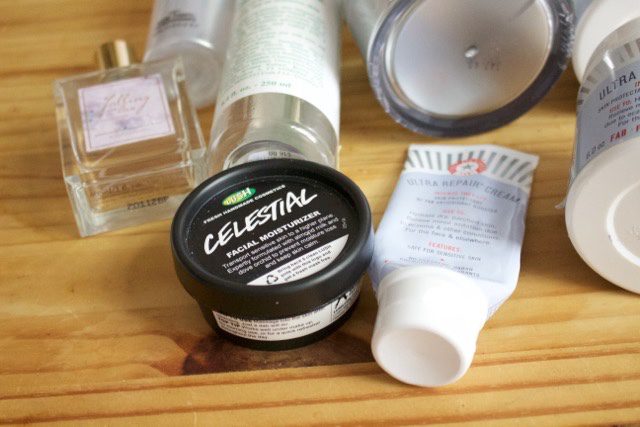 FAB Ultra Repair Cream $30.00
Did you happen to notice the first picture that I posted? It contained not one, but THREE of the FAB Ultra Repair Creams! Honestly, I think I threw another one away and didn't save it, so that means we used FOUR of these. If that doesn't tell you something right there! I slather this all over my face and body lately and my husband uses this on his hands. It's a miracle in a jar.
FAB Facial Radiance Pads $30.00
I got this trial size of the Facial Radiance Pads in a kit that I ordered from FAB and I've been using them since. These resurfacing pads contain Lactic and Glycol Acid, but are gentle enough for everyday use. Other ingredients to note is Cucumber, Indian Gooseberry, Lemon Peel and Licorice Root. They're safe for sensitive skin types and are to be used after cleansing, but before moisturizing. I've noticed a definite improvement in my pores since using these and they haven't irritated my sensitive skin!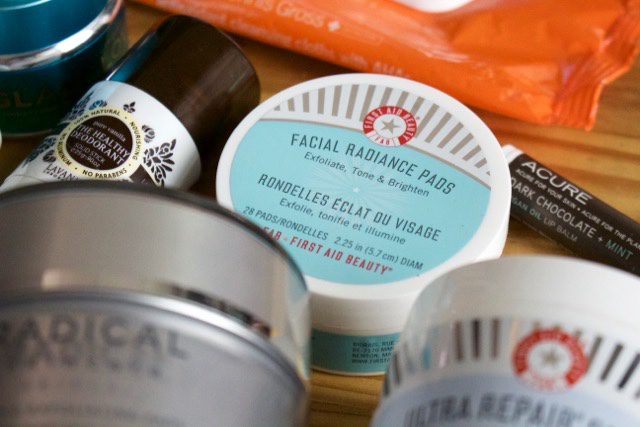 Radical Skincare Age-Defying Exfoliating Pads $75.00
These pads were sent to me to review quite a while ago, but I've just finished them up. They are probably some of the best exfoliating pads that I've used if you're looking for a daily face pad that is packed with a punch! Probably not for the most sensitive skin (I couldn't use these daily) but they are packed full of Witch Hazel, Coffee and Grape Seed Extracts that will help to dull away skin and help with cell turnover. If you're looking for an extra dose of anti-aging to your routine, I'd highly suggest picking these up! They left my skin feeling so much smoother and I honestly feel like any sort of "lines" that I was seeing were getting softer and much less apparent.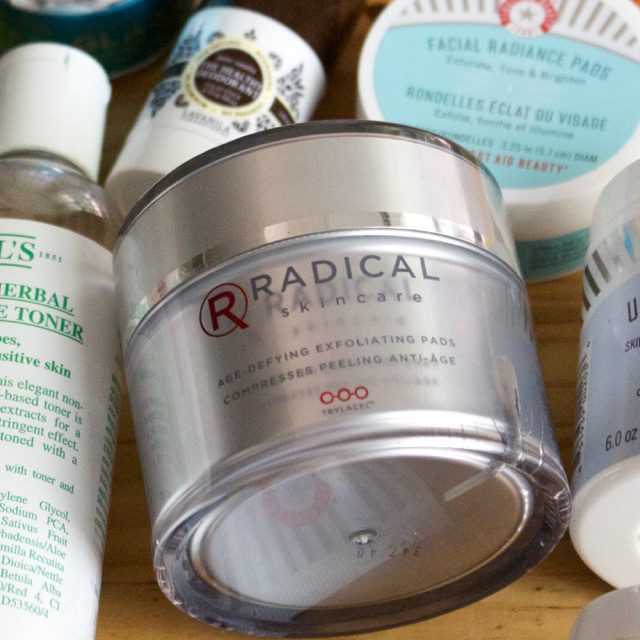 Kiehl's Cucumber Herbal Alcolhol-Free Toner $16-$27
Fantastic toner for dry skin types. This is an alcohol-free toner that features a cucumber base. It's gentle, balancing and mildly astringent. This is one of my favorite toners!
and MAC Fix + $22.00
I've had this product for so long, but I finally used it up! I spray this onto my face before and after my makeup. It contains Green Tea, Chamomile and Cucumber to help calm my skin and also helps to set my makeup into place. This was one of those products that I was like "Yeah right" about, but honestly it works fantastic!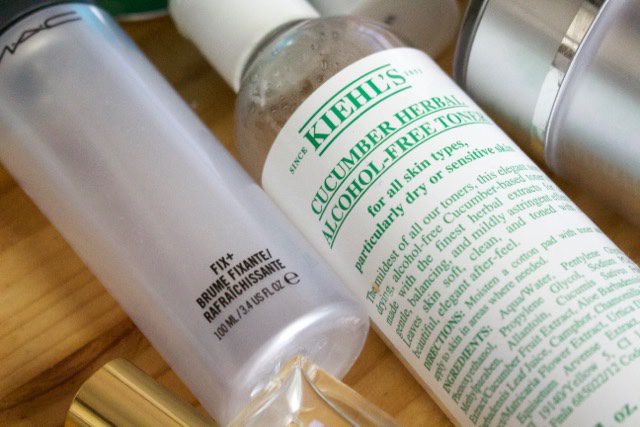 DDG Cleansing Wipes $18.00
A multi-use cleansing cloth that not only cleanses the skin (and requires no rinse) but also a cloth that delivers Anti-Oxidants, Vitamins, AHA's and Hydrators to the skin. Great for a cleansing wipe that does a little bit extra. I'm a big fan of this product line and these were a nice addition to my routine. I don't use these daily, but maybe two-three times a week?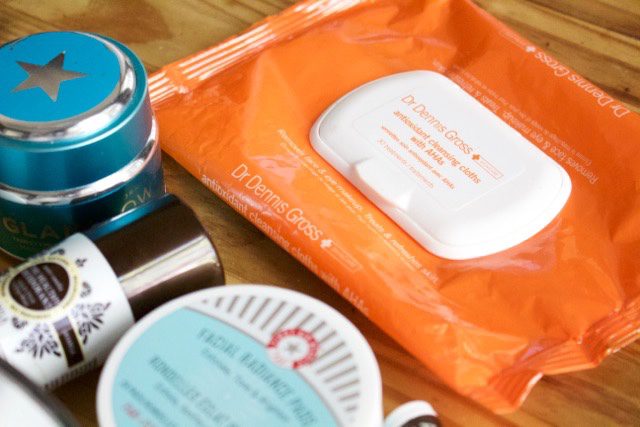 Acure Organics Lip Balm $3.99
This lip balm has been my go-to for quite some time. It's hydrating, makes my lips feel like butter and it smells so good. Food-Grade Certified Organic Protection in this Lip Balm! Also, did you notice how budget friendly this is?!? Acure Organics is amazing!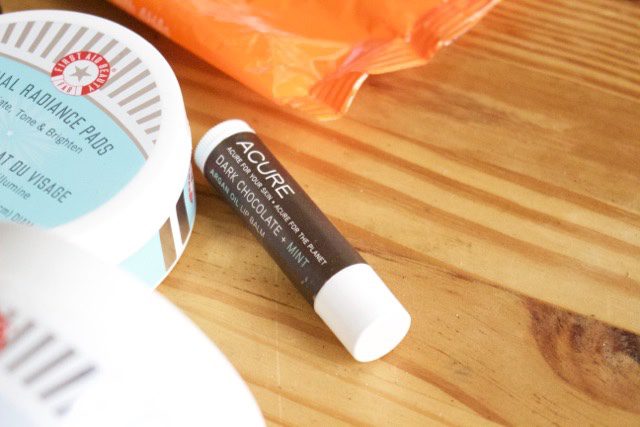 Philosophy Falling In Love Perfume $48.00
I believe I purchased this online at QVC. I think?! However, I'm pretty sure even Ulta carries this fragrance. I love Philosophy for their skincare products, but their fragrances are so nice. This one, Falling In Love, is a blend of florals and blackberries and it just smells so light and delicate, but ultra feminine. It is so rare that I finish a bottle of perfume because I have so much (truth, ha) BUT this one will be a definite repurchase for sure.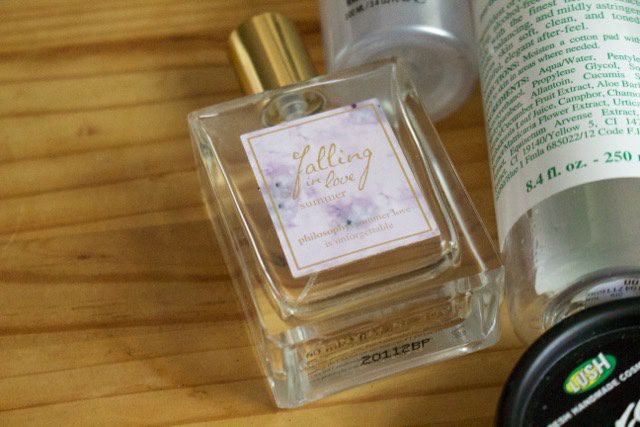 **Not pictured because I forgot that they were still sitting in my bathroom on the counter. Oops!
Avalon Organics Peppermint Shower Gel $8.00
Felt really nice on the skin and smelled fantastic. I picked this up at Whole Foods when I was grocery shopping once and I would for sure repurchase from the brand. Even my husband enjoyed it!
LUSH Ro's Argan Body Conditioner $33.95
The scent on this product alone is worth it. If you are a fan of rose (and I'm not talking fake, synthetic rose) then you will die over this product. It smells so good. It features so many good for your skin ingredients, such as cocoa butter, cupuacu butter, almond oil and Argan oils, and the scent from rose petals. This body lotion is used after you use your normal cleanser in the shower. Slather it all over yourself, rinse and pat dry. Your skin will be super soft! I'm already planning my trip to LUSH to pick up another one!
ACURE Organics Foaming Shave Gel $8.99
This air powered shave gel features Blue Chamomile, Aloe and Calendula that help to give you a fantastic shaving experience. I love this because it was kind of like a gel/lotion, but it left my legs so soft when I shaved. No harmful ingredients in this shave gel!
Jack Black Turbo Wash $23.00
My husband finished up this Jack Black product in record time it seemed. This is a hair and body wash and it smells fantastic! I asked him if he liked it and I got the normal "yeah" response, ha! I will repurchase this for him again!
WOW! That might be the most products that I've ever featured on an Empties post before! I hope you enjoyed seeing what products I've used up and what I'd repurchase again! I always say this, but when I use up a product, that's saying a lot! Until next time!!