Today I'm sharing my September 2023 Reading List today. Overall, I had a great month of reading. I FINALLY started the Throne of Glass series and needless to say, I'm hooked! Sarah J. Maas just knows how to suck me in to a good fantasy read.
There were quite a few 5⭐️ reads this month which always makes me so happy! I got a lot of use out of my Scribd membership (seriously, the amount of audiobooks and ebooks available is crazy good!) and I was able to utilize my library!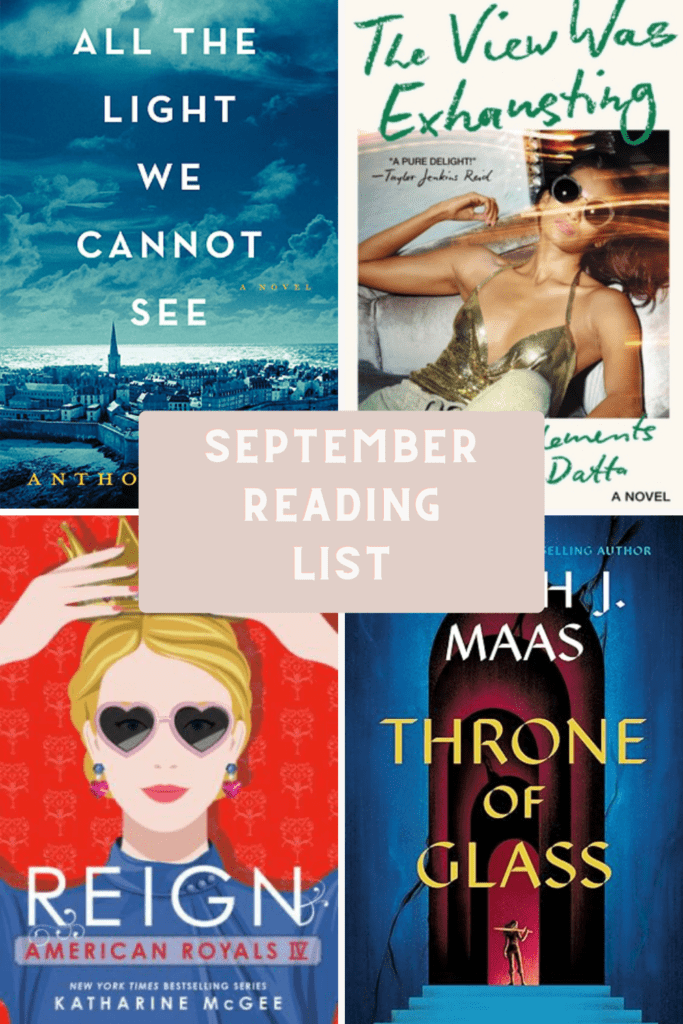 Young Adult Books
This is the last book in the American Royals series and honestly, I'm sad it's over. I've had fun reading these four books and I think that Reign ties up the storylines nicely. This is a great YA series that doesn't feature any explicit scenes or anything spicy. Think of this as Gossip Girl meets the royal family.
If you haven't read this series, I highly suggest picking up the first book and giving it a go! I also listened to this series on audio and loved the narration.
5⭐️
Buy Book Here: Bookshop.org / Amazon
*I purchased this audiobook on Libro.fm
Fiction/Romance
I'm pretty sure I read about this book in a magazine that featured authors to check out. This was a good book. At times the characters miscommunication drove me crazy (that's not my favorite trope to say the least) but I think this book was interesting and I love a good fake dating trope. There are some heavy moments within this story, so I'd check trigger warnings if that is a concern for you.
4⭐️
Buy Book: Amazon / Bookshop.org
*I read this thanks to my library!
F
ancy a Fantasy

Read

?
Why in the hell did I wait so long to start this series? If you don't know, Sarah J. Maas is the QUEEN of incredible fantasy (and romance) reads. She wrote A Court of Thorns and Roses and I about died reading that series. Rhysand is the go-to book boyfriend in my opinion. Anyways…
Throne of Glass is supposed to be more young adult (I believe) than ACOTAR, but she doesn't shy away from romance in this one either. It's just not explicit like ACOTAR. So far, at least. In my opinion, Throne of Glass is a touch more fantasy and maybe a bit easier to read than ACOTAR. All fantasy can be slightly complicated just because of the intense world building, learning of characters, etc.
There's a love triangle. There's an assassin who fights for her life. There's magic. Friendships. Family issues. Royals.
5⭐️
Buy Book: Amazon / Bookshop.org
Historical

Fiction
What an absolutely beautiful, yet heartbreaking story. I listened to this book on audio, as well as reading the physical book. I simply couldn't put it down, so if I was in the car (or on a walk) I was listening to it as much as I could.
WWII story that follows two main characters. One is a blind girl who lives with her father in Paris and the other is a boy who is an orphan in Germany. Their lives are connected, but at first we aren't sure how or why. It's a story of survival, but also, so much more. I'm still thinking about this story.
Soon to be a limited series on Netflix!
5⭐️
Buy Book: Amazon/ Bookshop.org / Listen on Scribd
Read The Books