I hope that you're having a great week so far! For today's post: Four Fun Finds For Tuesday, I've got some brand-new book releases, a major hair product sale (seriously good) and what's on my beauty wish-list. I'm also sharing some of the recipes that have caught my attention recently.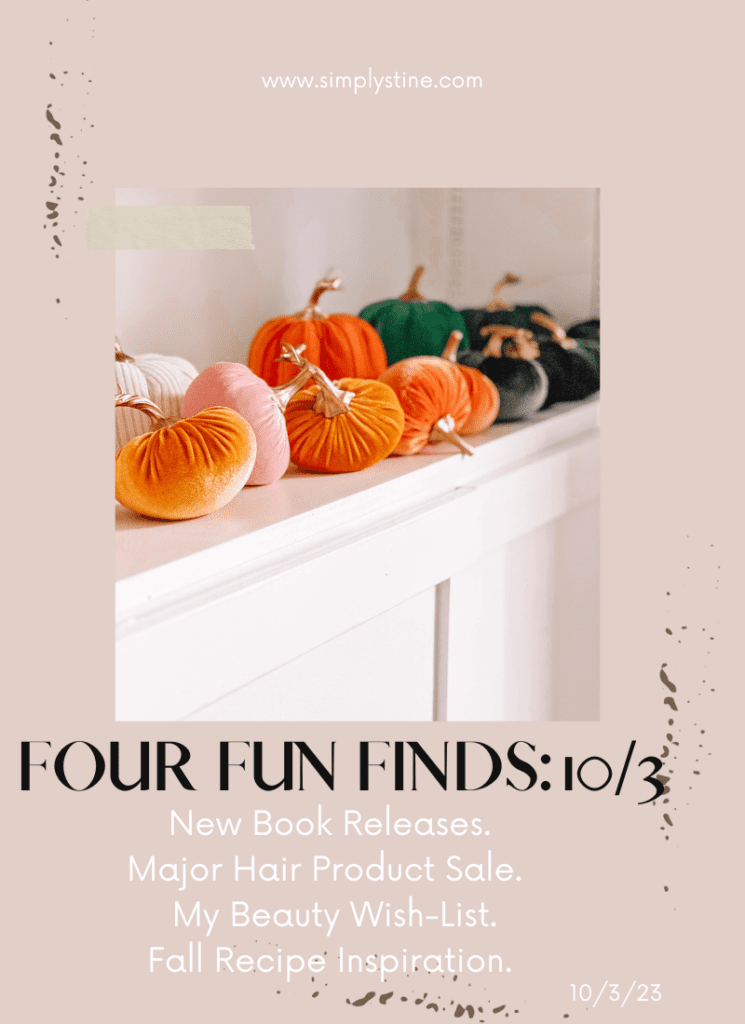 Four Fun Finds For Tuesday 10/3
New Book Releases
There are some incredible new book releases that came out today that I have on my TBR! I'll be sharing a round-up of the latest books that I read in September this week!
Hannah Grace, author of Icebreaker is back with a new book! Icebreaker was super spicy, so I'm sure that this one is going to be the same!
The author of One Day in December (which I loved) is back with a winter romance! Consider me in.
This has been all over social media and I've had it on my to-read list for some time now. Hoping to get to this one this month. It's described as a gothic thriller so it's perfect for a spooky October read.
This book is said to be about class, ambition, family, and murder. Another highly rated book that I think would make for an excellent October read.
I randomly stumbled on this sale on hair products and wanted to share. So many brands like Oribe, Virtue, Briogeo, and more are included! Also, be sure to check out Sephora because they are having tons of sales on hair products and tools!
What I've Got My Eye On: Beauty
I always keep up with new beauty releases and have a list that is always on my notes app. I'm not the only one, right?!!??
Recipes On My Must-Make List
I'm transitioning our meals to more fall appropriate meals. Basically that means that soup is now acceptable, ha! Here are some recipes that are on my must-make list.