Overall, it was a pretty good month of reading. I'm finding that I'm still listening to a lot of audiobooks as I'm in my car a bit more than normal lately. I read a lot in February and was happy to see my reading continue this month. So far, I've read 22 books this year! I'm still trying to make reading a priority in my nighttime routine.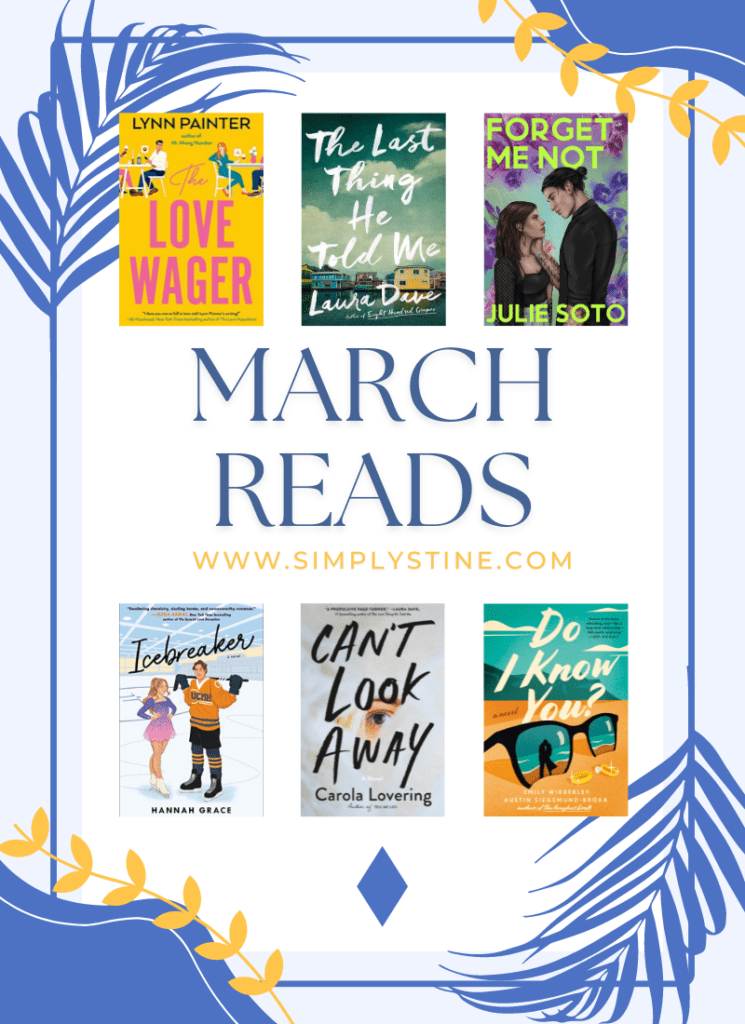 This book was super spicy. That cover fooled the hell out of me. So, if open door (explicit sexual scenes) scenes are not your cup of tea, you might as well not read this book.
Anastasia is a figure skater. She's trying to make it to the olympics and receives a full scholarship to University of California.
Nate Hawkins is the captain of the hockey team. He is very into Anastasia. They sort of start off as not so friendly, but a situation forces them to see each other a lot more than they'd like. I really enjoyed Nates character.
This book was again, VERY spicy, BUT also very deep. There were issues with eating disorders discussed, mental issues, and some major family drama. So yeah, a bit fluffy, but also pretty intense at times.
⭐️⭐️⭐️/5 (Trigger Warnings: Eating Disorders)
It's not often that I get to read a book about a couple who is married AND who is having "normal" regular married people problems. No cheating or anything like that, just a couple who is trying to find that spark again.
Eliza and Graham are at a resort to celebrate their five year anniversary, which neither of them are really excited about. They're basically roomates at this point. A guest at the resort mistakes them for being single (there's a singles event happening at the resort) and they decide to go along with it.
They flirt. They go on dates. They get to know each other……
I really enjoyed this one!
⭐️⭐️⭐️⭐️/5
Thanks to Libro.fm for the advanced copy of this audiobook! Elliot is an absolute perfect grumpster who also happens to be a florist. OMG and he has tattoos of rare and extinct flowers. He's perfect, except for the fact that he hates donuts.
Ama Torres is a wedding planner who is trying to make it on her own and take her business to the next level. She was also dating Elliot two years ago and now has to be face to face with him again.
Their is some major back and forth between these two characters. You just want to know what the heck happened between these two characters in their relationship and why it ended. There's also some MAJOR character development. Overall, I really, really enjoyed this book.
This is a Reylo fanfic which I had no idea until after I listened to the audiobook. Also, the cover is totally giving me Snape vibes. I totally get it.
⭐️⭐️⭐️⭐️⭐️/5
Pre-Order on Amazon (Releases July 2023)
I bought this audiobook on Libro.fm after seeing it mentioned on BookTok so many times. I was super excited to see that one of my favorite narrators, Zachary Webber, narrated the male character. Love Wager is about two people who randomly hook up one night at a wedding, and later end up finding each other on a dating app! They start off as friends and make a bet to see who can find love first. Well, we all know how this is going to go.
It's funny. Like I laughed out loud during a lot of this book. Highly recommend. I didn't realize that this is book 2 in a series, but you can read this as a standalone as well. The first book is called Mr. Wrong Number.
⭐️⭐️⭐️⭐️⭐️/5
I'm a big fan of this author I'm realizing. Pretty much every books she has written, I have devoured. Seriously, if you haven't read Tell Me Lies, GET TO IT! It should be required reading for all women! Anyways, Can't Look Away was such a fun ride. I had absolutely no idea what was going to happen as the story continued.
Molly meets Jake who is a musician. They quickly fall in love and he writes a song about her that becomes famous. Then the relationship takes a turn and a lot of stuff goes down. Molly, years and years later, is happily married with a daughter. She's moved out of the city and is teaching yoga. She's also trying to have another baby, without any luck.
I don't want to give anything away but this book was wild. There were parts of it that were a mystery, but this is a story about love and heartbreak. Just a warning, it is very, very heavy on infertility and miscarriage is mentioned.
⭐️⭐️⭐️⭐️⭐️/5 (Trigger Warnings: Infertility, Miscarriage, Drugs, Alcohol, Infidelity, Stalker Vibes)
This is going to be a series on Apple TV starting this week (I believe!) so I quickly read it as it's been sitting on my shelf for over a year. Whoops. Anyways, this is a thriller/drama/mystery type book. Owen Michaels leaves his wife, Hannah, a note that said to protect her. His daughter,Bailey, opened up her locker at school and discovered a bag full of money. Owen is nowhere to be found and Hannah is quickly realizing that Owen is not exactly who he said he was. With Bailey's help, they end up on a whirlwind journey to find the answers they are looking for….Who is Owen? Where is Owen? Is he coming home?
⭐️⭐️⭐️⭐️/5
April Reading Hopefuls
Shop The Post