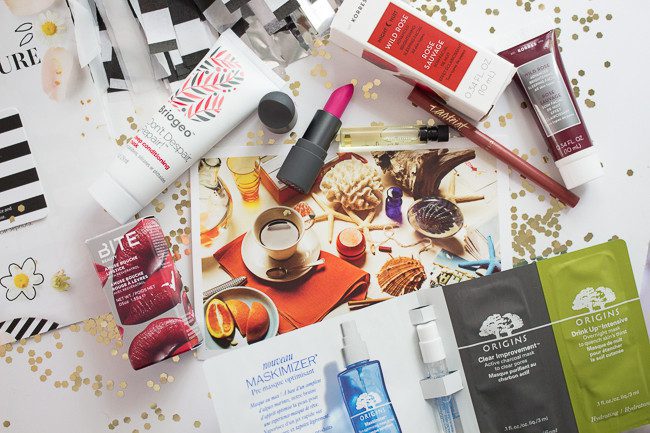 Subscription Boxes are fun, but sometimes they just don't keep us satisfied for long. I've joined them all. Birchbox, Ipsy, PopSugar. You name it, most of the time I've tried it. When I found out that Sephora was releasing their own Subscription service, Play! by Sephora, I was very excited. The bad news? It took a while to be able to actually get to be on the list to get my first box. I'm pretty sure there is still a wait list happening right now, BUT make sure to sign up and give them your email address because you will eventually get on the list. Trust me and be patient.
Now that I got my first box, let's take a look at what was included and talk about price. The cost of the Play! by Sephora Subscription is $10.00 and each month you'll receive five deluxe sample products and a fragrance bonus. The actual box the the items are shipped in is a traditional black and white striped box, but inside the package was a really cute drawstring bag that says "Let's Beauty Together" that contains your sample products. There's a pamphlet that has all of the information you need about each product and there is a Play! Pass card that can be used in store to receive "expert advice" and you'll also get 50 extra Beauty Insider points with any purchase.
The first month that I got was the May, Forces of Nature themed box. The products were all about making you look beautiful, naturally. So these products are going to feature good for you ingredients. First thoughts when I saw the products were as follows:
"I've already gotten some of these samples before."
"Hmm…Ten dollars for this?"
"Good mixture of skin, makeup and hair products."
"I haven't used some of these before!"
Play! by Sephora Review
Bite Beauty Amuse Bouche in Kimchi
Bite Beauty lipsticks are amazing and probably at the top of my favorites list when it comes to lip products. They're made with food-grade ingredients that are also antioxidant rich. They're made in very, very small batches and feature 12 edible oils. They're super hydrating and I adore them! I haven't tried this color, but it's definitely not a color for everyone. It's a very WOW type color, which is great for Summer. The sample size that they gave was pretty generous and way more than you'd need to see if you liked the product or not.
Here's a swatch of the color!
ORIGINS Maskimizer + Drink Up & Clear Improvements Masks
I'm very familiar with ORIGINS and their masks, but I haven't tried (nor heard about) the Maskimizer, which is a priming mist that helps optimize the skin's condition. I'm not sure exactly what that means, but I'm going to use this and learn a little bit more about it and hopefully come back with a review for you guys!
The two other sample masks that were included is their Drink Up Mask which is extremely hydrating and the Clear Improvements Mask features charcoal that will help deeply cleanse the skin. if you haven't tried Origins Masks, you need to ASAP!
BRIOGEO Don't Despair, Repair! Deep Conditioning Mask
I've seen this line when I was at Sephora recently, but I don't know a lot about it. I love, love, love a good hair mask that helps give my hair some moisture because when I go blonde, my hair pays the price! I love that the founder of BRIOGEO was inspired to start a cosmetic company because of her grandmother, who had her own farm to make hair care products.
KORRES Wild Rose Sleeping Facial
I've tried this product before and actually own the full size product. It's a very lightweight sleeping facial treatment that helps to brighten and moisturize the skin. It features Wild Rose Oil which is very high in Vitamin C (helps with fine lines and discoloration) and also smells amazing!
TARTE Tarteist Lip Crayon in Latergram
Again, another product that I own, just in a different color. This is a very warm, nude lip crayon. I really love Tarte's Tartiest Lip Crayons because of the shape of them. They're very slim and very easy to use to create a nice line for the lips or to fill in the entire lip as a lip color. The crayon itself features Vitamin E which is great for helping dryness in the lips and the color itself actually comes from Mineral Pigments.
This was a great sample size and it's perfect for throwing in my purse! You can use this lip crayon to create a very soft nude color on the lips. Perfect for Summer!
Atelier Cologne Organe Sanguine
I actually own this already! I love the Atelier Cologne products and feel like they are some of the best fragrances the I own! This scent features Blood Orange and Bitter Orange Peel which is paired with notes of Geranium. It's a lovely scent that isn't too much for Summer, but just enough!
Overall, I am not completely unhappy with this months box. It featured a great mixture of products and I really enjoyed learning more about some of the brands I didn't know about. That's the whole idea of subscribing to a Subscription Box is to learn about brands you might not know about. For me, my biggest issue with Subscription Boxes in Beauty is that since I work with so many brands already, I have tried a lot of these already and I own a lot of products. That's not normal for most people, unless you're a Beauty Addict like myself. Another issue is that I've gotten a lot of these as samples before with my Beauty Insider Rewards. That doesn't mean that I will stop the subscription because I still think it's really good and has a lot of potential to introduce me to new brands. The samples that were included were a nice size and I liked the assortment. Overall, I'm happy! I just hope that I continue to be happy!
If you haven't subscribed yet, get yourself on the wait list and let me know what you think!!
For more information about Play! by Sephora, click here!

Affiliate Links included