May is gone and since today is the first of June, you know what time it is! Let's chat about my picks for my May Favorites! These are the Beauty products that I've been using a ton lately and I wanted to share with you guys! I've got a good mix of skincare and makeup products to choose from. I had a couple hair products I was going to mention, but I'm going to do a separate post on those soon!



Caolion Freshly Foam Cleanser ($22.00)
I LOVE this cleanser. It was a part of the Perfect Pores kit from Peach & Lily that I was sent to try and I've almost used up the entire tube of it already. It's creamy, foamy but non-drying to my skin. I have seen great results from this cleanser alone! If you use a skincare device to cleanse your skin, you will love this cleanser paired with your device! It's a fantastic cleanser! *Miss my post about the Perfect Pores kit? Read it here!*
Jurlique Rose Moisture Plus Moisturizing Cream Mask ($42.00)
My skin has been so confused lately. It can't make up it's mind if it's oily or dry. That makes picking out my skincare tricky. However, I have been LOVING this mask from Jurlique and using it almost as a moisturizer on certain days. You can pop this on the skin for ten minutes to give your skin a boost of hydration or you can leave this on the skin and press the remaining product into the skin and use as a sleeping mask or a moisturizer. I don't use tons of this when I use this as a moisturizer, but enough to hydrate my skin. It smells amazing (as do all Jurlique products) and my skin has been loving the extra boost of hydration!
Physicians Formula Butter Bronzer ($8.99 and up)
Bronzers are tough for me because of my very fair complexion and redness to my skin. Most turn up too warm on my skin, but this new Butter Bronzer from Physicians Formula is perfection. Also, it smells like a Caribbean getaway. I can't say enough good things about this product. Swirl your brush (or the applicator they enclosed) and give your skin a little pick me up! PS This product is crazy to be so good at this low of a price! There are two colors available to choose from. I choose the Light!
RMS Beauty Cream Eye Shadow in Imagine ($28.00)
RMS is a brand I'd like to feature more on my blog. There products are amazing and they're not full of bad-for-you ingredients like some of the brands we talk about. The cream eyeshadow that I picked up in Imagine is the most gorgeous shade of purple and it applies so nicely. They have a full color range to choose from and I know for sure I'll be picking more up soon! This little pot will last a long time!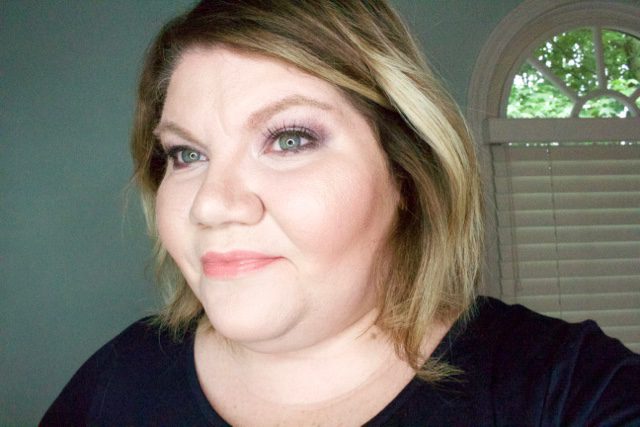 Anastasia Pro Pencil #2 ($18.00)
This is something that I picked up at Sephora a while ago and somehow forgot that I purchased it. It's kind of an amazing product. It's great for concealing, highlighting your brows and face, cover dark circles and as an eyeshadow base. The color I picked up is #2 and while it works, I'd like to pick up #1 to see if that works a little bit better for me. Anyways, this little pencil works! It's got great pigmentation to cover blemishes and dark circles, but I really enjoy using it as an eyeshadow primer and to even out my eyelids as they have some blue tones to them. I'm glad I rediscovered this product!
L'Oreal Paris True Match Lumi Cushion Buildable Luminous Foundation, W2 ($14.99)
I haven't enjoyed a foundation so much in a long time. For being under $20.00, this foundation works so, so good at creating an even canvas and it makes my skin look so luminous. I will for sure be using this all summer long and I'm going to go pick up some back-up's because I'm terrified they will stop making it, It's really good! You can use the applicator that they provided or use a brush, sponge to apply it. You can really build up the coverage or keep it light. Fantastic foundation!
NYC New York Color Lovatics By Demi Eye Shadow Kit ($4.98)
I picked this up at Target because if I'm honest, it reminded me a lot of my favorite Naked palette by Urban Decay. This palette is incredible. It's highly pigmented, the colors do have some fallout, but that's what happens when you have a lot of pigment! I've used this almost daily since I picked it up. This is another great example at a fabulous drugstore find!
StriVectin Intensive Eye Concentrate For Wrinkles ($69.00)
I was sent this product to review and I've been using it for a couple weeks now. It hasn't been long enough for me to do a full review on it yet, BUT I will say my under eye area has been feeling and looking so much better. I've really been noticing a difference in my dark circles and just the way my under eye area feels. I'm going to keep using it to see if I notice any difference with fine lines, etc. So far, so good!
"This lightweight moisturizing formula is proven to visibly reduce the look of all types of lines around the eyes, including crow's feet, squint lines and deep-set wrinkles – starting in just one week. Next generation ocular skin technology powerfully addresses the appearance of under-eye dark circles and puffiness to illuminate and awaken. Patented NIA-114™ technology helps strengthen delicate eye area skin and diminish dehydration.
Optical diffusers reflect light to immediately brighten dark shadows and help alleviate visible signs of screen fatigue." StriVectin
May was a pretty good month, but I'm hoping June is better! I've set three goals for myself:
Make it home to visit my family! PS Home is Ohio
Explore more areas around Atlanta! I still haven't seen all this city has to offer!
Work on improving myself! I've been dealing with anxiety issues so bad lately, but I refuse to let this get the best of me! One day at a time!!!
Did you have any favorites for May that I should check out? Comment below and let me know! I'm always looking for new products to learn about and try!
[show_shopthepost_widget id="1658315″]

Some products mentioned above were provide for review.
All thoughts and opinions are my own.