Today we're taking sleep. I am 100% a night owl. I can stay up binge watching shows or reading a book. I also have problems sleeping or I should say falling asleep and staying asleep. It doesn't matter how tired I am, I'll have problems falling asleep. I'll wake up hot. I'll toss and turn and not be able to get comfortable. So I knew that after years of this, I had to make some changes. I even talked to my dr about it because it was getting so bad. So if you're tired of always feeling like you're dragging, or you're having issues sleeping at night-try these tips that have helped me.
Turn off your devices
I used to constantly watch tv before I fell asleep. I'd watch a series and before I knew it, it would be like 3 in the morning and I still felt wide awake. I now turn off the tv before bed. At least an hour before I plan on going to sleep. I think this has helped me so much. I would get sucked into the episodes and I'd never get tired because I kept wanting to watch tv.
I also don't keep my computer in my bedroom (even if it's a laptop) so once I'm done working, if I had it in that room, I keep it charging in my office. Same goes for my ipad. I try to not use any devices at night because I know my habits and they interfere with my sleep.
Put That Phone Down
Ever find yourself endlessly scrolling social media while laying in bed? That was me. I'd pick up my phone and get lost on Tik Tok or Instagram. I now try to put my phone down and not pick it up while I'm in bed. I've even thought of taking my phone out of my room at night, but as I family out of town, I like to keep it beside me just incase of an emergency or something.
Set screen limit and actually follow them. I need to be even better about this because I can get lost on social media. So I now try to charge my phone when I first enter my room and not even pick it up. I'll also take off my watch so I'm not getting notifications. This helps a lot. If it's out of sight, I try to keep it out of mind.
Avoid alcohol and caffeine
I can no longer chug alcohol or caffeine and expect that I'll go to sleep quickly later that night. So gone are the days of late-night drinking. Also, and it's no secret, I suffer from bad anxiety. Eliminating caffeine from my diet has helped me a lot. I also do mainly avoid alcohol for the most part and I'll occasionally enjoy a drink or two.
I don't think you have to eliminate either of these things completely, but I can't drink that iced latte at 6pm and expect that I'll be able to go to bed around 9. So I try to stop drinking anything involving caffeine around 5pm at the latest. So just watch the time when you're enjoying some drinks!
Lower that Temperature
One of the best tips that my doctor gave me was to turn our thermostat down to at least 70 at night. She actually recommended 65, which my husband would freak out about. I sleep super, super hot. I have to have a fan on me at all times when I sleep and sometimes, I'm still hot. My Dr. said our bodies are able to relax better and we can often sleep better when the temperature is lower in the bedroom. Plus, I like sleeping with the weight of blankets on me so the cooler temperatures don't bother me.
We have a NEST for our home, so it's easy to adjust and set a temperature schedule. That way when it's time to sleep, you're thermostat is already at the right temperature. Super easy!
EXERCISE
When I'm consistent with my exercise schedule, I sleep better. So I am for at least three days a week. Even if it's just a walk around my neighborhood, a bit of exercise helps me sleep better. One thing to note, I can't work out at night. I have to work out in the morning or afternoon. When I exercise it sort of wakes me up and I have all of this energy, if I work out too late in the day, it does mess with my sleep. Just an FYI.
If it's been a while since you worked out, try a small walk or maybe something like yoga. It doesn't have to be this huge change, but start small!
Make your bedroom relaxing and stress-free
If my bedroom is cluttered and messy, I can't relax. I will sit there and look at the piles of clothes that need put away. I'll notice if things aren't in "their place." That's just me. So everyday, I do a little walk around and see what I need to take care of before bedtime. I prefer to do this in the afternoon. I'll put away laundry. Clean up the bathroom. Make sure if I have piles of books everywhere (or cups) that I put them away. When I come to bed, I just want to relax. Not stress.
Set The Mood
NOT THAT MOOD! However, if that helps relax you, then do it. Literally, lol. When I go to my bedroom at night I like to light a candle. I like to only have a bedside lamp on. Sometimes I'll use my lights on the tv and use that as my main light. If you have no idea what I'm talking about, here's a link to the lights we have. I LOVE THEM. I can create scenes with them (candlelight, soft light, etc) and I'll sometimes turn on a YouTube channel that's just background noise (ASMR Rooms like rain or snow, etc) and this helps to make the room more of a calm environment.
My Favorite Relaxing Candles
My Favorite Bedding
There is nothing better than going to bed and having bedding that is soft and comfortable. Plus, using a special laundry detergent that smells amazing doesn't hurt either. The Le Labo Santal 33 makes an awesome detergent for bedding. It smells so good. Also, the Tyler Glamorous Wash in Diva smells incredible. Honestly, all of their detergents smells great.
If you're wanting to splurge on good bedding, you can't go wrong with Brooklinen. They have different sets available and they're a good brand to turn to when you're ready to splurge on something other than your go-to Target cheapies.
However, Target has some fantastic bedding choices. Their Casula bedding collection is great. I have two of their Down Pillows, sheets and even a blanket (or two) from that line.
If you're strapped on cash, I can't recommend this sheet set enough. I've heard if you have a mattress that is deep that these won't work, but we even have a pillow top and they work for us. They're from Amazon, but they're so, so good. Soft and really long-lasting. They do have an Extra Deep Pocket option if you do have a mattress that needs those.
One thing I should mention is that it might be a good time to also evaluate your mattress and pillows. When is the last time you got new ones? Sometimes an uncomfortable mattress or a pillow can prevent us from being comfortable enough to sleep.
Shower or Bath Time. Trust Me.
Why, as a child, I fought my mom about taking a shower or a bath is beyond me. I love to take a shower at night. I'm not the biggest bath fan (I KNOW!!!) but I like to take a cooler shower at night. I'll use scents that relax me, I'll not always wash my hair, but just rinse off. This helps to cool me down and to help me start the beginning of relaxing.
I love to do a body scrub at night and to apply a face mask. I'll moisturize and make sure that my feet are super lotioned up as I'm always without shoes in the summer and my feet get so dry. So sometimes I'll even be a little extra and apply a foot mask and a heel balm with socks. If I am really, really feeling like I need some self-care, I'll do a hair mask and use this time to read before I rinse my hair. I'm a big fan of self-care.
My Go-To Night Time Body, Hair and Face Products
CBD and Sleep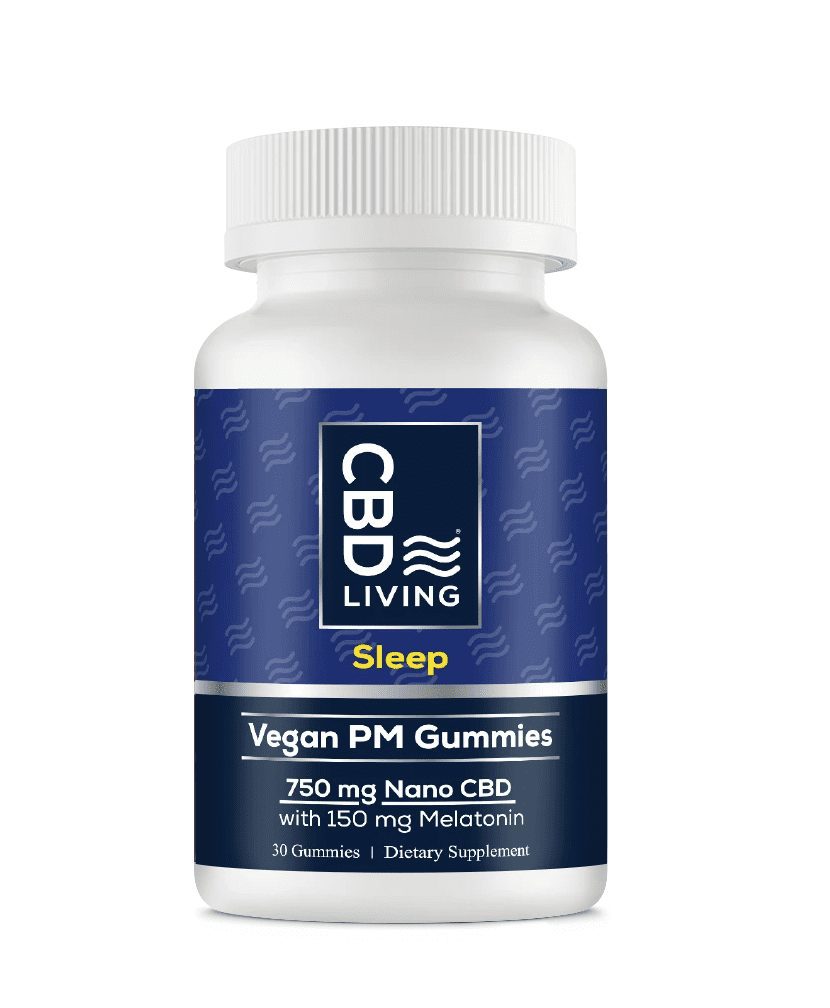 I was sent some products from CBD Living and I have to admit that these are some of the best edibles that I've tried for helping me sleep. Their sleep gummy combines 25 mg of broad-spectrum Nano CBD and 5 mg of Melatonin. They're also Vegan, contain 1 g of sugar and 10 calories. When I really need help relaxing because of a stressful day or anxiety, this CBD Edible helps so much AND I don't wake up feeling groggy.
Also, these will not make you "high" as they don't contain any THC. Plus, they aren't addictive so no worries.
There are plenty of brands that you can choose from, just do your research.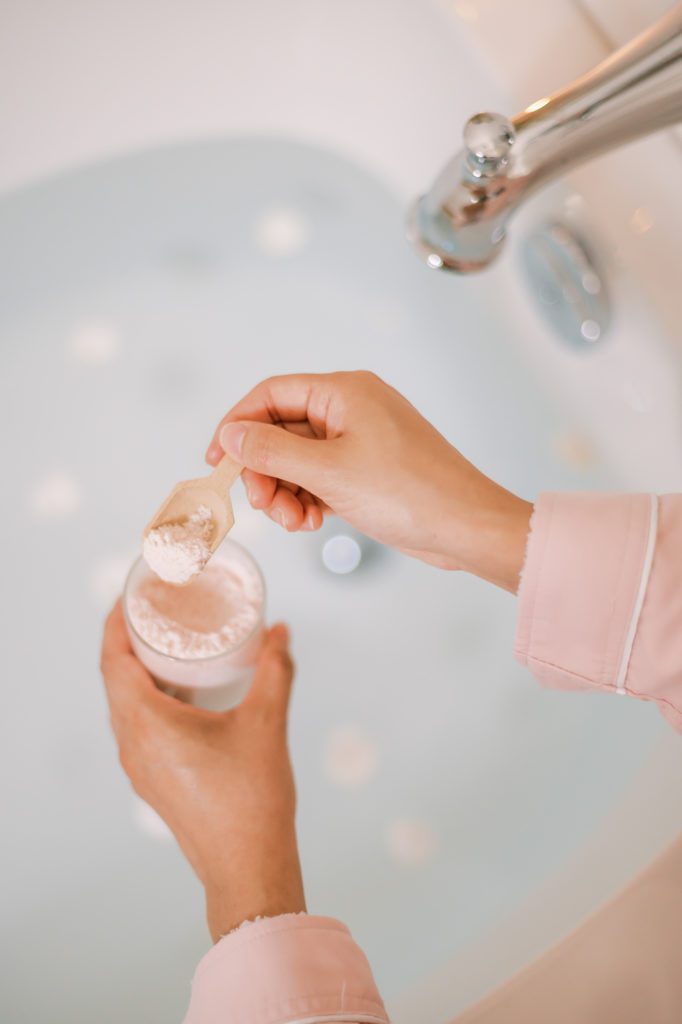 Sleep music, Sound Machines, and apps
Now I know I said to turn off your devices at night, but I still like to use a couple of apps to help me relax. I love Calm and Headspace and have a subscription to both. They feature sleep stories, guided meditations, and relaxing music. I swear by both. I also use my Google Nest and will ask it to play "nighttime music" or a playlist that I know will help me drift off. I like using the Nest because I can also set a timer and it will shut off.
When I was in Ohio, my mom had a sound machine in the bedroom and I used it every single night. It was great. I'd fall asleep so fast. Was it just being at home or the sound machine?!? I don't know, but this sound machine was amazing.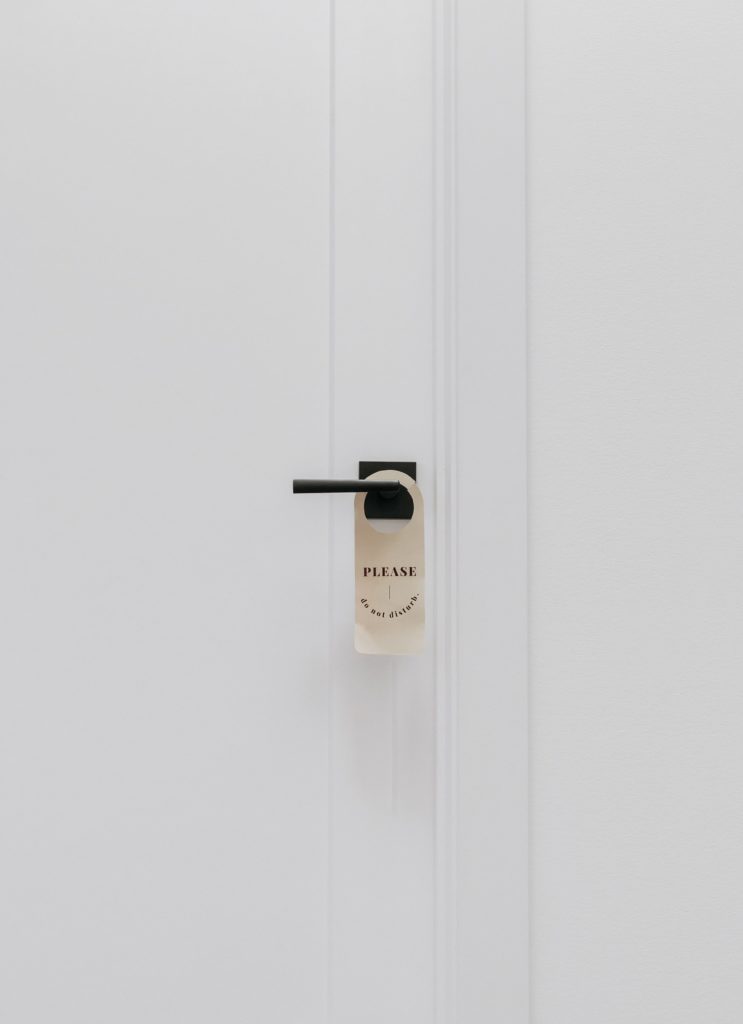 There are a lot of things that you can do, small changes, to help prepare you for a good night's sleep. I'd also probably say that even something as simple as drinking a sleepy time tea could help. Food that we consume can probably interfere with our sleep schedule. It's all connected. I just know that by working on my bedroom and creating an area where I feel relaxed and calm, it's helped me a lot. Putting down my phone has probably been the biggest help. Don't be afraid to turn it on Do Not Disturb for certain hours.
One thing I didn't mention was that even hormones play a part in our sleep issues. I have PCOS and sleep irregularities are common. If you're wondering if hormones are a part of your sleeping issues, consult your doctor. I recently talked to her about the amount of sleep I was getting. I feel like I need way more than say my husband does. Don't feel bad if you need more sleep than others. Or maybe you need less. We're all different.
Prolonged bouts of insomnia are not good for our mental or physical health. Small changes can equal big results, however, you should talk to your doctor at some point if you still struggle with sleep. Something else could be going on.
Shop The Post