Welcome to the ninth post in my newest series, My Five Favorite Beauty Products. You guys are blowing me away with your comments and support from these posts. It's great to see what other people love as far as beauty products, right?!?! If you're new around here, let me explain what this series is all about.
I'VE ASKED SOME FELLOW LADIES IN THE BEAUTY INDUSTRY AS WELL AS FRIENDS AND FAMILY TO SHARE THEIR 5 FAVORITE BEAUTY PRODUCTS. SOME PEOPLE ARE "BEAUTY OBSESSED" WHILE SOME ARE JUST TRYING TO GET BY WHEN IT COMES TO BEAUTY. I'VE GOT A REALLY DIVERSE GROUP OF WOMEN (OF ALL AGES) WHO ARE PARTICIPATING AND I'M SO EXCITED TO SHARE THEIR RESPONSES WITH YOU GUYS! WE'LL BE TALKING ALL ABOUT HIGH-END AND DRUGSTORE MAKEUP, HAIR PRODUCTS, SKINCARE AND WHO KNOWS WHAT ELSE. IT WILL BE EVERYTHING BEAUTY!

Christine
Meet Helen from La Vie Stella
Again, I'm not sure how I found Helen but it was for sure on Instagram. Her photos are absolute incredible and they just pull you in. Her collages that she puts together, feature beautiful magazines as the background. I'm not sure which I find more interesting, the products or the magazines?!? Her style is something I can't get enough of. PLUS, she's also from Ohio!!! Shoutout to my home state!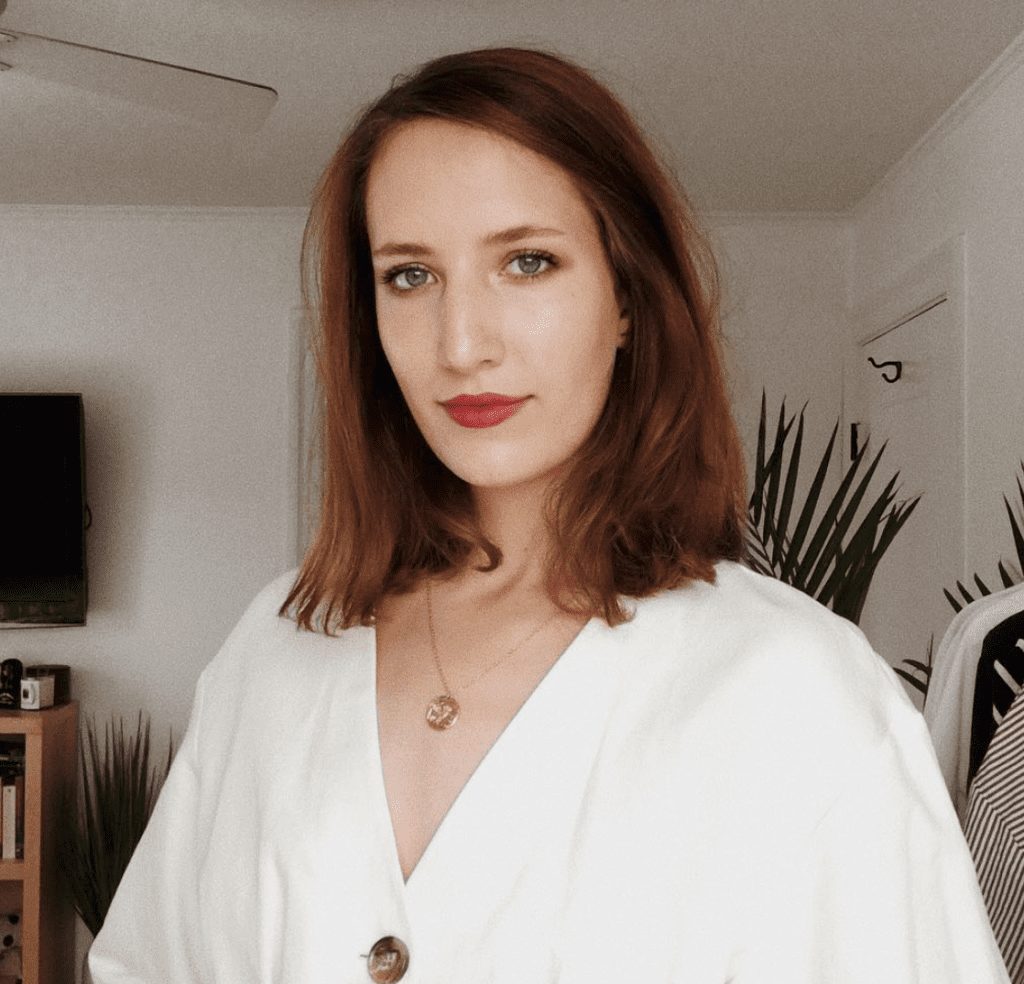 What is your name?
Helen
Do you have a blog or a website you'd like me to share?
Are you a business owner or someone in the beauty industry?
Not professionally involved in the beauty industry but I'd love to be a part of it someday soon!
How "into" beauty are you?
Beauty Obsessed
What is your first favorite product and why did you choose it?
I'm very boring when it comes to skincare since my skin is dry and sensitive. Simplicity is key! That's why I'm obsessed with my La Roche Posay Hydrating Gentle Cleanser. It deserves more attention online! One of the best affordable gentle cleansers on the market. Never irritates my skin or leaves it feeling tight. It's basic but sometimes basic is what your skin needs. The CeraVe hydrating one is fab too – it's actually more hydrating than the LRP – but not as great at removing all the dirt and grime from the day.
What is your second favorite product and why did you choose it?
I'm a massive Glossier Cloud Paint fan! Dusk, in particular, is an unusual blush shade pick for me. It looks brown out of the tube – slightly scary sight when you're a very pale person like me – but when blended out it such a beautiful bronzey pink. I love how easy the Cloud Paints are to blend out and how natural they look on me!
What is your third favorite product and why did you choose it?
Ok, ok I know this is an unnecessary skincare product that doesn't actually do anything helpful for my skin but I've been reaching for my Omorovicza Queen of Hungary Face Mist recently. I was a face mist skeptic for years but now I get the hype. They're so refreshing! The Omorovicza one, in particular, is the best one I've tried because the spray nozzle spritzes such a fine, even mist. I use it whenever my face is feeling dry. I find that it adds a nice layer of moisture and helps refresh my makeup.
What is your fourth favorite product and why did you choose it?
This isn't necessarily one product or brand but pimple patches are high up on my list of best skincare discoveries of 2018. I'd known about them for a while but didn't think they'd actually work. Then I was lucky enough to get sent a couple boxes from brands and am hooked! They're completely invisible to the point where I legitimately forget to take them off before doing my morning skincare routine because I forget I'm wearing them. They're super effective too. They suck out all the gross puss from blackheads and whiteheads. It's satisfying yet disturbing at the same time! I no longer need to pop gross pimples.
What is your fifth favorite product and why did you choose it?
I recently repurchased my holy grail eyeshadow primer and I feel like it deserves a shout out! The NARS Pro-Prime Smudgeproof Eyeshadow Base is the best primer I've ever used. It even beats the cult classic Urban Decay Primer Potion. It never ever creases on me even on the most humid, hot days.
A huge thank you to Helen for sharing her favorite beauty products! She has some AMAZING products mentioned that I need to try!  If you'd like to share your five favorite beauty products with me, please email me at christine@simplystine.com! I'd love to feature you!!!