Y'all know my love of K-Beauty products and especially for Sheet Masks. I've featured them several times on Simply Stine and one store that I love to shop at in particular for my K-Beauty/Sheet Mask needs is Peach & Lily. Well, now they have a sister site called Peach Slices that features, even more, K-Beauty choices to choose from. Think more fun, light-hearted, but still very high-quality K-Beauty products.
One product that I've fallen completely in love with from Peach Slices is their Sheet Masks. If you haven't started using Sheet Masks yet, you are so missing out! I love them because they're not only super affordable, BUT they also are so customizable to whatever skin issue you're having. I always keep a variety on hand so I have them for whatever issue I'm having. Dry skin is a huge issue this time of year and these sheet masks are perfect to have on hand!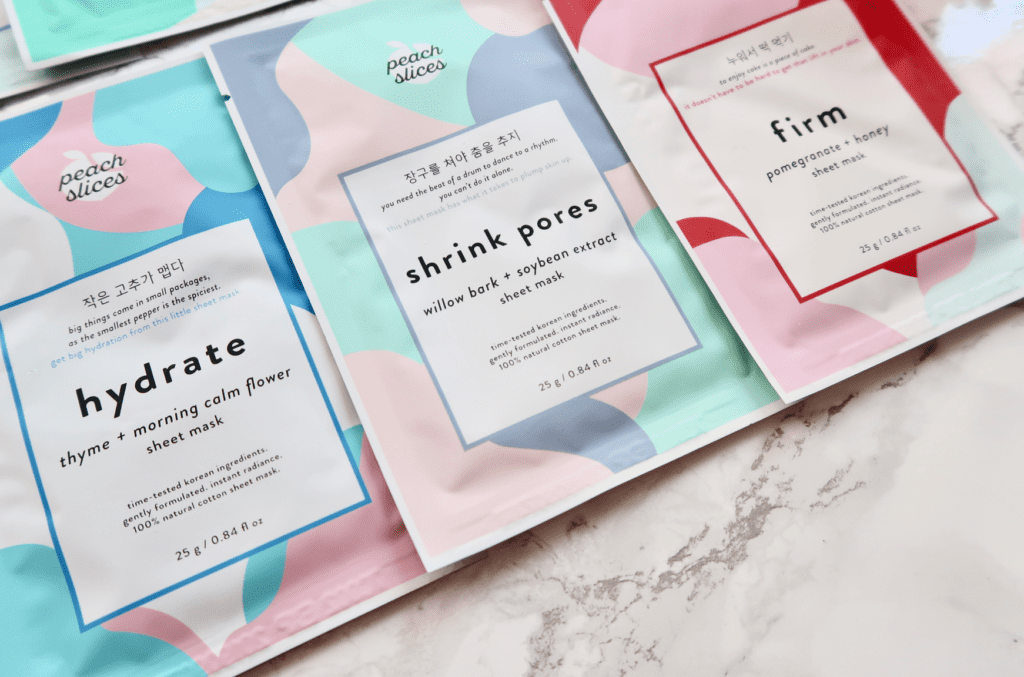 Peach Slices Sheet Masks
Clarify This is the perfect mask if you need to help clean out your skin, literally. The clarify mask will help remove dirt and dead skin cells to help give a cleaner and clearer appearance. This mask features soothing loquat (plum family) and persimmon (loaded with vitamins and skin toning benefits). This mask is best for hydration, clarifying, and tightening of pores.
Firm If you need help firming and lifting your skin, this sheet mask will help deliver a good dose of anti-inflammatory and antioxidant benefits from ingredients such as honey, pomegranate, witch hazel and mushrooms which are rich in Vitamin-D and are sourced from Asia's mountains. This mask is best for hydration, nourishing and long-lasting benefits.
Hydrate So right now at this point in the year, we all pretty much need some moisture. It's getting colder outside and we're in and out of the heat. Sometimes we're traveling for the holidays and we all know what getting on a plane can do to our skin. If your skin is dehydrated, it can become dull and sometimes become painful and crack or even break out. This mask will help refresh your skin and provide hydration from antioxidant-rich thyme and the Chinese morning calm flower. This mask is best for hydration and long-lasting benefits.
Shrink Pores If you suffer from enlarged pores, this mask will provide exfoliating willow bark, soothing hinoki cypress, hydrating rose, brightening citrus, clarifying cinnamon and a slew of other natural ingredients to help firm the skin and help reduce the size of your pores. This mask is best for hydrating and shrinking pores.
Brighten If you have issues with hyperpigmentation and dull skin, this sheet mask will help brighten your complexion. It features Japanese yuzu citrus and lotus, which when used together, helps boost the skin's radiance and give you a more even skin tone. This mask is best for brightening, hydrating and nourishing the skin.
Calm This mask features a blend of jasmine, which is known for it's healing and moisturizing properties and chamomile, which helps relax and soothe the skin. This sheet mask works to help restore the skin to a more calm, soothed appearance. This mask is best for soothing and hydrating.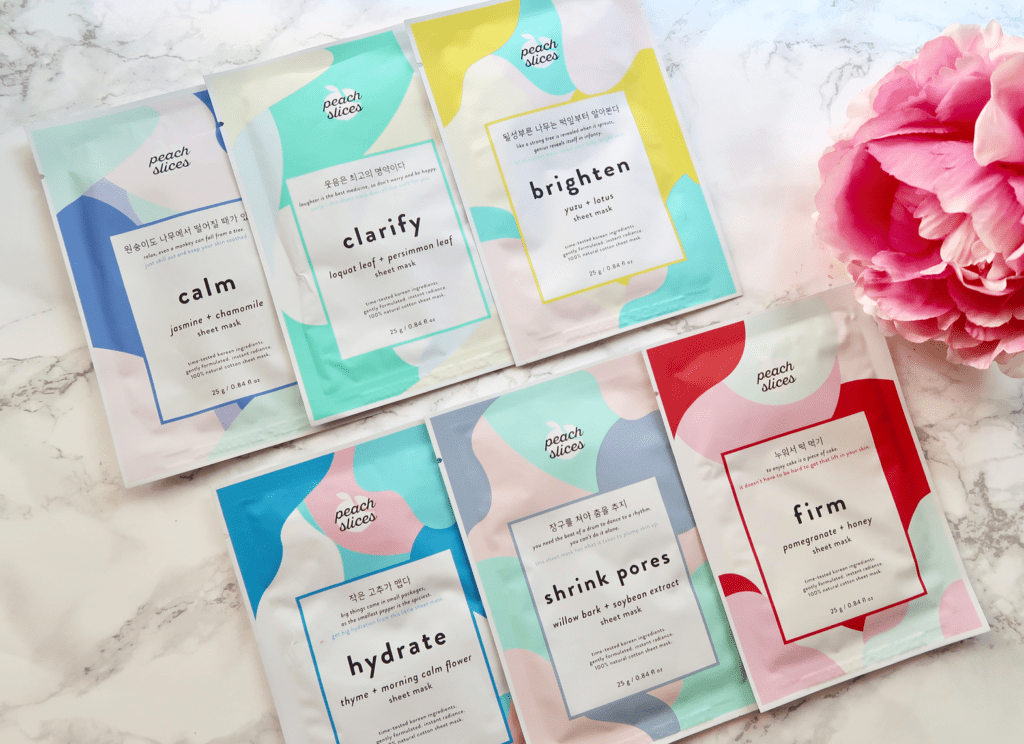 Here are some other quick facts about these masks:
natural cotton masks
no harsh chemicals, dyes, alcohol, parabens or sulfates.
Apply these sheet masks after cleansing and toning. Leave on skin for 15-25 minutes and remove the mask, rubbing in any remaining liquid into the skin. Follow up with moisturizer.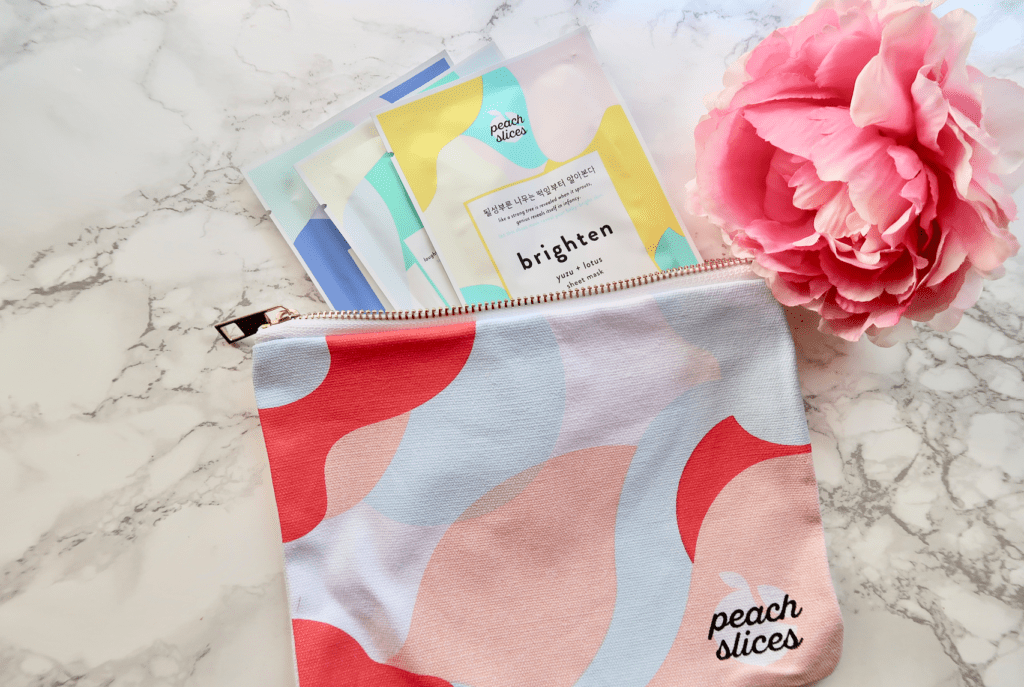 I'm loving these masks and at only $2.49 a mask (I know!!!) these are an amazing find! I'm loading up on these for stocking stuffers for my friends and family because I know they'll love them as well! While you can always order online, these masks are also available at select
CVS locations
! If you're wanting to pick them all up, be sure to check out this
bundle
I found available online!
PR Sample sent for review purposes only.
All thoughts and opinions are my own.