Raise your hand if you've ever finished a workout and had to leave in a hurry, feeling sweaty and disgusting. Maybe you've had to run errands, maybe you've had to go back to work.  Whatever the reason, no one likes to feel gross after a workout.  This is where the new e.l.f. Cosmetics Active Product Line can help!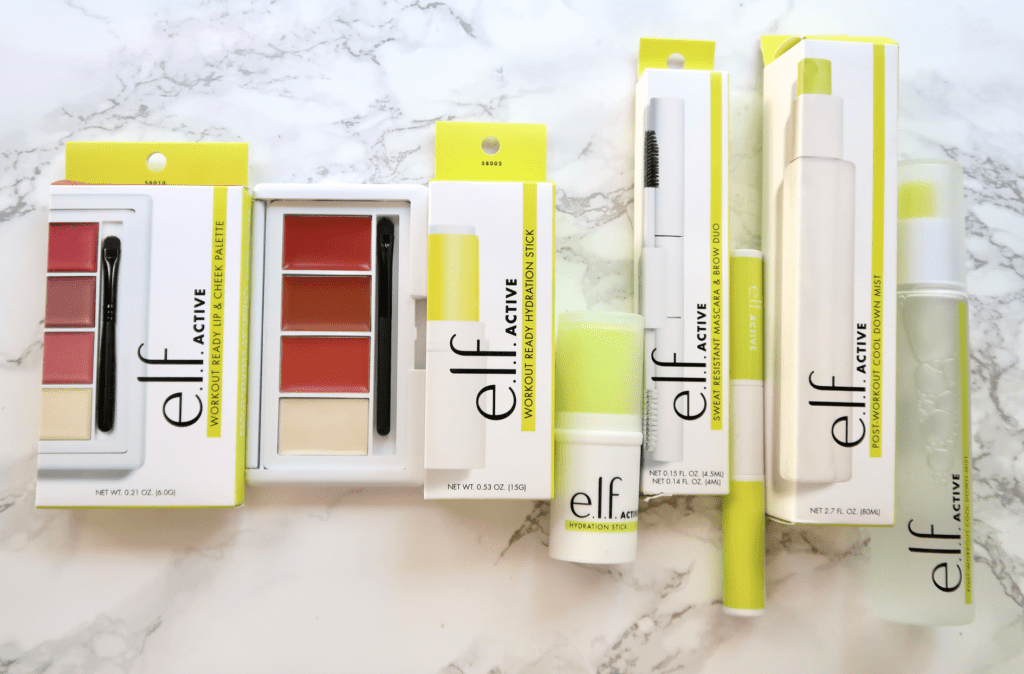 Not only is this a product line with makeup, but it also has skincare products as well! I love that! This seven-piece collection will leave you feeling clean, refreshed and a little more put together after your workouts. Plus, it's at such an amazing price point as nothing is over $10.00. (Not even close, really.)
I don't have the entire collection, but there are four makeup products and three skincare products that complete the line.  For the cosmetic part of the collection, you've got a brow gel and a waterproof mascara, an eyeliner that's waterproof, a lip and cheek palette that is gorgeous and features cream colors for your lips and cheeks and finally a set of silicone sponges that are made to tap your makeup into place.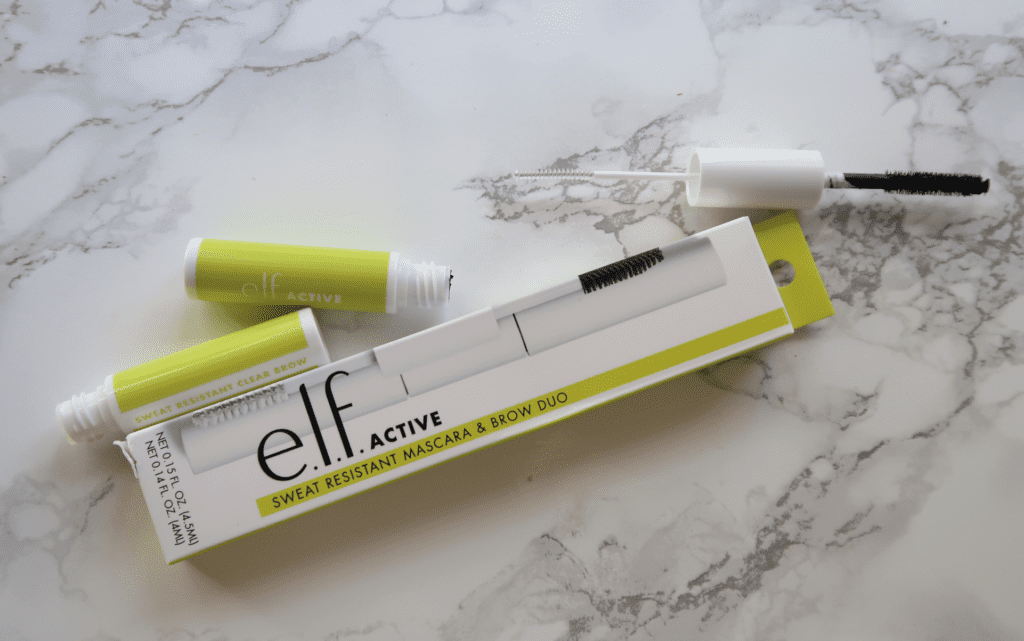 Sweat Resistant Mascara and Brow Duo  $6.00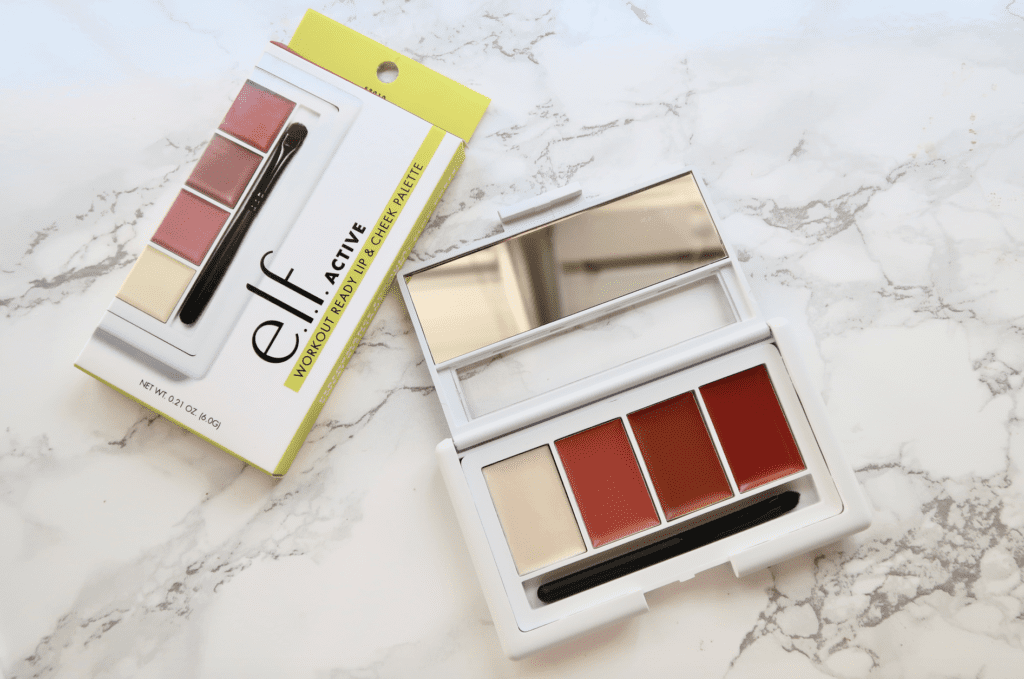 Workout Ready Lip & Cheek Palette $8.00
This lip and cheek palette is the perfect product for on-the-go touch-ups and also getting ready for a workout.  Some women do not like to ever go makeup-free, so a product like this allows you to have a cream product that will give you some color the face and the best part is that it lasts through workouts! The colors are buildable, which I love and they're great for a variety of skin tones. I love that this includes a mirror and a brush!
One thing to note is that if you are prone to breakouts, please be advised that this does have coconut oil in it and some people have reported that this did, in fact, make them break out.  Everyone is different, but just keep that in mind before using!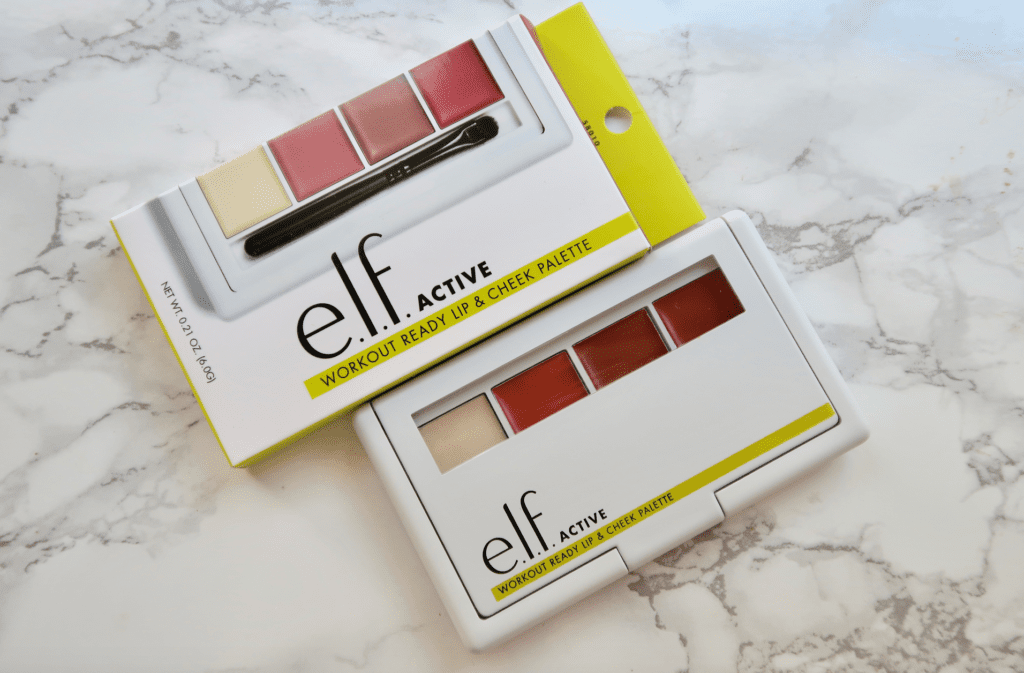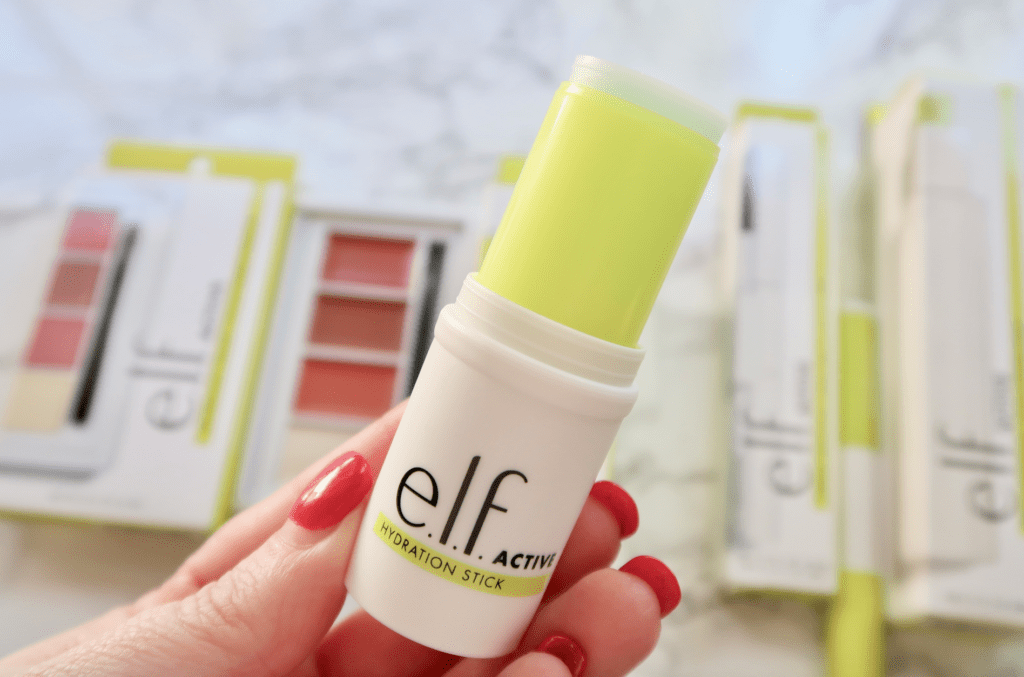 Workout Ready Hydration Stick $8.00
Now for the part that I love the most-the skincare products! There is a hydration stick that helps to cool your skin on contact. It's awesome and it features Shea Butter, Aloe, and Grape all of which also help act as an anti-inflammatory product as well! So for those of you who turn into a bright red tomato after workouts (ME!) you'll appreciate this product a lot! It leaves my skin feeling very hydrated!
There is also a cool down mist included in the product line. This product I love.  It features water (really fine mist), glycerin to help keep moisture in place and jojoba. Again, if you are prone to redness, this will help! I like to use this pre and post-workout to help hydrate my skin and after a workout to help keep my face hydrated and my makeup in place!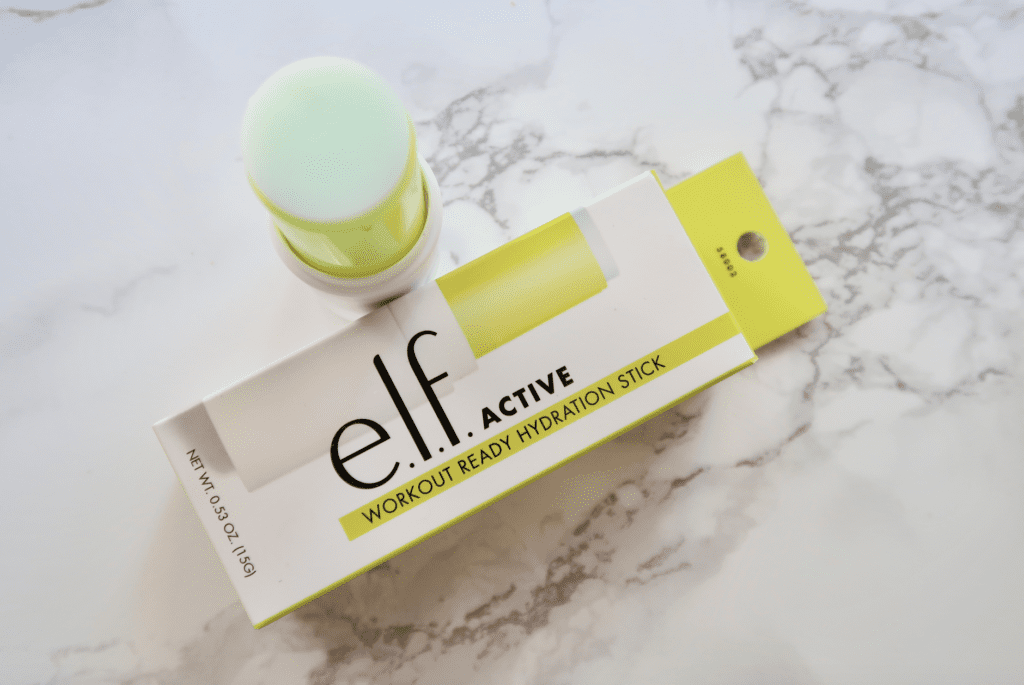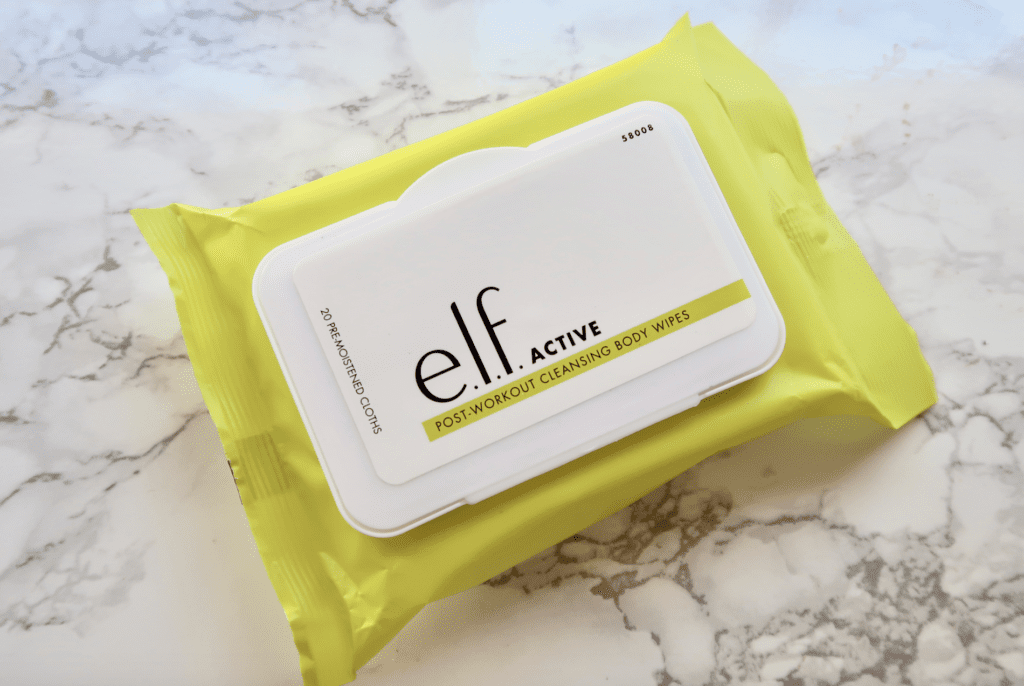 Post-Workout Cleansing Body Wipes $3.00
Finally, there are body cleansing wipes which I love! These supersaturated cleansing wipes feature good for your skin ingredients like aloe and glycerin.  You will love these and they are only $3.00!!!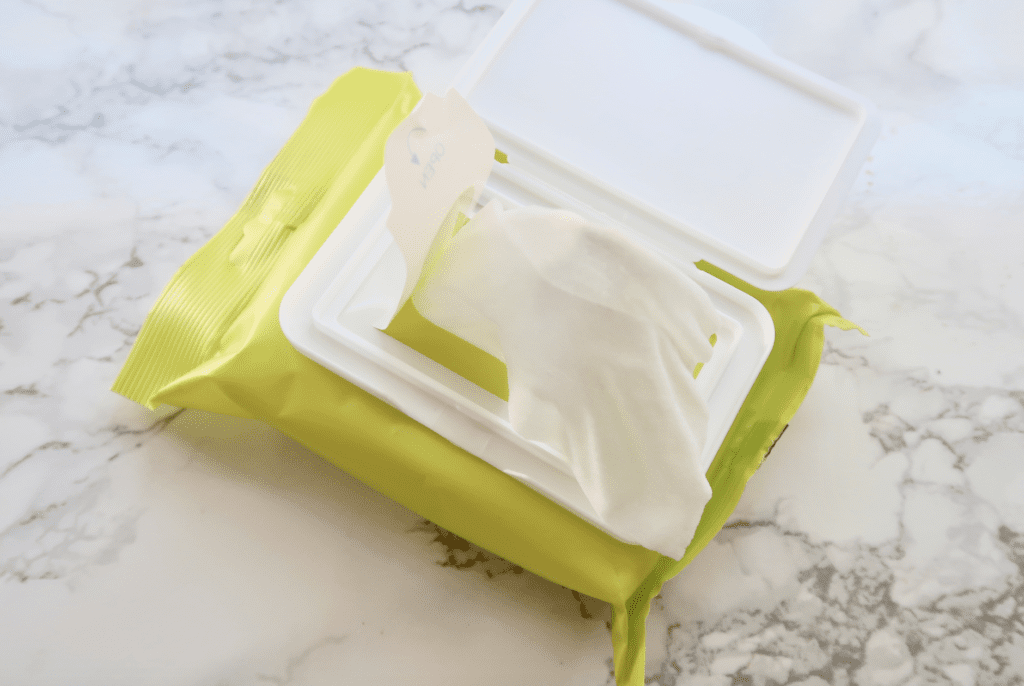 The New e.l.f. Cosmetics Active Product Line impressed me so much and it really shows how far e.l.f. Cosmetics has come as a brand. Don't mistake their low price point as not being a fantastic product line because, with products like this, it just shows you don't have to spend a fortune to have a great set of products on hand!

PR samples were provided. All thoughts and opinions are my own.