Suffering from dry skin? You're not alone. The weather has been getting colder and we've even had our heat on for a couple of days so my skin is NOT happy with me at the moment.  That means it's time for a skincare change up so I can work on hydration again. One of the products I've added to my skincare routine is the StriVectin Advanced Hydration Hyaluronic Acid Dual Response Serum. It's a new product for StriVectin so I thought I'd give you some information because more than likely, this is a product that you are needing right now as well!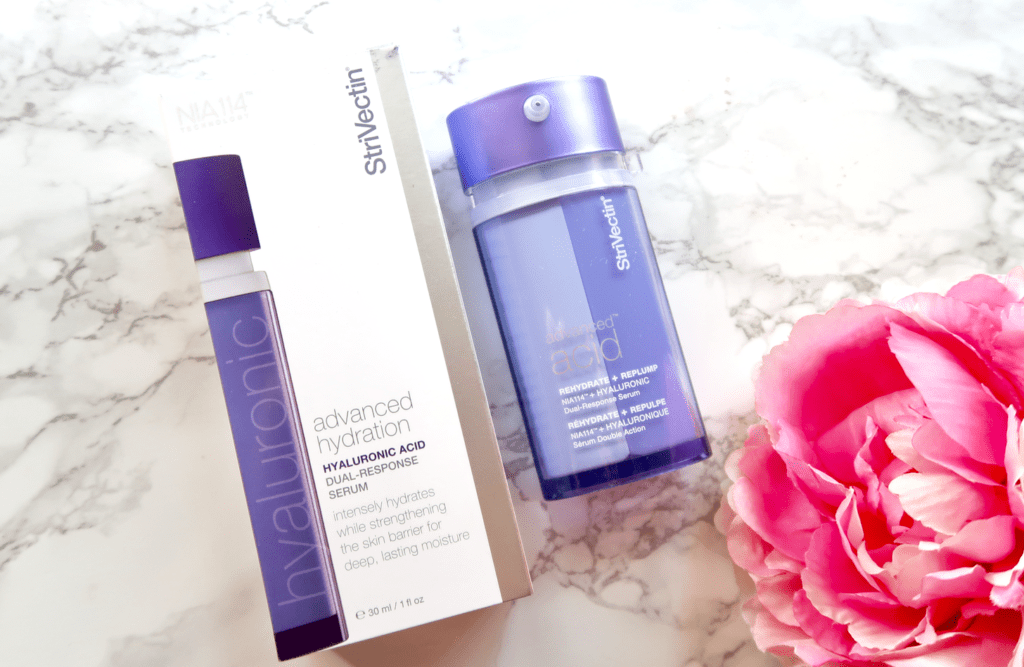 StriVectin Advanced Hydration Hyaluronic Acid Dual Response Serum $79.o0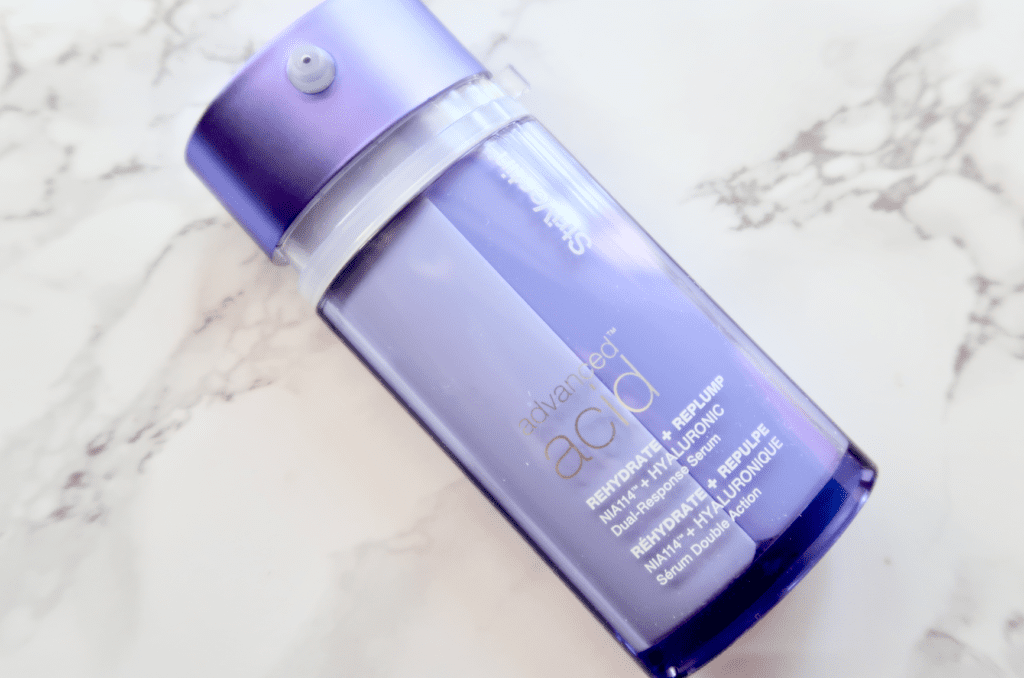 One of the best ingredients that you can use in your skincare routine for dry skin is Hyaluronic Acid.  It's an incredible hydrating molecule that can actually hold 1,000 times its weight in water.  It's AMAZING for dry skin. The StriVectin Advanced Hydration Hyaluronic Acid Dual Response Serum has two chambers. The first chamber contains 6 unique forms of Hyaluronic Acid to help plump and hydrate the skin. Chamber 2 contains StriVectin's famous NIA-114 and Ceramides to help lock in that moisture and prevent further hydration loss.
NIA-114™ is a patented molecule found in StriVectin-SD® products. NIA-114 is designed to penetrate the skin, delivering the vitamin Niacin to the skin's deeper layers. Niacin promotes healthier, smoother and more even textured skin by releasing leptin, a natural repair hormone, that promotes healing and reduces hyperpigmentation. In its natural state, Niacin is water-soluble and cannot penetrate the skin barrier. StriVectin scientists have developed the molecule, NIA-114 –which not only penetrates the skin, it diffuses into the deeper layers where cellular regeneration occurs. NIA-114 has emerged as a breakthrough in helping the skin protect and repair itself from damage and aging from the inside out. It stimulates the repair of DNA, enhances metabolism to encourage cell growth, which in turn heals wounds and inhibits hyperpigmentation. –DermAprroved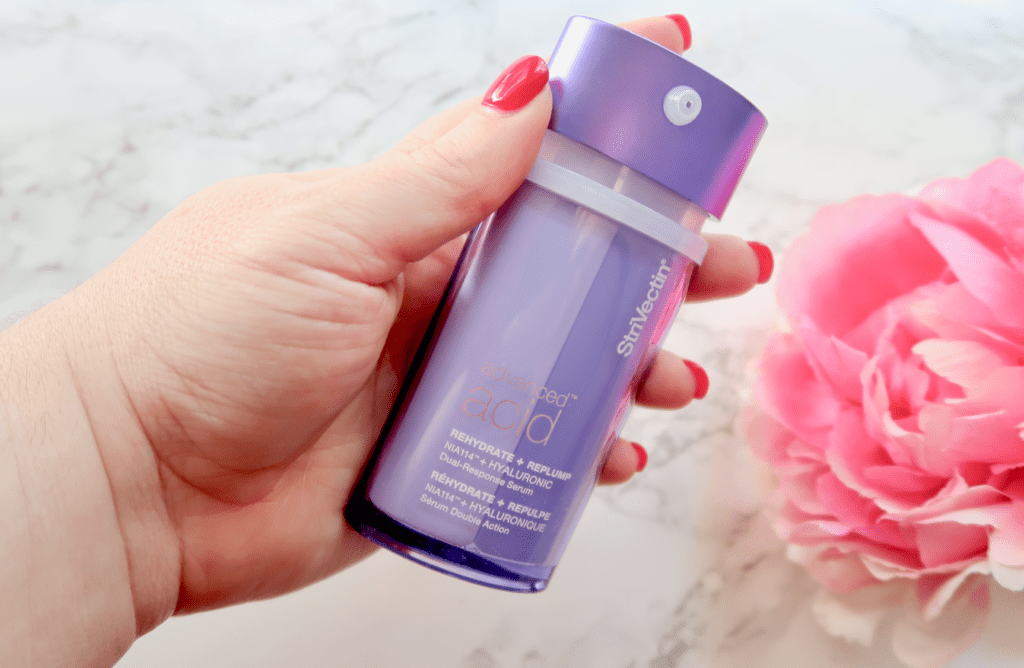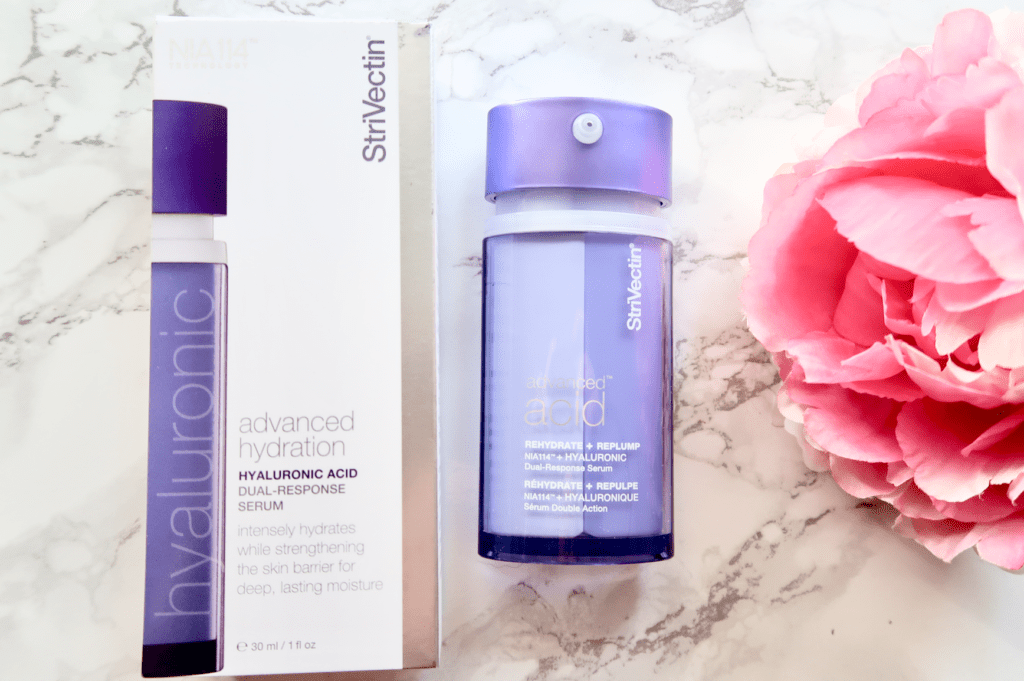 I've only been using this a small amount of time, but so far I'm impressed.  I'd like to continue to use this through Winter and update my review.  It makes my skin feel soft, hydrated and definitely more plumped when I'm feeling dehydrated. So far I'm impressed, StriVectin!
---
How I use:
I use the StriVectin Advanced Hydration Hyaluronic Acid Dual Response Serum in the AM/PM after I cleanse and tone my skin, but before I moisturize.
What Skin Types/Issues:
This is excellent for those who suffer from dry, dehydrated skin. It's said to smooth fine lines and wrinkles (I haven't used this long enough to vouch for that yet BUT with continued use, I think it will help) and to also help lock in moisture in the skin.
---
Miss my other post about the three StriVectin products that will wow your skin?