There seems to be a new mascara launched weekly,  which is a good thing for all of us who are still left trying to find THE perfect mascara.  While I have found some that are pretty close to perfect, I keep telling myself that there has to be one out there that can really give me the insane length and volume I'm hoping for.  I was really excited for the new
Maybelline Rocket Volum'Express
Mascara that was just released.  Could this be the one?!?!
Maybelline claims that this mascara will give you "explosive volume from root to tip." The reason behind this "explosive" volume?  Maybelline's new rocket brush, which features a hard core, with evenly spaced,  soft bristles that they claim will give you 8x more volume.  This is a clump-free formula that features thickening agents to really give your lashes some more body and oomph to them.  This formula comes in three shades and I believe two waterproof shades.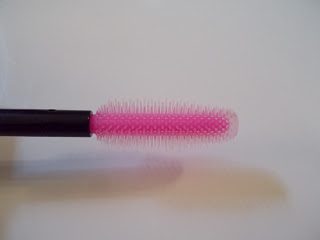 This brush isn't curved at all.  It's stick straight.  
The mirco-bristles are supposed to really grab the lashes
Left eye is without any mascara, right is two coats of Rocket Volum'Express
I can't say I loved this mascara, but I didn't hate it either.  I don't think it wowed me like I was hoping.  When you see a package that says 8x more volume, a person (like me) with barely there lashes,  tends to get really excited about that!  It's a very wet formula that you have to work pretty fast with, when applying more coats, to ensure that it doesn't clump.  Overall, I felt like it was very similar to
Covergirl's LashBlast
.  I never had great luck with LashBlast mascara, but there are plenty of people who love it. This mascara wasn't horrible and I'll continue to use it to see if I have any better luck with it.  I think I paid about $6.00 for this mascara, but I have seen some people saying it was closer to $7.00 in some areas.  This is available at any drugstore, grocery store or places that will sell Maybelline Cosmetics.