Here's another Too Faced beauty.  Yesterday I talked about the gorgeous Shadow Bon Bons Palette and today I want to share with you, one of the most different palettes I've ever owned.  The Too Faced Sweet Indulgence Palette caught my attention because of its stunning colors.  These aren't normal colors that I would wear, but still, I loved the colors.  I have a horrible bad habit of always wearing a nude eye look, but I'm trying to step outside the box and wear a lot more color.  This palette is the perfect way for me to re-introduce myself to gorgeous, pigmented eye shadows in a variety of colors.  Not to mention some gorgeous bronzers, blushes and a highlighter.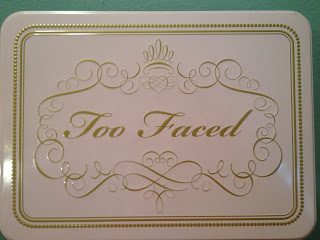 Beautiful packaging again.  This makes me want to keep it displayed.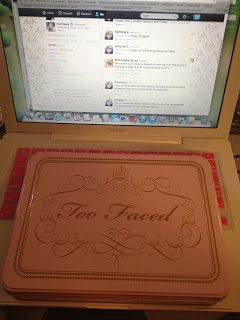 This is the size of the Palette. It's pretty large, but it's packaged in a great tin. 
Arm: Eye Shadow swatches (Lightest color, In the Buff, is swatched, 
but is my natural skin color so it doesn't show up)
Hand: Bronzer, Blush and Highlighter swatches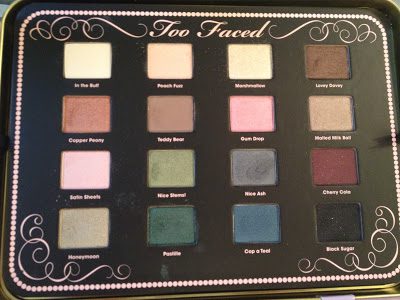 Once again, Too Faced has put together an amazing array of colors.  Like I said before, this is not a palette I would typically be pulled towards, but once I saw how gorgeous some of the colors were when applied, (Nice Stems!, Cherry Cola and Gumdrop were my favorites) I was really excited to get this palette to play with.  This comes with two removable "trays"(one eyeshadows, the other has all the bronzers, blushes, highlighter, primer and brush) inside a tin, with a full size Shadow Insurance Primer and a dual ended Too Faced brush.  Also included are three instructional cards with tips and eye shadow/full face looks.  Everyone who is a fan of Too Faced knows that a lot of emphasis is put on glitter/shimmer eye shadows and this palette is no exception.  So if you aren't a fan, I'd skip this one and wait to fall in love with their
Spring 2013 palettes
.  
This palette costs $52 and is still available at 
Sephora
.   Last time I checked on Too Faced website, it was sold out.  If this is a palette you would want to own, I'd suggest getting this ASAP, once again, because these won't be around forever.  It's a great palette to own to add a little bit of color to your eyes, and a perfect bronzed look to your cheeks! I'd say it is worth checking out.