Growing up with stick-straight hair felt like I had won the jackpot! Not only was I a natural platinum blonde (miss that blonde for sure), but I was also blessed with straight hair.  At the time I loved it. No muss, no fuss, right?!? Then puberty hit and things change.  I was left with not-so-blonde hair and wavy, curly hair.  I had no idea how to deal with it or how to feel beautiful with this new hairstyle.  So fast-forward about twenty or so years and I'm sitting down at my computer watching a video about little girls talking about how they hated their hair and they wished that they had straight hair so they, in their own words, "could feel pretty."  TEARS!!!  Hey! I knew what that little girl felt like, I had been there! This is why I love Dove, they have campaigns about real issues we as women struggle with.  If we don't tell our children and younger generation that curls are beautiful, how are they ever going to think that having curly hair is beautiful?  Dove knows how to remind us of the real issues we need to work on…
I read a statistic about women with curly hair and out of the 10 girls that they asked about their hair, only 4 girls thought their curly hair was beautiful and only 10% of women in the U.S. with curly hair, feel proud of their hair (Statistics by Dove).  So why do we feel so less confident if we have curly hair?  Where does this thinking come from? I think the reason I was not confident about my curls was because I didn't know how to take care of them or style them.  My mom probably didn't either. I look back on the horrible hair cuts I put myself though and I think to myself now, no wonder why I hated my curls.  Could it be that with just a little bit more knowledge and information on how to care for them, would actually leave me feeling like I loved my curls? I think it's completely possible! Dove has created a product line to help with just that!
Did you know that one in three women in the U.S. have curly hair? That's a lot of women who are needing hair products created specifically with their curly hair in mind, so I love that Dove has created the Quench Absolute product line. I've gotten a chance to try it out and so far, it's made my curls and waves feel so much more hydrated and smooth. I've said it before, but I'll say it again, I live in Georgia and when curly/wavy hair meets humidity; you tend to get a little scared!  Since using the Dove Quench Absolute products, I've seen a big difference in the amount of frizz I experience, my hair is softer and just seems so much more smooth. My curls seem to bounce with happiness instead of feeling weighed down with heavy product!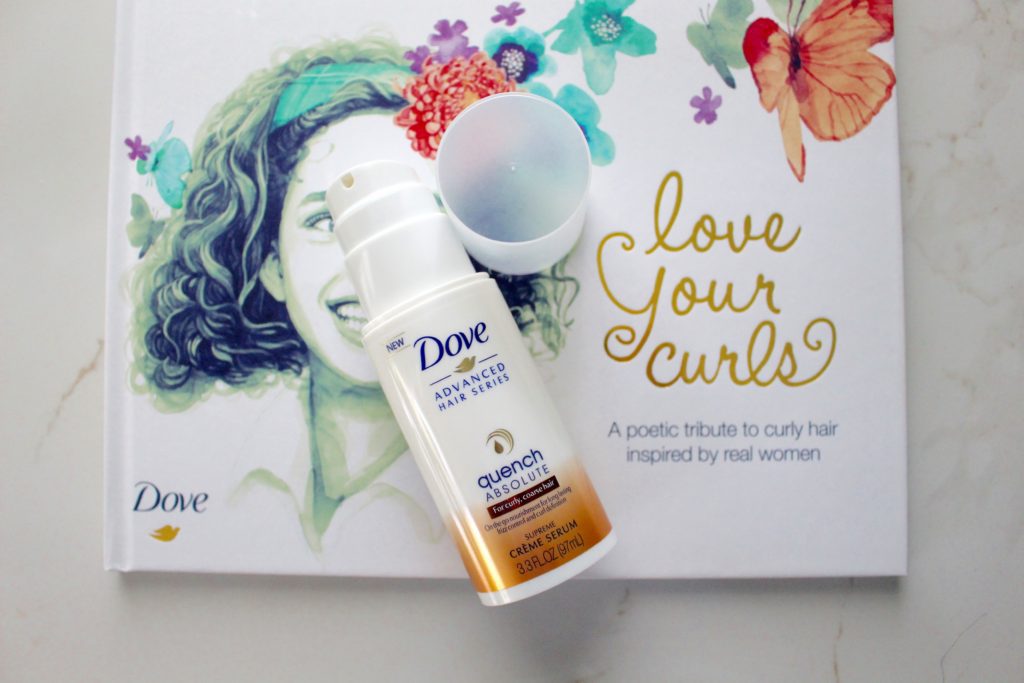 The Dove Quench Absolute product line is a three part system that will help to nourish the hair and features ingredients like protein,  nutrients and Buriti Oil, which will help provide a softer feeling, smooth, nourished set of curls. I really like the entire line of products but I am especially loving the Supreme Creme Serum because it is a product that can be used on wet or dry hair, it's lightweight and it contains high levels of glycerine to penetrate and nourish the hair. It's one of the best serums I've used on my curls.  Here's a little bit more about the entire Quench Absolute Line of proucts:
Dove Quench Absolute Ultra Nourishing Shampoo

Gently cleanses curly hair, leaving it feeling soft and smooth
Nourishing formula leaves hair strengthened from the core

Dove Quench Absolute Ultra Nourishing Conditioner

Absorbs effortlessly into the hair
Increases manageability of curls for a smooth finish
Naturally curly hair is revived and strengthened from the core

Dove Quench Absolute Intensive Restoration Mask

A rich, creamy formula
Envelopes each curl to deliver intense nourishment for ultimate smoothness and hydration

Dove Quench Absolute Supreme Crème Serum

Dove's first curl leave-in nourishing treatment
A fast absorbing, lightweight and creamy serum
Contains high levels of glycerine to penetrate and nourish hair
Can be used on wet or dry hair
Dove teamed up with best-selling author Taiye Selasi and illustrated by Annick Poirier to make a book called Love Your Curls. It's a poetic tribute to curly hair.  It was inspired by thousands of stories from women with curly hair and it's intended to represent and inspire curly girls of all ages! I love that Dove used real stores from real women to be the inspiration for the book.  If you'd like to Download the book, to help inspire curly girls in your life, visit this link: Dove.com/LoveYourCurls.  When you visit the website, you can download your free e-book and also be able to create a personalized e-book with a custom dedication and illustration for a curly girl in your life.  You'll also be able to share your e-book on Twitter, Facebook and Pinterest.  How cool is that?!?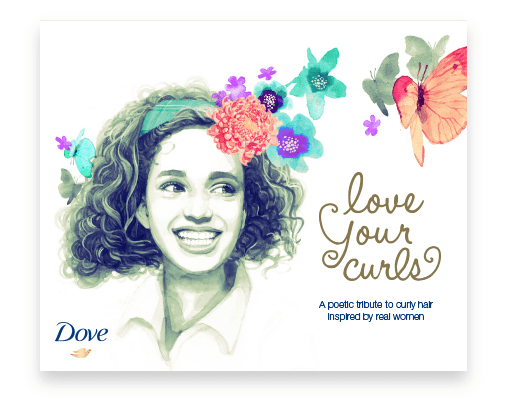 Here's a screen shot of the book that I created! I uploaded my own picture and told them a little bit about myself and voila! Love it!
Thanks, Dove for getting the real issues that women need to talk about.  Not only to remind ourselves that we are beautiful just as we are and that we should embrace what makes us unique, but to also remind us that there's a generation of younger women out there that need us to tell them how beautiful they are and to remind them that being different is always ok! Curls for the win!!  Now, here's the video I talked about earlier that made me tear up! Let this be the reminder that we need to make these young women feel confident!

I was selected for this opportunity as a member of Clever Girls and the content and opinions expressed here are all my own.