Today I'm sharing my July Reading List. It was a good month of reading overall. One book in particular was a STRUGGLE to finish and I think you'll be able to guess which one that was based on my reviews. Anyways, did you read anything you loved? Let me know! Did you read my June Reading List?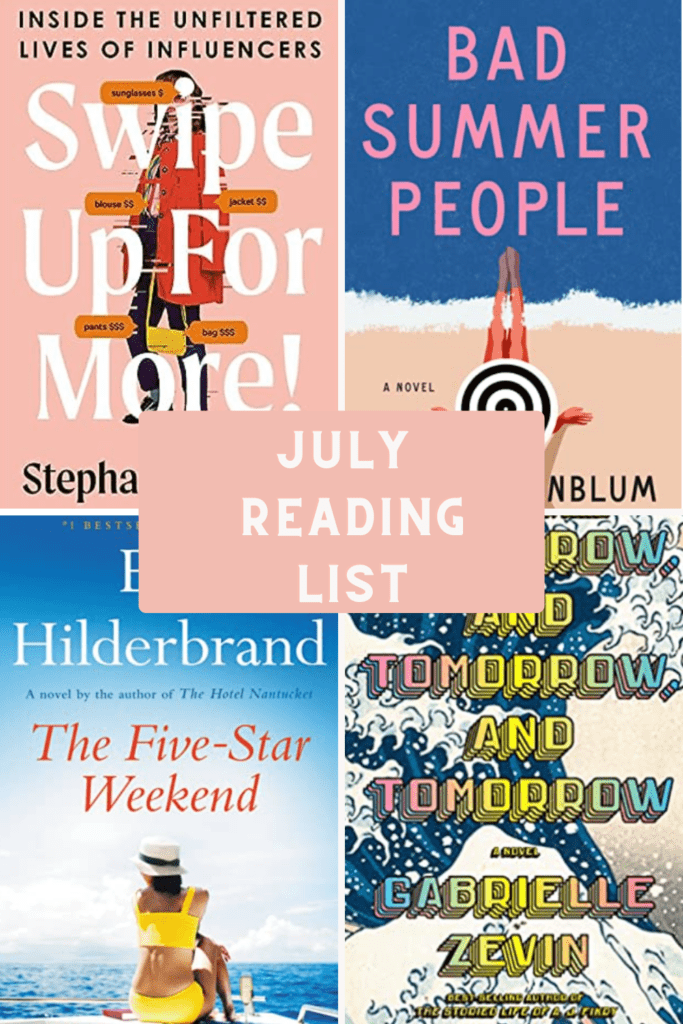 4⭐️
I loved The Unhoneymooners by Christina Lauren so much. An enemies to lovers story that made me laugh and also pulled on the heart strings. The Honeymoon Crashers is their audio follow up. It's a graphic novel (think sound effects, full cast, music) and I enjoyed it so much. It's a short story, but focuses on Ami, the bride from The Unhoneymooners.
This is a story about family. It's also a story about finding out what true happiness really looks like.
4⭐️
I finally sat down and read Red White and Royal Blue by Casey McQuiston. The movie releases on Amazon this week (the 11th I believe) so it pushed me to finally finish it and I'm so glad I did. Casey McQuiston is an author I really enjoy. This book was funny, but also surprisingly so much deeper than I expected. I can't wait to see the movie. The cast looks incredible!
No Rating
(I still haven't decided on a rating for this one)
I read it. I'm glad I finished it. The end.
5⭐️
This book was absolutely incredible. Fake dating. Age gap. Celebrity romance. There's also some really intense issues that this book dives right into, so be prepared for emotions. I loved it!
Also, I feel like this situation happens so much in Hollywood! Arranged and planned fake dating!!!
5⭐️
I received an advanced copy of this book. It releases in February 2024! Add it to your TBRI!
This features a celebrity romance. Second chance. Forced proximity. There was some major slow burn happening in this book and I was rooting for both of these characters so much. They were fun! I could see this being made into a series or movie.
3⭐️
This is the second book in the Windy City series by Liz Tomforde. I enjoyed this one, but not quite as much as the first one. This book is a sports romance and it also involves fake dating, celebrity romance, and quite a bit of steam. There's also a lot of trust issues with one of the characters in this book in particular. Overall a good read.
4⭐️
This book was so much fun. It focuses on a group of people who are living in their summer homes on an island (think the Hamptons) and it involves lots of infidelity, backstabbing, gossiping, and even murder! The characters were all pretty horrible and not super likeable. They were all cheating on one another, trying to one up each other, and some of their actions were so questionable. I really enjoyed the audiobook and found it to be a very easy listen that went fast! Rich people behaving badly!!!
4⭐️
Elin Hilderbrand is the queen of summer reads in my opinion and I really loved this one. Hollis Shaw is a famous food blogger who is struggling with the sudden loss of her husband, who was killed in a car accident. She gets the idea to host a "five star weekend" where she invites five friends from her past and present stages of her life.
I found this book to be really enjoyable. It still doesn't top Hotel Nantucket, BUT it was still really good. It tackles tough conversations about relationships and friendships.
4⭐️
I've finally finished the Shatter Me series. For some reason I stopped reading them?!? Anyways, I really loved these books and have one more to go. It's a YA dystopian-ish book which also involves a romance (Oh man, such a great one!!!) and each person has a "power" that we learn more about as the series continues. I won't spoil anything, but don't let the fact that this is YA stop you from reading it.
5⭐️
This is a great book if you're curious about the behind the scenes of what it takes to be an "it" influencer. While it doesn't cover everything, it does follow three very "famous" influencers. It covers how they made it, and also topics like how they get partnerships, a lot about money, privacy and social media.
Overall I found it very interesting and I think the author did a really good job sharing a look into these influencers lives and the not-so-known parts of an influencers job.
3.5⭐️
Alex is a 20 something who is basically surviving in life by doing whatever she has to. We don't really know a lot about Alex, other than the fact that she's living with a 50 something man who is very rich. Something happens and he basically kicks her out of his house. The rest of the book is her trying to "survive" a week with nowhere to go, nothing to do, and constantly trying to get her phone to work, ha.
I didn't not like this book. In fact, I found the authors writing very good and I was hooked on the storyline. It was a great look at so many different things like: How the wealthy live and act. How Alex is always running away from something and the fact that she'll do whatever she has to do in order to make it. I just didn't like the ending as I wanted some sort of resolution.
What was on your July reading list? I'd love to know about any books that I need to add to my TBR!
Shop The Books I Read