Out of all of the books I read in June, Fourth Wing was the star of the show. Besides it being a gorgeous book that grabbed my attention even before the bookstagram hype happened, it was also a great story. I'm excited (and have preordered) the next book in the series already.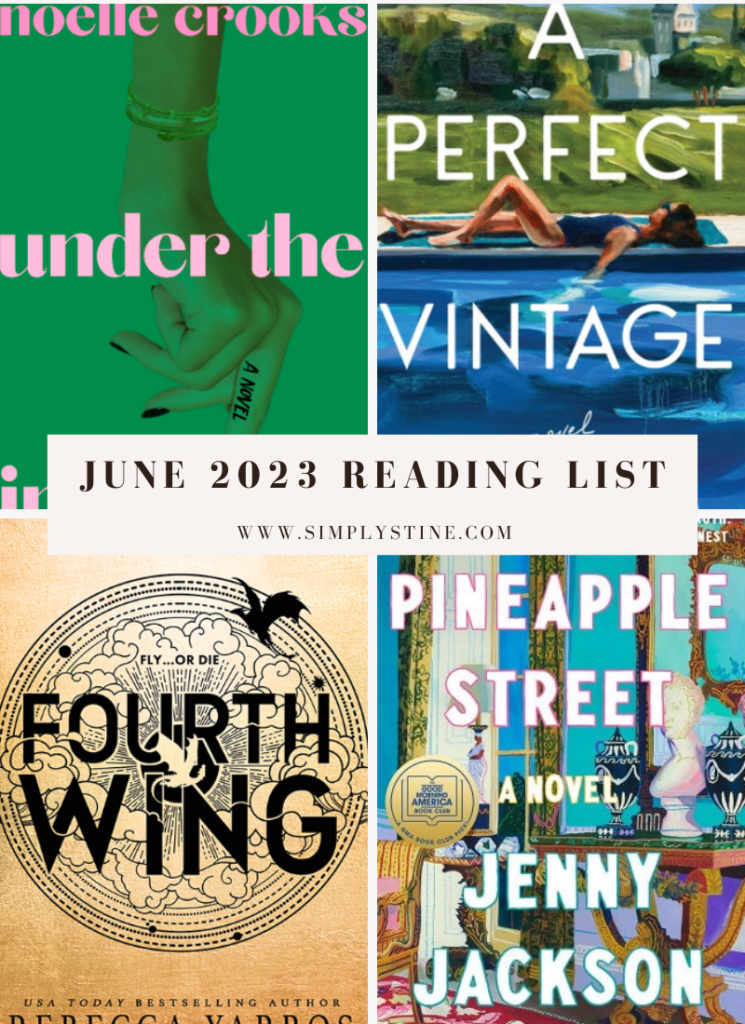 5⭐️
"A can is fine on the beach, but bubbles deserve stemware."
My SIL read this book for her book club and I borrowed it from her after she raved about it. I loved it. Family-drama storyline that's very character driven. Not all the characters are likeable and that was possibly one of my favorite parts of the story. It's told by two sisters and one sister in law. This is all about rich people's first world problems. Overall, a really good book! I'd love to see this be a tv series.
5⭐️
I've linked the Kindle edition of this book because this book is literally sold out everywhere most of the time! I randomly saw this book in a store and was drawn in because of how cool the physical book was. I bought it blindly without knowing a thing about it. This was the day it was released and I'm not sure the hype behind this book was really there yet.
This book is one of my favorites of the year so far. I was rooting for Violet Sorrengail from the moment she appeared in the story. We've got dragons. We've got a War College. We've also got Xaden Riorson. 🥵 Don't get me started on Dane. Anyways, a great story that had me on the edge of my seat waiting to see what was going to happen.
ALSO, the audiobook is available on Scribd. I'm telling you, so many books that I want to read or listen to are available on their site and for the money; I think it's a total bargain.
3.5⭐️
I was told that this book had The Idea of You vibes and IYKYK. I had received an advanced copy of the book and decided to start it. I enjoyed this book, but it didn't top The Idea of You and that's ok. The characters were all very pretentious and had qualities to them that I sort of hated. Also, the book is very detailed about interior design which is one of the main characters job. Very detailed. So be prepared for a lot of design talk.
I'm still not sure how to rate this book. I didn't hate it and it read very quickly. I was interested in the storyline, but I will say that the characters were not super enjoyable. Should you not read the book because of that? No. It was a good book, but not one of my favorites and that's ok. I think this would be a good beach read. Quick, easy to read, and a good storyline. Also had Call me By Your Name vibes as well.
4⭐️
Harper Cruz is desperate enough to take any job, even if it means her accepting an offer that lands her in Nashville to work for self-help guru Charlotte Green. Sure the salary is incredible, BUT it comes with a lot of demands, late night hours, and questionable activities.
The thing that really hooked me with this book is learning that the author worked for a very (then) famous self-help guru (first name starts with R and last name starts with H) that was very much in the public eye. You can google more about her to find all the information. So I can imagine her story draws from her own experience and after reading this book, it's the exact environment that I'd expect this self-help guru to thrive in.
This book also shows that what you see online isn't always as truthful and honest as you think it would be. Overall I enjoyed the book.
Shop The Post