*I participated in this sponsored album review program as a member of One2One
Network. I was provided the album to review but all opinions are my own.*
Most of us know Gwen Stefani from her days of being in the band No Doubt, but she's also making quite a name for herself as a solo artist. This time she's back at it again with a more personal album, this time another solo album called This is What the Truth Feels Like.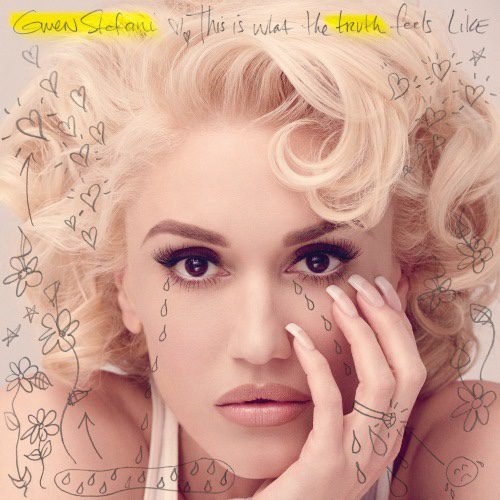 I have to admit that this might be my favorite solo album that Gwen has done. You can tell that she's singing from her experiences and I love the songs. We all know about all the headlines that have been in the media about her and I think that it's obvious that she's been writing and singing from all of those experiences. The album is classic Gwen Stefani, but a grown up, much more adult-like Gwen Stefani.
Some of my favorite songs? Honestly I really like every song on the album. I went into it hoping I would and it didn't let me down at all. Here's an overview of the songs I chose as my favorite and that stood out to me:
Naughty is a song that is probably my absolute favorite on the entire album. I love the classic Gwen style this song has, but it's just a fun song! The chorus of it is so catchy!!!
Me Without You is another one of those songs that is really emotional. It's that song that you want to blare when you are going through a break up and you're like "YAAS! I DO NOT need you"
Red Flag is the old Gwen that we all love!
Send Me a Picture is kind of the sexy song off of the album. I just love the entire vibe of this song!
Truth is a really sweet song that I have a feeling I know who this song is about and I'll be honest and admit that it still really confuses me and I don't understand it, ha!!!
Used To Love You This one has such a powerful message!!! I think that it's pretty obvious who this song is about "I was the best thing that ever happened to you and now look at what you lost." "I don't know why I cry. I don't know why I used to love you." Those are some strong lyrics that we can all probably relate to at one point in our lives.
I really loved this album and I've been listening to it off and on for over a week or two. I've told my friends about it because it's still the old Gwen Stefani we love, but this album is so emotional and vulnerable. It's really, really good! PS She is rocking the cover of her album!!!
To purchase the album on iTunes, click here

Album was provided to me for review purposes. All thought are my own.