Heads up guys, Kevyn Aucoin Beauty is launching on HSN tomorrow! If this is a brand that you haven't tried, YOU MUST. Kevyn Aucoin (RIP) is responsible for creating so many incredible makeup looks and educating us all when it comes to all things beauty. The HSN Kevyn Aucoin launch is a huge deal and a major score for HSN! Plus, they're going to be offering discounted prices for that day only!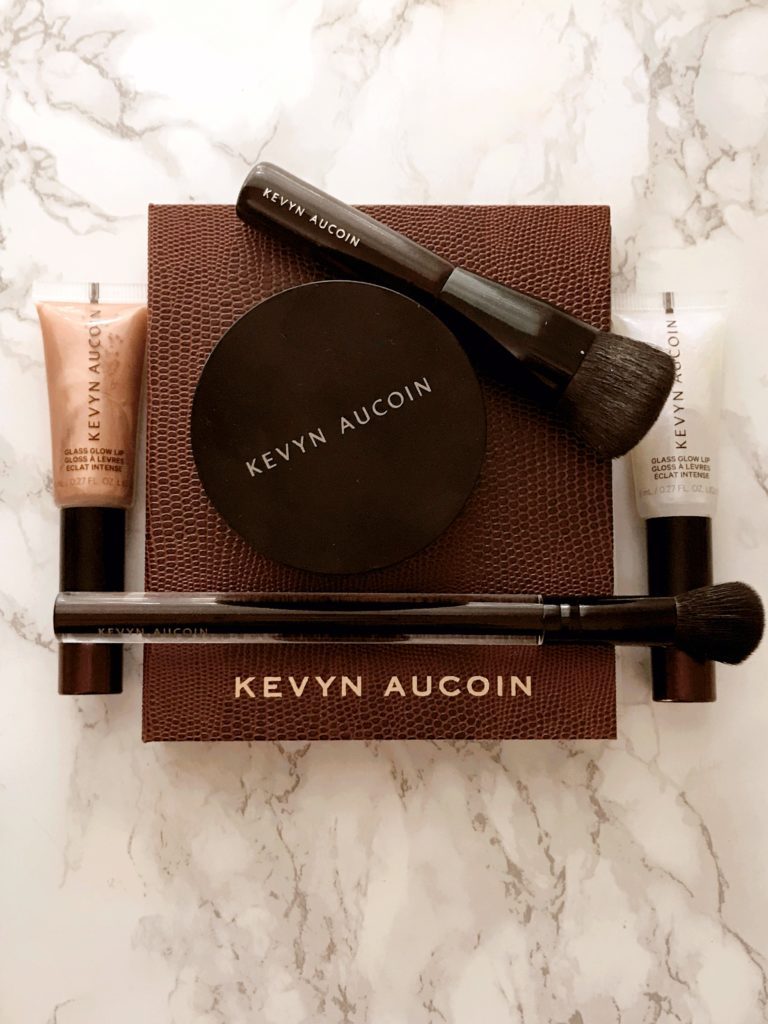 KEVYN AUCOIN FOUNDATION BALM
One of the products I was able to (PR SAMPLE) was the Kevyn Aucoin Foundation Balm. I've had this on my list to experience because I haven't actually tried a Foundation Balm before. I had questions. What was the consistency like? What skin type was a Foundation Balm created for? What was the coverage like? I've tried it several times for the past couple of weeks and I'm happy to answer those questions and more!
The Kevyn Aucoin Foundation Balm is what I'd consider a buildable foundation that is more of a medium to (slightly) full coverage foundation. It is said to deliver a "silky flawless finish for younger looking skin." It does contain Hyaluronic Acid (great for hydrating the skin) as well as Vitamin E. It's a hydrating formula, that I would say is good for more normal to combination skin types.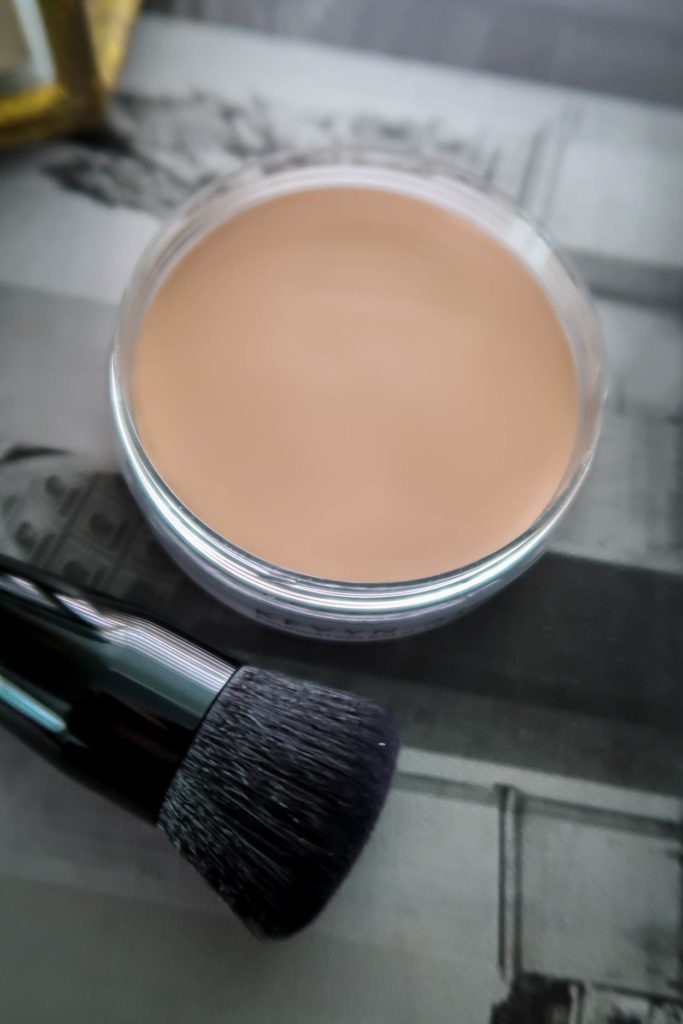 The Foundation Balm comes with a specially designed brush for blending and applying the foundation. It's a great brush! I tried applying the Foundation Balm with the brush and with a sponge, and I preferred the brush. It gives a very buffed-out finish that leaves me with a natural looking complexion.
There are 20 shades total that are available in this Foundation Balm. It matches with their Etherealist Foundation Shades, with a bonus four shades so that you're able to find an exact match. I received the shade Light 4.5. It's a perfect match and I didn't notice any oxidizing (darkening once worn) at all.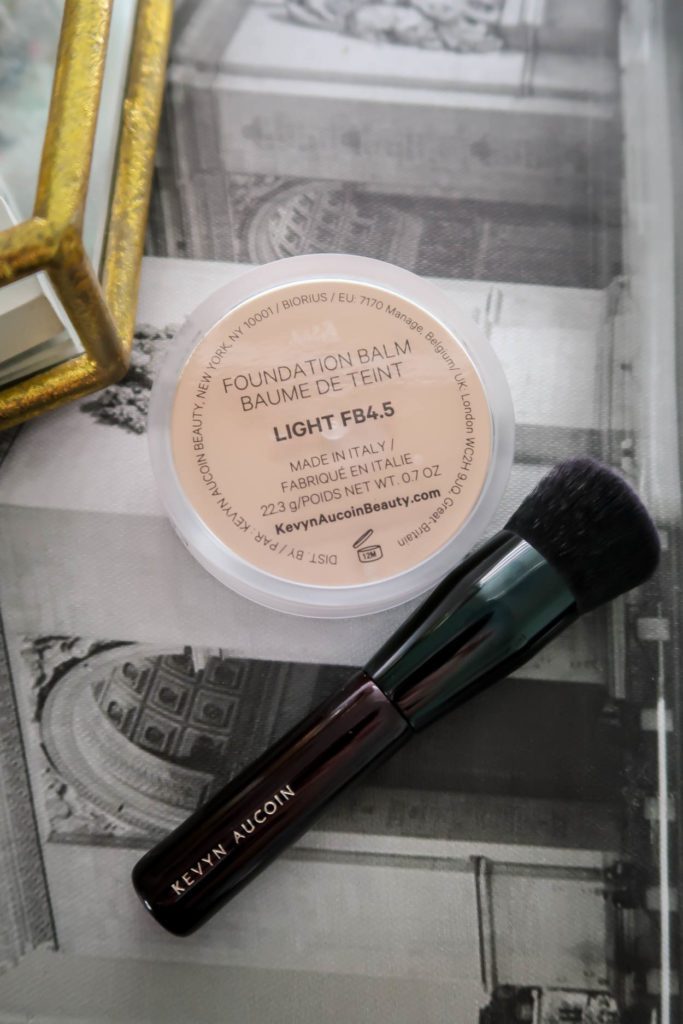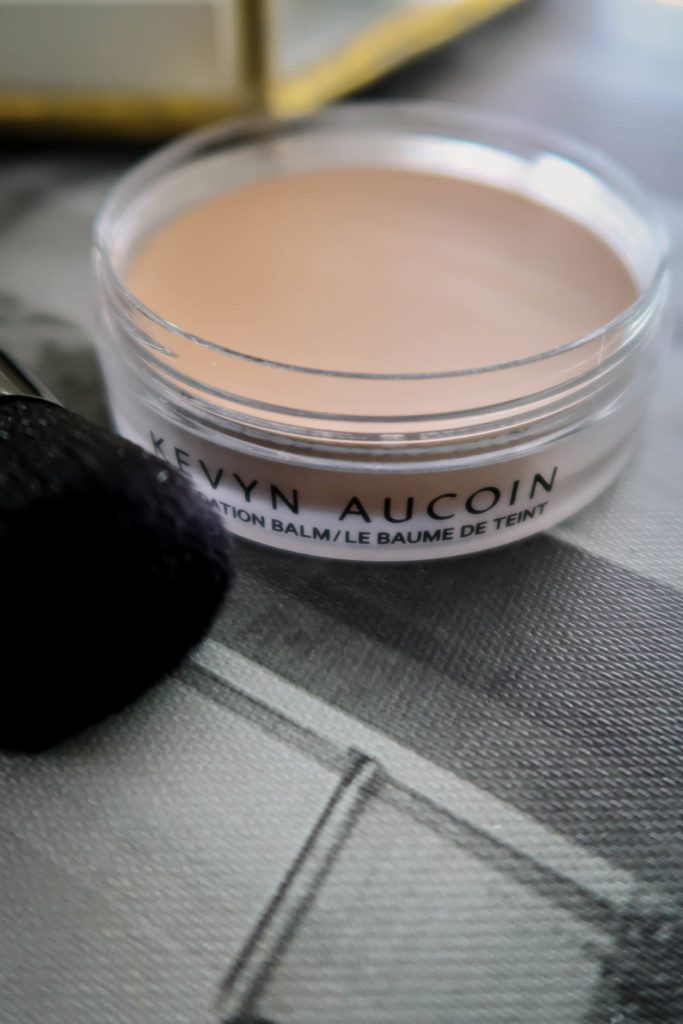 I will say that the finish of this Foundation Balm is very unique. It's extremely lightweight and is said to have a powder finish. Being that I'm a combination skin type, I still had to set this with setting powder. It holds up a good 8 hours I'd say. I noticed that at the end of the day, I was noticing some breaking up of the formula around my nose and my cheek area. This is normal though, at least for me.
Kevyn Aucoin Foundation Balm Tips: A little bit of this product goes a very long way! I start by buffing it in around the center of my face and working it out. The coverage is incredible and it really did a nice job covering any redness or pore issues that I was experiencing. If you do have dry skin, I'd suggest a moisturizing primer before using this as I feel that it can emphasise dry patches.
Need to Know: Normally retails for $52.00 on sale for only $48.00 *On sale during HSN Kevyn Aucoin Launch*
THE CONTOUR BOOK – THE ART OF SCULPTING + DEFINING VOLUME II
Let's be honest for a moment. Kevyn Aucoin is KING of contour. He basically created the sculpted, chiseled looks on all of the 90's Supermodels. I've been using the Kevyn Aucoin Sculpting Contour Powder for years. I swear by it. For those of you who are wanting to know a bit more about Kevyn and his techniques, I highly suggest taking a look at his book, Making Faces. One of the best how-to books when it comes to makeup techniques.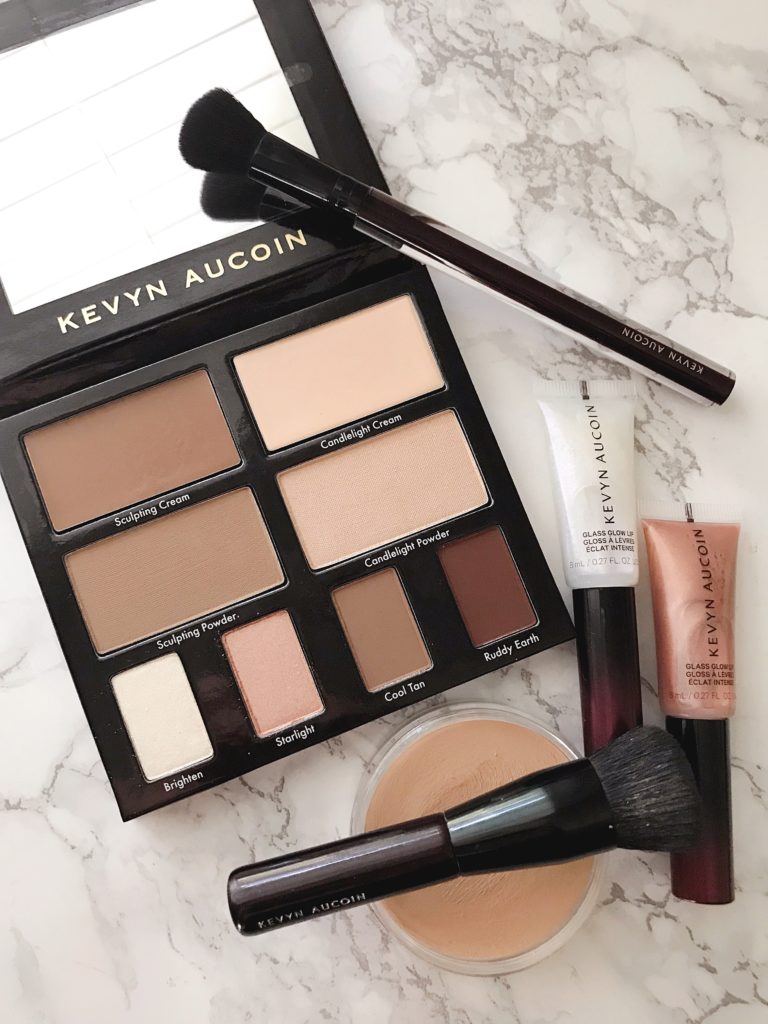 The Contour Book is going to be your go-to product for everything sculpting and defining. It features an all-in-one contour, sculpt, and highlighting products. It's such an incredible palette because it's all in one palette featuring so many of their best-selling products and it also has easy how-to guides and illustrations. (PR SAMPLE)
This contour and highlight kit Contains:
– The Celestial Highlighting Powder in Candlelight
– The Creamy Glow in Candlelight
– The Creamy Glow in Sculpting Contour Cream in Medium
– The Sculpting Contour Powder in Medium
– 4 x Eyeshadows in Brighten (luminous pearl), Starlight (luminous light peach/pink), Cool Tan (matte light brown), Ruddy Earth (matte rust)
– How-to Guide
If you're looking to really sculpt your complexion and define those cheekbones, I can't suggest this palette enough. This brand is my go-to for all things contouring and their highlight formula is incredible. PLUS, it also comes with a Contour Brush. Kevyn Aucoin's brushes are superior than most brushes I own so the ones I do have, I cherish, ha! When I held the Contour Brush in my hand, I immediately went "wow." It's impressive.
Kevyn Aucoin The Contour Book Tips: Be sure to check out the how-to guides and illustrations! They are incredibly helpful.
Need to Know: The Contour and Highlight pans are FULL-SIZE products. Normally one full-size product would retail for at least $44.00. You're getting FOUR full-sized products, four eyeshadows and a full-size brush for only $57.00. *On sale during HSN Kevyn Aucoin Launch*
The HSN Kevyn Aucoin Launch starts tomorrow, September 18th and prices will be discounted for these two products! This is one of those luxury brands that I actually feel is an investment to my makeup routine. The products are worth the price and they're incredible formulas. If you've been interested at all in trying any of the Kevyn Aucoin products, I HIGHLY suggest taking a look at HSN as their prices are less than other beauty stores I've seen!
Miss my latest post? Get caught up now!
Will you be shopping the HSN Kevyn Aucoin launch?
Shop The Post