We just got back from another vacation in 30A recently and we're going back again for a quick trip Labor Day weekend. This stretch of beach just doesn't disappoint. It's crystal clear water and perfect white sandy beaches. We've gone yearly now for quite some time and I look forward to going back every year. The crowds can be brutal, but if you go at the right time, it's not too bad! Here are some helpful tips for visiting 30A!
My biggest tips are to find a beach location you enjoy going to. Depending on where you stay, you might have private access. If not, there are so many public beach access points available. Some communities, like Prominence, even provide a free shuttle to Santa Clara. *At least they have when I've been there, it could change yearly!*
This article shares a lot about each community along 30A!
Bikes and Golf Carts are very popular ways to get around. Just be sure that the area you're staying in and or visiting allows them. Rosemary and Alys Beach do not allow golf carts as far as I can recall. Bikes are very popular.
The thing I find most frustrating about visiting, is that there are so many places I want to go and experience, but there's never enough time. HA! So each time we go, we try to visit one new spot we've been wanting to check out. Some places are so good that we go each and every time we're there. Cowgirl Kitchen…The Donut Hole…HA!
Helpful Tips For Visiting 30A
The brand-new Publix is AMAZING . We went here instead of Watercolor and it was so much less busy. We stock up on essentials for the beach house here.
Make reservations for restaurants (if they offer them) ASAP. They fill up so quickly
If you visit a public beach access, make sure there is parking. We normally have to arrive pretty early to secure a good spot.
Tents are awesome on the beach as the sun is very strong BUT there are areas where they aren't allowed. Just to be sure to follow the rules. Same goes for alcohol!
Pay attention to the flags on the beach! If the flag is red, you can't get in the water. You can hang out on the beach, but not the water. When we were there this summer, quite a few people had died from drowning.
It is extremely hot. It does tend to rain at least once a day. It's very humid.
We always take a Beach Cart with us to help with carrying the cooler, beach chairs and tent. Just make sure your beach access point has a ramp or you'll have to carry down the stairs.
Take more water than you think you'll need for the beach. If you're using a cup, make sure it doesn't leak. I now use one of the 64 ounce Flip Straw Jugs.
Pay attention at crosswalks. A lot of the time bikers and such are always crossing. Same goes for stop signs or when you're turning!
If you want to go to a busy area, I'd suggest earlier the better.
The Seaside shops get VERY busy. However, the line normally goes pretty quick! You can also shop online.
We normally stop at Pier Park before we go to 30A. It's right in Panama City and there are a lot of shops and grocery stores in this area. We almost always stop at this Target.
The houses/townhomes/condos and such fill up pretty quickly for popular times. We tend to book pretty far in advance.
Inlet Beach
The Donut Hole in Inlet Beach is one of our favorite breakfast spots. You can go to pick up donuts (they're amazing) but if you want to dine indoors, you will wait. They're usually pretty fast, but I'd get there early. There is a seperate line if you're getting donuts only. Just an FYI. They do tend to sell out pretty quickly on some of their more popular donuts.
Shades Bar and Grill reminds me of a Taco Mac if you're familiar with that. A sports bar with drink specials and they're open late! It does get busy!
Rosemary Beach
The Pearl Hotel features a bar with a gorgeous view! A very fun area for exploring, dining, and shopping. The bar was great, just be prepared to pay some $$$ for the drinks.
Rosemary Beach is one of my favorite areas of 30A. It's just so charming and quaint looking. The houses are incredible and the selection of food, shopping, and scenery is fantastic.
The Pearl Hotel is where you want to stay if you're looking for luxury. We stopped by and had a drink at the bar. They had a good selection of drinks, but later one night we tried to go and the person at the hostess stand wasn't the friendliest. So just keep that in mind.
Cowgirl Kitchen is a must-stop in our 30A travels. The Rosemary Beach location offers a different menu (pizza!) than the one in Blue Mountain. I prefer the Blue Mountain location (the menu mostly) but you can also pick up dips and other foods at CK Feed and Supply right across the street.
*My recommendation for Blue Mountain location is the Grouper Sandwich, Drunken Shrimp Tacos, and their house salad because their vinaigrette is incredible.
La Crema Tapas and Chocolate has been a place I've wanted to go to each time we visit. It's on my list for next time! They don't take reservations, just an fyi. *My BIL and SIL went and said it was delicious! There was a bit of a wait, but seemed worth it.
Pescado Rooftop is the place for an amazing view. You can not have anyone under 18 except for brunch!
Blue Mountain Beach
This is a new area for us, but in the recent years, it has really become popular. It has gorgeous beaches and is maybe a little bit less crowded?! It's filling up though.
Cowgirl Kitchen is our main reason for going to Blue Mountain Beach. It originally was in a different location, but they moved and took the building they were in, with them! This is a must-stop at restaurant for us and we have to go at least two times while visiting.
Blue Mountain Creamery is a good stop for some ice cream. I believe it's cash only.
There are a lot more places for food, and this article shares some good suggestions for restaurants in Blue Mountain Beach area.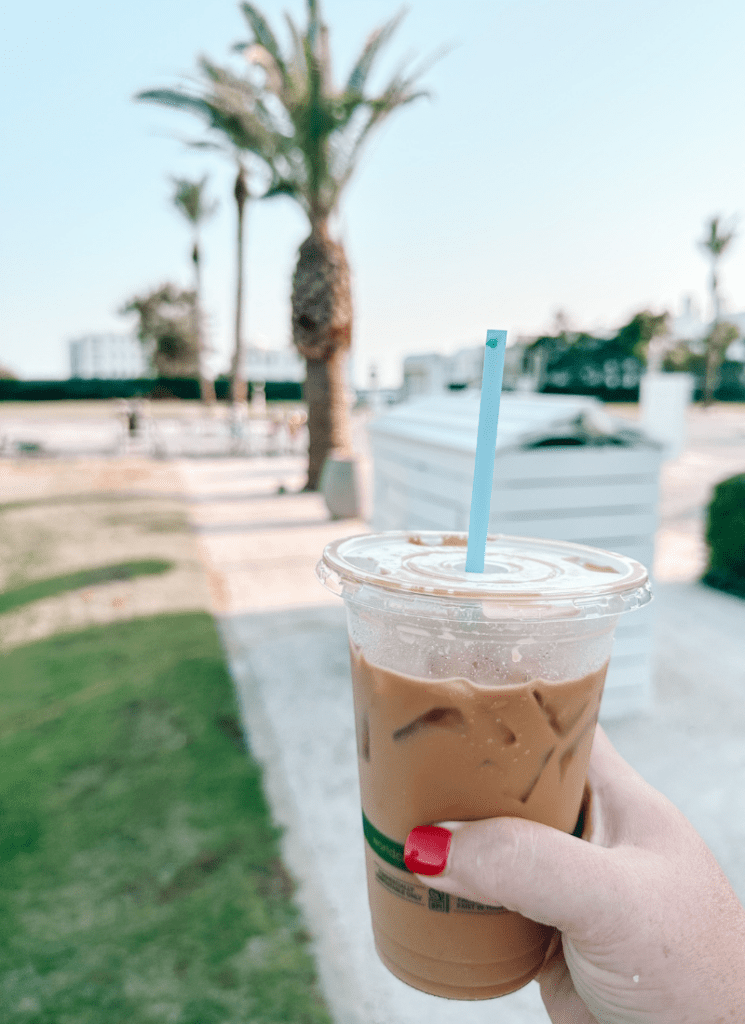 Fonville Press in Alys Beach is not only a stunning market and cafe, BUT it also has an amazing menu. You can stop in and pick up ingredients if you're cooking OR you can get an iced coffee, a cocktail, or a sweet treat.
Alys Beach
Pristine. Luxury. Seems like we're in Europe when walking the streets. It's beautiful and yet, we rarely see anyone outside of the homes?!?! I could walk around here for hours and just take in the beauty of the homes.
There is an amphitheater where kids can run around and there are shops around this area. They also have movies at night here. Some great restaurants and bars in this area.
Everyone will tell you go to George's which isn't bad advice. There are a few things to note:
GET THERE EARLY. There are no reservations accepted and there is a line quick. We got there about a half hour early and walked around the area. We went back towards the restaurant about fifteen minutes before they opened and there was ALREADY a decent line that had formed.
There's a bar in the back with some games for the kids. We didn't have to wait long at all. The food was incredible and well worth the wait.
Fonville Press is this beautiful market and cafe. I stopped by and it took everything in me not to order more food, specifically dessert, but I was so full I couldn't do it. I did order a latte and it was fantastic. They have pizzas, flatbreads, salads, avocado toast and so much more. I believe they even do premade family meals. Also, the market has an amazing selection of ingredients.
Raw and Juicy is a place we go to for coffees, drinks, or snacks. They have a beautiful outdoor area (playground is right next to it) The iced coffee is great and so are the juices. You can also get a good acai bowl and other food items. It's pricey (what isn't there) but it's good. Also a great place for vegans!
Seagrove Beach
We always stop at the Seagrove Village Market Cafe, especially if we eat dinner at the beach. You can order online and pickup, and they also take reservations. It is valet parking at night just an fyi. They have amazing shrimp and hushpuppies. Also their fries are delicious! They are owned by the same people who own Surfing Deer, which I've never been to but it's very popular.
Cafe 30A is an upscale restaurant that offers a pretty nice menu (including sushi) and from 4:30-5:00, if you buy one entree, you get the other half off. You HAVE to have reservations and they also only have valet parking.
Watersound Beach
This location offers a private gated residence, a boutique hotel, and two golf courses. There is also the Watersound Club which has a members only beach access, restaurant, and pool access. You can visit these accommodations as long as you're in a residence or hotel room on the property.
The Big Chill (Formerly The Hub) is a great place for food, shopping, and entertainment. Think of this like a big market hall with food and shops. There's also kids dance parties, live music, and family movie nights. It's located right across from Prominence, which is where we normally stay. I LOVE that you can now order food online and pick it up. It's so easy after a long beach day and you just want to be lazy. A great selection of food and a great place to get a quick drink!
Deer Lake State Park is a great place for a walk to the beach. With a boardwalk walking path, you can see beach dunes and it offers access to the beach. It is a bit of a walk, but nothing horrible! The Dunes are beautiful. There is a charge for entering (Correct change only, I believe $3 or $5 and it's the honor system. You'll put the money in an envelope as you enter) There are restrooms, parking, and trails.
Seaside Beach
One of my favorite stops in Seaside is Sundog Bookstore. It's a must-stop to load up on some new beach reads!
Where do I even begin when it comes to the beautiful Seaside?!? It's stunning. It's so busy. It's absolutely gorgeous and you must walk (or drive) around and look at the homes. So many places to get a quick bite to eat, a cocktail, or do some shopping!
*They do charge for parking now. Last time we were there the QR codes that you use to pay weren't working. Because they charge for parking, it does get a little bit more congested with people trying to get in and out of the area. We find that there is always parking available now, but it is pretty $$$ so make it worthwhile.
The Day Trader Tiki Bar is adorable and the drinks are STRONG and expensive. I think we spent almost $50 on two margaritas by the time we tipped. We didn't have any food, but it did look good.
Pickles has a really good burger and fries. My nephew said the milkshake was amazing. They also had breakfast which I didn't know!
Bud and Alley's was good. We had it for lunch. They now also have a rooftop.
The Shrimp Shack had a good Grouper Sandwich according to my SIL.
The Pizza Bar was pretty good. Expensive, but again, what isn't there.
Duckies is a must-stop for my niece and nephew. So many toys. There is usually a line later in the day.
The Seaside stores are pretty much always busy. The kids store and the yacht club stores are not as busy most of the time. Everyone buys the shirts and the hats.
Amavida Coffee had a good iced latte! They have several locations as well.
Black Bear Bread Co had amazing looking sandwiches, pastries and coffee (I walked in, but we didn't get to stay) There are numerous locations for this place as well.
All of the food trucks are always pretty busy. There's a good variety to choose from. Hot Dogs, Crepes, BBQ, Smoothies, Grilled Cheese, and more.
Modica Market has an amazing selection of prepared foods as well as grocery selections.
Watercolor Beach
FOOW (Fish Out of Water) is a really nice restaurant with amazing views. Their outside seating fills up super fast. Just an FYI. I get their Swordfish everytime I go. This is a nicer restaurant, BUT it doesn't feel stuffy or anything. The outside has amazing ocean views.
Scratch Biscuit Kitchen was amazing. The Chicken Biscuit was so good. The star of the show in my opinion was the French Toast. It was crispy, yet fluffy, and divine. My nephew had chocolate chip pancakes which he loved.
We've always wanted to stop at The Wine Bar, but we have still yet to make it.
Santa Rosa Beach
Old Florida Fish House is a very popular restaurant that fills up super quick. We've had hit or miss meals here. The atmosphere is a lot of fun and there are things to do to entertain the kids while you wait.
Roux 30A looks incredible, but we haven't made it here yet. It's high on my list.
Why We Keep Going Back To 30A
30A is white sandy beaches and crystal clear water, BUT it's also such an amazing place to go for so many occasions. This is a very family friendly strip of beaches and you won't find huge partying happening like you will at other nearby places. It's pretty quiet and calm for the most part. It's one of my favorite places that we've ever vacationed.
This place holds so many memories for us and I can't wait to continue making many, many more in the upcoming years!
I'll keep this list updated as I experience more and more of what 30A has to offer. Do you have any favorites? If so, please comment below and I'll be sure to check them out the next time we're back at 30A!
SIMPLY STINE TRAVELS
Curious about Universal Studios?