I'm such a sucker for a new Nail Polish! I just posted about my lovely Dior color the other day and then I made the mistake of running into CVS and seeing a L'Oreal Paris display.  Big mistake! I waked out with three new colors.  Positive side of all of this is that my nails are going to look so good this Spring/Summer and they were having a great sale.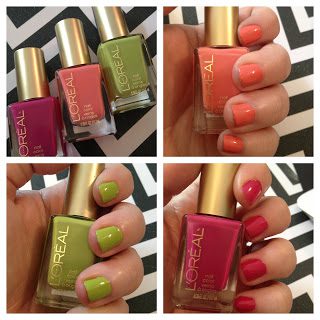 Top Right: Orange you jealous
Bottom Left: New Money
Bottom Right: Members Only
How gorgeous are these colors! I love that they all go together and they are so bright and fun.  I feel a lot of bright nails with some gorgeous accent nails in my near future.  I can't pick a favorite out of these because I love them all so much! New Money is like no other shade of green I have seen in a polish.  I love it!  Orange You Jealous is just the best Coral/Tangerine color.  Members Only is a vivid Fuchsia color.  It's beautiful!   There were two other polishes I didn't pick up, but I think I will.  A gorgeous darker Lilac color called Royally Reinvented and a great Blue/Teal shade called Not A Cloud In The Sky.  Both are super cute and would be worth adding to your collection. (There might have been another shade in this collection called Crazy for Chic, that was very similar to Members Only, not sure if that was a new release or not).
The colors applied nicely.  For New Money and Orange you Jealous, I did need two coats.  They are pretty thick, so polish with caution.  The Members Only Shade only needed one coat and I was satisfied.  I felt that this polish went on the smoothest out of them all.  Each of the polishes went on and had a great deal of shine.  I finished with a top coat, but you could get away without it if you needed to.   The wear time on these varies.  I have used this collection before and I normally get at least three days or more out of them.  But hey, with so many beautiful colors to choose from, who wouldn't want to change their look up every couple of days??
The polishes were $5.99, but my CVS had them on sale for $4.99! Score! They are available at most drug stores and retail stores that carry L'Oreal products.  For more information and to see the shades available, click here.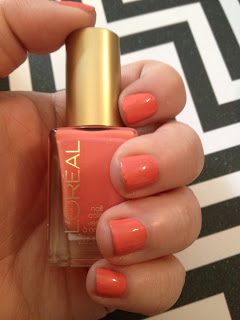 Orange You Jealous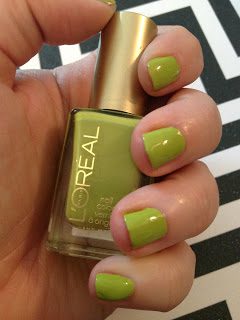 New Money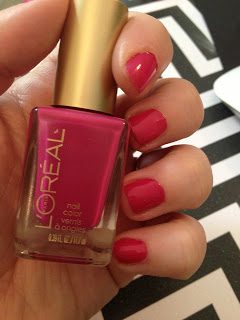 Members Only