Spray Can Nail Polish. It's real and an actual thing, thanks to brands like NAILS INC. who just released their Paint Can Spray On Nail Polish. As soon as I saw the press release for this product I was so curious how this would work/wouldn't work. I ordered the shade Mayfair-Lane which is a delicate pale pink, as soon as I saw it available on Sephora. It arrived two days later and I gave it a try. Here are my results.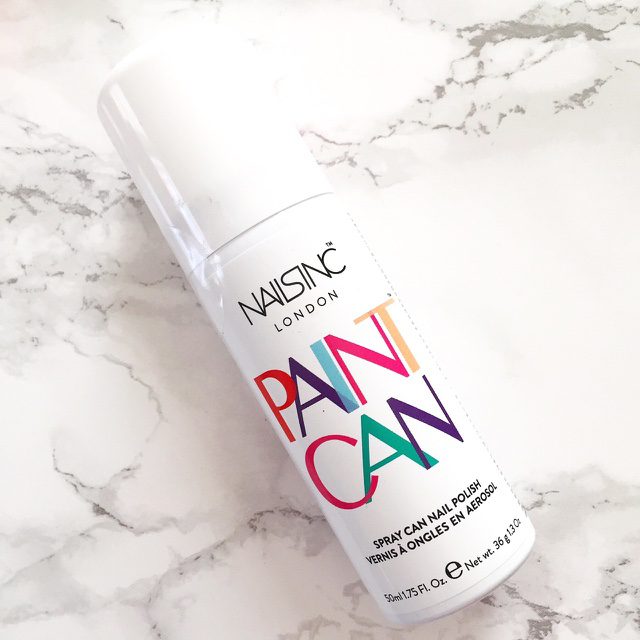 The NAILS INC. Paint Can Spray On Nail Polish, in my opinion, gave me one of the worst manicures I've ever had. Sure, it seems fun to get an easy and quick mani out of a spray can, BUT in all reality, the polish formula looked horrible on my nails, chipped very easily and didn't last. The end result of my manicure gave me a pale pink that just didn't look good at all on me. The NAILS INC. Paint Can Spray On Nail Polish retails for $12.00 and honestly, I can go get a cheap manicure for $12.00 that would probably give me a better finish than this product did.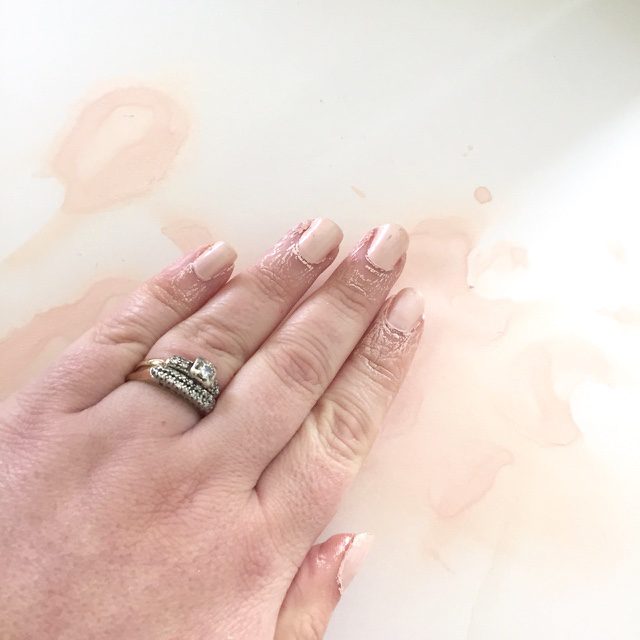 This was after I had already scrubbed the product off the first time. You can still see it around the edges of my nails and all over my fingers. There is a lot of wasted product in my opinion, as you can see the nail polish all over the board I sprayed. It was not easy to clean up at all.
Spray Can Nail Polish is supposed to be a quick way to get a great manicure for your nails, even on the go. HA!!! Not so much and that's because of the clean up (aka removal of excess spray on fingers) was horrible and something I'd like to not have to do again. It wasn't easy at all to remove that excess polish and it took a lot of scrubbing with warm and soapy water, as instructed, and finally just out of sheer exhaustion, I used some nail polish remover around my finger to remove the rest. In the end, my nails looked horrible!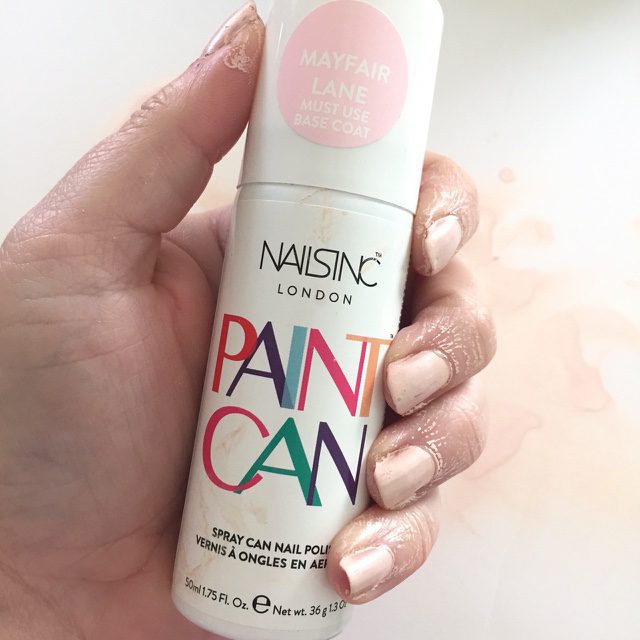 Applying this product is so cold when you spray it! Be prepared for that!!! Also, the formula tended to bubble and just not apply evenly at all. This was the "good" hand after applying. It looked the best out of the two hands after applying the polish. Still not great at all, ha!
In all of my years of blogging, it's rare that I can't find one positive thing to say about a product, even if I don't really like it. I always try to keep in mind that products work differently for everyone, so when I don't like a product or it just didn't work for me, it might be the best product in the world to someone else. So when I do negative reviews, I try really hard to find the positive aspects of the product I'm talking about. Today's post is one where I'm really struggling hard to do that. The only thing I can say is that by maybe covering the rest of the finger and only exposing the nail, it might produce a decent manicure. I know a lot of nail artists have all kinds of special tricks when it comes to applying nail polish, but I am just not that familiar with any of those types of products. I'm sure something is out there though! However, the finish of the Paint Can Spray On Nail Polish by NAILS INC. just wouldn't be what I'd want to pay $12.00 for again. Plus, that's not even including the cost for the base coat and top coat that you need.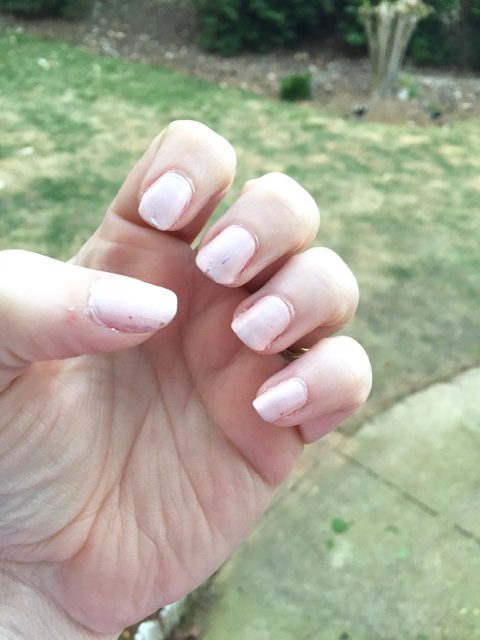 This was after I finished the manicure. Probably about an hour or more later. This was my "good" hand and I only say that because well, just look at the next picture. Not so good at all!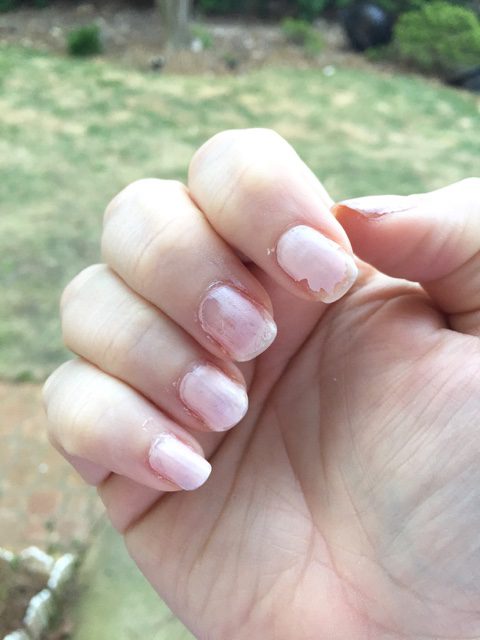 Even though I applied the base coat and top coat as instructed, this still looked horrible and chipped right away and didn't apply evenly at all. Not a fan at all of this look.
Suggested Usage:
-Step 1: It's essential to apply a base coat. Recommended: use The Paint Can's Best Friend 2 in 1 Base and Top Coat (sold separately) and allow to dry. Or, apply The Paint Can over your nail polish for a speedy color change.
-Step 2: Shake the Paint Can and from a distance of 10-15 centimeters away, spraying the polish directly onto the nail area. (Cover and protect the surface you are spraying on to).
-Step 3: For a longer lasting mani (for up to three days), apply a top coat. Allow to dry.
-Step 4: With warm, soapy water, wash away any excess Paint Can polish from skin and cuticles, or use a cleansing wipe when on the go. (You will be left with a perfectly applied manicure). –Sephora
[line]
PROS AND CONS:
PROS
Cool idea
CONS
Price is high for product
It's not as easy to use as they state it will be
Clean up was a disaster
Formula chipped and bubbled and ended up looking a complete hot mess on me
Felt like I was spraying ice cubes on my fingers, ha
Too much work for the end result
[line]
If you'd like to try this product for yourself, it's available in three shades. I ordered mine at Sephora. I should note that NAILS INC has always been on of my favorite brands to use when it comes to manicures and pedicures. Their original nail polish formula is amazing and while I think the Spray Can Nail Polish idea is cool, it just didn't work out like I wanted it to int the end. I'll be sticking with their OG Polish for sure!

Affiliate Links Included. All opinions are my own.

[show_shopthepost_widget id="1549996″]