It's time again to review one of my favorite beauty subscriptions!  Itpsy always wow's me and I was really excited when I saw that the theme of April's bag was Pretty in Pink.  Just the mention of the word pink and I'm sold.  I peeked a few times on their website and saw posts of Facebook and Twitter about some of the products that were going to be featured and I got even more excited!!
The bag was replaced last minute (It was a lot cuter than this one was)
Top Left: Healthy Sexy Hair Soy Renewal 
Top Right: Be A Bombshell in Sweet Cheeks
Bottom Left: MicaBeauty Mineral Cosmetics 
Bottom Right: Sation Nail Lacquer 
Healthy Sexy Hair Soy Renewal is a hair styling treatment that will help speed up blow dry time, nourishes and protects hair and will help smooth out hair and add some shine.  It features Morocaan Argan Oil and helps moisturize, protect against heat and environmental damage, smooth out frizz and adds shine to the hair.  Can be used wet or dry.  I can't wait to give this a shot! I'm all about any product that promises me I'll be spending less time blow drying my hair.  I've used another product from this line before and really liked it. (Make sure you print your Ulta coupon they have online if you'd like to save money on this product line.  It can be used online or in Ulta stores!)
Be A Bombshell Blush in Sweet Cheeks (Full Size) is a really pretty, but very frosted pink blush.  The Ipsy website states that it is a medium rose shade with shimmer.  If you have enlarged pores or oily skin, this won't work for you.  I have both of those issues and only wore the smallest amount of this to add a pop of color to my cheeks. It worked, but I always feel when a blush is shimmery, it makes my pores look that much worse.  The website also states you can use this as a bronzer, but I don't know about that.  I'm thinking that has to be a different color that they offered other subscribers.  
MicaBeauty Mineral Cosmetics (Full Size) is something I've seen in my local mall.  They always stop me and ask me if I want a makeup consultation.  I politely say no and go on about my day.  I was shocked when I saw this in my makeup bag.  I have never used this brand before and didn't think it was anything more than a mall Kiosk business.  I have only used it to swatch and it's very glittery/shimmery.  On Ipsy's website, it states that this company is gentle, free of preservatives, chemicals, dyes, talcs and oils.  You can use these alone or wet, plus you can mix them with clear lip gloss, mascara or fingernail polish to create more looks for your lashes, nails and lips.  I will try to use this product some more to see how it holds up.  The color is very pretty, but I haven't actually used it.  
Sation Nail Lacquer was another full size product featured in my Glam Bag this month.  I have never heard of this brand before and I haven't used my polish yet, but the color I got (Love At First Byte) seems to be a pretty peachy pink color.  I will for sure wear this and see how it applies and how long it lasts!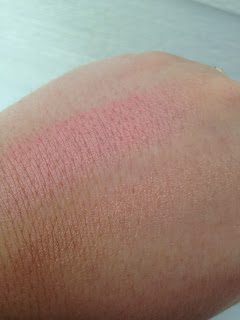 Top: Blush
Bottom: Mineral Makeup
**They didn't photograph great, but they are both very shimmery**
Overall, I didn't love this bag. I mean when you hit me with Pretty in Pink, I get really excited!   The blush isn't a color I can easily pull off, the mineral makeup is something I won't wear a lot, but the other products seemed to be pretty good.  Am I complaining that I got 3 full sized products and one sample size, no way! That's an awesome deal for $10.00! Plus, I might end up like the makeup more after I use it. I do, however, wish it was all in a cute pink makeup bag like it was supposed to be. That might have won me over a little bit more.  I'm still excited for next month's bag…