Yay! It's that time again.  This month's Birchbox theme is "tiny tweaks, BIG results." I LOVED my Birchbox this month and it made me super happy that I really got some great products to try.  Thanks to the beauty and wellness experts at Women's Health who picked out some of their favorite products to include in Birchboxes this moth.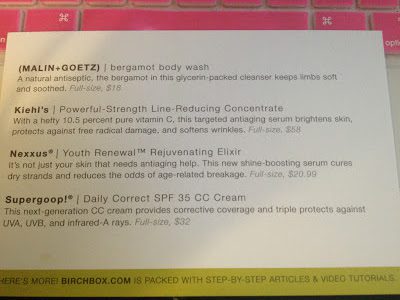 My information card from Birchbox
I got some good products to try this month!  The shower gel smells amazing, I'm curious to look more into the Kiehl's and Nexxus products and I can't wait to see what the CC Cream is like.  Not forgetting the Simple Skincare full sized eye product!  Plus, I also scored a free year long subscription to Women's Health.  Great box!!  I filmed an unboxing video earlier today, so take a look!