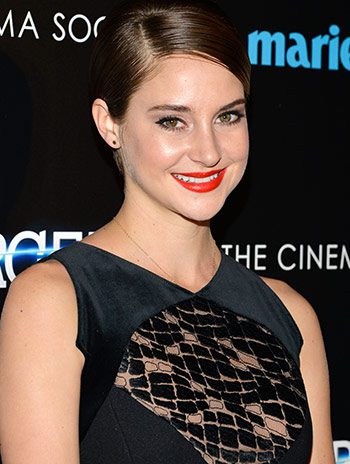 If you were like most people, you saw Divergent over the weekend. If you didn't, then GO SEE IT! It's fantastic and I really need to read the book series. It's been sitting on my shelf for quite some time, but I never seemed to get around to reading it. I will for sure now because I want to know what happens next!  Anyways, I was browsing the internet and I came across a picture of Shailene Woodley and she looked amazing! Her look was natural, but so glamorous and her skin looked fantastic! Anyone else thinking Audrey Hepburn?!?!  I'm a big fan of her short hair style and this look with the red lips was HOT! The best part? You can get the products that her makeup artist used at the drugstore and do the look yourself!! YES! Read below for more information!!
How to get the look:
The flawless look begins, of course, with Woodley's own skin routine and a spritz of hydrating elixir all over her face, neck and décolleté. Roxy then applied Physicians Formula Organic Wear CC Cream with a foundation brush, blending outwards and covering unwanted shadows and imperfections. She touched up the skin with a concealer and then used a lipstain in a soft coral color on the tops of her cheeks for blush. Woodley's complexion got a boost with Physicians Formula Natural Wear 100% Origin Bronzer to contour. In the crease of the eye, Roxy applied a shimmery golden honey shadow. She then added a beige shade that glimmers in the center of the lid to emphasize the eyes. To highlight further, Roxy added a white shadow to the inner corners. She lined the eyes with a waterproof black liner and allowed Woodley to apply her own mascara (Physicians Formula Organic Wear 100% Natural Origin CC Curl + Care Mascara). The actress even finished off the look herself, by applying the red stain straight from the tube and used her finger to blend the product into her lips.
I plan on duplicating this look ASAP! Now that I have my fabulous new short do, I'm totally inspired by this look! Let me know what you think of this makeup and if you saw the movie or not! Will I love the books as much as the movie?? Let me know!!
Post contains affiliate links.