Thanks to Toyota for allowing me to experience the Toyota RAV4! 
I still consider myself a newbie as far as Georgia. Yeah, I've lived here over ten years, but there are so many areas that I STILL haven't explored yet.  We live about twenty minutes outside the city, which I've done a pretty good job exploring, but it's the small towns outside of the city that I haven't really taken the time to explore. Toyota was gracious enough to let me drive their 2017 RAV4, so I thought this was the perfect time to take it for a drive and do some small-town exploring!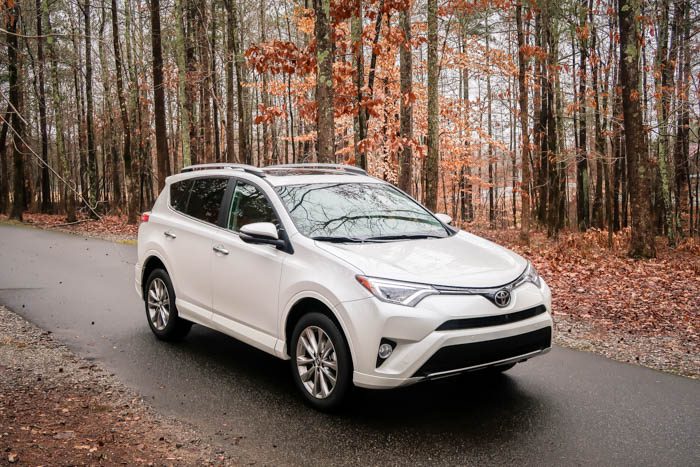 2017 RAV4 in Blizzard Pearl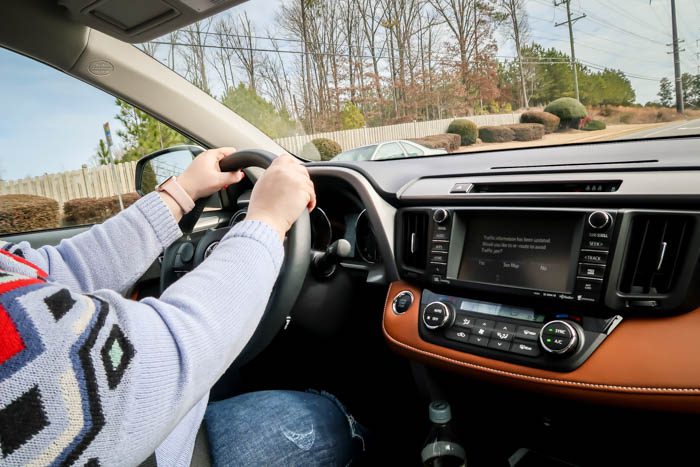 This leather interior was soft as butter and so stylish! Everything you needed was either on the steering wheel or within a fingers reach! 
Duluth is a small town outside of Atlanta. It's probably about twenty minutes from my house. A very easy drive and totally worth it if you ask me!  I have driven through Duluth plenty of times, but never really stopped to check it out in detail.  There is a pie shop there called Crave, which I had stopped at before and believe me, it was DELICIOUS! If you're into pies, this is a place to check out. However, everything else was all new to me.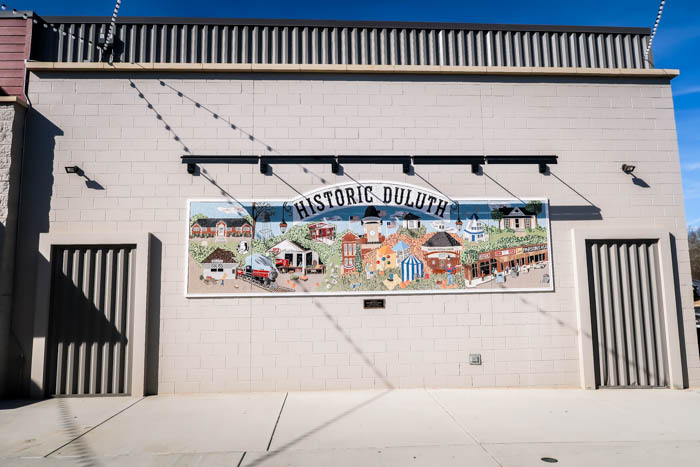 Duluth has a little "downtown area" and there are shops, restaurants, and stores located right around each other.  There's also a pretty impressive looking brewery called Good Word Brewing + Public House, but it wasn't open until later in the day when we were there.  I'd like to go back and see what it's all about at another time.  However, we did decide on one thing and that was doughnuts!  There is a doughnut shop there called Simply Done Doughnuts and it is incredible. They serve small, bite-sized doughnuts and they are incredible! You choose from a menu of flavors such as Nutella, Peanut Butter, Fruity Pebbles, Apple Pie, Snickers and so many more.  They serve them fresh and warm and they have a great selection of coffees and other beverages as well.  Consider us impressed and we for sure plan on going back!  Psst…if you're in the Alpharetta area, you might have heard this name before as they have a food truck that has come to Alpharetta many times!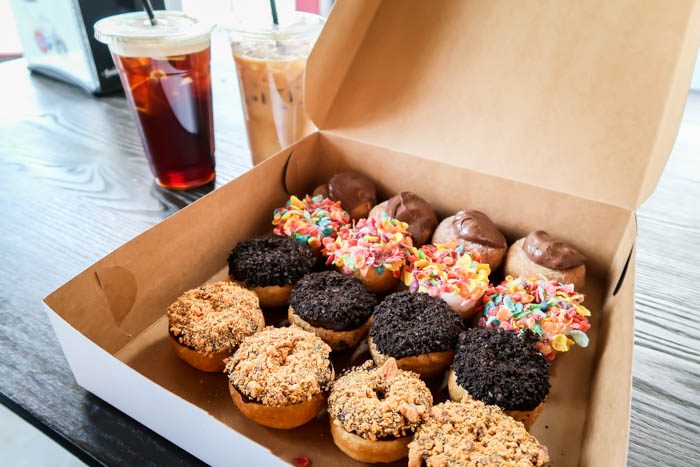 You guys, these were so good that I'm seriously craving them again as I'm editing this post!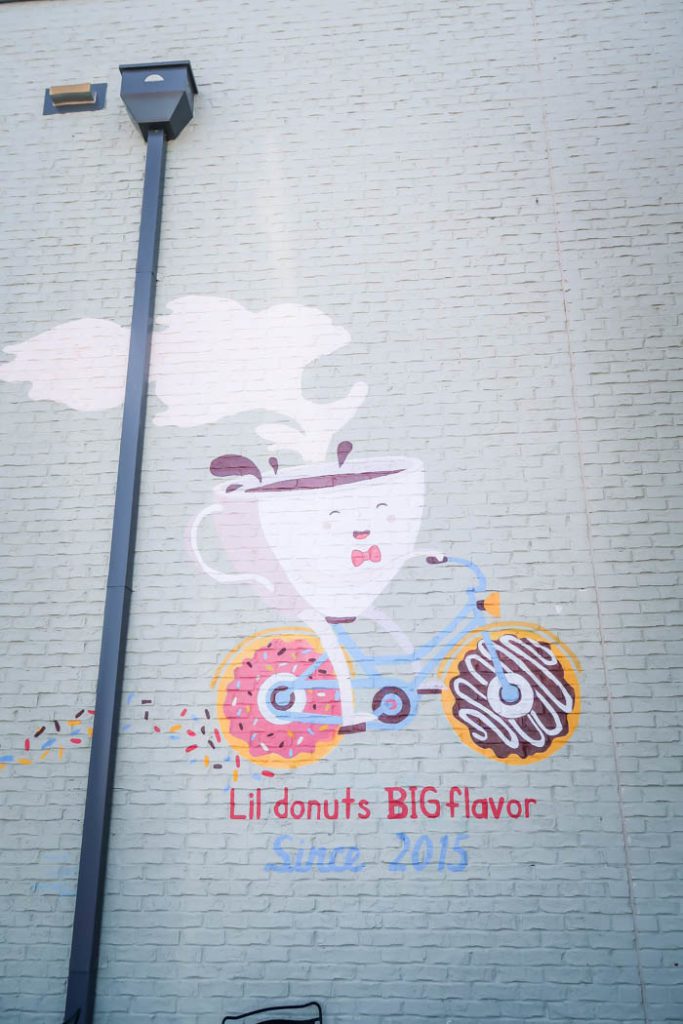 Walking around and exploring the downtown area, we found a chocolate and ice cream shop called The Chocolaterie that relocated from a location that was closer to our house (I was thrilled to discover this again) that served the most beautiful chocolates, gelato, and ice cream.  My favorite flavor they featured? Peanut Butter Is My Boyfriend!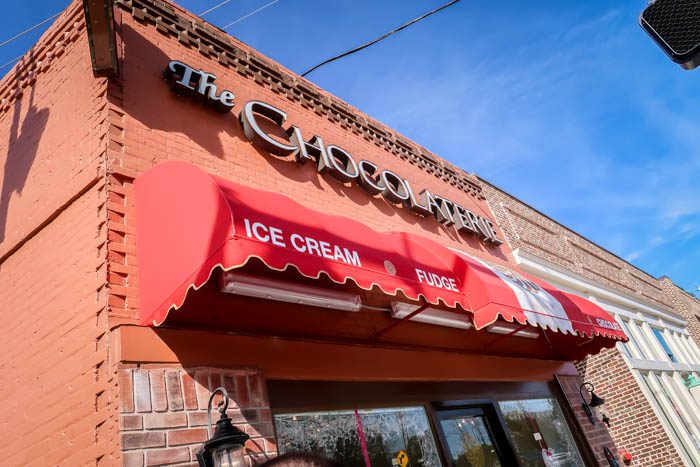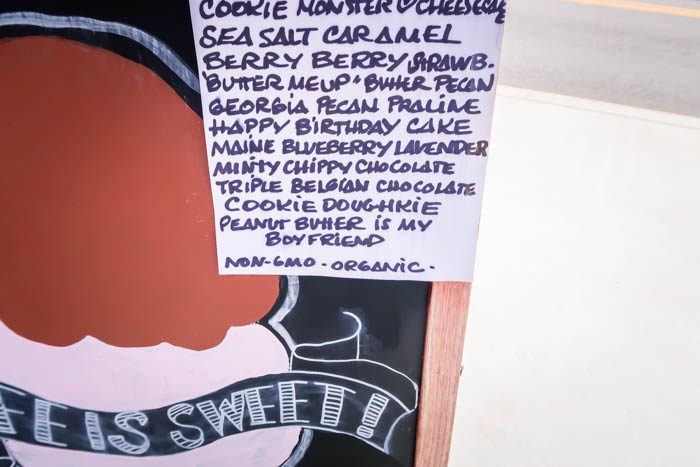 If you're in the Atlanta area, chances are you've heard of PURE Taqueria.  It's one of my favorites and it's located right by the train tracks.  I'm obsessed with their guacamole and margaritas. SO GOOD! There's also BBQ restaurant that filled the air with flavors of smokey bbq goodness that kept us hungry every time we walked by. #SecondLunch There were some small shops around the area and THE BEST biscuit place I've ever had in my life.  Maple Street Biscuit Company has to be hands down, the number one place to get an amazing breakfast, lunch or brunch! The best biscuits I've ever had. So basically, you'll never go hungry exploring the area!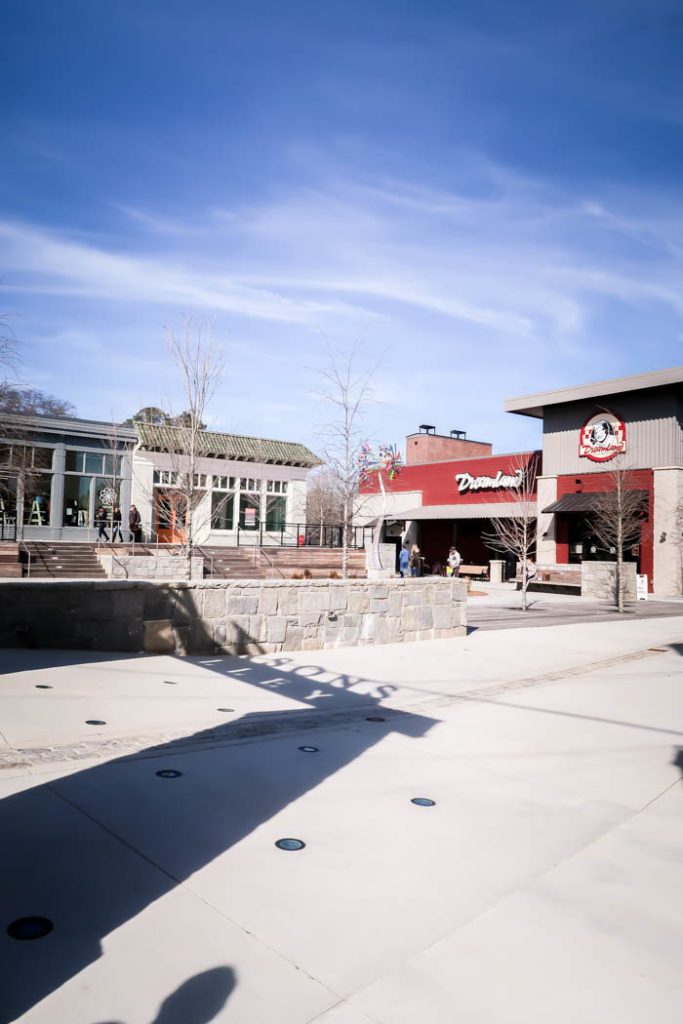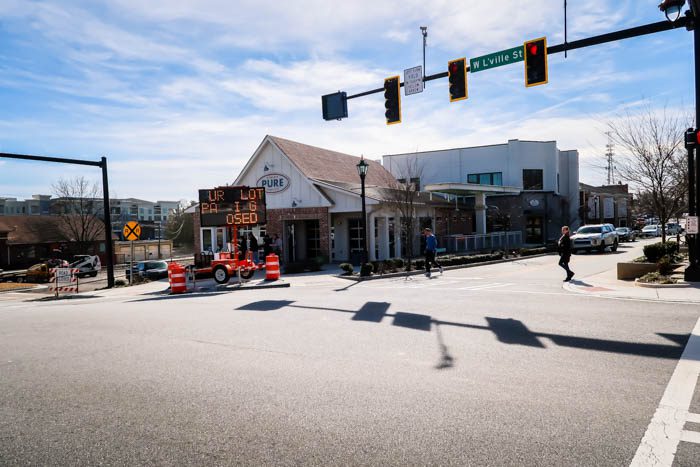 When is the last time you experienced train tracks and trains passing you by? It doesn't happen too often around us, but it did the day we visited Duluth, Georgia!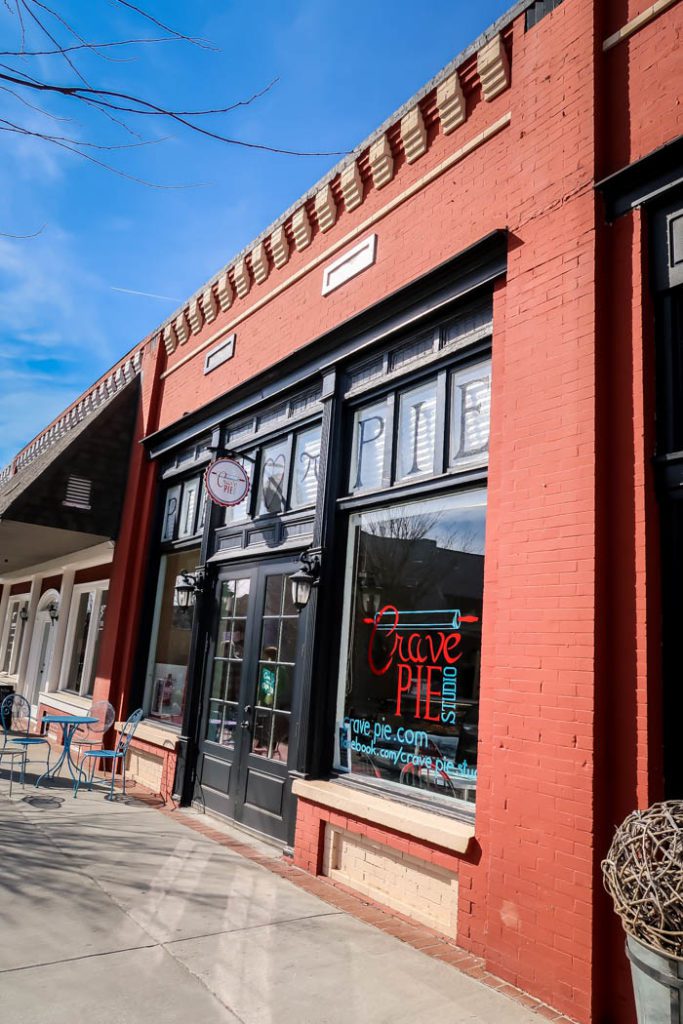 A pie shop that is so, so good! Have you ever had Crave Pie Studio before?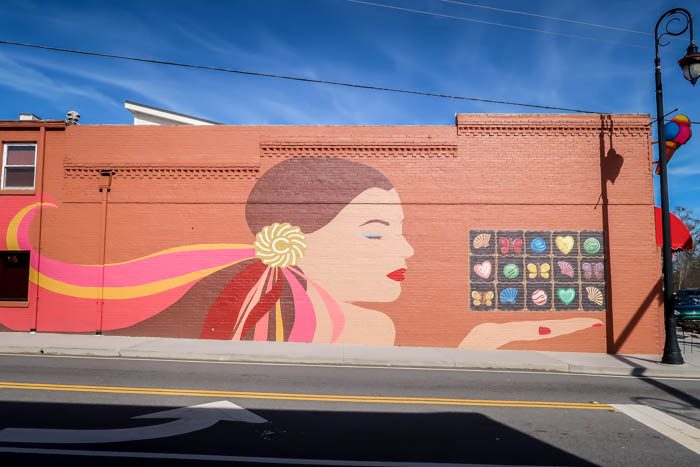 The parking in the area was pretty full I'll admit, but we were able to find a spot without a lot of problems.  Having the rear-view and birds-eye view camera makes it easy to make sure that when I'm backing up, I'm able to easily look for people walking behind me and the other cars that were parked around us, as the spots were pretty tight! I don't know what we did before rear-view cameras!
The Toyota RAV4 was a comfortable drive! We got lucky with the weather that day and finally didn't have a rainy day on our hands.  The navigation helped guide me and was super easy to use. If I'm being honest, I sometimes have issues getting even my own GPS to work on our car, ha! This one was very simple! The SUV is big enough to comfortably seat 5 people and has a rather large back area, which I took advantage of and sipped an iced coffee and doughnuts. I mean, who doesn't want to enjoy a doughnut picnic?!?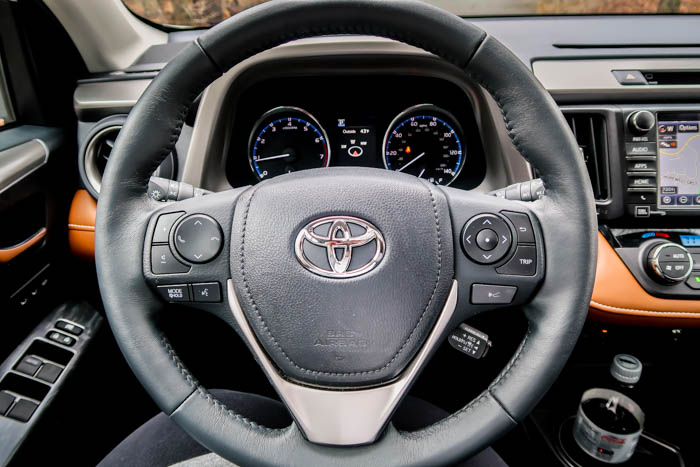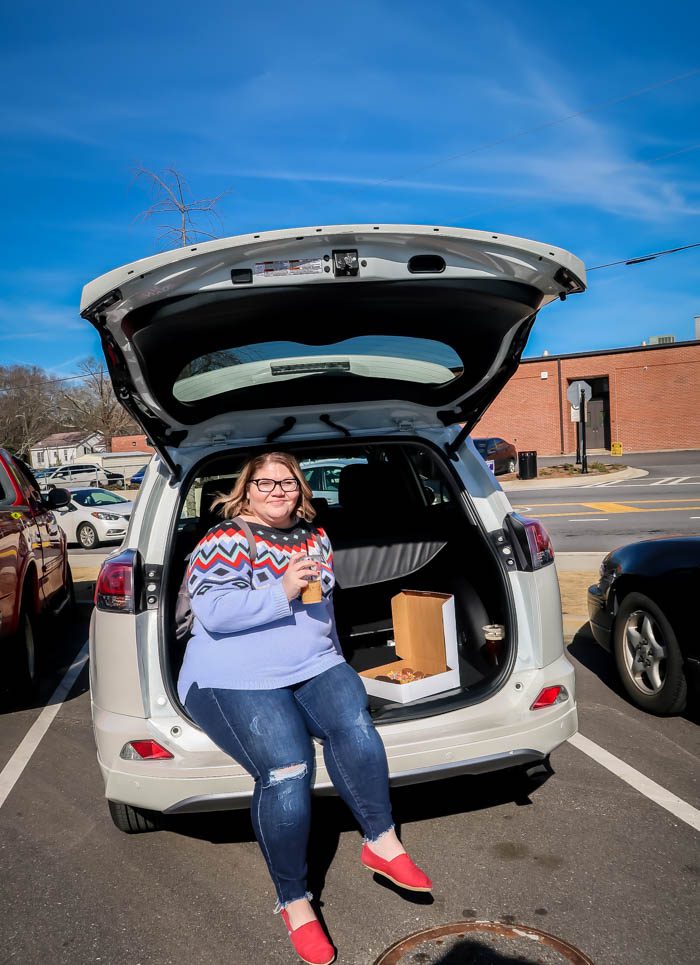 Hands full of doughnuts and coffee? No worries! The Toyota RAV4 comes complete with a foot-activated power liftgate. Simply wave your foot under the center of the bumper to activate! Plus, with rear folding seats and a spacious trunk, who wouldn't want to have a doughnut picnic?!? It's got space, y'all! 
Gas mileage (est. 23/30 mpg) on the Toyota RAV4 was pretty good! We took it to Kennesaw to visit my adorable Nephew and drove around Alpharetta running errands, plus our trip to Duluth.  For being an SUV, I was really impressed that we didn't have to fill up at all for any of those trips! With the SUV we drive now, we spend a considerable amount of money on gas.  The Toyota features an eco-mode is really nice!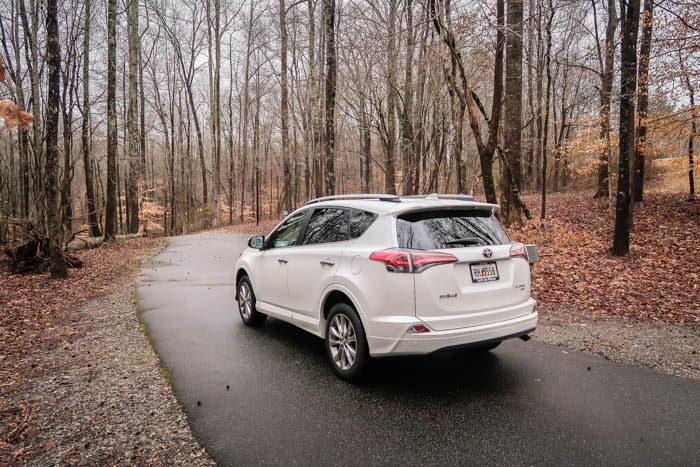 The Toyota RAV4 is loaded up with options like lane departure warnings, pedestrian detection, blind spot monitor, eight airbags and so much more! Plus, it had such a sporty, yet luxurious feeling interior without feeling "too" fancy that you'd "mess" anything up. This was an SUV that you want to drive and actually be in for road trips! It had all things like comfort and luxury, but also a lot of protection!
As far Duluth goes, I know for sure we'll be back! It's got that small-town charm I'm used to from growing up in Ohio, but it's loaded with places to have fun, even if it's just for a small amount of time.  Plus, who can pass up fresh doughnuts?! Not this girl! Who knows where I'll end up on the road next time, but you know I'll take you right along with me! Until then! xoxo
 Want more information on the Toyota RAV4? #LetsGoPlaces