If you struggle with pores, uneven skin tone, congestion, dullness, dry and rough patches, fine lines and wrinkles-I have two products that I need to talk to you about! REN Skincare recently sent me two products to try and I am loving my results. One of the compliments that I receive about my skin when I post makeup-free pictures is that my skin looks like it's glowing. Well, it does and a lot of it has to do with using these two products!
REN Ready Steady Glow Daily AHA Tonic: When You Want To Glow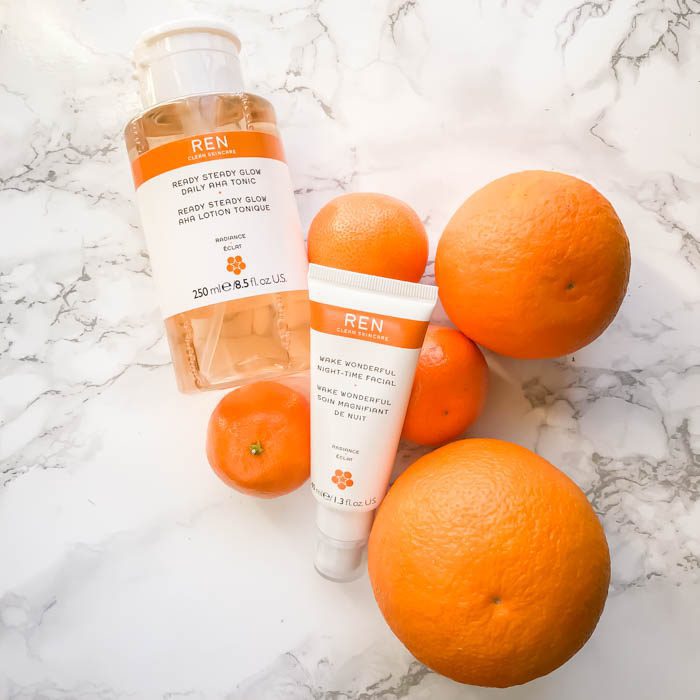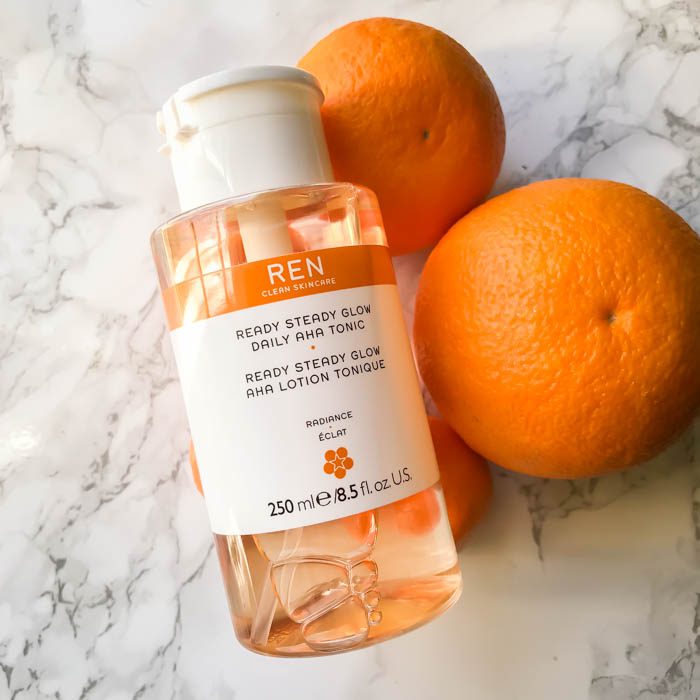 REN Skincare's Ready Steady Glow Daily AHA Tonic is hands down one of my favorite products that have been sent to me recently. My skin is thanking me since I've started using this exfoliating toner because it's exfoliating and brightening my skin, but it's ultra gentle for me to use it twice daily. Other products similar to this can be a little too exfoliating and harsh for my sensitive skin. This one has been excellent so far!
Targets:
Dullness
Uneven skin tone
Congestion
Enlarged pores
Dry and rough skin
Fine lines
*Formulated with a pH between 3.5 and 4.5 for real results without irritation.
The formula uses Lactic Acid and Willow Bark extract that works together to help tone, reduce pore size and will help to smooth any skin texture issues you're experiencing. It also features AzelaicAcid precursor that will help to brighten your complexion and even out your skin tone. The combination of all of these products will give you the most beautiful, natural, radiant glowing skin!
This Tonic has made my skin literally glow like no other AHA Tonic I've ever used! I've previously used the Pixi Glow Tonic before and while I've really enjoyed it, this has just given my skin that extra bit more than I was looking for! This product is something that I've easily incorporated into my routine, both morning and night and I think it's a great way to achieve that flawless, radiant glow that we all want with our routine.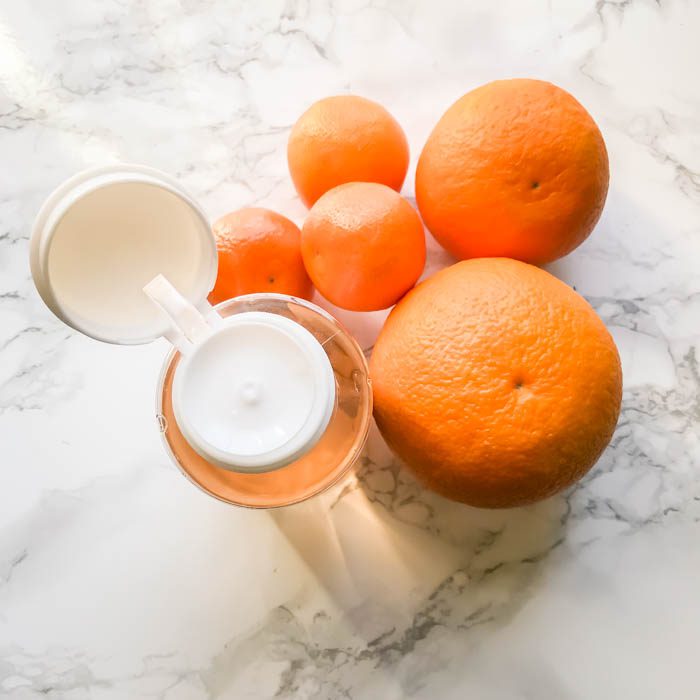 One thing that I love about this Tonic is the actual packaging. It makes using this product so easy. Simply press a cotton pad down on the well-pump and saturate the cotton pad. Swipe all over cleansed skin (face and neck) both day and night. That's all it takes! You'll follow up with the rest of your skincare routine.
Best Used:
AM and PM
After cleansing and toning your skin apply tonic to a cotton pad and swipe all over face and neck
If using in AM, follow with an SPF of at least SPF25
Simply Stine Skincare Rating:
5 out of 5 stars! The product delivers what it promises and is super gentle on my skin and gives me such a radiant complexion! Fantastic product to incorporate into your routine!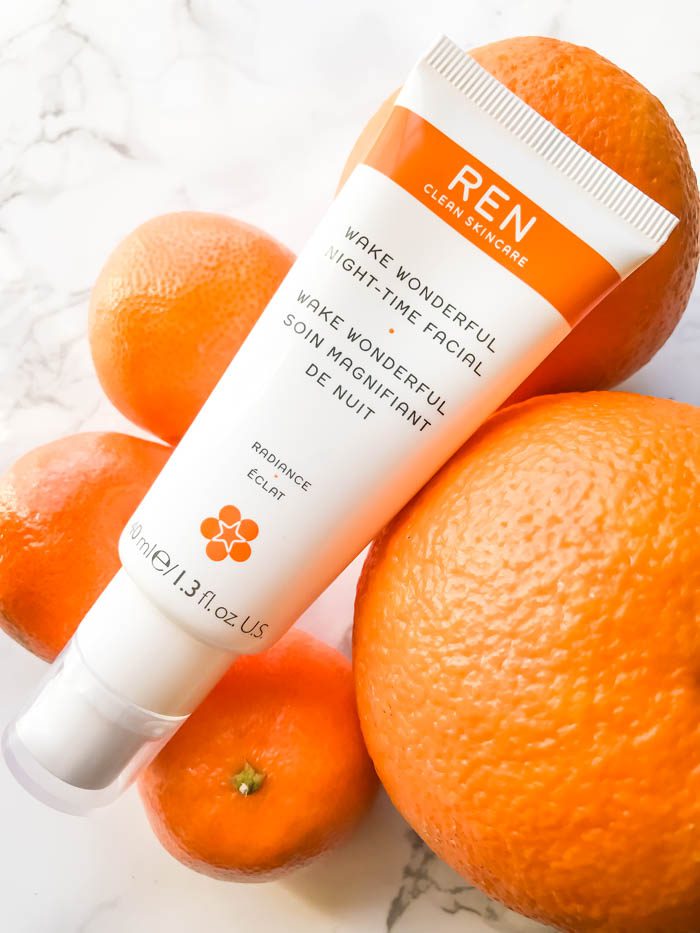 Who doesn't want to wake up to a brighter, more luminous complexion?!? I know for sure that I do and I'm guessing that you'd rather have a beautiful glowing complexion than a dull one with no radiance. Right?!? The Wake Wonderful Night-Time Facial is a great product to use along with the Ready Steady Glow Daily AHA Tonic. This treatment works overnight and delivers a 3-phase treatment while you sleep. It renews the skin, boosts skin cell vitality and it gives the skin moisture.
Benefits:
Skin looks renewed and radiant
Skin feels softer and smoother
Skin tone is more even and refined
Visibly reduces fine lines and wrinkles
Hydrates and nourishes
The first phase of this treatment mask is exfoliation. It blends AHAs, Lactic and Glycolic Acids with enzymes to help with uneven texture, support cell turnover (so important) and reduces surface pigmentation-aka those pesky dark spots we all hate! Phase two is massaging. It combines glycogen, magnesium and omega oils to energize the skin, revitalize and heal any damage. Phase three is all about that hydration! Sodium Lactate raises the skin's ph and attracts water to help ensure that the skin is plump and deeply hydrated.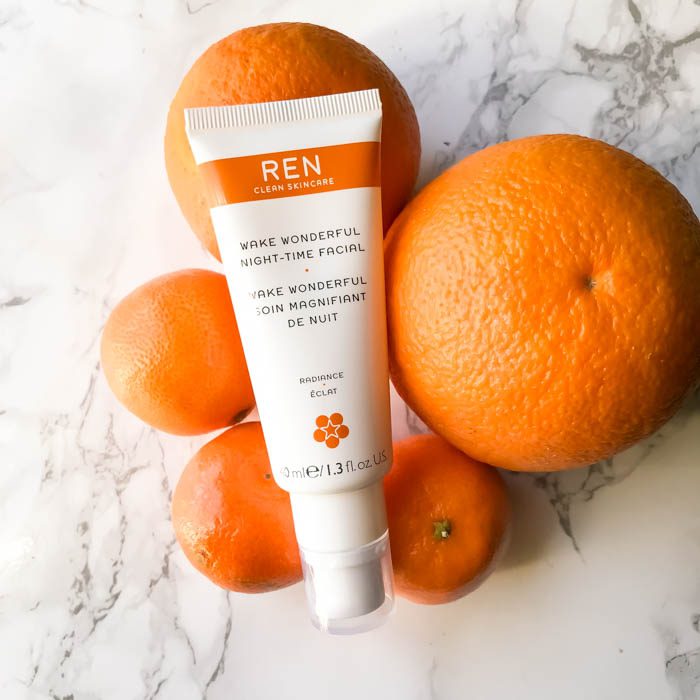 Best Used:
PM ONLY! Apply 2-3 pumps onto the cleansed skin (face, neck and decollete, but avoiding the eye area completely!) You might experience a tingling with this product but that's normal!
Use this after applying serums (lightest to heaviest) but before you moisturize your skin.
Use this about 2-3 times per week
While this has worked for me with no issues, this is not a product for those with super sensitive skin types!
Simply Stine Skincare Rating:
5 out of 5 stars! So far this has been a great product to use alongside the AHA Tonic and my skin looks incredible since starting both products. This hasn't been too aggressive for my skin at all, but I've only been using this for one to two times a week so far. I've always been a big fan of
REN
Skincare in the past, so it's no surprise that I'm enjoying this one as well!

PR Samples sent for review. All thoughts and opinions are my own!