The Academy Awards Best Dressed
The 87th Academy Awards happened last night and obviously that means we have some things to talk about this morning.  I think that my absolute favorite thing about the awards shows has to be the fashion, hair and makeup.  I love seeing what everyone decides on wearing and how that translates on the red  carpet.  I also love to see who wins the awards and the acceptance speeches were amazing last night!  Now, let's talk Fashion.
Who is my Best Dressed?  I really, really wanted to pick just one, but there were so many looks that I was loving last night.
1. Margot Robbie in Saint Laurent
I think Margot Robbie looks fantastic! Her hair is sleek and polished, her makeup is outstanding (loving the lip) and her dress.  It's gorgeous! I think that Black can be a hard dress to pull off on the red carpet, but this one instantly wow'd me!   Now let's talk about that necklace because it is making that look.  That necklace is a $1.5 MILLION dollar Vanb Cleef and Arpels necklace called the Zip Antique.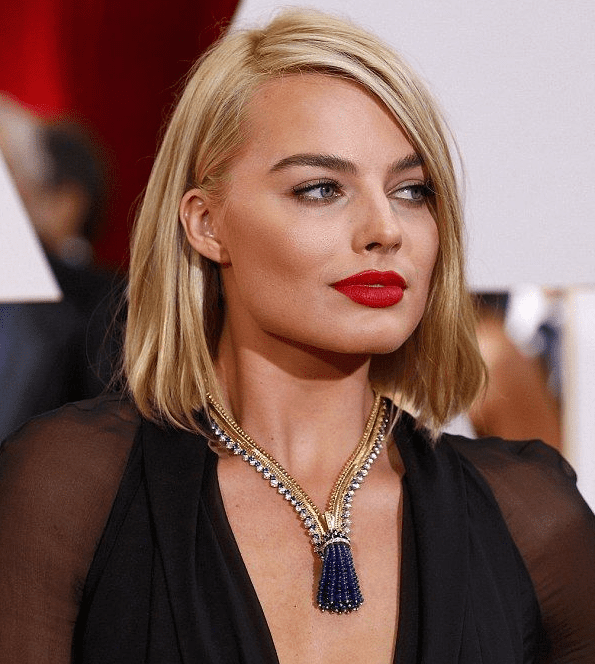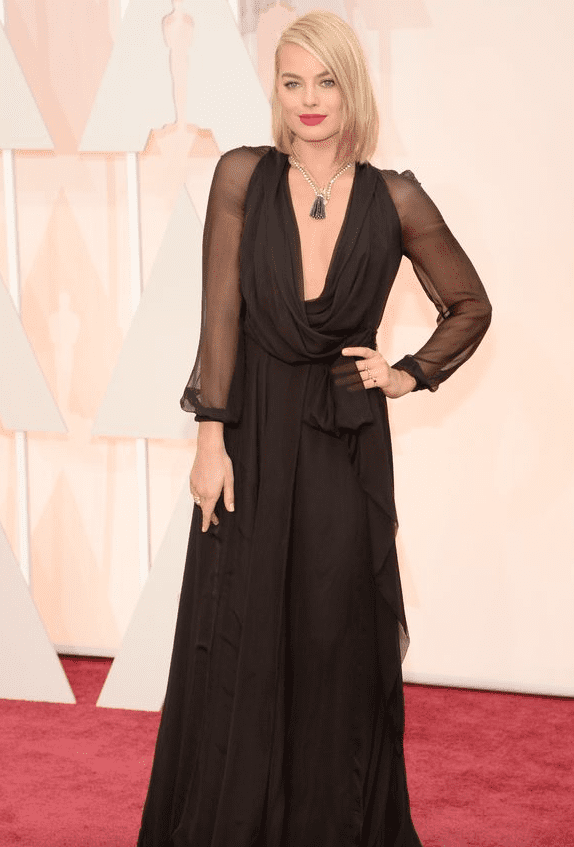 2.  Reese Witherspoon in Tom Ford
Reese looks like absolute perfection.  She always gives off that American Barbie Doll vibe, but in such a good way.  Her fashion choices have been incredible this awards season and her Tom Ford dress that she wore to the Academy Awards is another example of her getting it right.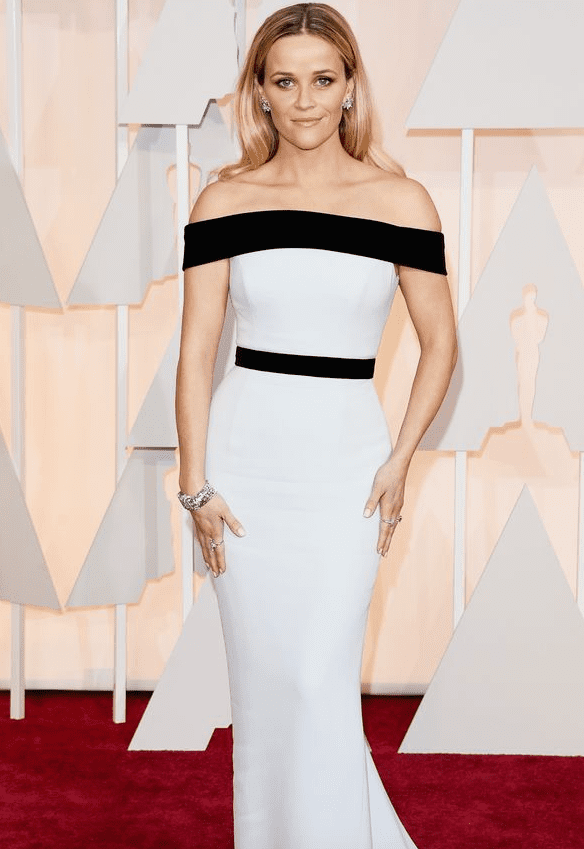 3.  Jennifer Aniston in Versace
Jennifer Aniston is 46 years old.  I had to look it up online because I'm pretty sure that this woman doesn't age. Her dress was so sexy!  It fit her body so perfectly and she shined last night!   I will admit, I wasn't a fan of her hair.  It was  too plain and normal for me for an awards show, BUT she still looked like a goddess.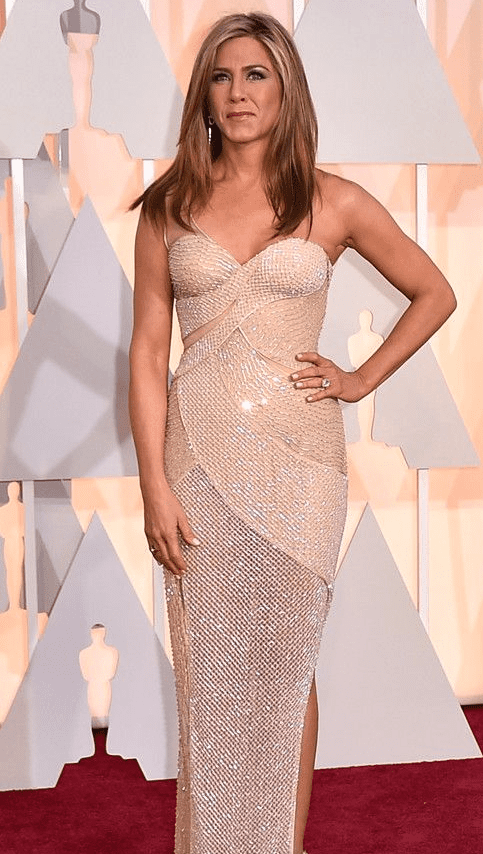 4.  Emma Stone in Elie Saab
Sure, she might have accidentally flashed her underwear on the red carpet, but hey, at least she was wearing them!  She looked absolutely breath taking last night.  I felt all giddy with thoughts of Spring as soon as I saw her.  There was just something about her dress and her hair.  She killed it last night! Want to copy her makeup look from last night? I've got some details!! Seriously, that lip look is just fantastic!
"The color of the dress was fun and unexpected and called for another unexpected color," says Stone's makeup artist Rachel Goodwin, who tried several lip and cheek shades on Stone during a fitting, and landed on Chanel Powder Blush ($45) in Angelique for her perfectly pink cheeks and a peachy-coral lip color called Tulip from Revlon Ultra HD lipstick ($10), which was defined with Chanel Precision Lip Definer ($30) in Rouge Candy. -The Hollywood Reporter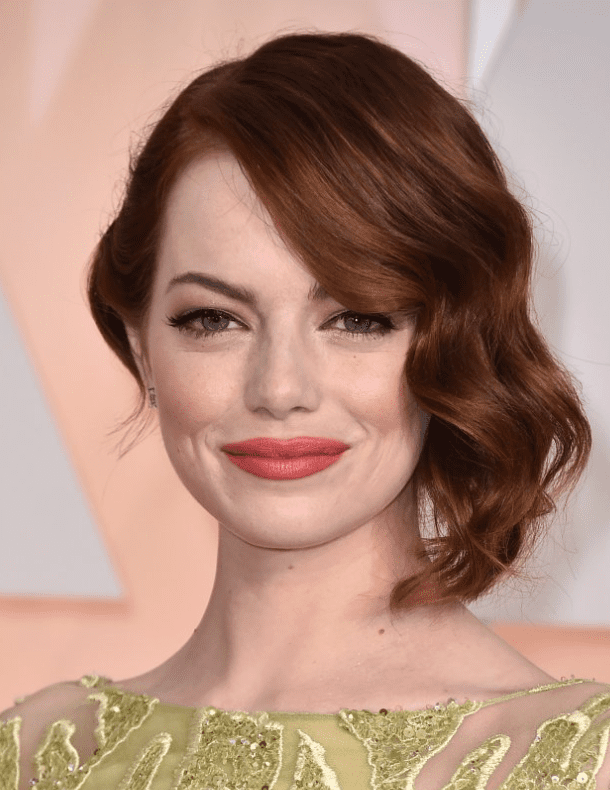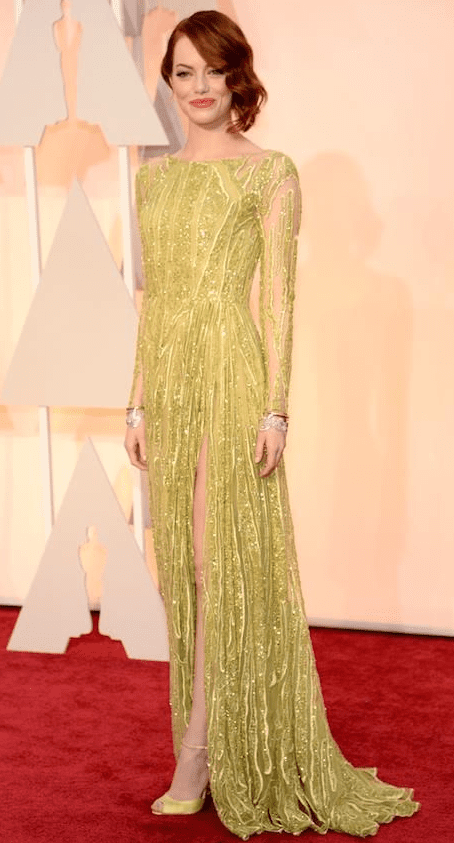 5.  Roseamund Pike in Givenchy
This woman just had a baby people and look at that waist.  I seriously don't get how they do it, but they do.  This dress had so much texture to it and it was such a beautiful shade of red against her skin tone.  This was my favorite look she has worn lately.  Some people didn't like the shoe, but I actually really enjoyed this head to toe red look on her! Now, let's also talk about her skin because she has gorgeous skin.  I hear she is a fan of SISLEY Sisleya Essential Skincare Lotion!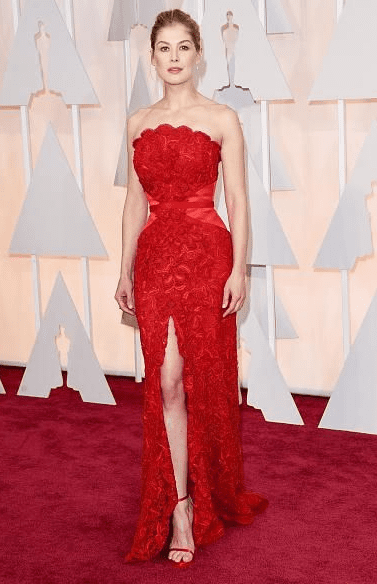 The others worth mentioning (AKA Almost Best Dressed)
A few other notables would have to be Lupita because honey, she wore a gown that had at least 6,000 pearls (or beads?) on it!  Felicity Jones wore Alexander McQueen and I thought it was a stunning dress. I do, however, have feeling that a lot of people didn't "get it" and that's ok.  I loved it!  I also loved Jamie Chung.  I always thinks she looks gorgeous and last but certainly not least, J Lo.  Her boobs have made several appearances lately, but I am completely ok with it.  She looks amazing!  I did not however, love her makeup for this look.  The pink lip is gorgeous, but I didn't love the eyes! It almost reminded me of having pink eye.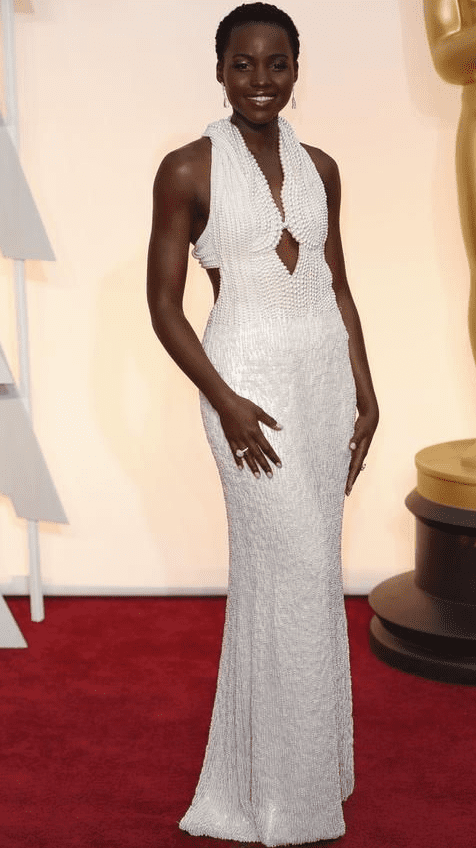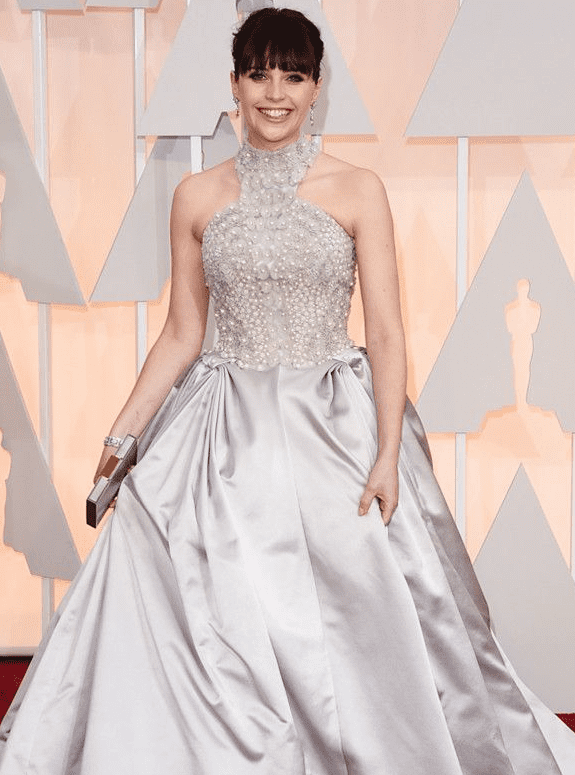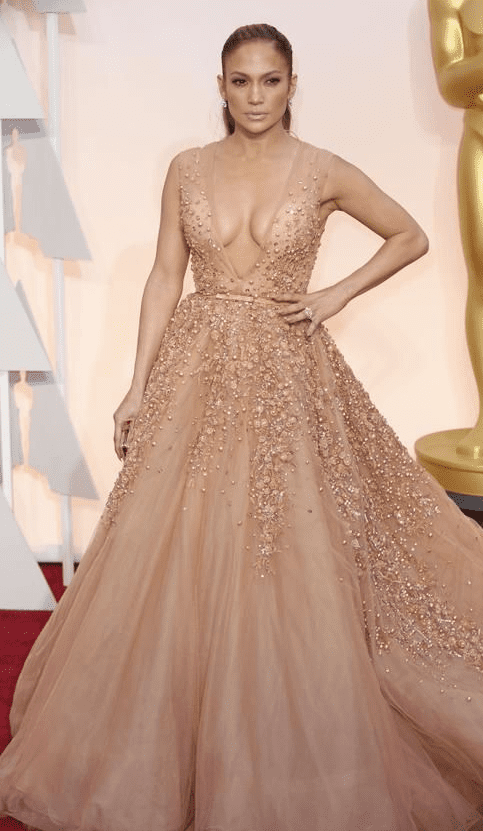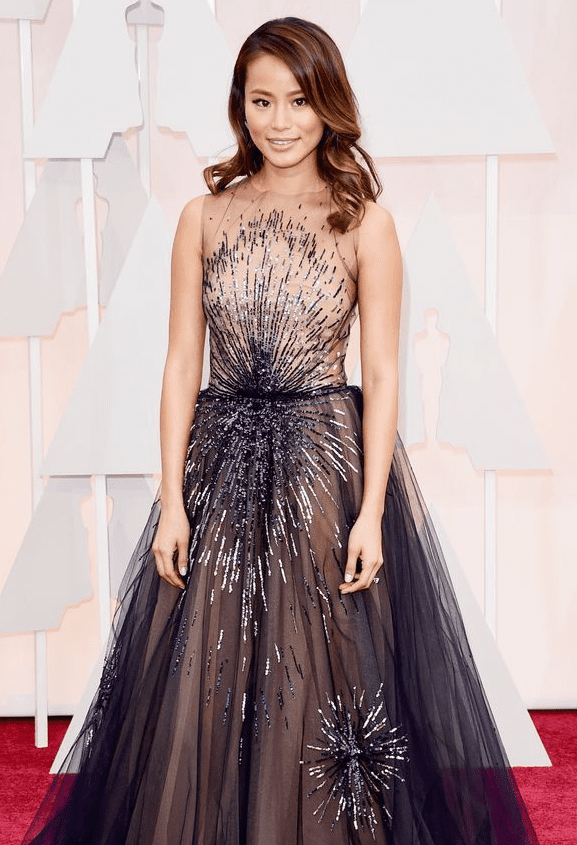 The Academy Award looks that left me a bit puzzled.
Some of my not so favorite looks? Well, there were some of those this year also, BUT not as many as normal! These just didn't do it for me, but what do I know? HA!
1.  Anna Kendrick in Thakoon. 
This is a beautiful dress and the color is exquisite on Anna, I just didn't like it for the Academy Awards.  The dress IS stunning though.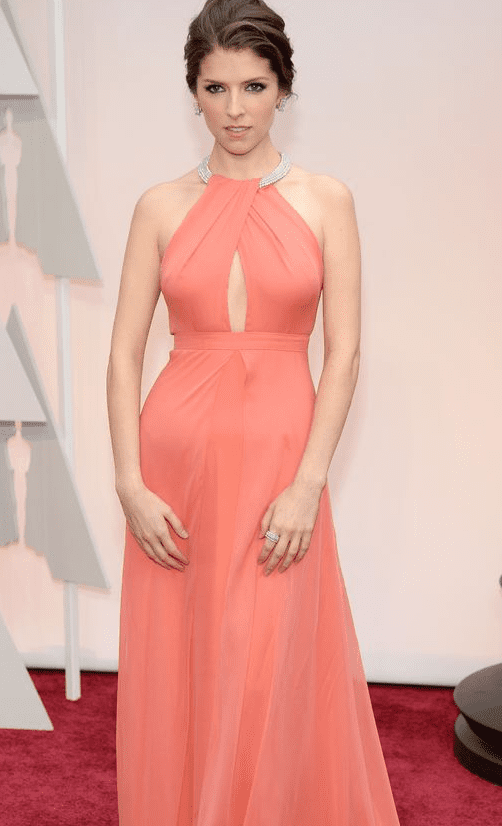 2.  Zoe Saldana in Versace
DO NOT GET ME WRONG.  This dress is gorgeous!  I also think she looks 100% AMAZING (She did just have twins) BUT I would have loved this dress so much more if those straps were not included.  This would have been stunning strapless! See below…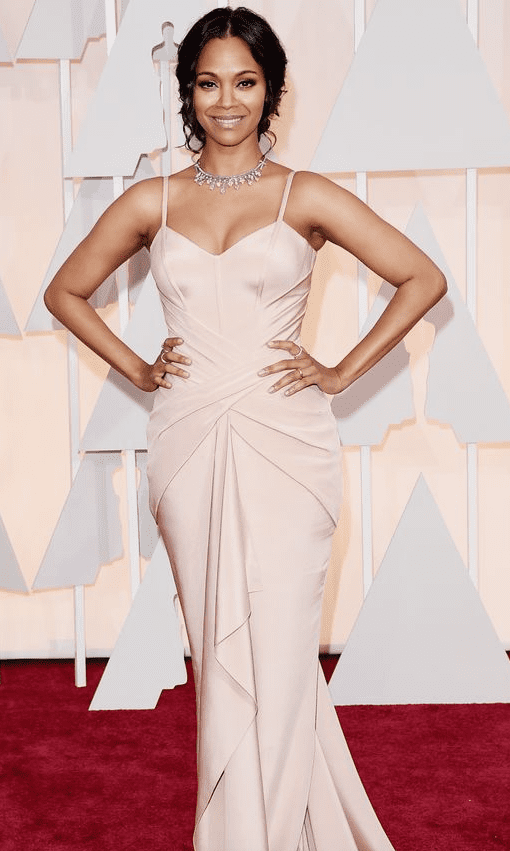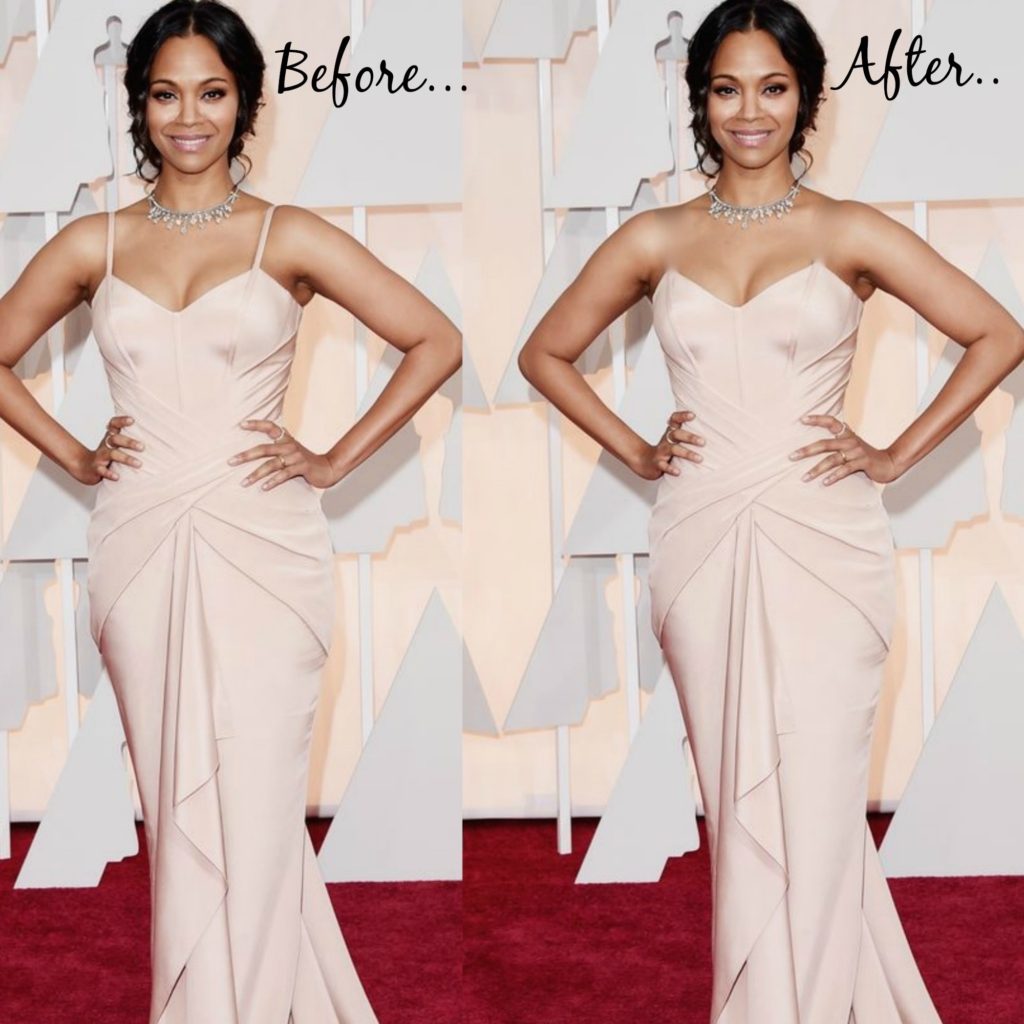 3.  Sienna Miller in Oscar De La Renta
I love the hair and makeup, but the dress I didn't love. I couldn't see all of the details on it and I think on a red carpet, we need to see those details!  She is incredibly beautiful though!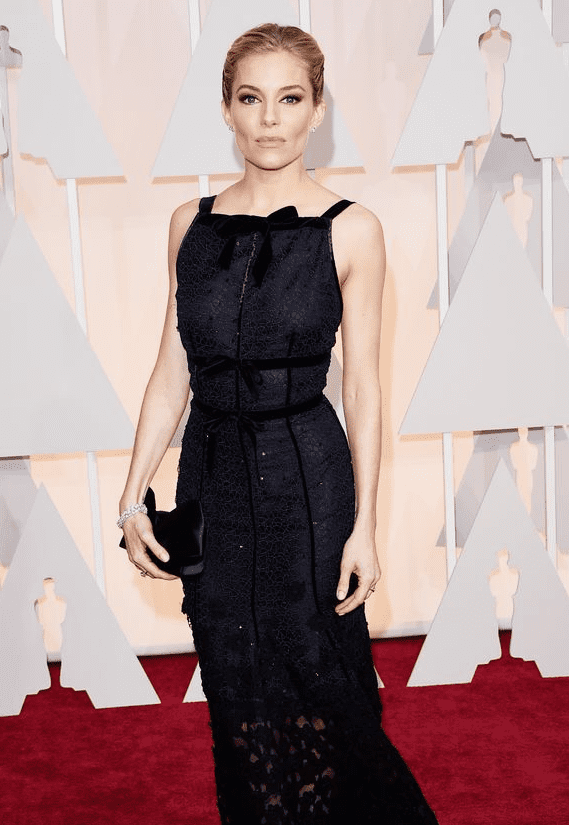 4. Nicole Kidman
I think it's the belt, but I just can't put my hands on what it is about this dress that I don't like.  I'm going with the belt.  HA!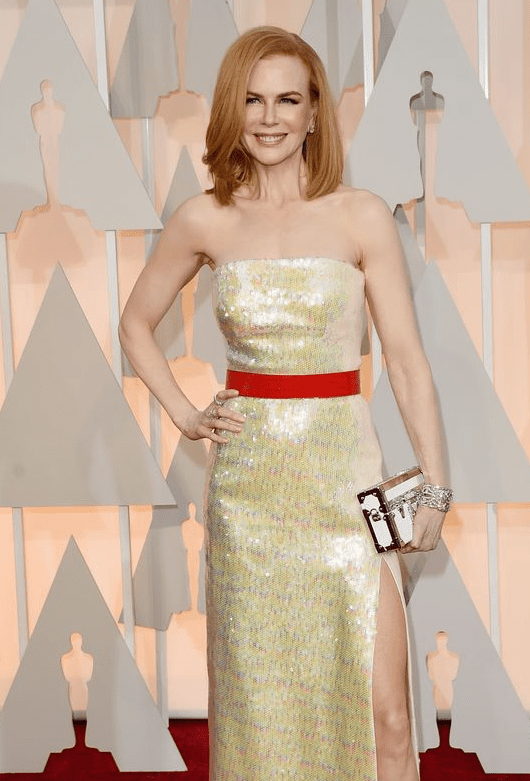 5. Gwyneth Paltrow in Ralph & Russo Couture
I keep going back and forth about this dress.  I love the pale blush shade of pink, but that bow! Do I love it or hate it? I still don't know. I also didn't like the giant earrings paired with a dress that had a giant flower puff sleeve.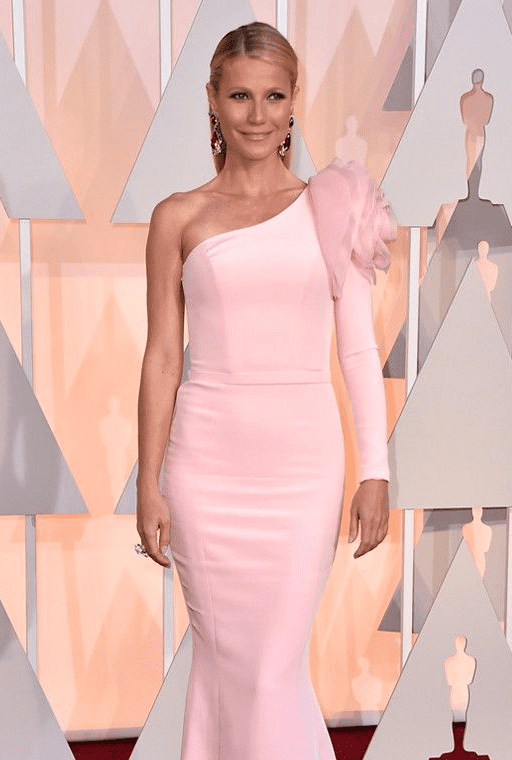 Some of my favorite parts of the Academy Awards
My favorite part of the show? LADY GAGA! Don't let her crazy and peculiar choices steer you from the fact that this girl can sing!  She looked stunning last night and her voice seriously left tears! I loved her performance so much and I'm so happy people really got to see how talented she is and not just her sometimes odd, crazy raw-meat wearing antics. She is so talented!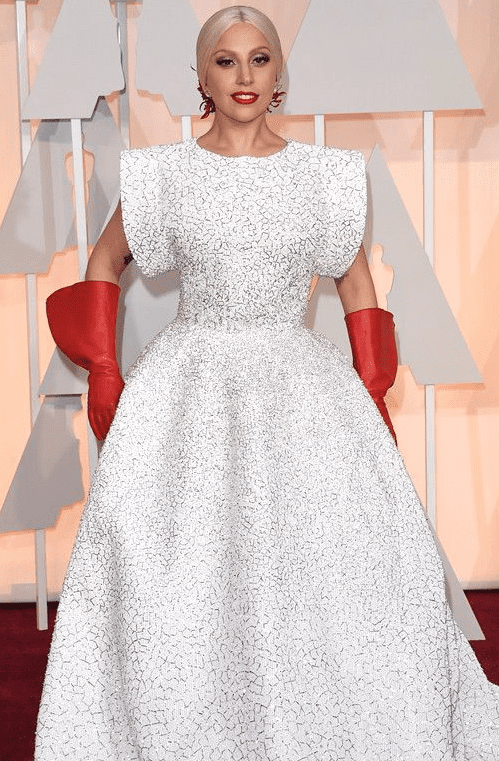 And last but not least, Graham Moore's Acceptance Speech that left me crying in my chair.  I mean, what a beautiful speech!!!! Stay weird folks!
If you want to see a lot of looks from last night, click here to visit my Pinterest Oscars 2015 Board.
What were some of your hit and misses? I can't wait to see who everyone thought was their best dressed! PS Did anyone really think Birman should have won for best movie?
Affilate Links Included