It's time to talk all things Thanksgiving! The countdown has started in my house as we only have 19 days until Turkey day. Today I'm sharing 10 smart things you can do right now to prepare for Thanksgiving.
This year Thanksgiving is probably going to look A LOT different from our typical Thanksgiving holidays. Even the Annual Macy's Thanksgiving Day Parade isn't going to be the same this year. Maybe you're having a smaller gathering or maybe you're staying home this year. Either way, we can still have a great Thanksgiving. Here are some great tips on preparing for Thanksgiving day!
Get Your Kitchen In Order For Thanksgiving
I don't know about you, but I can't cook in a messy, unorganized kitchen. I take a bit of time before (I've already started this) any big holiday's and start getting things into place. This makes the big day, which is stressful enough, go that much smoother.
Check Your Pots and Pans
Do you have a roasting pan? How about a pie dish? Once you finalize a menu, you'll know what you need to prepare and what types of pans and such you'll need. This is also a good time to clean them if needed! Anyone try the Always Pan yet? It's VERY hyped up and I'm very, very curious.
This is also a good time to think about serving platters and bowls that you'll need for the meal as well. For me, I feel like I never have enough and always have to double check what I have on hand. You can get these things pretty much anywhere, at all price points. Don't feel like you have to spend a fortune for the table to look nice.
Clean Your Fridge and Freezer
If there's one thing that you can do right now, it's cleaning out your fridge and freezer. I just did this and was amazed at the "junk" I have accumulated during all the time we've spent at home. I've tried to use up what I had in there and I've made room for a Turkey (I hear there is going to be a shortage?!?!?) and if I want to bake pies ahead of time, I've got the room.
I've organized my fridge and it's ready to go! I spent some time at The Container Store making sure I had a good system in place. My fridge used to be such a mess because I'd have so many products I used because we're cooking more now. I'll post how I cleaned up my fridge another time. Bottom line, check your fridge for expired products and get it organized.
Clean Your Oven
My ovens are a mess right now. I swear I keep meaning to clean them and I keep putting it off. Writing this post has reminded me that I have to get it done! You don't want to be cooking in ovens that are already a mess. This is also a good time to think about how you'll want to rearrange your oven racks to fit the Turkey!
This might also be a good time to calibrate your oven, which I'll admit I've never done, but I plan on it this year! (Try this guide to calibrating your oven) Have you ever done this??
Clean Your Countertops
My countertops can get cluttered very, very easily if I don't keep up with them almost daily. Give me a week when I'm just not on it, they are horrible. So clean off your countertops to ensure that you have space for everything that you'll need space for.
If you plan on serving a buffet style meal, will you be using your countertops for the food? This is a reason to make sure you've got plenty of room for everything.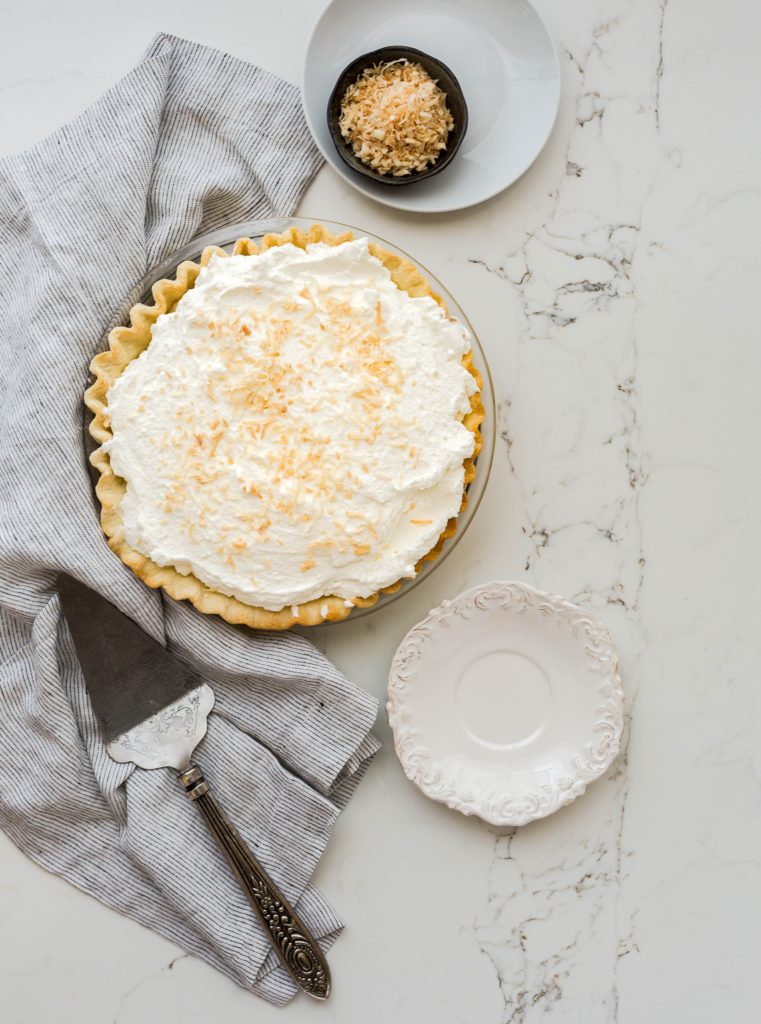 Let's Talk Food
The main attraction for most everyone on Thanksgiving is the food! While I'm not the biggest turkey fan, I still enjoy Thanksgiving. If you're hosting dinner this year, food is for sure a main part of what you'll be working on.
Start Looking At Recipes For Thanksgiving
Do you have a lot of family recipes that you make for Thanksgiving dinner? Now is the time to make sure you have those recipes ready to go. I swear by this Rifle Paper Co Recipe Tin. I wrote down all of our family recipes (laminated each card) and I keep it in my kitchen. It's all in one place, so I don't have to go searching.
This might also be a good time to remind you to get the family recipes written down! I hear so often that they don't know the exact recipe a loved one made and wished they would have asked. ASK NOW!
Also, my mac and cheese recipe is a favorite every single holiday!
Get Your Turkey Plans in Place
Do you know what type of turkey you're going to be serving? Maybe you're not going to be serving turkey at all. Either way, now is the time to plan out your menu. Once you know how many people will be attending your Thanksgiving dinner, you'll know if there are any food restrictions or food allergies to take into consideration. You'll want options for those who have restrictions.
Fresh or Frozen Turkey For Thanksgiving
When it comes to Turkey, there is a lot to consider. Will you be purchasing a fresh or frozen turkey? I think that Butterball has put together a great website with tons of information on cooking a Turkey if you need help in that area! If you're wanting a fresh, free-range turkey that's already brined; Willie Bird is your answer! You can also check your local meat markets and butchers. Don't be afraid to ask for some guidance.
Are You Going To Brine The Turkey
Do you want to brine your turkey? Make sure you have it defrosted (if it was frozen) three days ahead of the game. You'll want to brine for 24 hours and let it sit (still refrigerated, just not in brine) another 24 hours so it crisps up when it cooks.
Look for other alternatives to turkey if that's not your thing! Maybe you'll want to do something like a standing rib roast or a spiral sliced ham. No one says you have to do turkey.
Shop Some of My Thanksgiving Favorites
Nothing Wrong With Taking Some Shortcuts
If you're thinking of ordering Thanksgiving dinner in, you need to check the cut-off dates for ordering meals. Even if you're thinking of ordering side dishes, appetizers, or desserts, you need to check the dates to make sure you're ordering in time. Call the restaurant or wherever you are planning on ordering from to double check the information!
I see so many people often shaming for people who aren't going the homemade route for Holidays and I don't agree with that. I see a lot of restaurants offering catering and it looks incredible! The bakeries have beautiful dessert platters that can be easily ordered. There is nothing wrong with some shortcuts on the big day! You don't have to put unnecessary stress on yourself, especially if it's something that you don't even enjoy doing!
Start Shopping For Food
So you've cleaned out your pantry, fridge and freezer. You've also put together a menu and finalized your guest list. Now it's time to start buying some of your non-perishables and other items. I don't think you have to overdo it, but buy the things you know you'll need. Also, be sure to check sales!
Stock/Broth
Cheese (if you're doing a cheeseboard)
Spices
Nuts,etc
Canned items like cranberry sauce (yes, I'm one of those people)
Baking items like flour, sugar, brown sugar, etc.
Milk, Creamers, etc
Also consider this time to buy beverages (even alcoholic if you're serving them)
Butter
DON'T FORGET THE TURKEY
I will typically stock up on items like this and a couple days before (or sooner) I'll buy last minute items like vegetables or fruits that I'll need and any meats for appetizers.
This is also a good time to stock up on items like napkins and things like that. This is 2020, who knows what will be available when it's closer to the holiday. My grocery store was completely out of paper towels last week. This is also a good time to start using reusable items and maybe consider using less paper products!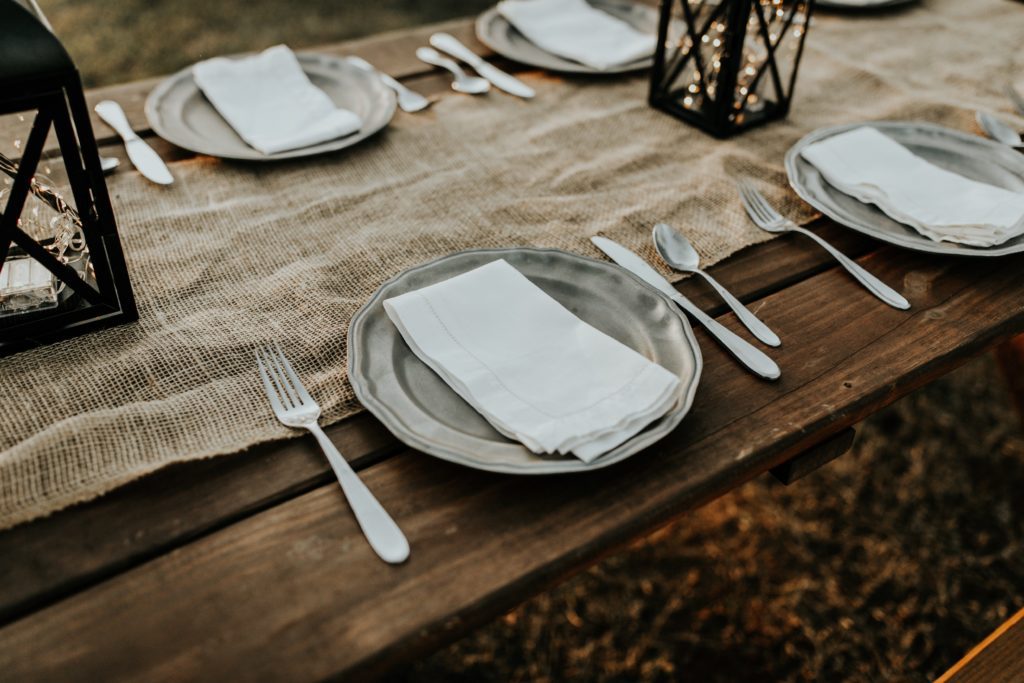 How Are You Decorating Your Table For Thanksgiving
Do you plan on decorating your table for Thanksgiving? Setting up centerpieces? Adding charges, plates and such? If so, I'd start thinking about this right now. I like to go ahead and set my table about two weeks ahead of time. I set the table the way I want it and add a clean tablecloth over the top of everything to protect from dust and dirt.
By starting early, I'm not rushing around setting the table and cleaning everything right before the meal. I take time to clean the plates, bowls, and glasses and then work on a table setting. I find that this is also a good time to clean my dining room cabinet as it's normally pretty dusty.
If you want to use disposable plates, I'd get them as soon as you can. These tend to go quickly in the stores! I'd pick up a dinner plate, smaller plates, and a bowl to cover everything. Don't forget your napkins and silverware if you're going with the disposable route!
Create Your Seating Plan
One thing you need to work on is setting up a seating plan. This could be the hardest part of planning Thanksgiving dinner. Who gets along? Is anyone left-handed? Where do you put the kids? These are all questions to consider. Growing up, we never had sit down meals. Now, I prefer them. I think it's great to have people actually have conversations and talk together at a table. As long as I'm seated in a good spot, ha!
Look At Silverware, Flatware, and Dishes
Once you know how many guests that you will be having, you'll also be able to take a look at your table setting and figure out what exactly you need. Do you have enough silverware? What about dishes and things like wine glasses and serving utensils? Do you have enough seating?
Also to consider is things like sharpening your knives. I never seem to remember to do this and on Thanksgiving day I'm always getting irritated at myself when the knives aren't cutting things like I want them to. There are stores who will sharpen them for you (I believe Sur La Table and possibly Williams Sonoma) or you can a knife sharpener where you can easily do this at home.
This is also a good time to decide if you're going to do a formal sit-down dinner or if you're going to keep things casual and do a buffet style meal. I go back and forth between which option I like better, but I typically lean more towards the buffet style as there's too much food to put on a table to be passed around. We still sit at the table together, but there's always too much food to fit on the table.
Do you know the proper way to set the table?
Pre-Plan Your Cooking Schedule
If there's one thing I suggest doing before Thanksgiving, it's prepping your Thanksgiving cooking schedule. Figure out the basics that you need to be aware of such as:
Things To Cook, Prepare, and Prep For The Big Meal
Turkey Brine Time
Turkey Roasting Time
Side Dishes
Appetizers
Desserts
All of these things will need to be prepared, cooked, and put together. Maybe a couple days ahead of Thanksgiving, start prepping some things like a cheeseboard, cutting some vegetables, preparing some of the dips and desserts that are ok when made ahead of time.
I like to go ahead and make things that can be prepped ahead and then just baked the day of. Things like dressing, casseroles, mac and cheese, any breads, veggies that will be roasted. Get them ready and just pop them in the oven the day of!
Make A Schedule For Yourself
Make out a schedule and figure out what needs to cook and for how long. Also think about your oven space. I have two ovens, so I am very grateful for that. It still seems like we always, always run out of oven space, ha!
I think the most important thing of all is to remember it doesn't have to be perfect. Trust me, I have to remind myself this all day long. Just have fun with your meal and have the best day possible. 2020 has been filled with a lot of stressful times, don't let Thanksgiving be one of those as well!
Shop The Post