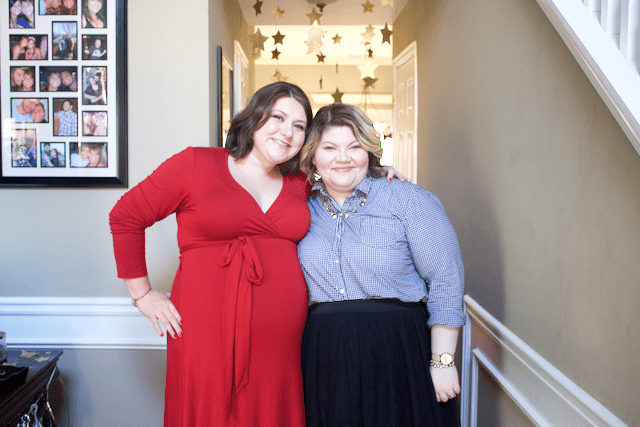 I've talked about my SIL, Danielle, before on the blog. Not only am I lucky enough to have her as my SIL, but she's also my best friend. I never had a sister growing up, so I love having her in my life. I got to stand by her side at her wedding and now, I got to take part in creating her baby shower along with her mother and my mother in law. It's crazy that my Nephew Owen will be here pretty much any day now and I can't wait to meet him! Before I start ugly crying, let's talk about her shower!!! Danielle wanted her shower to be a gender neutral themed party so we went with a Twinkle Twinkle Little Star theme. I loved this theme because it wasn't the typical shower that I've seen for someone having a boy and to be honest, I think that is what made the shower so special and unique. We also went with a "Cravings" idea for the food. Everything we had was things she had been craving while pregnant. Plus, we also decided to add in some extras like a Hot Chocolate Bar and a few others.
Twinkle Twinkle Little Star Themed Baby Shower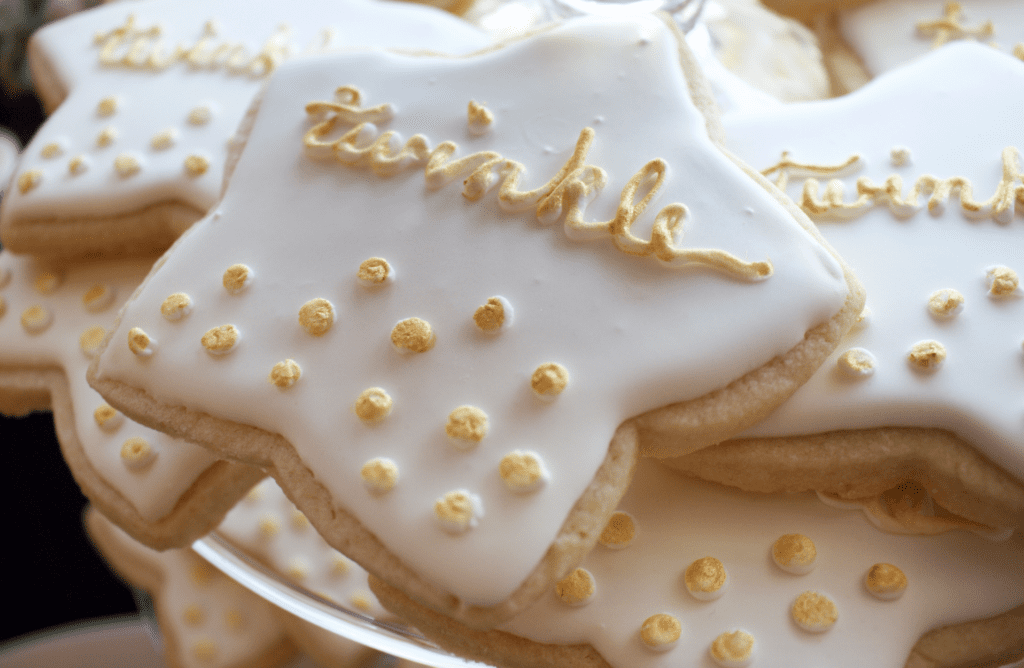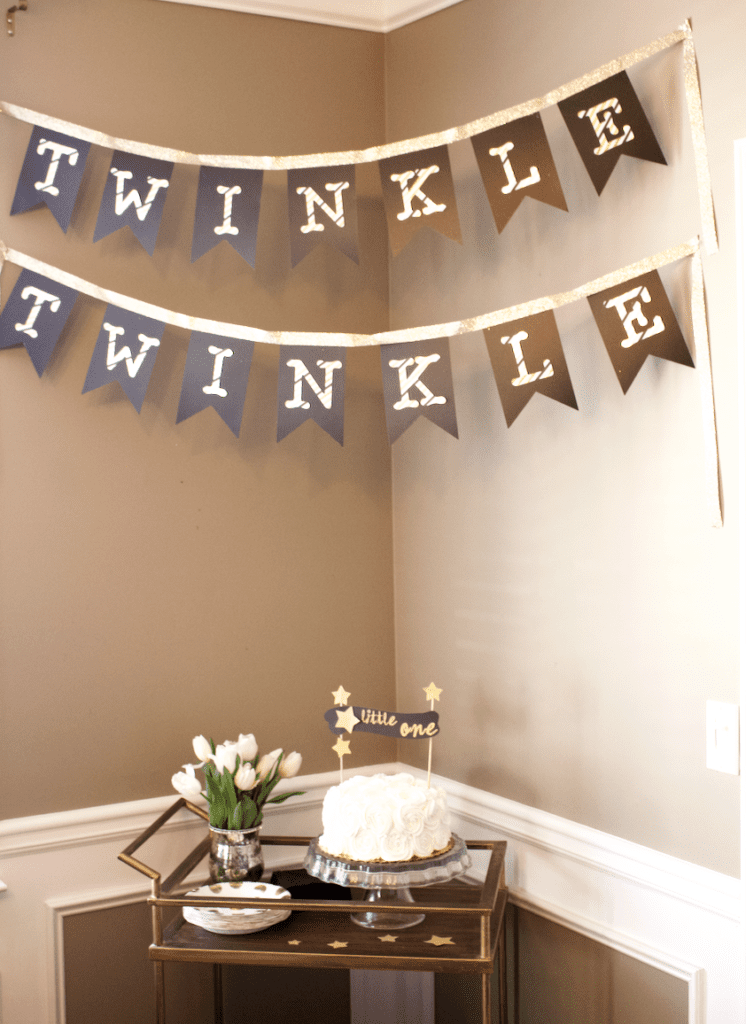 The lighting on this photo turned out a bit off, but this area was one of my favorite parts of the shower! It was so beautiful. Simple, but chic!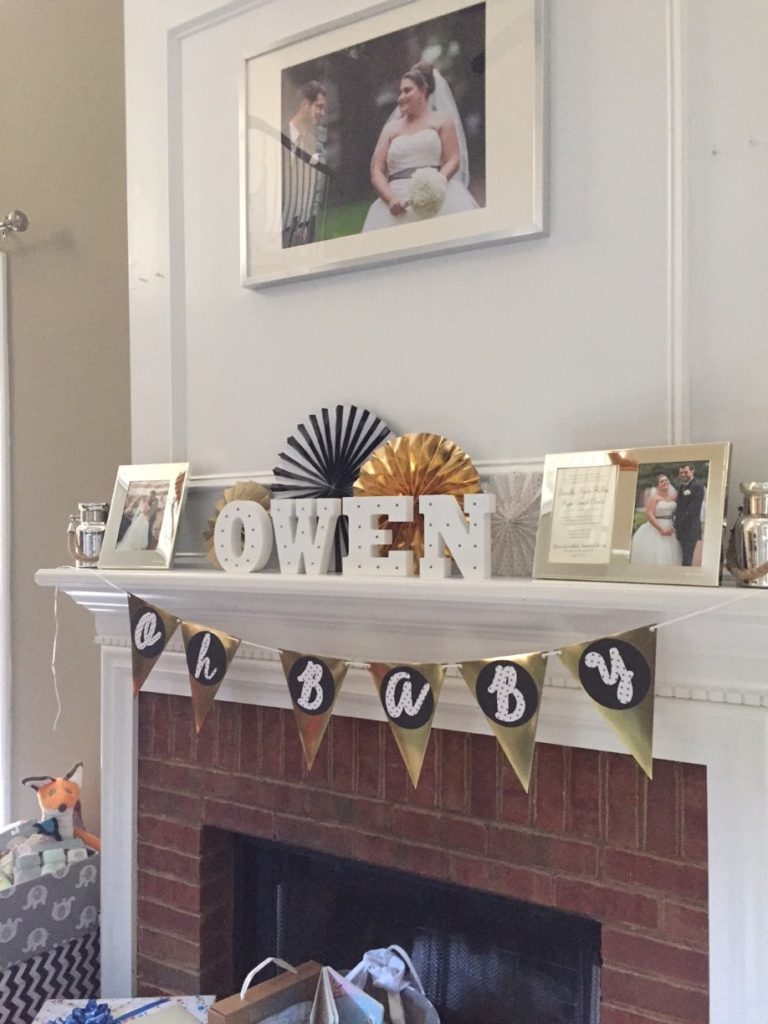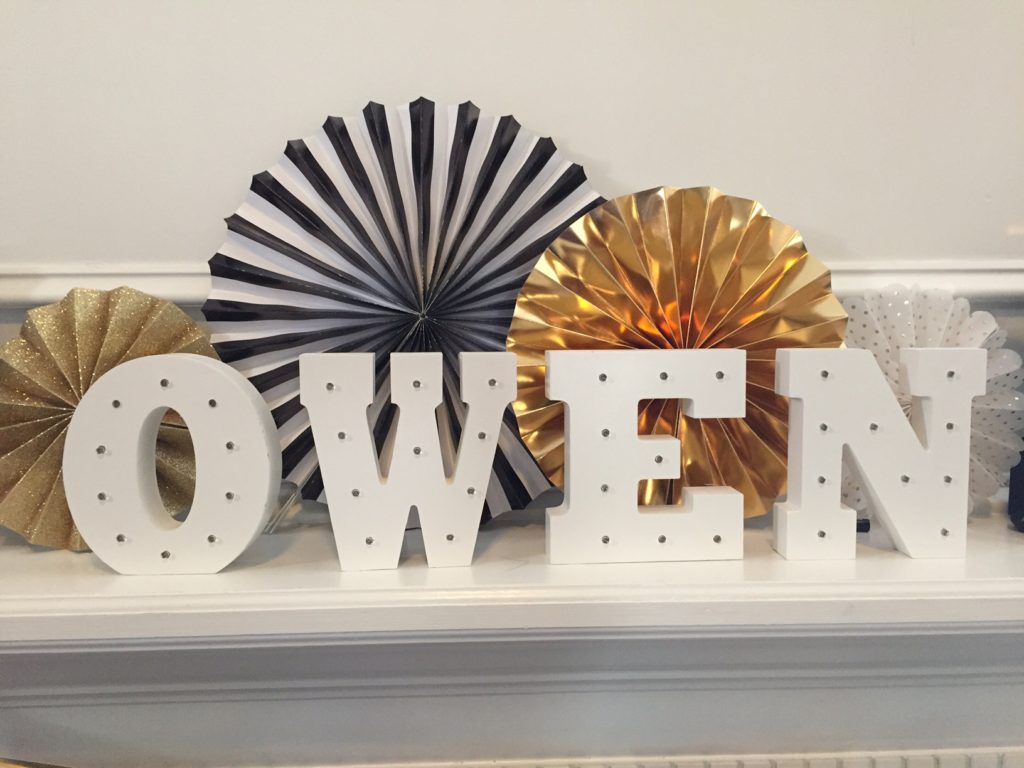 I thought these would be great for the mantel and I knew that they would be able to use them after the shower. They were darling!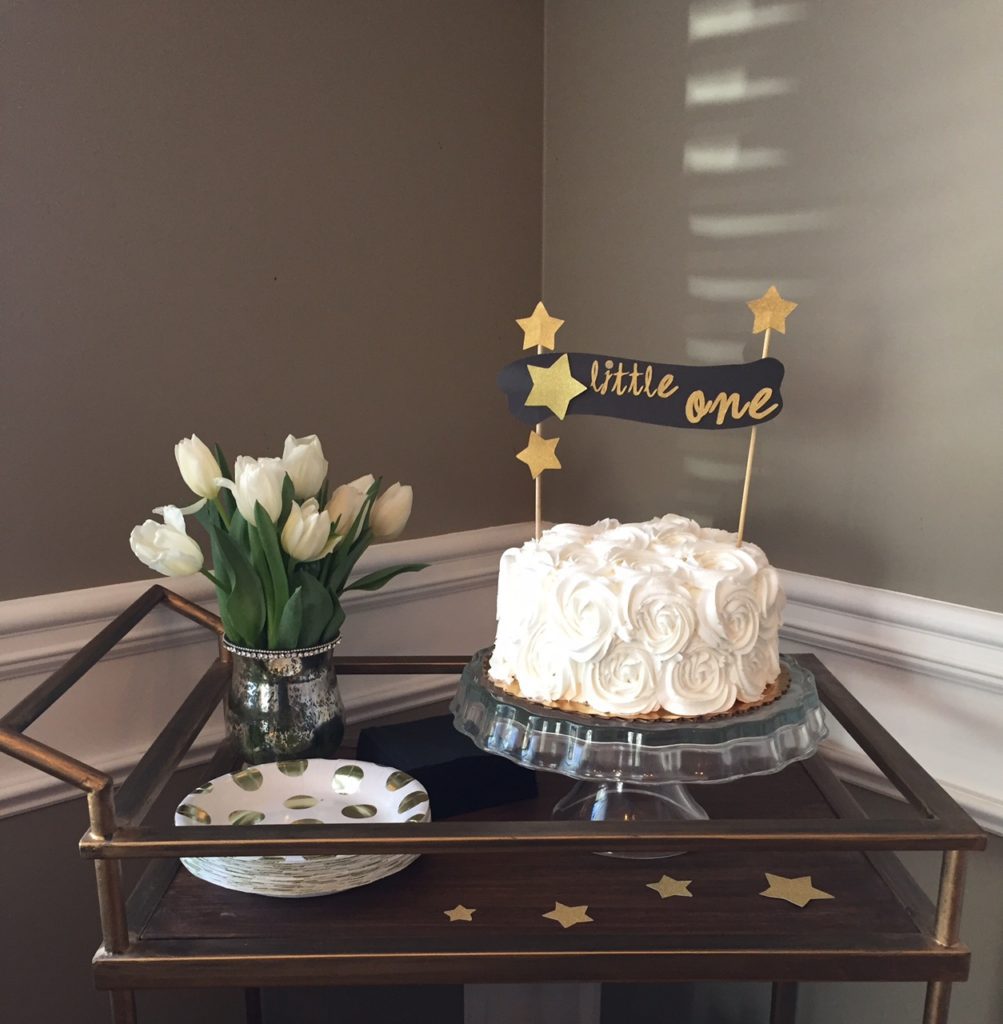 The cake was underneath the Twinkle Twinkle Banner, so that's why we included Little One. "Twinkle Twinkle Little One…" I made the cake Banner and it's probably one of my favorite parts of the shower. The whole cake area looked amazing! Danielle's mom rocked the Twinkle Twinkle Banner!!!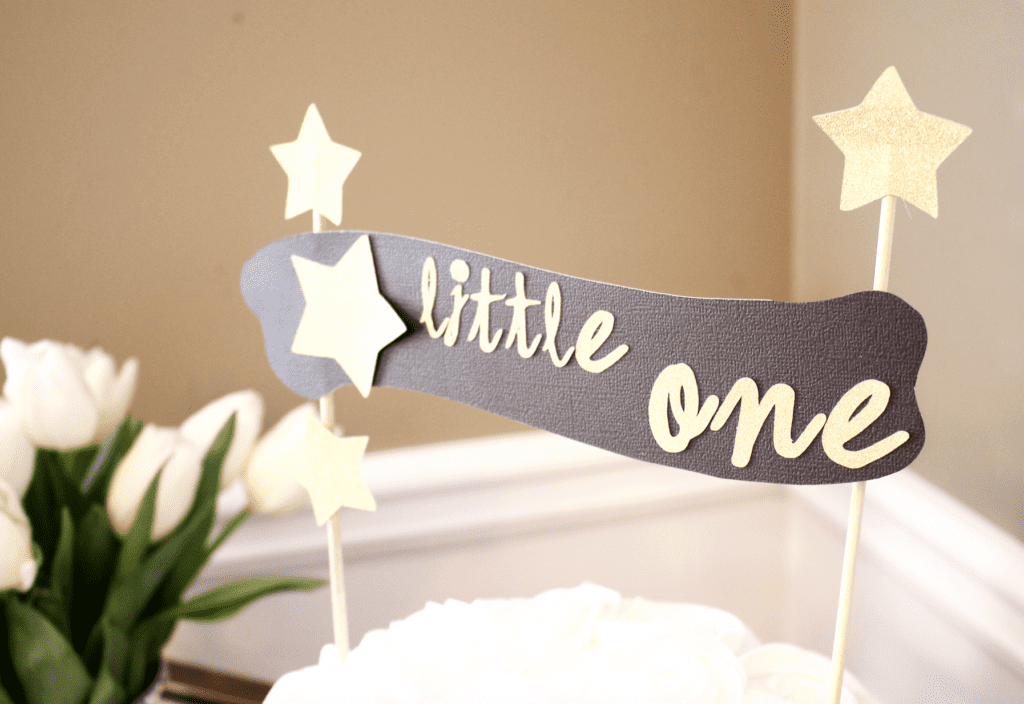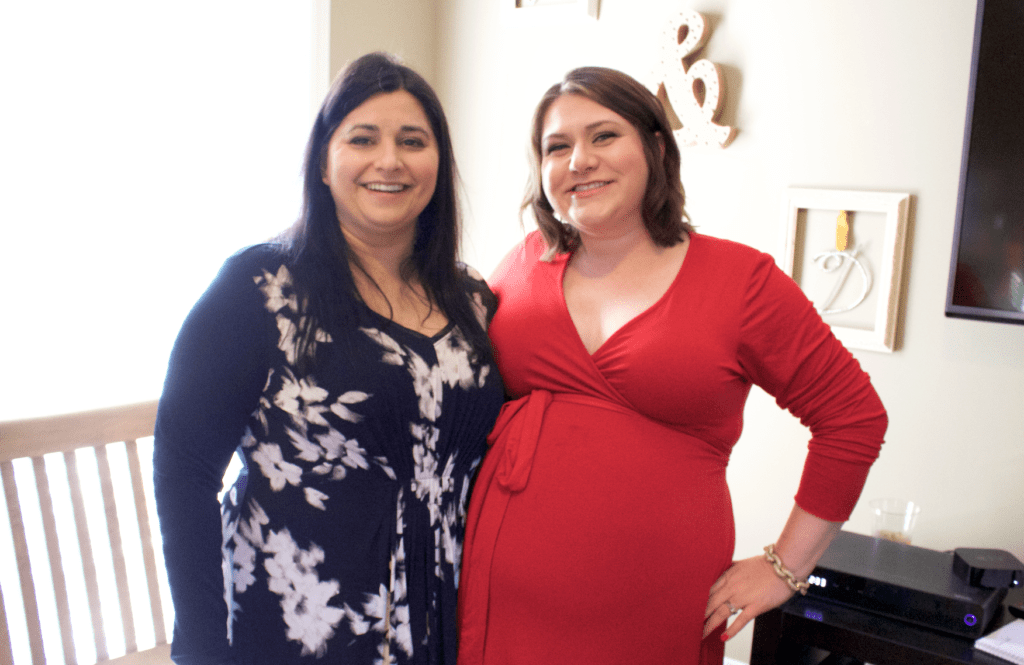 Soon to be Grandma! This is Danielle's mom and she worked so hard at putting together Banners, Food and all of the amazing Tassel Garland you'll see in the pictures! We work great together, ha!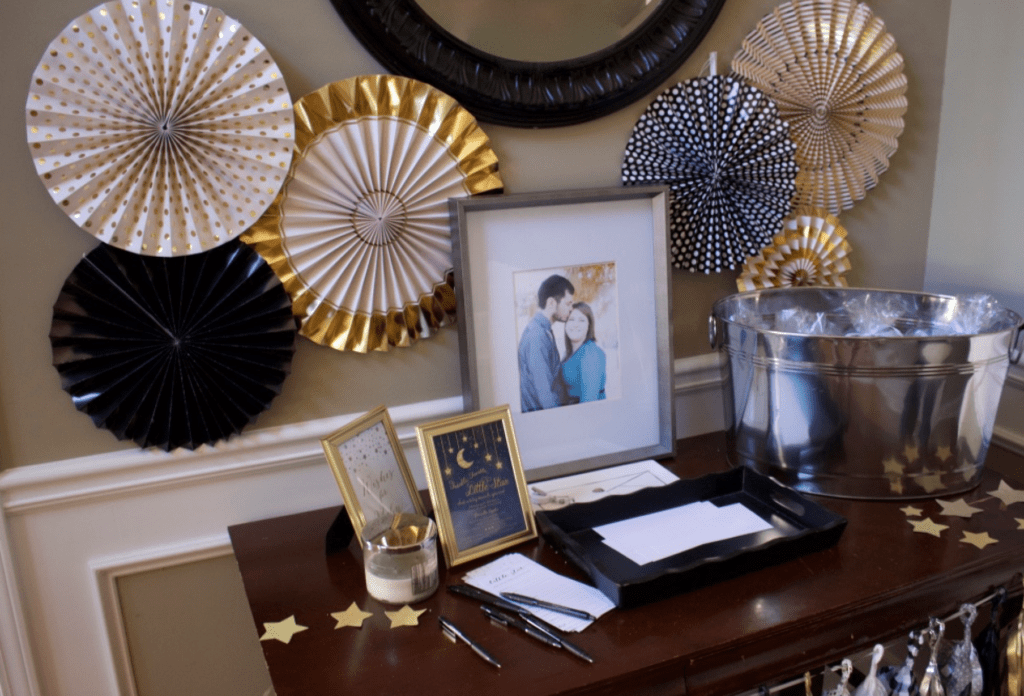 This is the area when people first walked into the shower. I don't know what I love more, the tassel garland or the rosettes?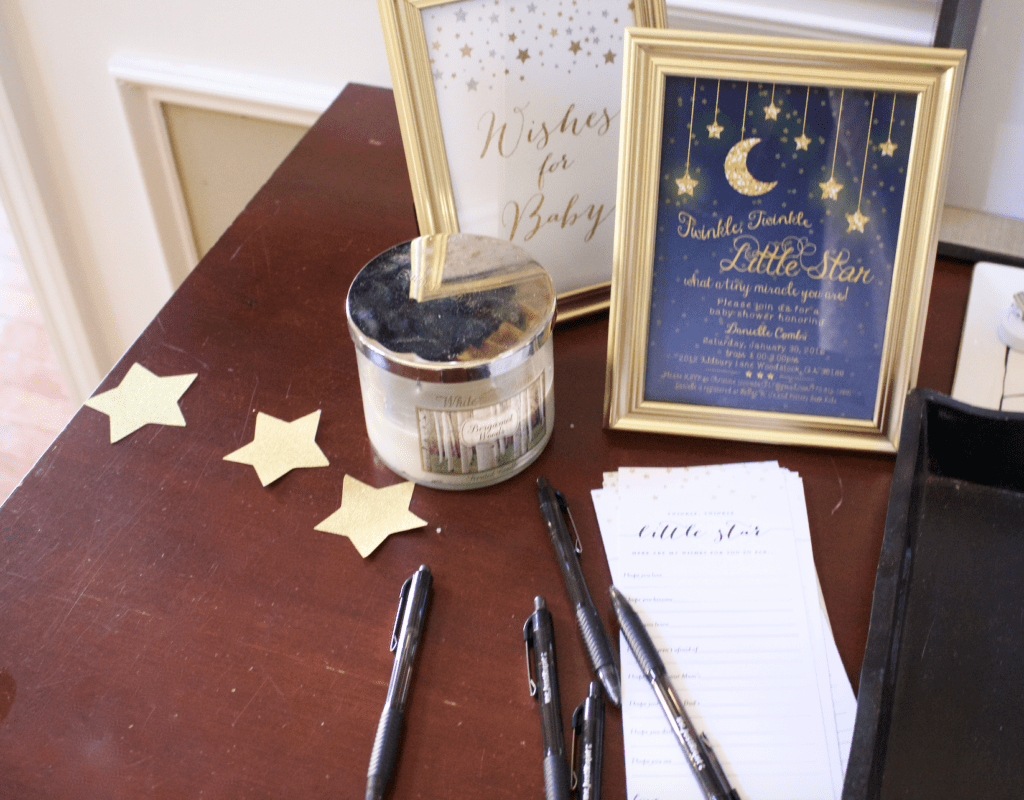 We had everyone fill out Wishes for the baby on a Twinkle Twinkle Little Star, The Things I Wish For You Are card. I loved that it went with the theme of the shower and it was fun for Danielle to read what everyone wrote for Owen! I still need to fill mine out, ha! Also, that pictures in the gold frame was her invitation!

Since it was a baby shower, I had to include the clouds. I LOVED how they turned out. We just made gold raindrops and hung them up with fishing line. It was so cute! We put these on the Dessert Table.
I made mini bundt cakes with homemade peanut butter frosting and some also with cream cheese frosting. We had her favorite doughnuts, cupcakes, chocolate covered strawberries and star cookies! The best part had to be the hot chocolate bar! It was a hit!!
Some of the main food we had served was a Chick-fil-A Nugget Tray, Taco Bar, Meatballs, Potatoes, Pasta Salad, Stuffed Mushrooms, Quiches, Vegetable and Fruit Trays, Salad, Spinach Dip, Homemade French Onion Dip, Queso, Mozzarella Sticks, Chips and Salsa and so much more, ha! We really just took her cravings and went with it. To tie in everything together (so guests knew we didn't throw this crazy food together for the fun of it, ha) we put up a cravings banner in the food area, but I didn't get a good picture of it. Oops!
In the Silver Tin is all of the guests' gifts to take home. Since Ryan and Danielle got engaged in Chicago and Garrett's Popcorn was involved in both their engagement and their wedding, Danielle's mom thought it would be cute to do little bags filled with Garrett's Popcorn for everyone to take home! We made the labels and put them in bags and finished them off with ribbon! I loved how they turned out! PS If you've never experienced the amazingness that is Garrett's popcorn-GO GET YOU SOME!
These balloons are so fun and added a touch of something extra to the staircase leading up to the nursery!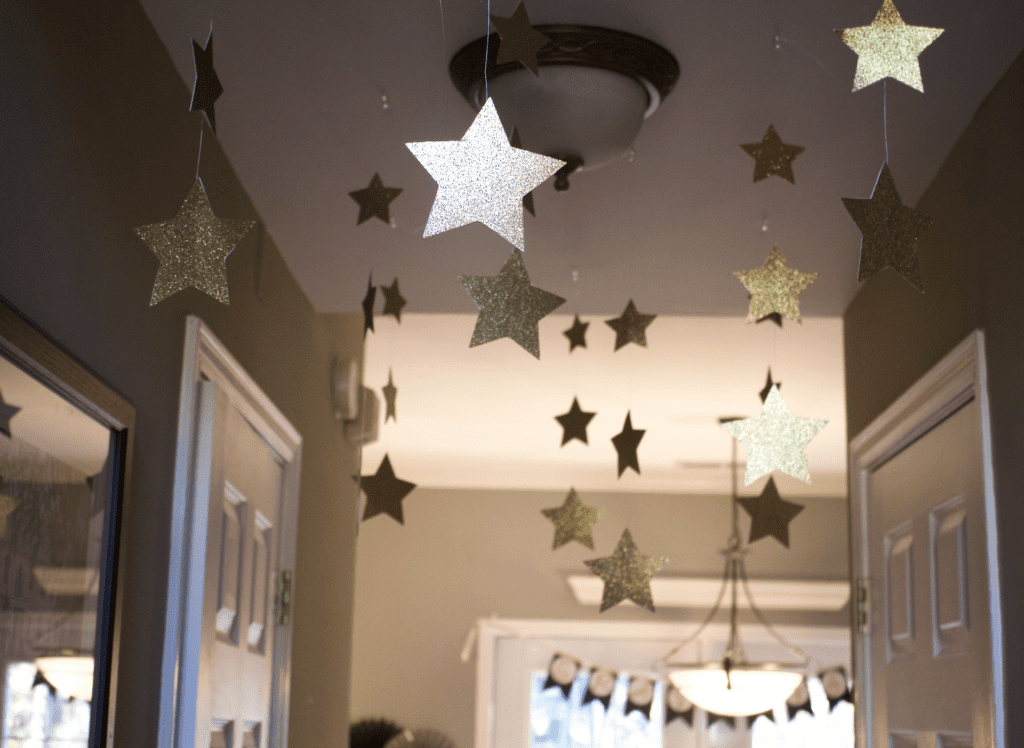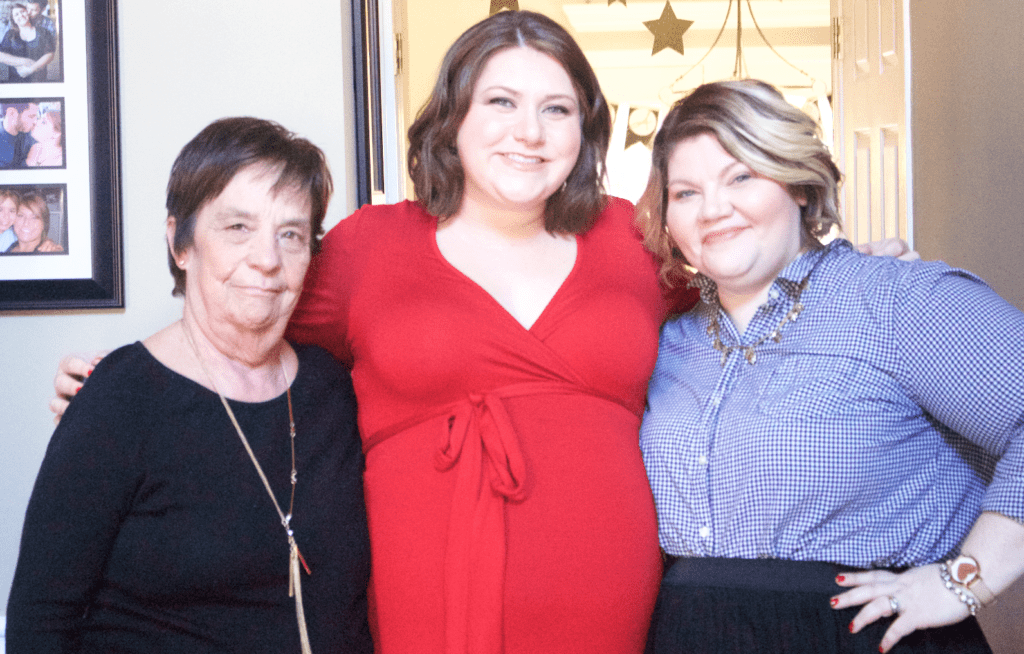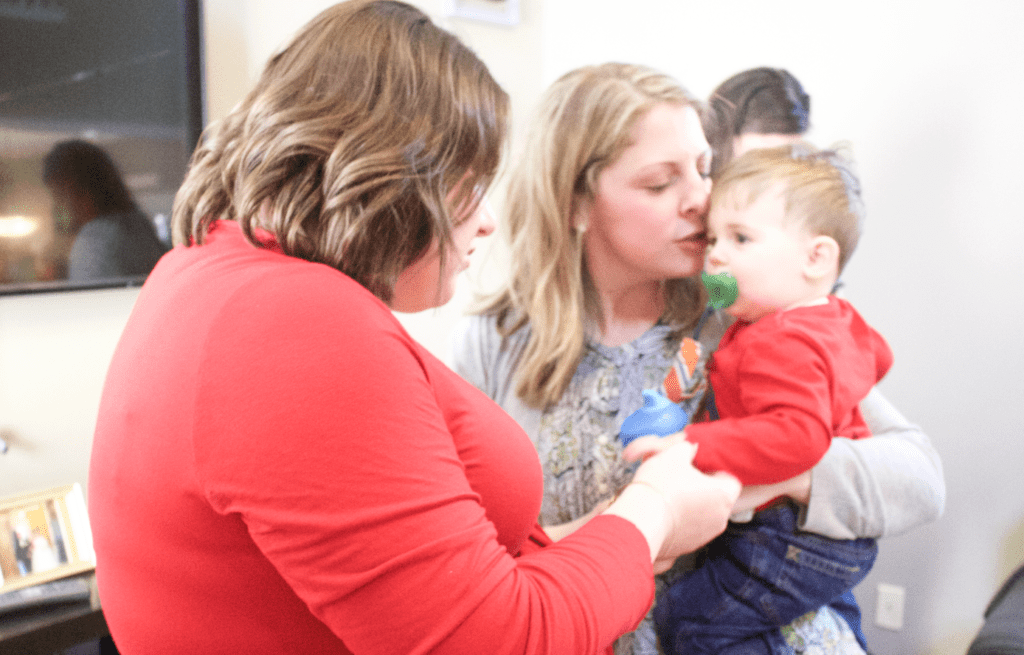 These two people hold a special place in my heart and I am so excited for the next part of their lives. I'm so grateful to be able to have another Nephew in my life and I can't wait to meet Owen. He's loved so much and he's not even here yet! I hope that I can be the best Aunt in the world to him and always be a constant source of love and support throughout his life.
Everything turned out perfect for the shower! It's always so fun to work on these, especially when you see the look on everyone's faces. It shows you that the hard work paid off!! I know Danielle had a great time and loved everything!
Thanks to these to ladies for taking pictures for me while I was busy hosting the shower!