I'm not sure about you BUT shopping for the men in my life is one of the most complicated parts of Christmas. Not so much for my Dad because he actually gives me a list, but I'm talking about my Husband, my Father-In-Law and so on. Anyone else in the same boat?!? Year after year I struggle, so that's why I decided to sit down and put together a Holiday Gift Guide for Him just incase you struggle like I do!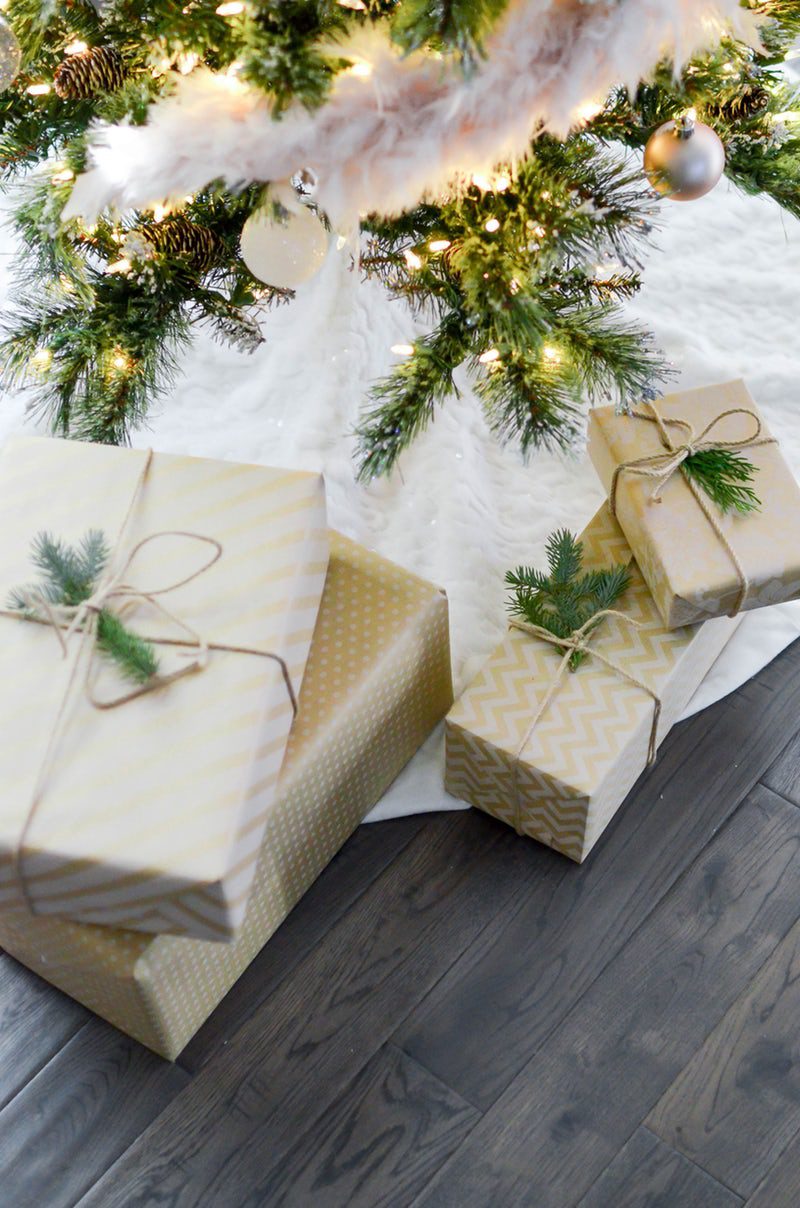 Christmas Ideas That Will Make Him Happy!
UGG® HARKLEY PLAIN TOE WATERPROOF BOOT
Rob keeps telling me that he needs boots and when I saw these available on Nordstrom, I thought they looked awesome! They come in two colors, they're waterproof and we all know how comfortable UGG's are!
TOM FORD PRIVATE BLEND TOBACCO VANILLE EAU DE PARFUM
Call me old-fashioned, but I love to gift a nice perfume or cologne for the Holidays. I love this scent and I am also obsessed with Tom Ford. His scents are incredible!
I'm totally in love with this E-Reader. It's probably the best one that I've ever owned. The battery on it is incredible. I rarely have to charge my battery on the one I own. It reads like a real paper, even in sunlight I can still read it so easily. It's waterproof (although I wouldn't dunk it on purpose) and it's super thin. Honestly, it's the best gift I've received in a long time! Plus, it works with Audible, so you can use it with your bluetooth headphones!
My husband is always saying that he wishes he could brush up on his Spanish. I think that a gift like Rosetta Stone is a great gift! You can use it to enhance your skills already OR use it to teach yourself an entire new language! That way, when you surprise him with an international trip you've always wanted to go on, he'll be prepare!
MANGROOMER ULTIMATE PRO BACK SHAVER WITH 2 SHOCK ABSORBER FLEX HEADS, POWER HINGE, EXTREME REACH
I'm adding this to my Holiday Gift Guide for Him because this is an actual product my husband research and bought with his own money and HE LOVES IT! If you're man is a bit on the hairy side like my guy and he like to keep his back trimmed up, this is a great helper! He also uses this for his neck as well!
This T-Shirt is perfect for the beer lover on your list! I know my husband would love to see this under the tree! Add a six pack, some snacks and you've got yourself the perfect man gift!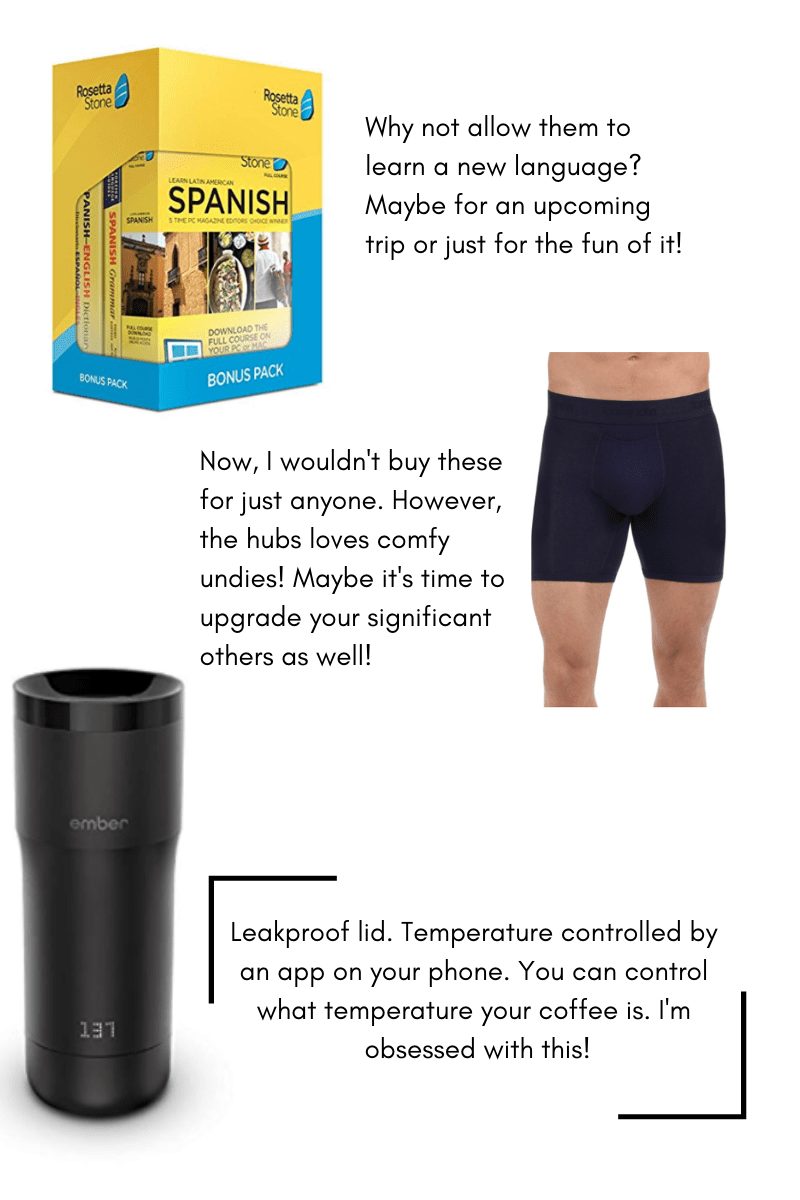 FLANNEL PAJAMA PANT WITH MIDNIGHT WATCH PRINT
I'm always one to load up Rob with some new PJ's around the Holidays because most of the time they're always on sale! The flannel pajama pant from J Crew factory are always so inexpensive and very nice quality!
The Thermal Henley shirts are great for all of the guys on your list! They're comfortable and come in a variety of sizes! Around this time of year I try to update Rob's closet a little bit. Maybe this year I'll even try to do the same for my Father-In-Law!
TOMMY JOHN 'SECOND SKIN' BOXER BRIEFS
I see men STILL asking for underwear for Christmas, so I figured that it's my duty to make sure that ya'll are buying your men good underwear.
Ember Temperature Controlled Travel Mug
This travel mug can be temperature controlled from an app on your phone. I'll give that a minute to really blow your mind. A certain someone I know is getting this for Christmas and I'm so excited about it! They also have regular coffee mugs as well! I think this is the coolest gift!
Holiday Gift Guide For Him: Experiences
Tis the season to spend time and create awesome memories together with family and friends. Something that I hear time and time again is that people want more experiences not "things." So maybe also consider some of the following, rather than just a gift. It might mean even more to them!
Take your Boyfriend/Husband out for an impromptu date night. Sure he might fuss about it at first, BUT spending time together is important! Take him somewhere you know he loves!
Plan a game night! Get the kids together (or just yourself) and relax at home. Make snacks, have his favorite drinks and play games and be silly together! The Holidays can bring out the worst in all of us and it's nice to spend some time together just laughing and being lazy!
If he's into beer, plan a trip to one of your local breweries! They're inexpensive and it's always fun to learn more about the beers he loves!
Have a movie night! Stay at home, watch his favorite Christmas movie or Die Hard again for the tenth time…..
Make him breakfast in bed! I'll admit this would be incredibly difficult for me, as Rob is up super early every morning (by choice) so the fact that I'd get out of bed before him, make him breakfast and have it read would be a huge freaking deal to him, ha!
Plan a getaway! Whether it's a local staycation or somewhere you know he's been wanting to go, a little getaway can be fun and again, spending time together is so important!!!
Since I love all things beauty, I'll also gift beauty products for my brothers and other guys in my life. Consider a beard oil (you can even DIY) and a nice body wash!
Consider a comedy night! There are a lot of comedy clubs around us and it's something we haven't done in a while, but we always have so much fun!
One of the things I see my BIL and SIL do is that they alternate days of who has to get up early with my Nephew. I see so many relationships where it's just one person. Maybe give your significant other the gift of being able to sleep in and you'll take care of the kids, the animals and stuff so they can rest! Maybe even let them nap that day as well! Sleep is the best gift we can offer someone!!
Give the gift of sweets! Make homemade cookies, chocolates or whatever it is that you know that they love!
I plan on doing an entire post on gifts from your In-Law's and Grandparents as well! Stay tuned for that! I want to know, what are you gifting for the guys in your life this year?!?! Hope you enjoyed my Holiday Gift Guide For Him! If you missed the other gift guides I've done, I've linked them below for you!
Holiday Gift Guide For Teachers / Holiday Gift Guide For Beauty