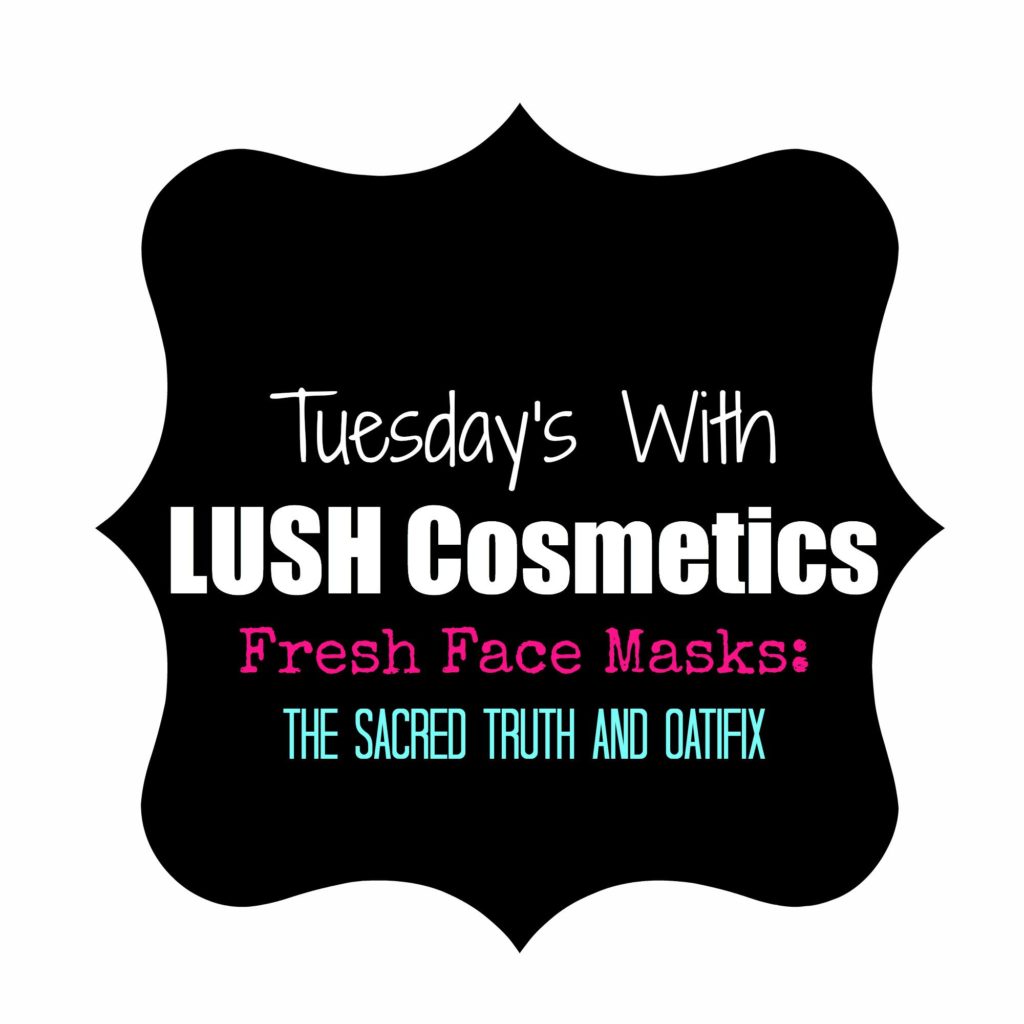 Welcome to my second post in my new series Tuesday's With LUSH! Today is going to be all about some Fresh Face Mask love! Here's the good and the bad when it comes to these masks. The good is that they are really incredible masks made with fresh ingredients such as fresh fruits and vegetables, essential oils, herbs and clays. They are so fresh that they require refrigeration and have an expiration date. Here comes the bad news. Since they are made with fresh ingredients and require refrigeration, they can not be mailed. You have to visit a LUSH store to purchase these facial masks. I know…but I still have to talk about them because they are so unique!
What's Up with my skin?
I went into the LUSH store with the hopes of getting at least one mask. Most of the time when I visit the LUSH store, they are sold out of the masks I want.  Huge bummer, especially when I drove 20-30 minutes to get one!  I arrived on the perfect day because they had just gotten their deliveries and they had everything in stock! Now, I can't go crazy and purchase a ton of these masks at one time because they do expire and I can only do a mask so many times per week, ha! So I picked up two masks. Oatifix and The Sacred Truth.
First up, let's talk about my skin and what's going on. Since we just got done dealing with the Polar Vortex (yes, even in Atlanta) my skin has been dry and very irritated! At the same time, I'm also dealing with some congested pores and I just needed a really good deep cleaning mask. I asked for suggestions and ended up purchasing what they employees told me to pick up. Now, going back online and reading through some of the products, I'm wondering if there weren't a couple that would have been better suited for me, so I'm curious as to why they chose the ones that they did. Hmm…..
The Sacred Truth: Divine intervention for dry or mature skin
The first mask I want to talk about is The Sacred Truth. They suggested this mask because of my dry skin BUT also because of my need for a deep cleansing. This mask contains ingredients that will enhance and revive your complexion. I browsed the list of ingredients and noticed right away that it had honey, evening primrose oil, shea butter, eggs, organic yoghurt, and ylang yang. Those all seem very good for moisturizing dry, dehydrated skin.  This mask is green and after reading the ingredients I'm noticing it has wheatgrass and green tea, which explain the color! (I'm also curious about the color because on the website, it doesn't look this green??)  One ingredient I noticed that really got me excited was papaya. It's a fantastic ingredient to use to brighten the skin.
Here's a little description of this mask from the LUSH website:
Can you handle the truth? The truth is, your skin needs more regular maintenance and care as you get older. As you age, your dermis is thinning, losing its elasticity and ability to retain moisture, which can make the skin appear dull or sallow. Don't fret! Taking care is easy thanks to this nutrient-packed mask. The Sacred Truth contains a powerful combination of rich, softening ingredients like linseed, eggs and shea butter to deeply moisturize and nutritious wheat grass, papaya, green tea and ginseng root to restore essential vitamins and brighten skin.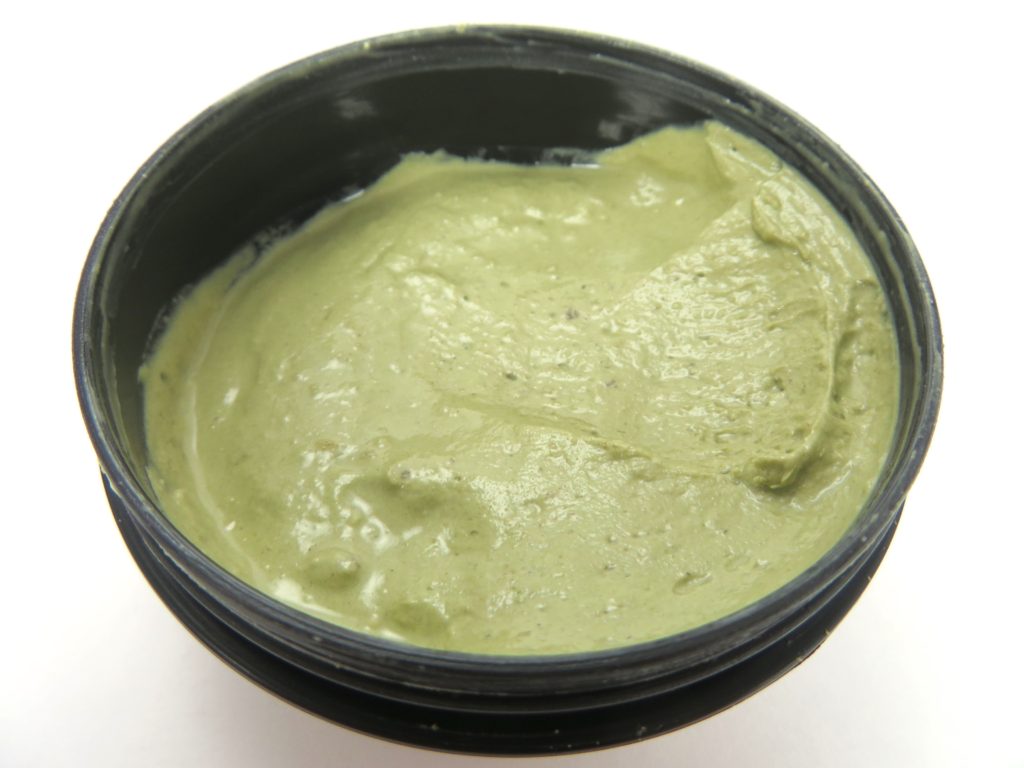 Ingredients:
Ginkgo Leaf and Brown Linseed Infusion (Ginkgo biloba, Linum usitatissimum) , Kaolin , Talc , Honey (Mel) , Fresh Papaya Juice (Carica papaya) ,Glycerine , Organic Yoghurt , Fresh Free Range Eggs, Shea Butter (Butyrospermum parkii) , Evening Primrose Oil (Oenothera biennis) , Lanolin , Bentonite Gel , Extra Virgin Coconut Oil (Cocos nucifera) ,Ginseng Root Powder (Panax ginseng) , Green Tea Infusion (Camelia sinensis) , Fresh Wheatgrass (Triticum vulgare) , Bee Pollen , Ylang Ylang (Cananga odorata) , Rose Absolute (Rosa damascena) , Lavender Oil (Lavandula augustifolia) ,Rosewood Oil (Aniba rosaeodora) , *Benzyl Salicylate, *Geraniol , *Benzyl Benzoate , *Farnesol ,*Limonene , *Linalool , Perfume
Oatifix for dry skin
The second mask I picked up was Oatifix. Again, this mask is perfect for anyone who has dry, sensitive skin. It's loaded with bananas (why it smells so good), Oats and Almonds. Did I mention how yummy it smells? The texture of this mask is a little "clumpy." I think that was because of either the oatmeal or the almonds. Just apply this above your sink or around an area where you don't mind if you have some fallout when applying.  Once applied it doesn't dry like most masks (doesn't harden), but it will leave your skin feeling very soft.
Here's a little description of this mask from the LUSH website:
Few things are more soothing than a big bowl of banana porridge, all sweet and squishy. Did you know the same is true for your skin? Sensitive, dry or irritated faces love Oatifix for its calming oats, softening mashed banana and ground almonds to slough away flaky skin. Keep in mind that dry skin doesn't just occur in the winter! The sun can be equally harsh, as UV rays penetrate the dermis and heat can leave you feeling tight and dry. Use Oatifix year-round on sensitive, dry skin in need of nourishment to keep it flexible and soft.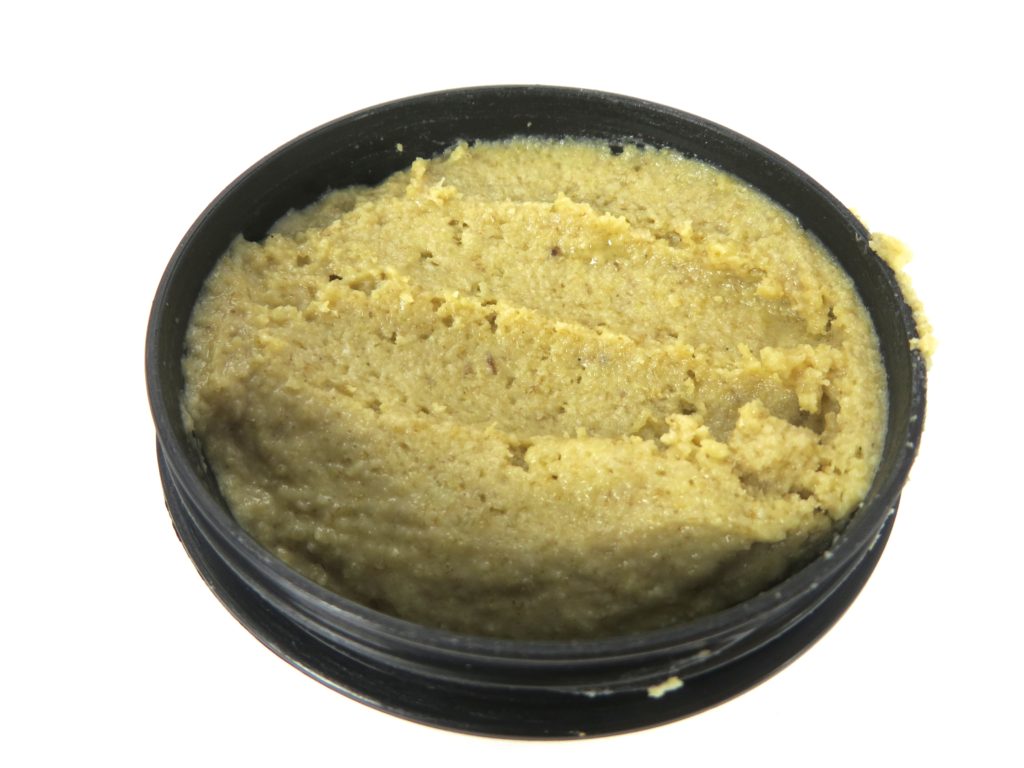 Ingredients:
Glycerine , Fine Oatmeal (Avena sativa) , Fresh Organic Bananas (Musa paradisica) , Water (Aqua) ,Ground Almonds (Prunus dulcis) , Illipe Butter (Shorea stenoptera) , Kaolin , Talc , Vanilla Pod (Vanilla planifolia) , Vanilla Absolute (Vanilla planifolia), Sandalwood Oil (Santalum austro-caledonicum vieill), Benzoin Resinoid (Styrax tonkinensis pierre) ,*Coumarin , *Benzyl Cinnamate , *Linalool , Perfume, Gardenia Extract (Gardenia jasminoides)
Fresh is good!
I used both of these masks for about two weeks. My favorite of the two was The Sacred Truth. It left my skin soft and so moisturized. Even the texture of my skin seemed better. I liked the Oatifix, but I felt like the Sacred Truth mask worked much better for me. I also noticed a couple of times when I used the Oatifix Mask that my skin felt a slight burning (not sure why…) but it wasn't anything that I couldn't handle.  I'd probably be more likely to purchase The Sacred Truth mask again. I like that these masks are kept in the fridge (will be excellent in the Summer!) and I felt like I was putting good, fresh ingredients on my skin. Plus, the Oatifix smelled amazing! I had to remind myself this was not a snack, but indeed a face mask. Yumm!
I think the next time I go back I'm going to pick up Love Lettuce because it seems to be better suited for a good overall, deep cleanse to the skin. It has ground almonds and Kaolin Clay that will help fight my stubborn clogged pores! Plus it has Honey which is a fantastic moisturizer. Another good option for me might be either the Cosmetic Warrior or Catastrophe Cosmetic. In all honesty I want them all! HA!
Sorry! No online orders for these…
Like I said before, these HAVE to be picked up at a LUSH store. I know that a lot of you are probably throwing things at your computer screen if you don't have a LUSH store near you, but I have to still talk about how AMAZING these masks are IF you live near a store. I've used these masks for years and I'm always so shocked when people who shop at LUSH a lot, don't know that they make masks! For those of you who don't have a LUSH store near you, maybe if you BEG LUSH enough, they'll put one closer to you?? LUSH: If you are reading this, NORTH POINT MALL!!!! ALPHARETTA, GA!! 
I love that these masks are so affordable. They are well under $10.00 and it's a great product that makes you feel like you're using something luxurious and special. I love that it's full of good ingredients that benefit my skin. YES! You could totally make something similar yourself, BUT, sometimes it's nice to treat yourself and if you're like me, you don't always have the time. I look at it from this stand point. If I made these myself (or something similar), I would probably end up spending more money on purchasing the ingredients than If I just went to LUSH and picked up a mask.
They do EXPIRE! After all, we are talking about fresh ingredients that don't last forever. Make sure you pay close attention to the expiration date listed on the bottom of your mask! For more information on these Fresh Face Masks, make sure to visit the LUSH website listed below! I'd love to know if you've tried any of these masks before! What was your favorite?