We all want hydrating skincare products that plump and moisturize our skin. I have somewhat sensitive skin that can either be more combination in the summer or dry and flaky in the winter. So it's a battle for me to keep my skin hydrated, dewy, and not irritated all year round. These five products that I'm sharing with you today, keep my skin hydrated and feeling great. Whether it be my complexion or my body, these products offer hydration that I so need!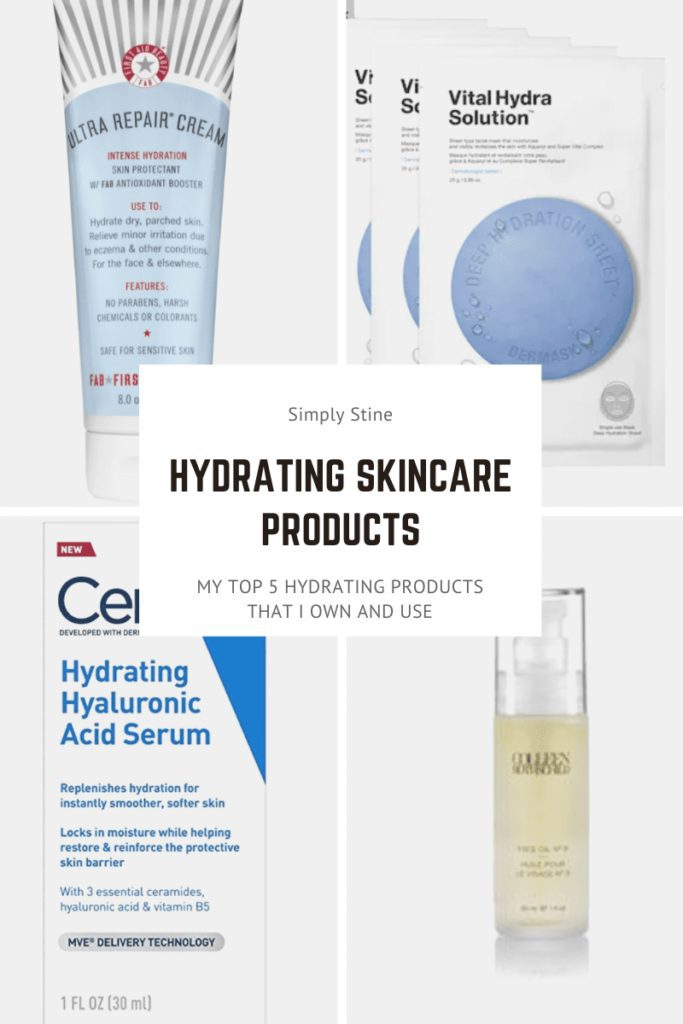 Hydrating Skincare Products
When my skin is dry, this is one sheet mask that honestly makes such a difference. Oligo Hyaluronic Acid and Algae Extract help to support collagen synthesis and lock in moisture. It also features ingredients to help with moisture loss. I can't recommend this sheet mask enough.
Apply this to your skin and leave on for 15-30 minutes. I sometimes let it sit on the skin until it's almost dry. If you don't like wearing a sheet mask because they fall off easily, try this silicon mask cover. This will help keep the mask in place.

CeraVe Hyaluronic Acid Serum
First of all, let's discuss Hyaluronic Acid and its benefits. Hyaluronic Acid is a naturally occuring substance that helps our skin look plump, smooth, and hydrated. It's main function is to retain water to keep your tissues moist (I know, cringe word) and keeping the skin subtle. Hyaluronic Acid binds to water, so it's important to make sure when you're applying a Hyaluronic Acid serum, that your skin is hydrated. I spray this facial mist on my skin before applying the serum. As we age, we tend to lose collagen and hyaluronic acid, so our skin appears dry and dull.
One of the products that I've been using and loving is the CeraVe Hyaluronic Acid Serum. I cleanse my skin, tone, and then apply this to slightly damp skin. I then follow with my heavier serums and finally I moisturize the skin. This product keeps my skin hydrated and helps to restore the skin barrier.

This facial oil is my favorite. It's hydrating without leaving my skin feeling super greasy. I normally use this at night to lock in my facial products. The formula features 9 oils and Omega 3,6, and 9. It's hydrating, balancing, and will leave your complexion looking radiant! It's intensely moisturizing! It's even safe for oily skin types as it helps to balance the skin.

I have used this product for YEARS. I've even got my husband (who never uses any skincare) hooked on this as well. I use this on my body and my face when I'm super dry. It's hydrating without being greasy. The formula features Colloidal Oatmeal which is fantastic for sensitive skin types. It's a must-have product for me.

One of the ways that I keep my skin hydrated and smooth is to exfoliate not only my complexion, but also my body! I LOVE the Tree Hut Shea Sugar Scrubs so much. They're exfoliating, but also leave my skin feeling silky soft. This scrub features shea butter and a 6-oil blend to hydrate and moisturize the skin. I also happen to LOVE their Shaving Oil.

Shop The Post