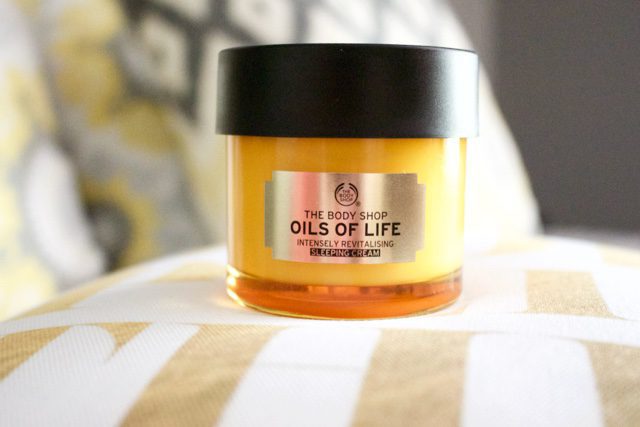 Ever wish you could go to bed and wake up with hydrated skin that glows like a Super Model and say I woke up like this?!?? I have good news because The Body Shop just launched their new Oils of Life Sleeping Cream and every single time I use this before going to bed, I wake up with my skin looking amazing!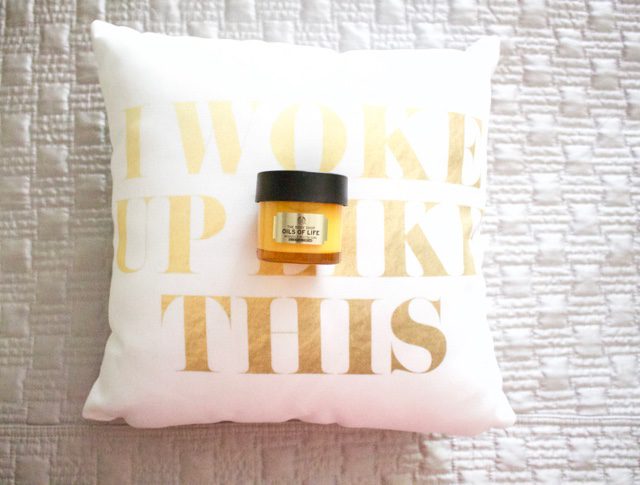 The Body Shop is no stranger to having amazing products, but I gotta give it to them with this product launch because not only is the product really good, but the packaging is gorgeous! It comes in this beautiful glass jar and as soon as you open the jar, the ingredients instantly put you into this state of calmness. This product smells so good! It's the perfect moisturizer to use before going to bed.
So what exactly is a sleeping cream? It's exactly what you'd think it would be honestly. This night time moisturizer works to really get into your skin and hydrate it, revitalize and help firm things up all while we're sleeping. It features 3 Precious Seed Oils that are known for their repairing properties and they help revitalize the skin. It also features 7 powerful Essential Oils. The combination of all those ingredients equals fabulous skin for us! All while we sleep!!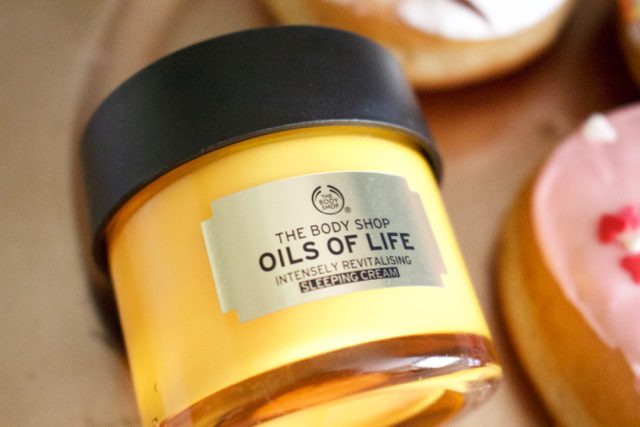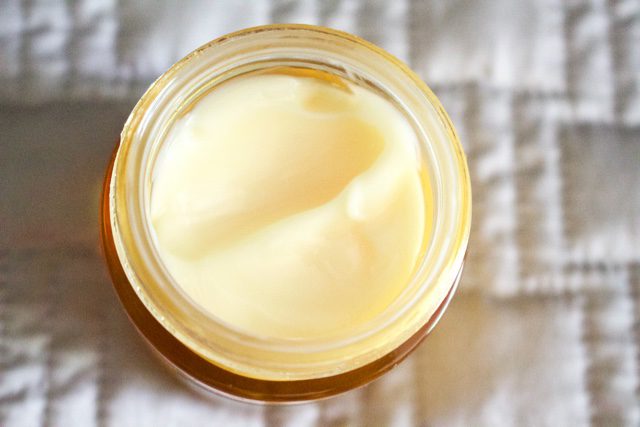 [line]
The 3 Precious Seed Oils:
Black Cumin Oil from Egypt which is known for it's concentration in Antioxidants
Rosehip Oil from Chile which is fantastic at repairing the skin (Omega 3 and 6)
Camellia Oil from China which is rich in nutritive Oleic Acid (Great for locking in moisture into the skin)
7 Powerful Essential Oils:
Lavender Oil from France, which we know will help put us all to sleep
Rosemary Leaf Oil from Tunisia, helps prevent free radical damage and improves skin tone
Geranium Oil from South Africa, promotes radiant skin that glows
Roman Camomile Oil from Central Europe, is an Essential Oil that is known for it's calming abilities (Yes, please!)
Marjoram Leaf Oil from Mediterranean countries, used to fragrance the product and it smells so good
Orange Peel Oil from Southeast Asia, revitalizes the skin
Lavandin Oil from Provence, stimulates the fusion of elastin and collagen (helps with firming the skin)
[line]
Using the Oils of Life Sleeping Cream is so easy! You're going to want to use this in PM ONLY, at the end of your normal nighttime routine. I cleanse, tone, add my serums to my skin and then I finish with the Oils of Life Sleeping Cream. This is a pretty chick cream, so it might take just a little bit to set into the skin, but it doesn't leave my skin oily or greasy at all. I apply this all over my face and my decollete in an upward motion. Why upward? Because we want to lift our face and not help it sag! So always upward strokes!!
I'm really impressed with this Sleeping Cream from The Body Shop. It's easy to add to my routine, the jar is impressive in looks and for the amount of product you're getting (2.7oz) I feel like the price tag of $39.00 is very reasonable. If you've never used a Sleeping Cream before or you're just looking for a little bit more hydration to your skin, I think that The Body Shop Oils of Life Sleeping Cream would be a great addition to your night time routine! It'll have you saying I woke up like this everyday!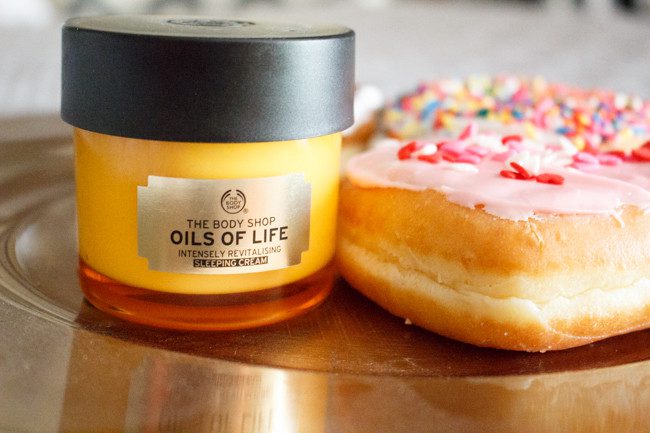 Product provided for me for review purposes. All thoughts and opinions are my own.
Affiliate Links Included.
[show_shopthepost_widget id="1593892″]