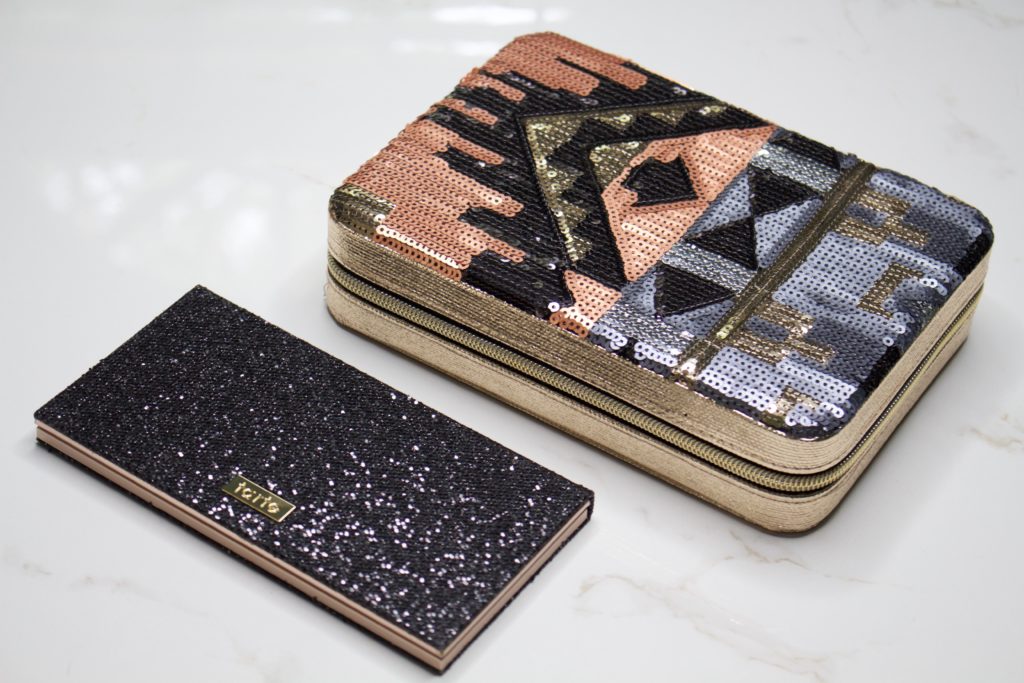 Today is going to be all about the Tarte Holiday 2015 Collection for Sephora features the Bling It On Amazonian Clay Blush Palette ($44.00) and the Light Of The Party Palette ($59.00).  BOTH are available online at Sephora and if you are able to talk to the right associate, at the store as well.  I politely asked where they were located in the store because on their App, it showed them stocked in the store. My answer from the associate was that they didn't have to have them out until November 1st?? That I didn't understand, BUT she did get them for me. There are other releases from Tarte for their Holiday line at Ulta and their website,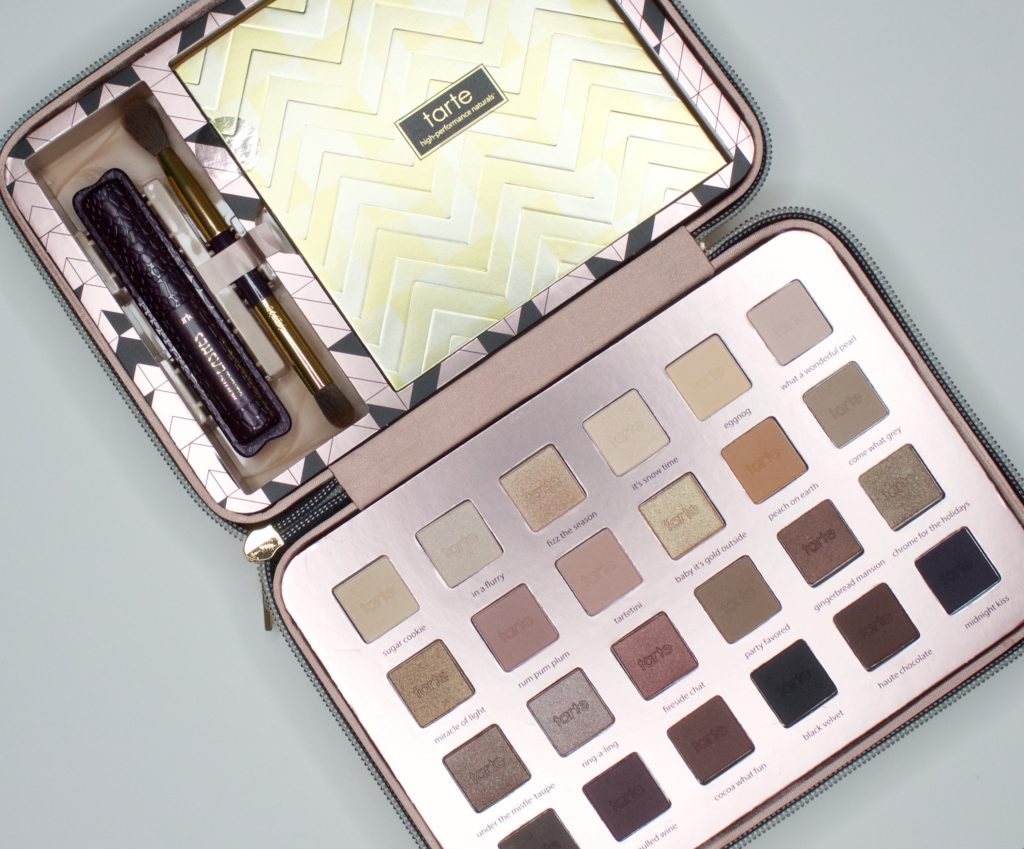 First up is the Light Of The Party Palette.  This palette features 30 eyeshadows, 3 Cheek/Face products, a trial sized mascara and a dual-ended brush.  All packaged in a very large (not unusual for Tarte) sequined zippered case.  The case is pretty, but I didn't get Holiday from it?  It does feature sequins, which is concerning once they decide to start coming off.  Just keep in mind that this is a large palette!
There is a mirror included in this palette, if you remove the smaller palette that is included, that sits on top of it.  I love this!  The extra palette features 6 eyeshadows, a blush, bronzer and highlight shade.  There was a decent blend of colors to choose from and I could easily travel with just the smaller palette and be able to create a variety of looks.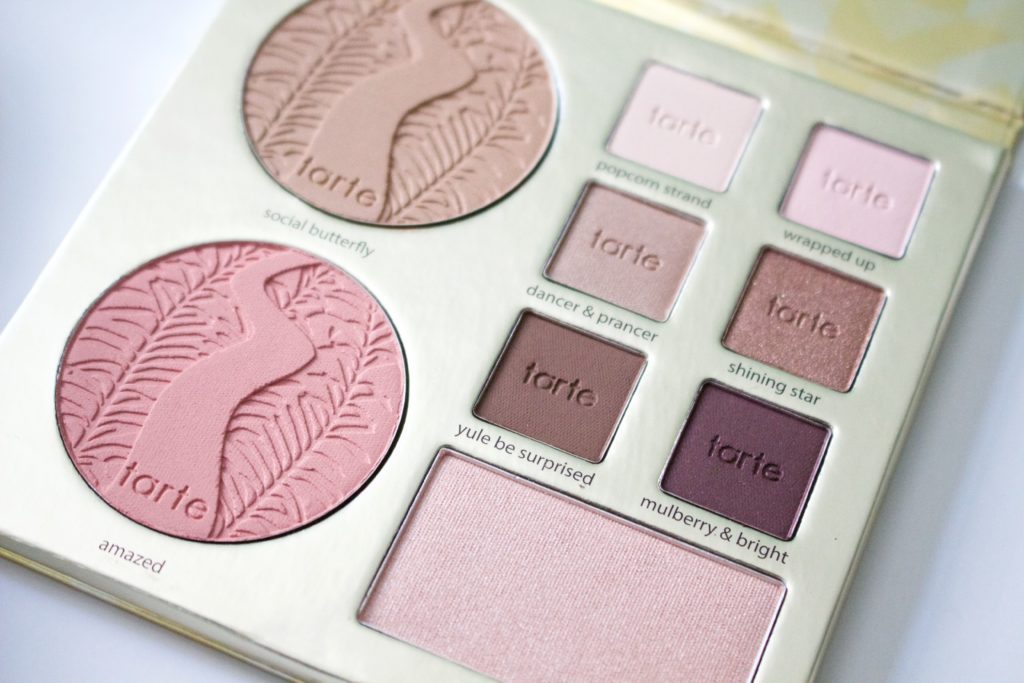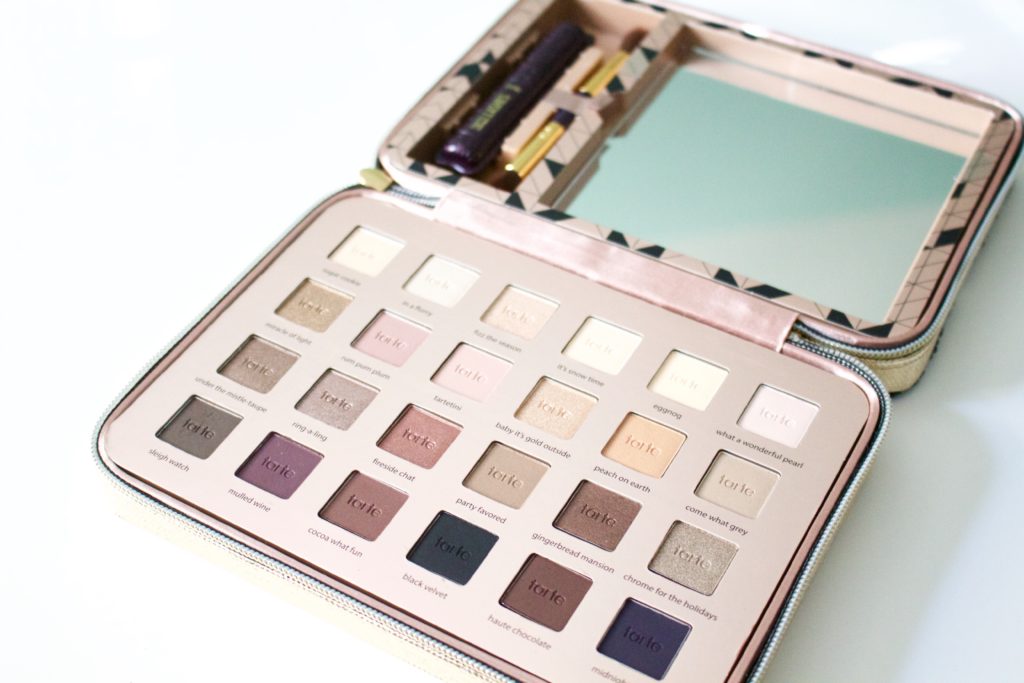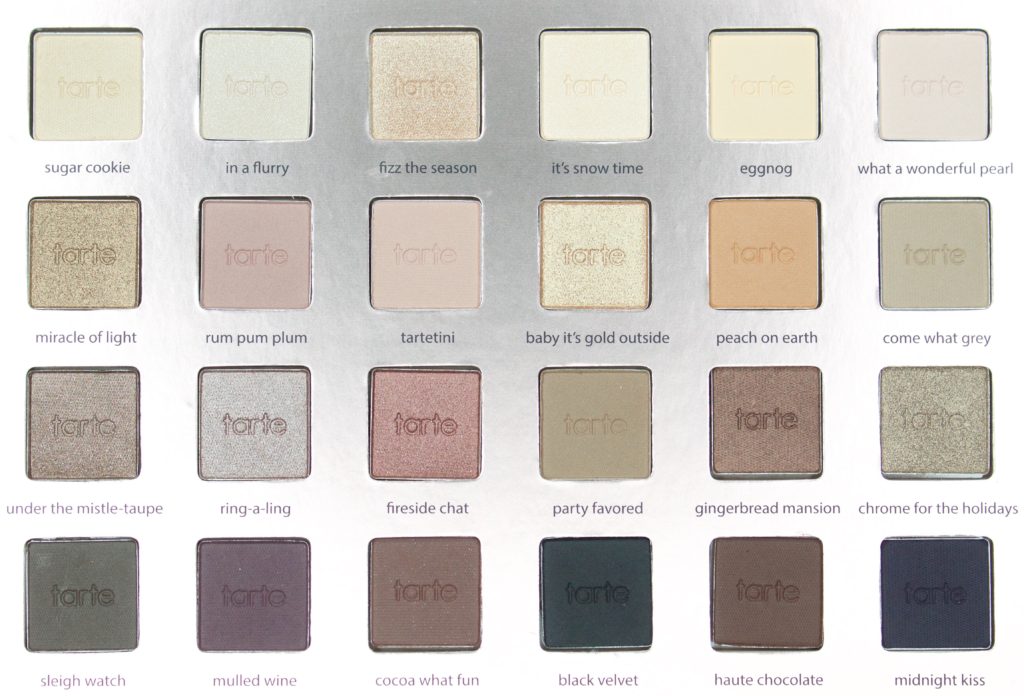 Let's talk pigmentation and all of that.  I have read a lot of people complaining about the pigmentation of this palette and I don't honestly think that's fair.  Do I love every color? YES! I actually do, BUT not all of them are going to work or blend easily without a good primer and a good brush.  I'd say that around 10 colors didn't impress me much, but with a primer, they were decent.  Some of the Matte shades were a bit difficult to blend, BUT not impossible.  There were quite a few colors that just impressed me so much, without a primer.  We're talking about 30 eyeshadows and if only around ten are just so-so, I'm not too upset about that.  Here are some of the colors that I really loved from this palette: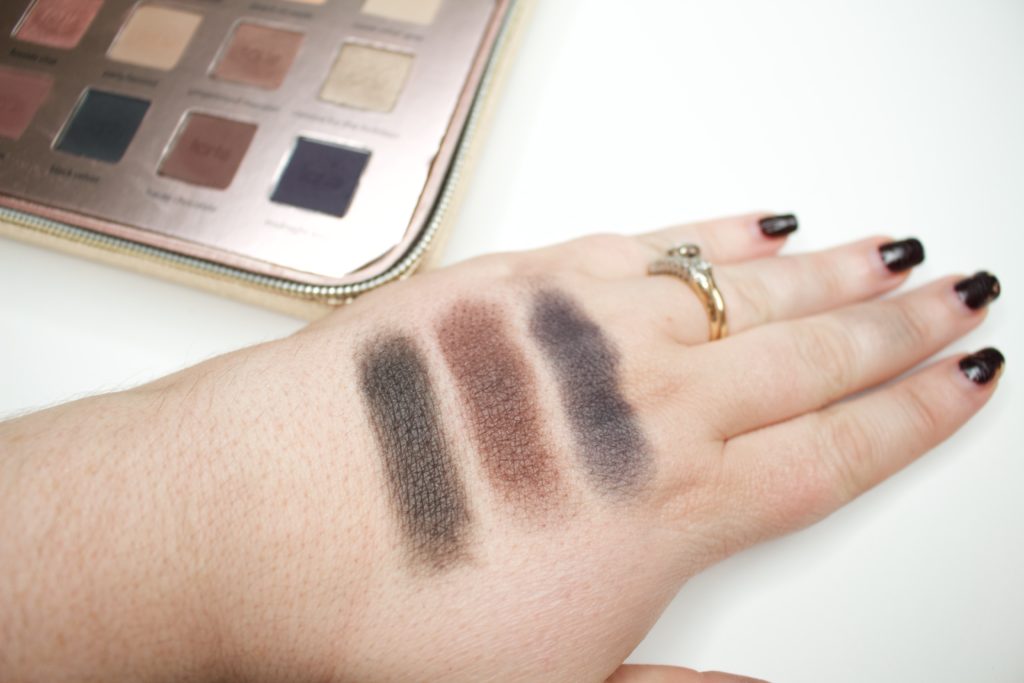 From Left To Right: Black Velvet, Haute Chocolate and Midnight Kiss
This is without a primer and I was really impressed with how easy these applied, considering they were matte colors.  With a primer and the right brush and a little work, there could be some amazing matte eyeshadow looks created with these colors!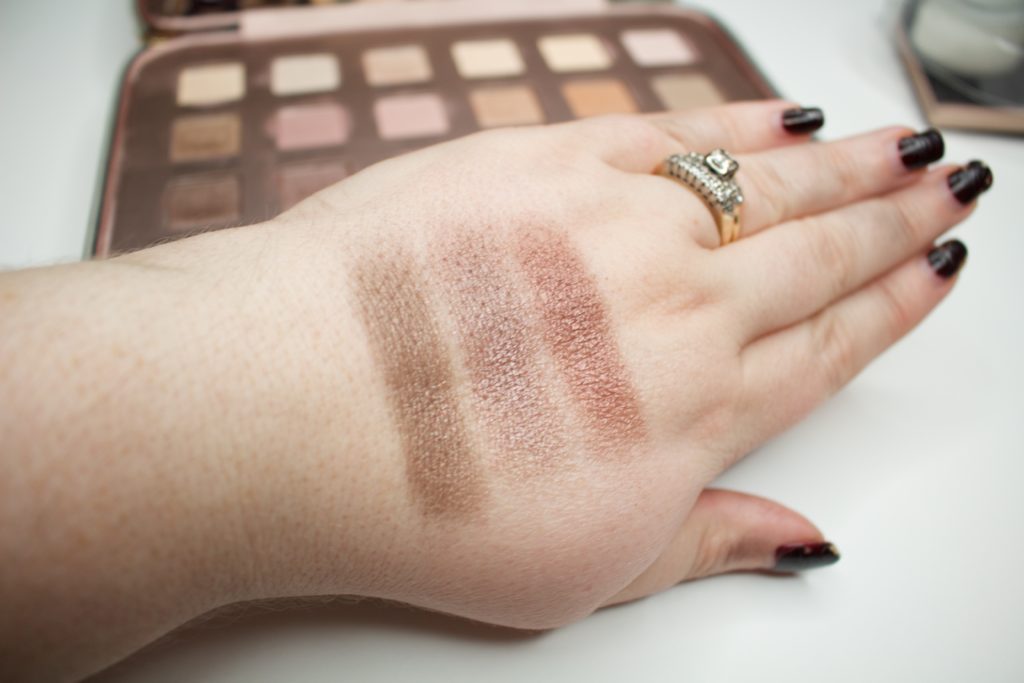 From Left to Right: The Mistle-Taupe, Ring-A-Ling, Fireside Chat
Gorgeous colors! Again, without a primer!  I don't think this picture does these colors justice! They were buttery and applied like a dream! I love adding a pop of color, like these, to my lid and I'm done! Super easy eye looks, but with such minimal effort!
[line]
Overall, I was very impressed with this palette.  Sure it's a bummer the eyeshadows can't be removed because it is a pretty bulky palette, but that's what I've come to pretty much expect from Tarte.  I wish that they would have included a lip product with this palette because it would have been pretty much almost everything I would need to create a beautiful makeup look, but I will survive.
Should you get this palette?  I think it depends on what types of colors that you are used to wearing or wanting to wear.  If you like a good mixture of warm-toned eyeshadows that range from matte's to shimmer-you will really like this palette.  If you're someone who isn't into bulky packaging and feel that you won't use it because it takes up so much space, then I think you already know the answer!  I think you're getting a great value for only being $59.00 and a good range of products to choose from.  This has probably been one of my favorite Tarte Holiday releases in a while!
PROS:
Fun packaging that seems pretty sturdy
Gorgeous selection of colors
A pop-out palette that can be taken to go
Dual-ended brush is nice quaity
Most colors are very pigmented and even the ones that aren't, apply very nicely with a primer
Full Size Mirror
Good price
CONS:
Some colors are pretty powdery and not so pigmented (Just use a primer and a good brush for blending)
Packaging is pretty bulky
Score 1 out of 10: 8
[line]
Now let's talk about the Bling It On Amazonian Clay Blush Palette. I'm a big fan of Tarte's Amazonian Clay Blushes.  They promise a wear time of around 12 hours, which is a bit of a stretch for me, but they do last a really decent time and more than most.  These blushes normally retail for $28.00 and this set is $44.00.  A great value in my opinion. 
This palette contains four new shades and only one that has been released before, Dollface, which happens to be one of my favorites! You're getting a good mixture of shades with this.  Some cool, warm and just one that is slightly (if any at all) shimmery.  Here are the colors swatched for you:
From Left to Right: Fetching, Dollface, Prim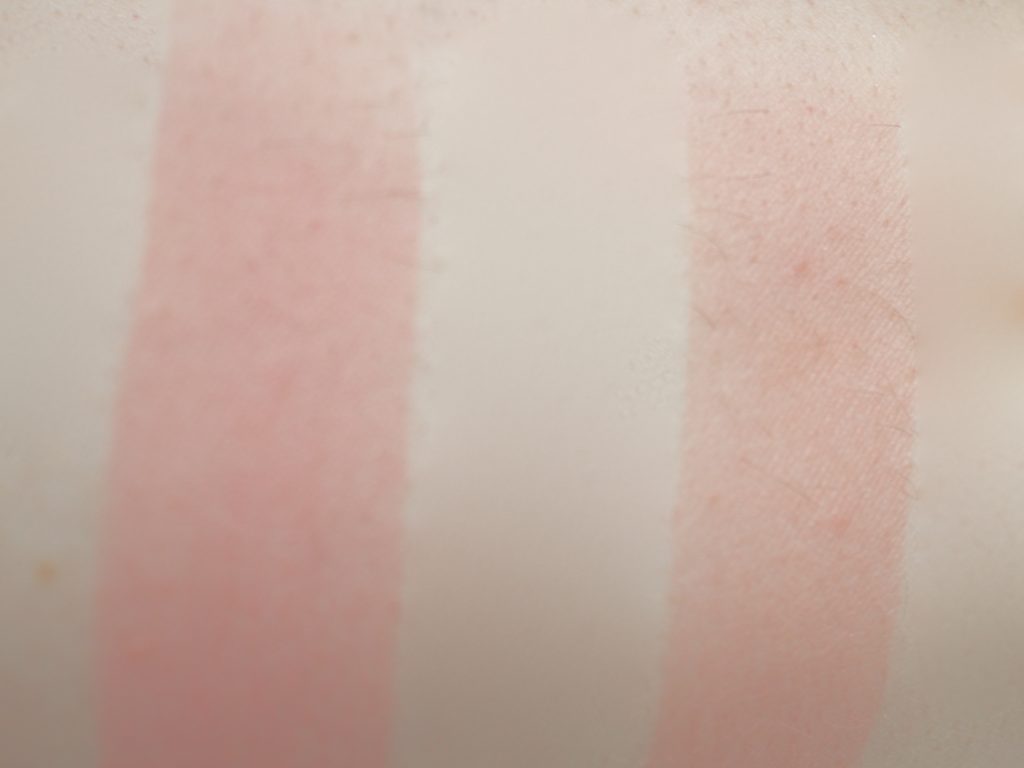 From Left to Right: Smashing and Beaming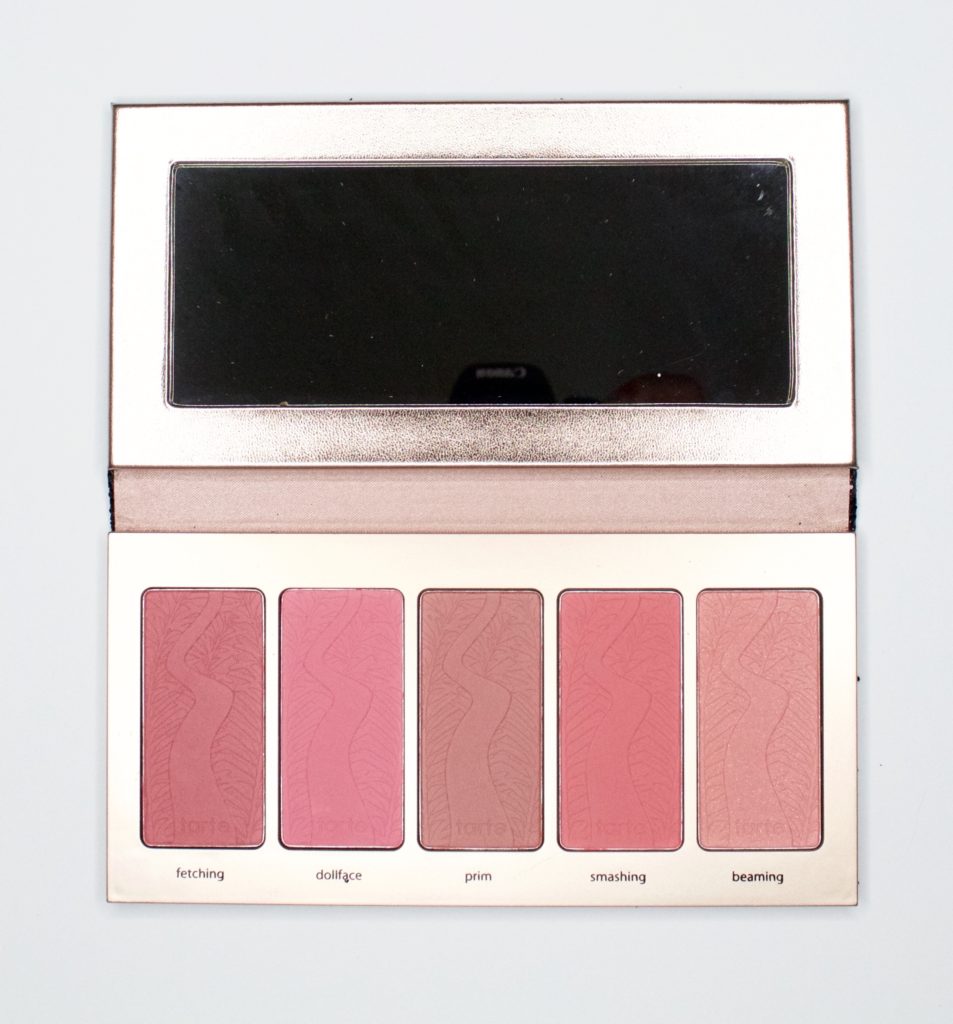 I'd wear everyone of these shades and I don't normally say that with blushes.  I feel like this selection of colors would work on such a variety of skin tones.  Are some of them more pigmented and powdery than others? Yes! I still feel like this is a great palette that is worth picking up immediately!  These colors look so bold and some kinda scary, but they apply very lightly, but are completely build-able to achieve the look you are wanting.
As far as the packaging. It's so-so.  The black sequins are pretty, but I have a feeling will start falling off if I travel with it.  There is a full length mirror included in this palette.  You will have to hold open or prop open the mirror if you want to use it.  If not, it just falls over.  Not the worst packaging as it does feel pretty study, but I don't know.  Time will tell!
PROS:
Slim packaging with full length mirror
Love the selection of colors
4 our of the 5 colors are new
Very pigmented colors
Long-lasting wear
All are matte, besides Beaming which is just slightly shimmery
Great value
CONS:
I'm not sure how the sequins will hold up, especially when traveling
Mirror does not stand up on it's own
Score 1 out of 10: 9.5
[line]
I am really enjoying both of these limited-edition palettes from Tarte!  These are Sephora Exclusives so remember that!  Want to see some looks from the palettes? Comment below and I'll work on putting some together!  I want to urge you that if you wait till Christmas, more than likely these will be sold out.  Trust me, I've done it in the past and I've been bummed out each year.  I know it seems early and you're probably pretty good for a while, but I wouldn't wait too long if you want to pick one of these up!
I hurried up and "played" with the palette so I could see the quality of the shadows and everything else, but I wanted to get this up ASAP because I know a lot of you are curious about it! Yes, I did swatch every single color in one night.  No, I don't recommend doing that normally, ha!  If you have any questions about certain colors, etc, please let me know!