Update: I believe that the StriVectin Hair Color Care Products are discontinued. I've got a great post about my favorite products for sleek hair! Check it out! Below are some of my favorite hair care products that I use on my hair.
StriVectin Hair Color Care Products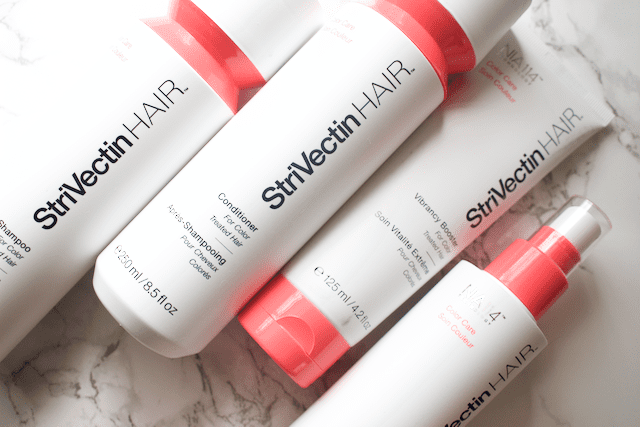 I'm sure a lot of you reading this post are very familiar with the brand StriVectin, but did you know that they recently launched Hair Care products as well? I'm a big fan and a believer of their skincare (I've posted about it here) products so I jumped at the opportunity to try their hair products as well. StriVectin sent me a box of their Color Care product line and I've been using it for a least a month.
The StriVectin Color Care Hair Care line consists of a Shampoo, Conditioner, UV Protective Spray and a Vibrancy Booster. These products are basically made to prevent your hair color from fading and to help give you more strength and shine to your hair. The scent is amazing and as far as price goes (I'll give each price below) it's pretty much right along the same price as typical high-end salon products. Let's chat a little about each of the products in the line.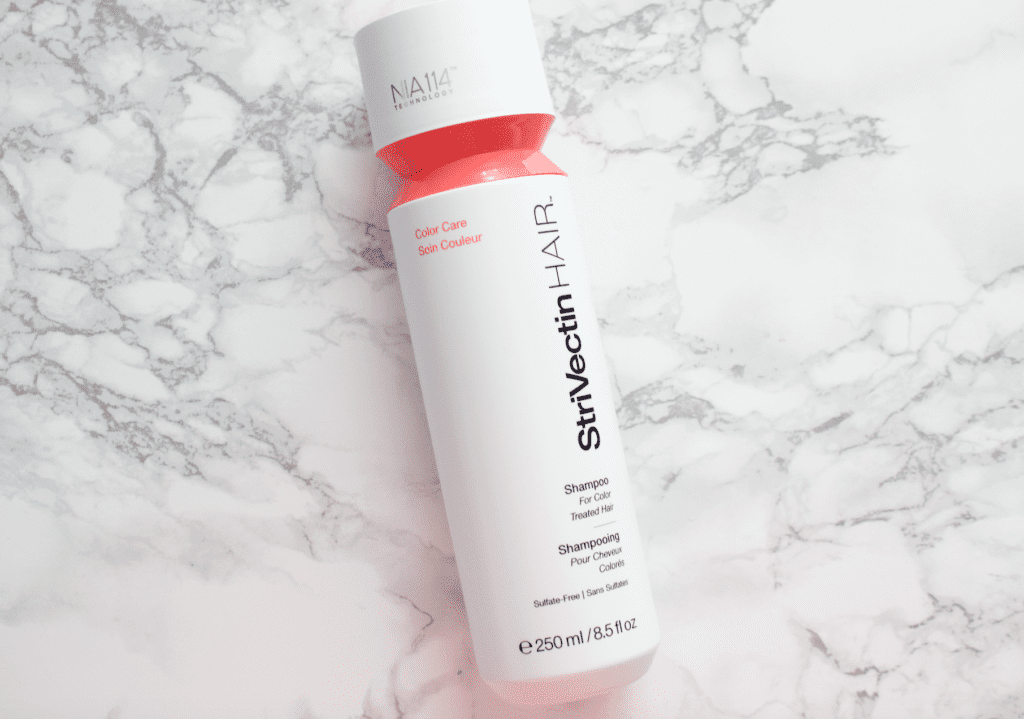 The StriVectin Color Care Shampoo ($23.00/8.5oz) smells so good! It's sulfate-free and contains no harmful dyes. I love how it lathers and it leaves my hair feeling very moisturized, but I still use a Conditioner along with it. As far as ingredients, the ones that stand out to me are the Chromalast Protein that is basically (in terms that we can all understand, ha) Artichoke Leaf Extract and Hydrolyzed Vegetable Proteins that help to strengthen the hair and help to reduce the damage we put our hair through (think chemically, environmental and styling). It also contains a form of Vitamin B5 which is a great to help improve damage and dryness to the hair. StriVectin is known for their NIA-114 and this time it's being used to help nourish and rejuvenate the scalp and improving the appearance of the hair.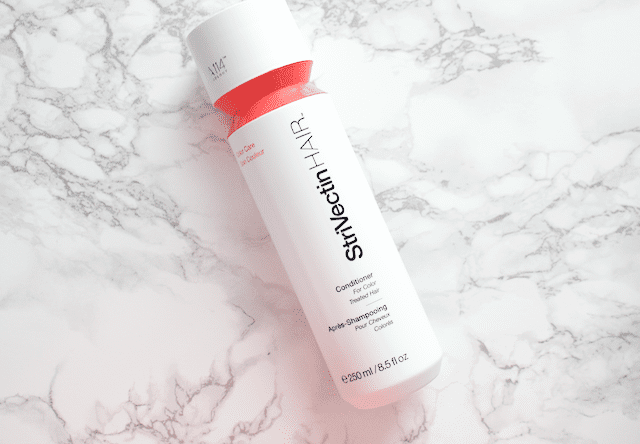 To go along with the StriVectin Color Care Shampoo is the Color Care Conditioner ($23.00/8.50z). If you feel that you've put your hair through the ringer and it probably needs a little bit of tlc, then this Conditioner will be right up your alley! It deposits proteins into the hair to help restore and repair and also to help protect your color from fading. It contains the Chromalast Protein, NIA-114 and also a Beet Root Extract to help moisturize the hair and protect from styling and a Conditioning Honey which provides a deep conditioner to the hair and scalp. Overall I felt that this left my hair feeling very moisturized without weighing my hair down or irritating my scalp. I have issues with some conditioners being too moisturizing and leaving my scalp with a layer of the product that tends to flake off.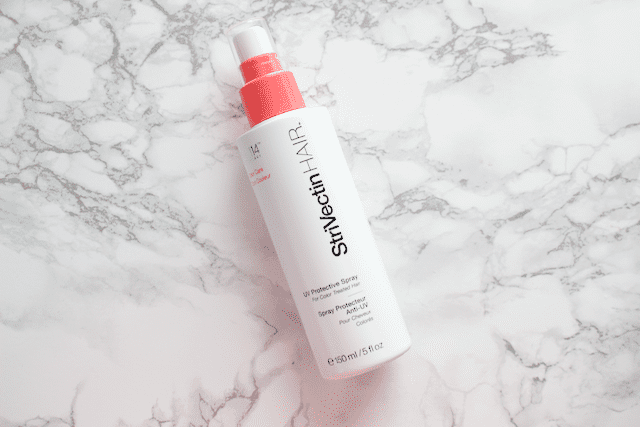 Let's talk about the StriVectin Color Care UV Protecting Spray ($29.00/5oz). This is a lightweight protective spray that helps protect your hair from damaging UV rays and environmental irritants. I typically spray this on wet hair, but you can spritz this on dry hair as well for extra protection. It contains their Multi-Shield Antioxidant Complex and Hydrolyzed Flaxseed Extract to conserve Melanin to enhance hair's natural color, protect from UVA damage, Free Radicals and Water Aggression. It also features the NIA-114 to help the scalp as well. I took this on vacation with me and I used it every single day to protect my hair and color from damaging UV rays and to help protect it from being in the water so much. Overall, I didn't notice this doing a whole lot, but my color didn't fade at all! I think this is just an extra form of protection to the hair and I'm all about that!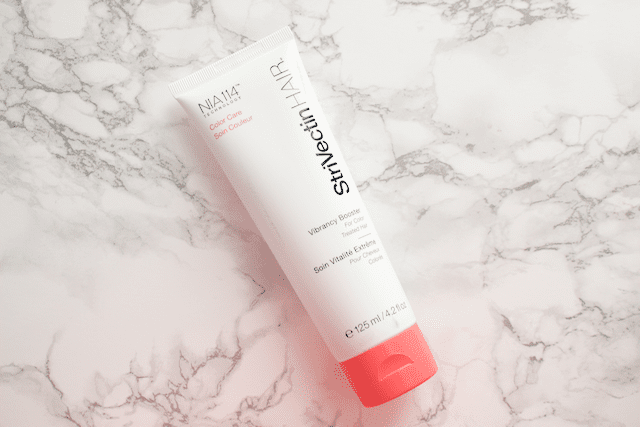 The last product from the StriVectin Color Care line is their Vibrancy Booster ($27.00/4/2oz). This product is one that you use one to two times a week, after shampooing and conditioning your hair. The Vibrancy Booster helps to strengthen and moisturize the hair. It also helps to smooth the hair and improve the shine. Just like the rest of the products, it features the NIA-114, but it also includes a Revitaglaze Complex that shields hair from UV damage and helps improve the smoothness and shine of the hair. It also has Camellia Sinensis Leaf Extract and Sunflower Seed Extract which both work to again protect the hair from UV damage, water aggression and help protect against free radicals. I use this about once a week and when I do use it, I notice that my hair seems much shinier than before and a lot smoother.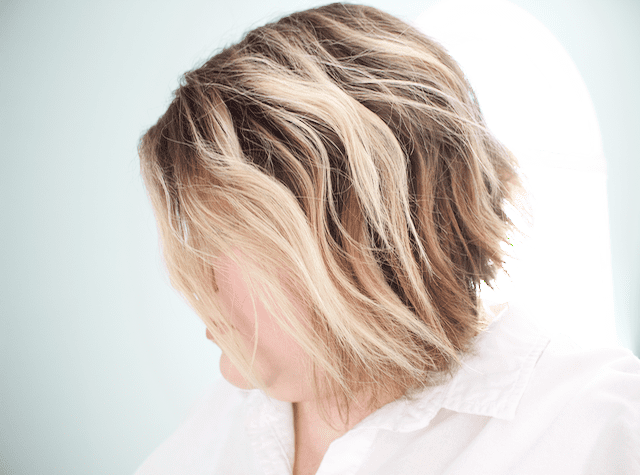 Overall, I've been really impressed with this Hair Care line from StriVectin. They put a lot of research into their products and that's something that I appreciate. I color my hair and have Hi-Lights, so I need all of the help I can get to make my color look better and not fade as quickly!. Also, anything that helps my color seem more radiant and shiny is a product that I for sure want to be using.
If using a Color Care product line isn't something you need than perhaps their Max Volume or Ultimate Repair product lines would be better suited for your hair type. Overall, I'm super impressed with what I've tried so far from the StriVectin Hair line and I can't wait to try more!
Shop The Post