I joined the ladies from The Beauty And Fashion Blog Community for their #2104SkinCare Blog Hop! This time we are talking about our Skin Care routines! I'm going to talk about mine, but make sure you visit the other members listed below and read their posts also! I'm really curious to see what everyone else is using!
In this post I'm going to talk about my Skin Care Routine. BE WARNED!! This is probably going to be a lengthy post, but I will hopefully give you some information on products that work for me and my skin type. Skin Care for me is an ever-changing routine. I'm not that girl who uses the same skin care routine every day. It changes based on what my skin is doing and what products I'm currently testing and reviewing for the blog. However, there are a few staples that I use consistently. The way I use the products that I'm going to list below, might not work for everyone, but they work great for my skin and that's all that matters to me. For me, skin care is all about trial and error. Finding what works best for YOUR skin type.
Items that I HAVE to have and consider them to be my Must-Have Products:
Shiseido The Makeup Facial Cotton ($9.50 for around 165 cotton pads)
These are my go-to products to remove my eye makeup and to apply toner,etc. At first I was like NO WAY am I splurging on designer cotton pads, but I caved in and I tried them on a whim one day. I'm so glad that I did. They actually contain 15-20 sheets of 100% textile cotton to make one cotton pad. I love these because unlike most drug store cotton rounds or cotton balls, they don't leave behind bits of cotton all over my face. When I'm trying to remove waterproof makeup, they don't leave cotton pieces all over my eyes and eyelashes. You can use these to apply toners and they really do dispense the product nicely on the skin because the cotton actually helps to release the product and not just soak it all in. You can also use these to apply cleanser and remove it. They are totally safe to put under water and they still won't fall apart. I've also used those for removing nail polish. They are soft, wonderful and I'll never stop using them. I compared the price to what I'd pay for a bag of products at a drugstore and to be honest, I would pay around $3.99 for 80 cotton rounds (that are horrible). So, really it's not that much more. I'm also working on a dupe for these as I've recently been told about a company that is supposed to have the same exact item for cheaper (we'll see). You can purchase these at Nordstrom and Sephora stores or at Shiseido counters.
Clarisonic Cleansing Brush (price varies)
I don't care which brush you choose (I use the Clarisonic Mia 2), these brushes are fantastic and will change your skin. They feature sonic technology that will will help loosen dirt and impurities that are in your skin. It will also help the skincare products that you are putting onto your skin be much better absorbed. I know that the prices are high, but they are very splurge worthy. I find that QVC sometimes has them available on easy pay if that helps anyone!! I use different brush heads depending on what my skin is doing at the moment. Right now I'm using the deep pore cleansing brush.
Boots Expert Sensitive Gentle Refreshing Toner (under $5)
This product works wonders for me. It's been called a "dupe" for Bioderma (not sure how I feel about that, but..) and tons of beauty bloggers love and go on and on about this product. I've reviewed it before and I still love it. I use it to take off some of my makeup before I cleanse my skin and I love to use this as an eye makeup remover. I've gone through several bottles. Plus, it's under $5!! It's available at Target and by clicking the link I used above.
Dr. Dennis Gross Alpha Beta Peel Pads ($82.00)
Hand down my #1 Must Have product for getting glowing, clear skin. I started using this while attending an event and I haven't stopped since. It's an easy 2 step process that leaves my skin brighter, less red, my pores smaller and just an overall healthy looking appearance. They are a tad bit pricy, but if you were to get peels at the spa, you'd be spending way more than this. I love this product and consider it my number one go to product for having healthy looking skin. I have seen this in Sephora and Nordstrom stores and I've even seen smaller sample boxes available for purchase. i've reviewed them before, read that post here.
So now we know at least four products I consider MUST HAVE products for my skincare routine. Now let's take a look at my actual routine:
AM Routine:
My daily morning routine varies by what I've done the night before. If I've used a very hydrating mask or treatment, I might not wash my face. Some days I don't use a heavy moisturizer, but instead opt for a Tinted Moisturizer or BB Cream. Like I said..it varies, BUT this is the routine I've been following lately.
1. IF I do wash my skin, I have been loving the  Dr. Dennis Gross All-In-One Cleanser with Toner. It's a cleanser that not only cleanses skin, but also tones the skin and helps keep it soothed. It  contains a moisture locking phospholipids and antioxidants and botanicals. I apply this to DRY skin for 10 seconds for dry skin (30 seconds if you have oily skin) and then rinse. It doesn't make my skin feel stripped or dry and it removes my makeup perfectly. I LOVE this cleanser. ($30.00 Available online or at many stores like Sephora or Nordstrom)
-OR-
If I don't wash my skin I simply use a Shiseido Cotton Pad and use the Boots Expert Sensitive Gentle Toner and swipe across my face. I mostly do this if I used a treatment the night before and my skin is really moisturized and feels really good. It's very affordable and I get mine at Target. I swear by this product.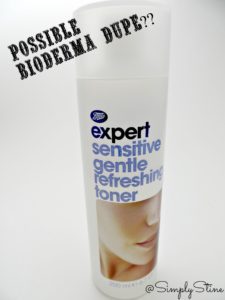 2. I next do my Dr. Dennis Gross Alpha Beta Peel Pad treatment. A quick 2-step process that leaves my skin feeling AMAZING! I do this daily every single AM. Takes less than five minutes.
3. I then use the Dr. Dennis Gross Ferulic Acid & Retinol Brightening Solution ($85.00). Another product that gives me crazy good results. Ferulic Acid and Retinol help reduce age spots, uneven skin tone, hormonal changes and blemish scars. It's been great for my dry skin and it's helped my uneven skin tone and my pores a lot. I only use this product in the AM, right after my peel.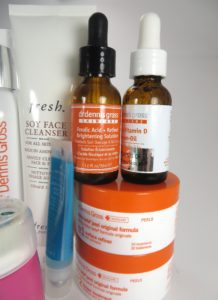 4. I use either the  Dr. Dennis Gross Active Vitamin D Serum Oil  -OR- I use the Acure Organics Argan Oil ($14.99). I love the Vitamin D Oil because it helps with dry flaky skin, enhances brightness and just leaves my skin feeling very moisturized and hydrated. I also love the Acure Organics Argan Oil. It contains Vitamin E Oil, fatty acids and proteins. It helps with fine lines and wrinkles, minimizes scars and stretch marks and helps with texture, tone and elasticity in the skin. You can use the Argan Oil for more than just your face. I use these oils throughout the week, not at the same time.
5. My moisturizer has been the Acure Organics Sensitive Facial Cream ($19.99). My skin has been somewhat dry and irritated lately and this moisturizer works great. It contains Organic Chamomile and Probiotics that help sooth the skin. It also has 1% Chlorella Growth Factor and Argan Stem Cells that help with anti-aging by providing cellular turnover and collagen support.   The only thing I don't like is the smell of  this product. It's not good, BUT it only lasts a few seconds. Other than that, it's creamy and rich, but doesn't make my skin feel too greasy. This is a great moisturizer for anyone who has red, irritated,dry skin.
6. SPF
7. I finish my routine off with Ole Henriksen's Ultime Lift Eye Gel Roll On ($28.00) I keep this product in the refrigerator because it feels so good and helps take away any puffiness I might have in my under eye area. It has a stainless steel roller for application and it feels great applied. This contains a lot of ingredients, but ones I notice the most are the Calendula and Aloe. It's not the most hydrating product I've ever used, but it works great for me.
PM Routine:
1. Remove makeup with Boots Expert Sensitive Gentle Refreshing Toner using my Shiseido Cotton Pad.
2. I use my Clarisonic at night time only. I found, for my skin, that if I used it two times a day, sometimes that a bit too much. I use a foaming cleanser at night and currently I've been using Fresh Soy Face Cleanser ($15-$38). It's a fantastic cleanser that is rich in amino acids and soy proteins and it features rosewater and cucumber extract. It also has borage seed oil that helps to nourish the skin. I LOVE the way this cleanser smells. It reminds me of fresh cucumbers. It lathers great and is perfect for using with my Clarisonic.
3. I use the Acure Organics Balancing Rose and Red Tea Toner ($15.99) at night. It's alcohol free and contains Organic Rose and Chamomile to calm the skin. It works great and I really enjoy using it.
4. I like to make sure my skin is very moisturized at night. So I have a routine I follow. Right now, every other night, I'm applying the Glam Glow ThirstyMud Hydrating Treatment ($69.00) to my skin and sleeping with it on. It's fantastic and I've recently reviewed it on the blog. I don't rinse it off and have found that when I wake up in the morning, my skin is soft and glowing. I probably won't keep up this routine as it starts getting warmer here, but for now, it works great. On the nights I don't use the Mask, I use the Acure Organics Argan Oil and their Sensitive Facial Cream at night.
5. I finish off my skincare routine at night by using the Olay Total Effects Tone Corrector Eye Treatment ($19.99) I picked this up recently only because I was in desperate need of an eye product that would help with my dark circles under my eyes. I swear they are horrible, people tell me I'm crazy. Whatever, they bother me!!! So I decided to give this a try and it was on sale. I do like it for adding a little bit of luminosity to my under eye area. It hasn't really made a total difference in my eye area yet, but I haven't used it for that long. I'll keep you informed!!
The only thing that I didn't really mention were other masks I use. Right now, I've been using a couple of Lush Fresh Face Masks. They are great for the skin, but they can only be purchased at their locations because they are made with fresh ingredients and can't be shipped. I have other masks, but I haven't really been using them a lot lately. My "mask" routine changes up with the season and what my skin is doing. When it comes to masks, there are both great drugstore and high end products out there. I'll be doing a separate post on this topic at another time. If you need any suggestions, feel free to contact me!
I also ALWAYS have a chapstick on hand. With all the lip colors I love to wear, they can sure dry out my lips. Right now I've been using the Taylor Street Soap Very Berry Luxury Lip Butter. It's so soft and smells so good! I love this lip butter because it really does feel like butter on my lips. It contains coconut oil, beeswax, organic cocoa butter, shea butter and vitamin e. It's so good for my lips and it only costs $3.50!! (I also love their whipped soaps and Sugar Scrubs!!) It's possibly the best lip butter I've ever used!
So there you have it. WOW! That's a lot of products. I'm not ashamed to admit that I use this many products because I make sure that I take care of my skin and this is the routine that works for me. I switch up my routine quite often, especially being that I'm a beauty blogger. I like to try different products and brands to share with you guys. If you ask me in two weeks if I'm using the same set of products, I'll probably tell you no. I encourage you to experiment with products and find ones that work for you. Stores like Sephora are fabulous at helping you with any questions you might have and they will provide you with samples to try! Even visiting makeup/skincare counters is a great idea and don't be afraid to ask for samples!! If you are fortunate enough to be able to visit a Spa, I'd suggest a good facial. They can do extractions and really clean up your skin for you. I know this isn't a luxury that everyone can afford, BUT, splurge if you can! They can take a look at your skin and make some good recommendations on products that would be a good fit for you (spa AND drugstore products).
Thanks for reading this really LONG post! I hope products I've talked about might be a good fit for you. If you have any questions about anything you're using or a certain skin issue you are having, let me know! I worked in the spa for many years and I've worked with a lot of products. It's taken me a long time to really understand and figure out my skin. Just remember, it doesn't happen over night!
Here are the other Blog's to visit!! I can't wait to take a look at their routines!
BLOG LINK LIST:
If you're a blogger and are interested in joining this group, visit The Beauty and Fashion Blog Community for more information and to requite an invite!