I can't believe that October is here already! That means it's time for my September Beauty Favorites.  This month I had no issues picking out my favorites because I honestly haven't been using much.  Our family had a little bit of a family emergency and we've been spending lots of time at the hospital recently. So, my makeup and skincare has been simple.  I have been to two events recently where I have picked up some new items and some of those will be featured below. The other products are some oldies but goodies I can't seem to stop using.  Take a look!
1. YSL Touche Eclat
$40.00
I will be honest that when I first picked up the YSL Touche Eclat, I wasn't greatly impressed. I paid $40.00 for it and just couldn't understand what all of the hype was about. So I went back to the YSL Counter and asked some questions.  First of all, I got the wrong color. BOO!!! So I needed the number 1. It's a highlighter and I was using it more of a concealer (because that's what I kept seeing people use it for).  So I used my normal concealer and used this to highlight and brighten up areas of my face.  Couldn't live without this product.  It's a must have for sure! Just a few clicks and the product comes out.  I swipe it all over the areas I want to highlight and I blend in with either a brush or my fingers.  Voila! Perfection!
2.  YSL Rouge Pur Couture Glossy Stain #29 Rose Forreau
$34.00
This was gifted to me when I attended an event at Nordstrom.  I LOVE this product for two reasons.  One, it smells like roses and I just love that. Makes me feel so feminine. Two, it is basically a stain and a gloss all in one product. Easiest way to use this product is to use the dome tipped applicator (which I love) and apply a light layer and let it dry on the lips.  Then, apply a second layer by gently blotting it onto the lips. You'll have a lip look that will stay for hours.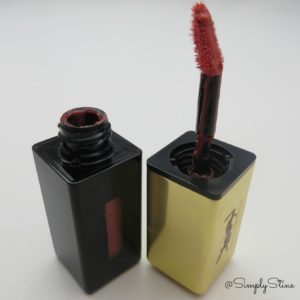 3.  Shisedo Facial Cotton
$9.50
I picked these up at the Shisedo counter, but these are available at Sephora stores also.  I had looked at them before, but couldn't make myself take the plunge and buy them.  They are $9.50, but after using them for a while, they are worth the money.  That's my personal opinion and here's why.  I used to struggle with removing waterproof makeup because the cheap cotton rounds at the store would break up and I'd be left with cotton all over my face.  I hated it! Plus, some of those cotton rounds were so rough.  That's why I love the Shisedo Facial Cotton.  They are soft and very thick.  I can use one most of the time to remove most of my makeup (unless I'm wearing a lot) and they are fantastic for taking off nail polish.
4.  Kat Von D Lock-It Tattoo Foundation
$34.00
I previously did a blog post on this foundation, click here to read it. I'm still reaching for it and using it often.  It gives me a great flawless, matte coverage and I feel like it's probably the heaviest as far as coverage that I own or use. Like I said in my previous post, you have to blend in this makeup fast! It's matte so it dries and sets into the skin very quickly.  Great for anyone wanting to cover and hide any discoloration or redness on their skin.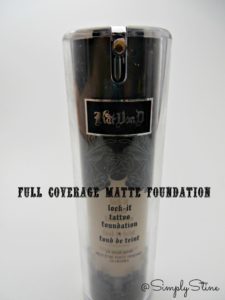 5.  NARS Radiant Creamy Concealer
$28.00
I went to a grand opening event at Sephora recently and the NARS makeup artist used this on me and I fell in love instantly.  This is the best concealer I have used in a long time.  I'm a lover of MAC and Chanel when it comes to concealers, but this one blows them away! It's creamy and thick, but it blends into the skin so nicely.  It is build able and  you can achieve a nice medium to full coverage with this product.  I love that this doesn't sink into any lines and wrinkles and it hydrates the area also! I use this in the shade vanilla and it's perfect.  I could probably go down one shade if I wanted to lighten up my under eye area a bit.  I also got a sample sent to me of the NARS Radiant Creamy Foundation and I am loving it just as much.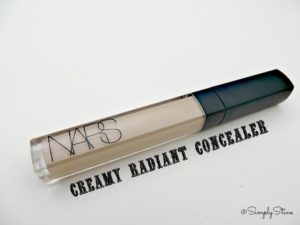 6.  Dr. Dennis Gross Alpha Peel Extra Strength Formula
$86.00
I recently attended a Beauty Trend Event at Nordstrom and I got to indulge myself in a little pampering from one of Nordstrom's Estheticians and I am so glad I sat in her chair.  She was very knowledgeable about the line and uses it herself. She gave me a professional peel, but encouraged me to follow up with the at home version of the peel.  I have used this before, a LONG time ago.  I remember the peel were in two jars.  I like that they made the wipes into a packet because they don't dry out as easy and I can travel with them. These peel pads are a two step process. Use step one for two minutes and then finish with step two. They reduce my pore size, brighten my complexion, smooth my skin and help with any fine lines or wrinkles. It has made a dramatic difference in my skin and I'm going to make sure I never stop using them.  The good thing about the Dr. Dennis Gross Pads are that they can be used with your current skincare routine.  Just be sure to add an SPF, which you should already be using.  I can't wait to try some of the other Dr. Dennis Gross products because I've been so ecstatic with my results.  (I did purchase these myself, these were not a gift. I know that the price point is HIGH, but it will last you an entire month.  That's less than $3.00 a day for a peel.) I was and have been able to tolerate the extra strength version of this, but if you need to get the original version, it's available here also.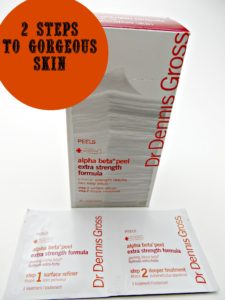 7.  Boots Expert Sensitive Gentle Refreshing Toner
$4.19 (and up)
I can have a hard time finding a good makeup remover, especially for waterproof makeup. Sometimes they cause my eyes to water like crazy or they break me out or leave me too oily. I've heard so many people talk about Bioderma, but it isn't easy to find in the states.  You can order it on Amazon, but that's about it and probably the easiest. The other bad problem with Bioderma is the price! It's about $32.00 and up! Compare that to  only spending $4.00 for Boots and that sounds like a big price difference to me! So what exactly does this product do? I use it in the morning all over my face.  It takes off any dirt that I have on my skin, but it's not super harsh or anything.  The main ingredient in this toner is water and there aren't any harsh alcohols or anything that would irritate my skin.  I also use this at night to remove my makeup. It takes off waterproof makeup perfectly and then I follow up using a normal cleanser with my Clarisonic.  This Boots product works great!! I've been using it every day and will continue to use it.  I've actually stopped using my Kiehl's toners that i use to love because this one works so great and is so inexpensive.  It's available at Target and online.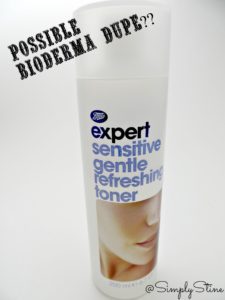 So there you have it! Those are my September Beauty Favorites.  I was really pleased with this month's selection and I can't wait to see what I have in store for you for October. Have you used any products that you were really loving this month? Let me know!!