Summer is coming to an end, which means my skin goes from being super oily to being crazy sensitive/dry, which makes my redness on my face worse. During Fall/Winter I wear a heavier, more full coverage foundation. I've used several that I've liked in the past, but I wanted to try something different. I was in Sephora recently and picked up the Kat Von D Lock-It Tattoo Foundation.  I have looked at this foundation so many times, but just never picked it up.  For some reason, It grabbed my attention more this time, ha!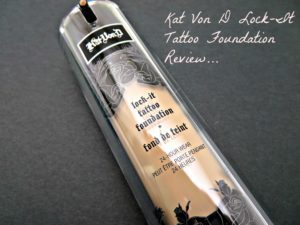 The packaging on this foundation is gorgeous! I'm going to go ahead and say that it's probably the most beautiful foundation that I own. It's got the gothic, romantic vibe going on and it's just perfect.  There is a lot of detailing to her products and this one is a definite eye catcher.
It's a pump style foundation, which is great because I happen to hate foundations that you have to pour out.  I always seem to waste so much product that way.  This is a very full coverage foundation and a little bit of this product goes a long way! I used one pump and that was almost too much for my entire face. There are 19 different shades available and I THOUGHT I got the lightest shade (because it was the lightest shade carried at my store), but turns out there is one shade lighter carried online! I picked up the shade Light 44, but I'm wondering if I might not need the Light 42 as my "tan" slowly fades away. I'm not sure why they don't carry all of the shades in the store, but I"m guessing they only carry the most popular ones.  Just an FYI.
As far as application, I have used this with a Beauty Blender, A Stippling Brush and a regular Foundation Brush.  I happen to really love the way the Beauty Blender applies this foundation, but all of the brushes worked great.  It's just a matter of personal preference.  I have heard others say that they preferred applying this with their fingers because it seemed to warm up the product a bit, but I haven't tried that way yet. This is a Matte finish.  It is going to apply a little bit different than regular foundations.  If you are used to a dewy type foundation, this will feel totally different.  You need to work with it quickly and really buff it into the skin.  It might feel heavy at first, but after I applied it, I really didn't feel like I was wearing that much makeup.  I read that some people felt like this sat on top of their skin.  I didn't have that problem, but I'd say use a primer if you normally have issues with that.
This foundation is GREAT! If I had to rate it out of 5, I'd give it at least a 4.5! It covers my imperfections (and does great to hide my pores) without any trouble, it's great on my sometimes oily skin and it really is a matte finish.  I think that the price tag of $34.00 (Bottle is 1 oz) is a reasonable price to pay for such a great product.   My only tiny complaint is that it's supposed to be fragrance-free, but it definitely has a scent to it.  The scent reminds me of Makeup Forever Foundation. It goes away after a while, but at first, it's noticeable. Nothing major. I also feel like while it does give me a great coverage, towards the end of the day I did get a little bit shiny.  Nothing horrible, but still enough.
This can be purchased at any Sephora store or online on their website.
To purchase the brushes I used (Foundation and Stippling), click here to visit the Sigma Beauty Website.