I apologize if my June reading list influences your wallet because the books that I read last month were incredible. If you're needing some Summer beach type reads, I've got you covered!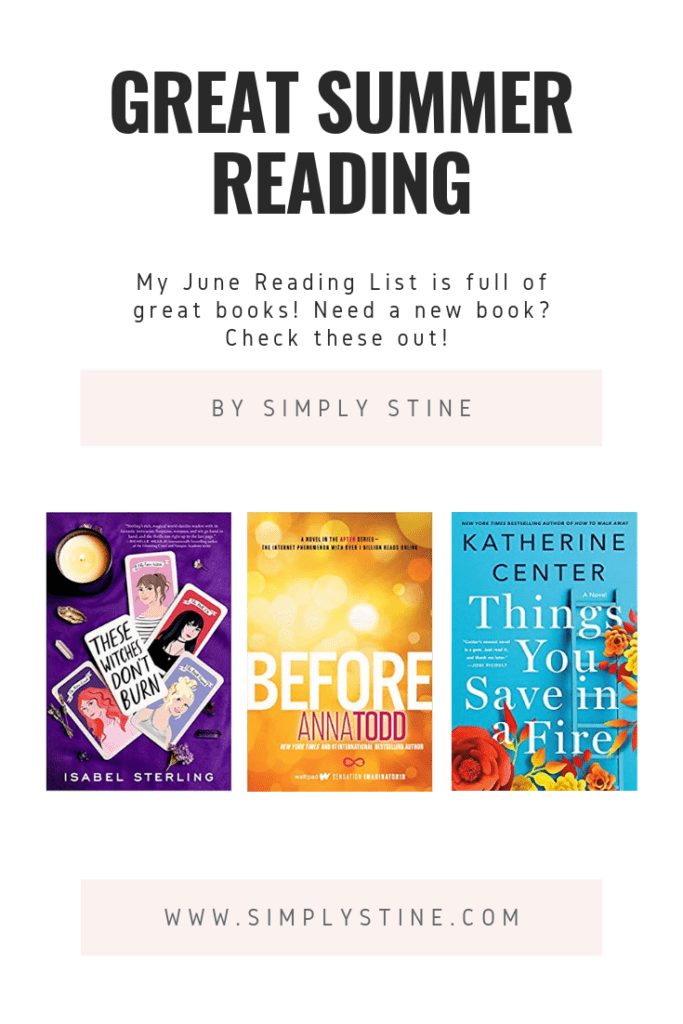 My May 2019 reading list was filled with quite a few books. Did you miss that post? Get caught up now! There are some amazing books that I covered in that post.
June Reading List
Have you read The After Series by Anna Todd yet? I finished the last book in the Hardin/Tessa series and honestly, I already miss their crazy complicated love story. The last book is called Before (The After Series) and at first, I didn't think I really enjoyed it. I actually went back into the book and re-read a bit and realized that I absolutely loved this book. This series took me by complete surprise and I'm so glad I got sucked into it!
Before (The After Series)
This brings an end to the story of Hardin and Tessa and I'm so sad about that! There's just something about this couple that I love reading about.
If you haven't read this series yet, don't read this book! You need to read the other books to understand this all. This is book number five in the series.
I think we all learned a lot about Hardin and Tessa, but this book also ties up nicely a lot of other characters in the storyline as well.
Things You Save in a Fire was a NetGalley book that I was able to read before it was released. It's my first experience reading a book from Katherine Center and it won't be my last!
Columbine by Dave Cullen is the July Book Club pick by Influenced The Podcast. I remember Columbine like it was yesterday, but after reading this book, I realized we really didn't know the whole story.
Columbine
This book was incredibly intense and sometimes I simply had to walk away from it. I knew it would be a hard read, but parts of it really got to me even more than I expected.
Dave Cullen's style of writing and the way he told this story really made all of the difference. I felt like he didn't include too much of the details, but he told just enough of the story to get his point across.
You'll learn about the boys behind the shootings and what could have possibly caused all of this to happen. Surprise, there wasn't just one thing. If you're into mental health and what can go wrong if left untreated, this book is for you.
I especially enjoyed learning about the people who died that day and also the survivors and their stories. They were so powerful. Overall, I think you'll really love this book and I know it's a hard read, but there is a lot to learn from reading about this story!
These Witches Don't Burn by Isabel Sterling is another book I was able to receive an advanced copy of thanks to NetGalley. It has already been released and I think that this is a great book! One thing I loved about it was that it was a storyline featuring witches and two gay main characters! I'm all about reading more LBGTQ friendly authors!
These Witches Don't Burn
I really enjoyed this book a lot more than I thought I would! It involves magic and I didn't guess the ending too easily. This is a cliffhanger, so don't' expect this to be wrapped up quickly in one book. I can't wait for the next one!
If you're looking for a book that features a lesbian romance as the main love story of the book, then this is your book! If you're into magic as well, you'll love this even more! I finished this book pretty quickly but found that I enjoyed the author's style of writing.
Books That Are On My To-Read (or listen to) List
Books that have caught my attention that I'm wanting to add to my to-be-read pile? The list is never-ending, BUT I'm trying to narrow it down. I'm also giving Audible a try again! I'm still listneing to Where The Crawdads Sing and so far I'm loving the audiobook!
The Escape Room by Megan Goldin I won an advanced copy of this book and so far, I've read a lot of good reviews about this book. Again, Thrillers aren't normally my thing, but after reading Lock Every Door, I'm trying to read more of them! This book will be released July 30th!
City of Girls by Elizabeth Gilbert I got an audiobook of this from my Audible account! Right now, if you subscribe to Audible, you get two free books! Even if you don't keep your membership, you still get to keep those books.
Red, White & Royal Blue by Casey McQuiston Another LBGTQ friendly book! Plus, I'm all about anything that has to do with Royals! I also got this on Audible! I plan to listen to this one when I hit the beach in a few weeks!
I want to know what books you've finished reading! Is there anything that is a must-read?!? Let me know.
Shop My June Reading List