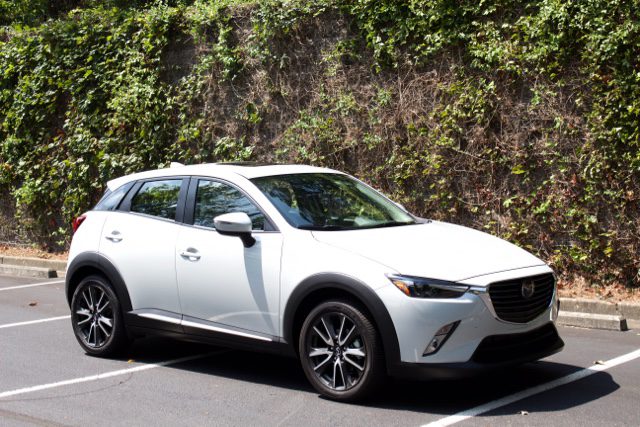 The 2016 Mazda CX-3 is a Subcompact Crossover Vehicle, but don't let that fool you into thinking that you'll have to do without performance or a feeling of spaciousness. When I first saw it, I honestly didn't know what to make of it. Did I like it? Did I not like it? I honestly didn't know, but as that saying goes; Don't judge a book by it's cover….right?!?! Now let's talk about the important stuff!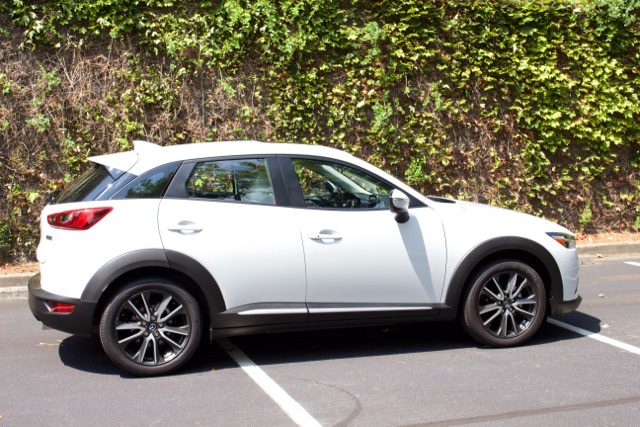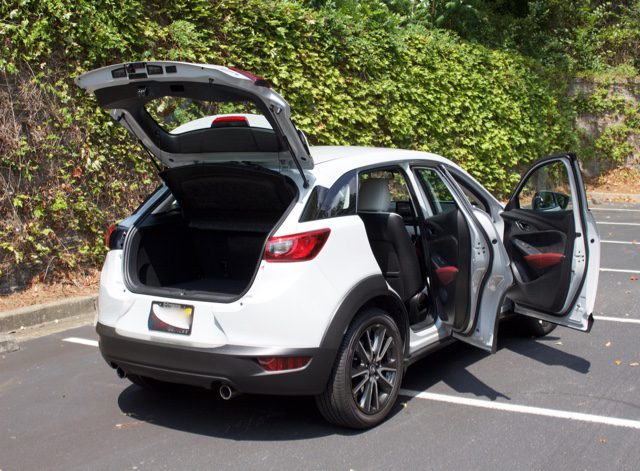 The 2016 Mazda CX-3 retails for $28,010.00, but that's priced for a Grand Touring level (aka it can be cheaper). As far as MPG, it averages about 29/35 mpg and that's actually pretty accurate as to what I got driving it. Even driving it around town, I was so impressed with getting about 30mpg. That's a huge difference from what my SUV gives me, which is normally around 16-17mpg. Price and how much money I'm going to be spending on gas are two very important factors that I consider when purchasing a vehicle.
The inside is the really impressive part in my opinion! Can we talk about this black and white with hints of maroon/red (the maroon/red was called Parchment). It's like the interior was made for me! Also, on the doors there are touches of Suede mixed in with the leather. It's amazing what little touches like that can do to a vehicle and make it stand out! This 2016 Mazda CX-3 features Push-Button Start, Air Conditioning with Pollen Filter (Hello, I live in the Pollen Capital of the world!!!!!) 60/40 Fold-Down Rear Seats, Mazda Connect INFOTAINMENT, Bose Surround Sound with 7 Speakers, Leather Trimmed Seats, Heated Seats, Power-Sliding Glass Moonroof, Sirius XM Satellite Radio, Navigation, Active Driving Display, Bluetooth Hands-Free Phone and Audio, Cruise Control, Tonneau Cover for the back and seriously, sooooo much more. This car is really loaded with options and it makes driving it that much easier!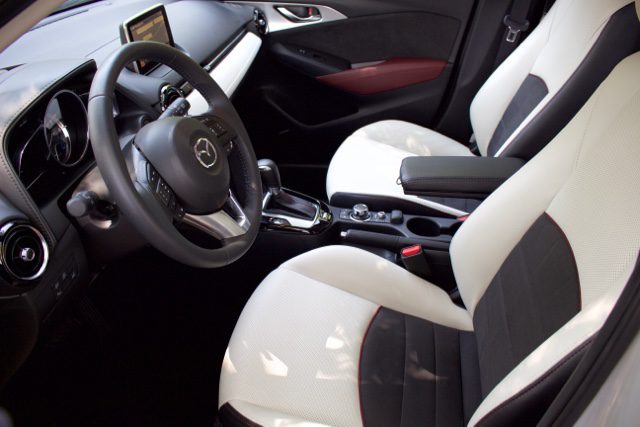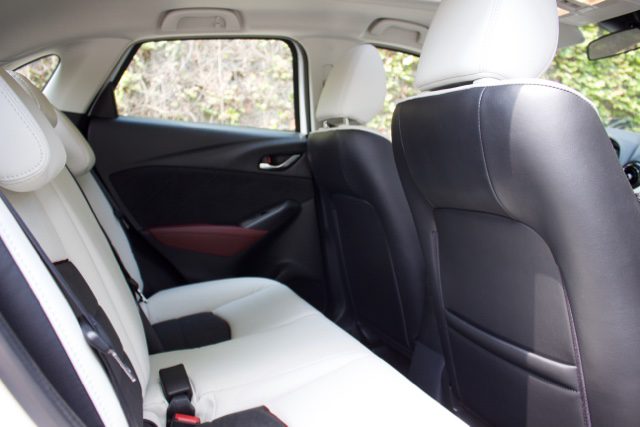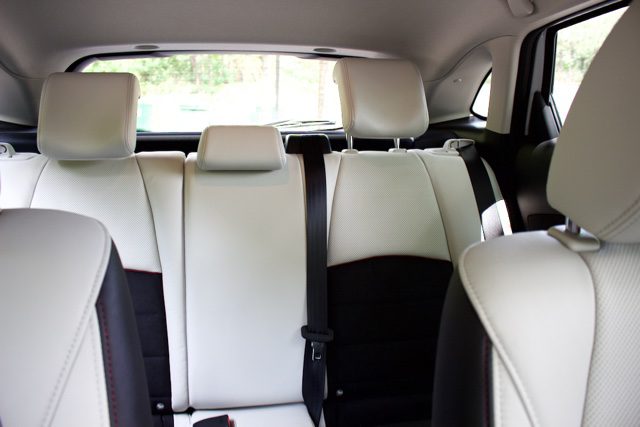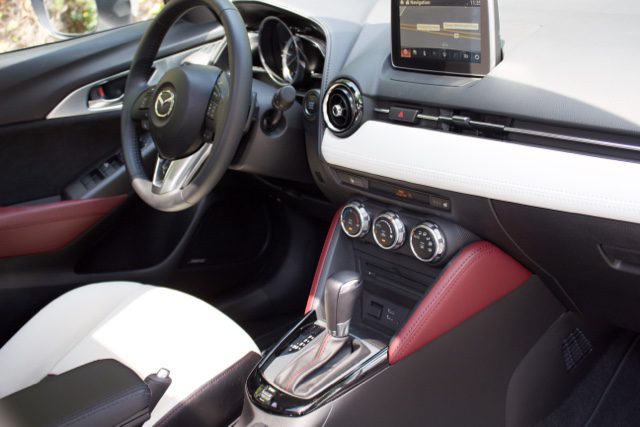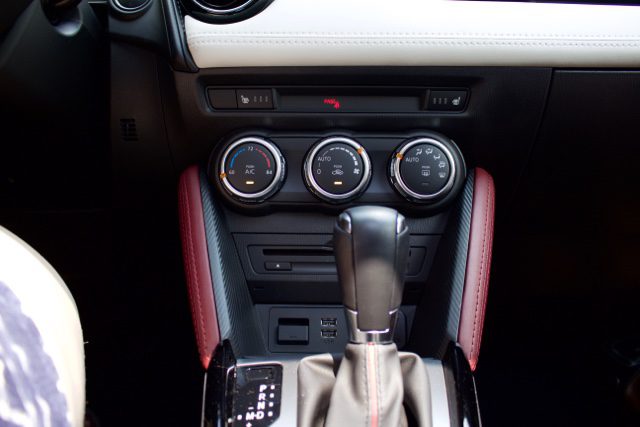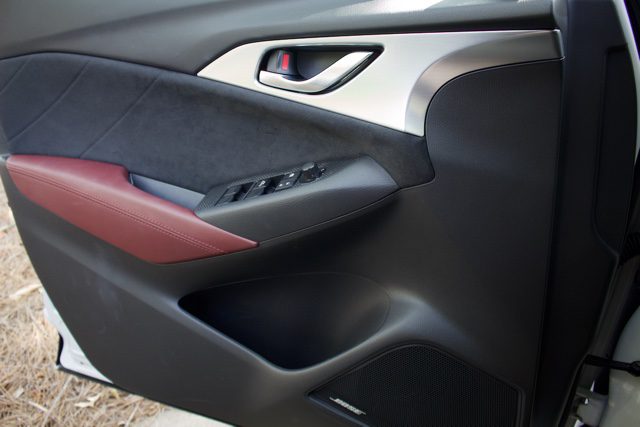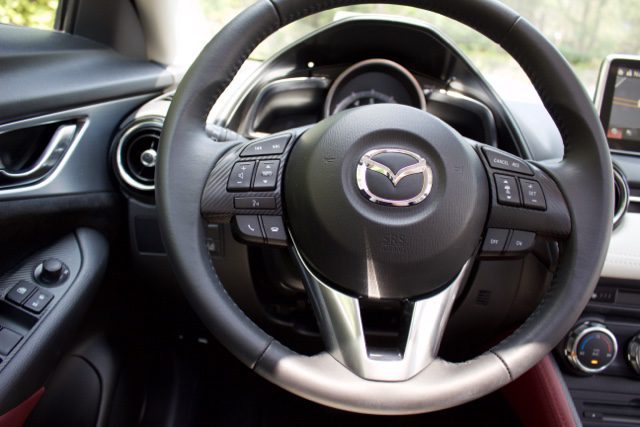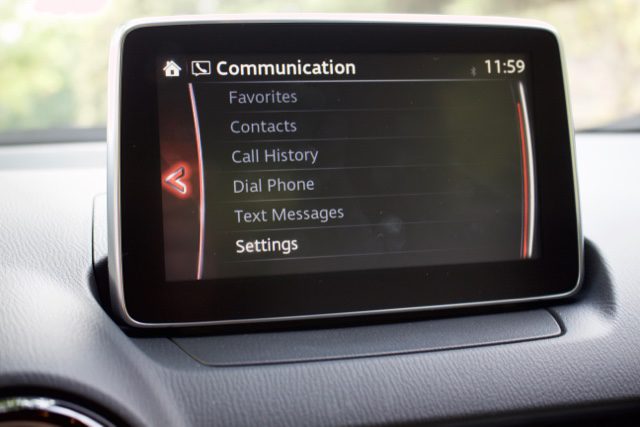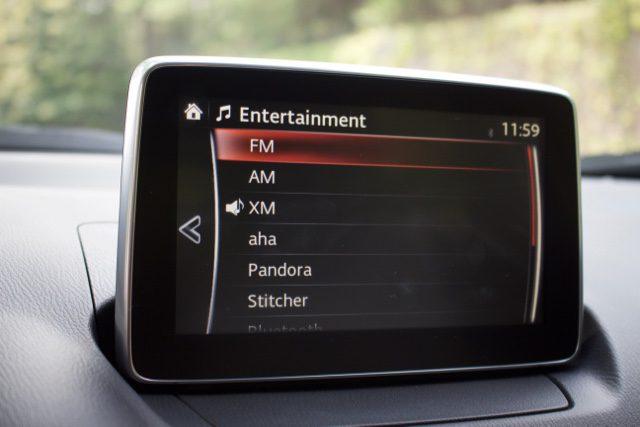 Let's talk about the exterior of the car. The 2016 Mazda CX-3 that I had was the Grand Touring FWD in the color Ceramic Metallic. Pretty simple in my opinion, but I liked the color. While it's simple looking, it's still sporty enough to impress! It features 18- inch Alloy Aluminum Wheels, LED Headlights/Fog Lights/Tail Lights, Adaptive Front Lighting System, Blind Spot Monitoring, Rear Roofline Spoiler, Rearview Camera and Power Door Locks. Enough bells and whistles to please even the pickiest.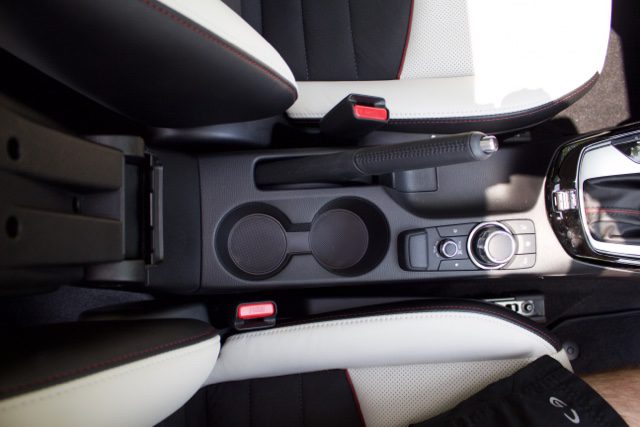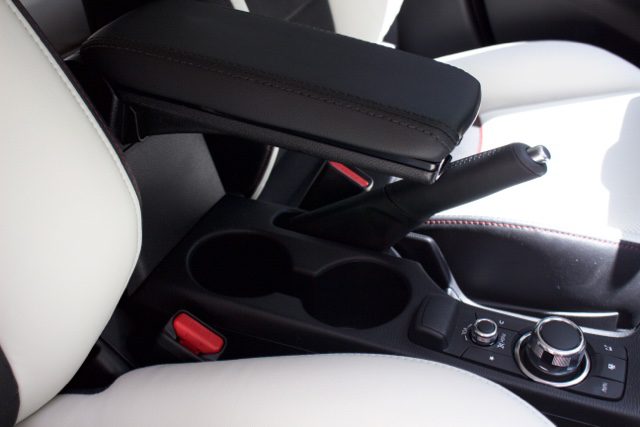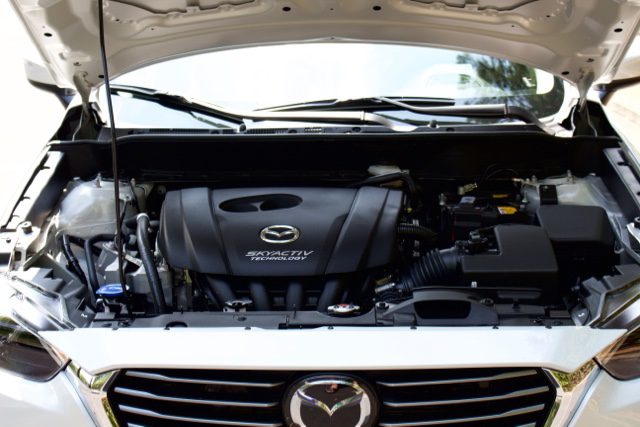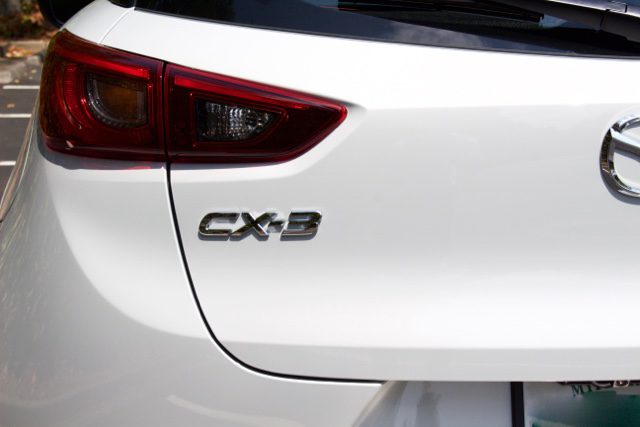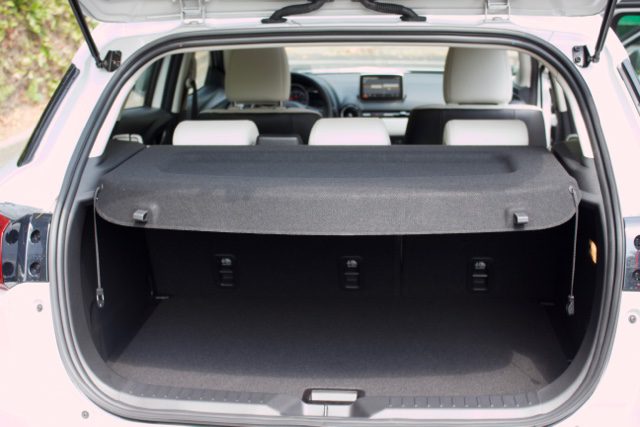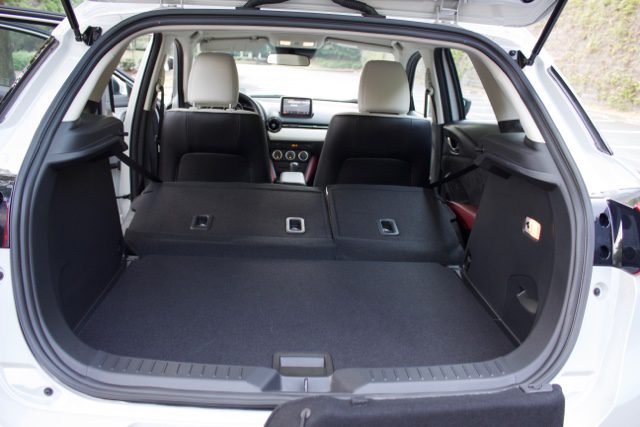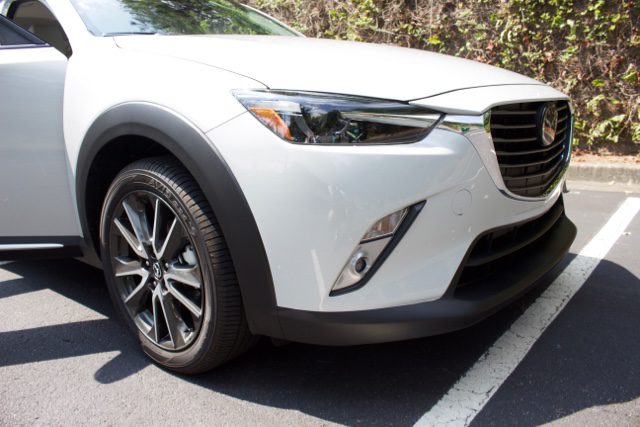 [line]
There will always be things that I love about a car and things that I don't really like. Here are some #SimplyStine PROS and CONS!!!
PROS:
This was seriously a lot of fun to drive! I loved the size of it and how it handled on the road
The interior was amazing and the color options really were my style!
MPG was AHHHH-MAZING
This is the perfect car for zipping around the city, or for even taking it on a road trip!
Plenty of ways to charge your phone,etc.
There was a little compartment in the back that lifted up just enough to hide something like a purse, etc. Plus, the cover in the back was a nice touch!
Great price point for being under $30,000
I was pleasantly surprised by how roomy this was! Could someone very tall fit in the back, probably not, but there was more room than it appeared to have! I did grocery shopping and everything and had no problem! Especially with the seats folding down! Lots of room!
Great sound system
Everything in the 2016 Mazda CX-3 is where it should be and it's so easy to change the radio, make a call or find an address.
I loved the Active Driving Display which showed how fast I was driving and my distance to the vehicle in front of me
CONS:
It had manual seats! I know, I know, but I feel like if I have all of the other bells and whistles, I should have automatic seats?!?
I didn't like the arm rest. It was awkward where it's positioned, especially when you have drinks in the car. I wasn't a fan
[line]
Overall, I'd give this 9 out of 10 stars! It really, really impressed me so much more than I thought it would because honestly, I never thought I'd be happy in a Subcompact Crossover vehicle! It really gave me a lot to think about when it comes to choosing my next vehicle! It was also a fun vehicle to drive! I often don't like the feeling of driving an SUV, oddly enough that's the type of vehicle that I own. HA! They sometimes seem big and bulky. I like the feeling of driving a car that hugs the curves in the road, that has the pick-up that I need sometimes when driving in this crazy Atlanta traffic and something that's not like driving a bus around town! Basically the 2016 Mazda CX-3 was everything I'd want, minus a few areas that could be improved! It was easy to drive and never felt too big, but also not too small. It was the perfect sized vehicle for me and at a great price point! Go, Mazda.

This car was provided for me for review purposes only thanks to DriveShop!