Have you ever found a product or brand that you just couldn't stop talking about? Paula's Choice is my brand.  About 5 years ago I was sent a few samples of their 2% BHA Lotion and I have been hooked ever since.
For those who do not know about Paula's Choice skincare, the brand was created by Paula Begoun after years of skincare research and her own struggles with skin issues. Paula discovered that many ingredients in her skincare routine were actually harmful to the skin. She wanted to create a line of products that worked without all of the irritants that are in most skincare products on the market today. Products from Paula's Choice are all clinically proven non irritating, fragrance free, dye free, and they do not test on animals. Every product is 100% guaranteed to work for your skin type and concerns. The customer service of this company has been nothing short but amazing. If you have any questions or concerns I urge you to contact them! They can help you put together a skin care routine that will work for you.
The Skin Recovery System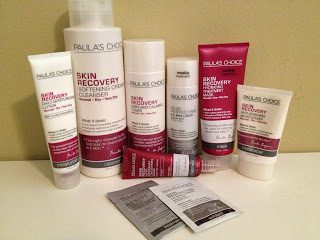 Recently my skin has become very dry, patchy, and almost thick feeling. Part of this is due to the harsh Chicago weather, but I am sure my turning 30 last year didn't help! I had been using some of the Resist line, but I decided it was time to switch it up for winter. I ordered the Skin Recovery System with a small switch in exfoliants (I prefer a BHA to AHA due to my large pores and occasional breakouts). It only took a few days before I saw completely different skin. My skin is no longer dry and patchy. The redness is almost completely gone from my cheeks. It has been a few weeks now and my skin feels amazing. 
The system includes a cleanser, toner, exfoliant, serum, SPF day moisturizer, night moisturizer, and a mask. The Skin Recovery cleanser is so gentle and creamy. I have found that I can remove all of my eye makeup with zero stinging using just this cleanser and a cloth. Follow with the Skin Recovery Toner. Then apply your exfoliant. I switch between the 2% Skin Perfecting Liquid and the Lotion version. This will keep your skin fresh and your pores clear. Now comes my favorite! The Skin Recovery Super Antioxident Serum. This serum will turn your dry skin into velvet! You can get right up around your eyes as well, so there is no reason to use a seperate eye cream. Then you follow with either the Skin Recovery SPF day moisturizer or the basic cream without an SPF for night. As a weekly treat or for added moisture she has created a wonderful, soothing mask. I love to wear this while I sleep when I am in desperate need of moisture. I wake up glowing!
This may sound like a huge skincare routine, but I am able to follow it all in less than 3 minutes each morning and night. It is so easy! I encourage anyone who is still looking for the perfect skincare routine to check out the website, contact customer service, and find your perfect routine. You can purchase Paula's Choice products at the official
Paula's Choice
 website.
I purchased these products with my own money and this review is 100% my personal experience with this brand.