Butter London is finally available at Sephora (I know for a fact online, not sure about stores! Will update with that information).  I've raved about this product before and this line has some of my favorite nail coors.  They have a fantastic line of colors available, they cover great, they don't chip on me and they last.  I love their waterless pedicure system in a review I did before (click here to read it.)  So what are you waiting for?? Go check it out!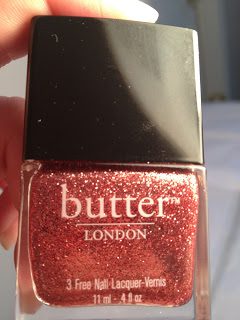 What Sephora has to say:
What it is:
A heavily pigmented, high-fashion nail lacquer. 
What it does:
Created backstage at fashion week for the world's top fashion designers, butter LONDON's lacquers are rich in color, giving your nails a look that is more vibrant.  
What it is formulated WITHOUT:
– Parabens
– Sulfates
– Synthetic Fragrances
– Petrochemicals
– Phthalates
– GMOs
– Triclosan 
What else you need to know:
Butter LONDON is a new-era design house, creating extraordinary moments in color by living on the inside edge of fashion. It is a "three-free" company, meaning products are free of formaldehyde, toluene, and DBP. For brilliant results, one should always use butter LONDON™ lacquers with the corresponding butter LONDON base and topcoats.  When used together, the products last significantly longer than a typical manicure.