A while back I posted about my new Tria Laser Hair Remover.  Since then, it's been getting a lot of use!  I make sure to stay on schedule with it and use it every two weeks.  I wanted to do a little follow up since it's been almost two months since I've been using it.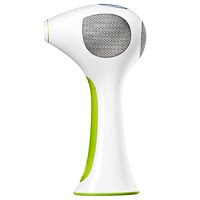 I'm happy to say that I'm seeing results!  I've only used this on my face, underarms and legs so far and every area is not hair free just yet, but I definitely don't have to shave as often and my hair isn't as noticeable or as much.  I have went from being scared and nervous and only using it on level 1-2, to now using it at 3-4 and sometimes 5.  Yes, the higher you go the more it can hurt, but it doesn't always hurt!  The "pain" you feel would be almost like getting snapped by a rubber band and that's even possibly more painful.
Am I happy my hubby spent the money on this for me?  You bet!  With consistent use and keeping myself on schedule with the treatments, I am positive that I will be hair free soon!  For anyone considering this as an option for themselves, I encourage you to read up on it before purchasing and feel free to send me any questions you might have.  I'd be more than happy to answer them for you.
Here's the website for Tria: http://www.triabeauty.com