If you haven't jumped on the bandwagon when it comes to makeup sponges, you are seriously missing out! I had always been a long time fan of makeup brushes, but the first time I tried the Beauty Blender, it changed my entire makeup game! A lot of time has passed and I've tried countless other makeup sponges, but not all are created equal. Here are three of my favorites and I'll explain why I like each of them and how I use them differently.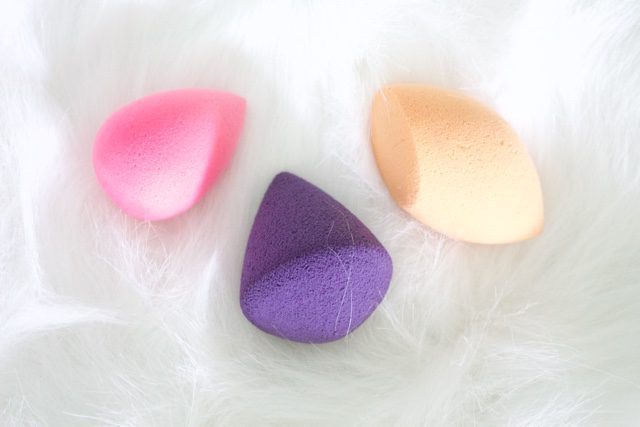 The Original Beauty Blender / Tarte Quickie Blending Sponge / Real Techniques Miracle Complexion Sponge
The Original Beauty Blender
This is kind of like the OG of Makeup Sponges. It's the one that everyone tries to replicate because it's that good! It's the perfect size to evenly blend out foundations, concealers and even to use for highlighting and contouring products as well. It just buffs the product into the skin to where the makeup just looks so natural on the face. This is my absolute favorite makeup sponge for sure. Just make sure to get it wet and squeeze out the excess water. When I want a really light look for makeup, this is my go-to makeup sponge. When I want to buff out my blush a little bit more, or make sure there aren't any harsh edges-this is the makeup sponge I use. Want that concealer to blend into the skin flawlessly? This is the makeup sponge I use. You get the picture.
The Good: Everything about this is amazing. Honestly!
The Bad: Notta! Maybe the price?!?
The Price: $20.00
Tarte Quickie Blending Sponge
This is a new purchase for me and I've been using it for about two weeks or so now. It's much different than the other two sponges I have listed in this post. Tarte's Quickie Blending Sponge is much firmer in texture. You know that "bounce" you get from the Beauty Blender? You won't see the same type of bounce with this product because it's so dense! You don't need to wet it like the other makeup sponges, but you can and I normally do. When I use this makeup sponge, I like to use this for heavier applications. This is a really good makeup sponge for concealing. Whether that be acne spots or under the eyes, it works great to really pack that product into place. Sometimes if I'm needing to add just a little bit more blush to the face, or put on a cream highlight or something, I'll use this dry just to make sure it doesn't mess with my foundation when I'm applying the product. One tip with this sponge, make sure to apply the product onto the face before using this because I've found that it really eats up the product if you apply it directly to the sponge first!
The Good: I like this for really packing on product
The Bad: I don't like to use this for lighter looks
The Price: $16.00
Real Techniques Miracle Complexion Sponge
This makeup sponge is so, so good for the money. It's meant to be used damp, just like the beauty blender, but this makeup sponge from Real Techniques is a little bit different in shape. One end of the makeup sponge is very similar to The Original Beauty Blender. That makes it great for blending in foundations, concealers, etc. The other end is shaped flat, which makes it perfect for applying contour colors (especially if they are cream) highlights and for baking under your eyes. That fat surface is one of the reasons I absolutely love this makeup sponge because I can multi-task when using this. It's also great for getting into those hard to reach areas like around your nose! Plus, it's so dang affordable! Seriously, did you see that price tag!?!? Psst..they are releasing three new makeup sponges at the end of August, so I'll be reviewing those for sure!
The Good: I love that it's dual-ended and is amazing on the budget!
The Bad: Notta
The Price: $6.99
[line]
Some tips on cleansing and replacing your makeup sponges:
I clean mine daily (or at least twice a week if I'm being lazy) and I prefer using a solid cleansing bar. Either one from Beauty Blender or a Dove Cleansing Bar! I just get the sponges wet and rub it on the soap. Work it in my hands for a bit and rinse until the water is clear! In a perfect world, I'd replace these ever three months or so, but when the budget is tight, I stretch it for as long as possible. #truth
[line]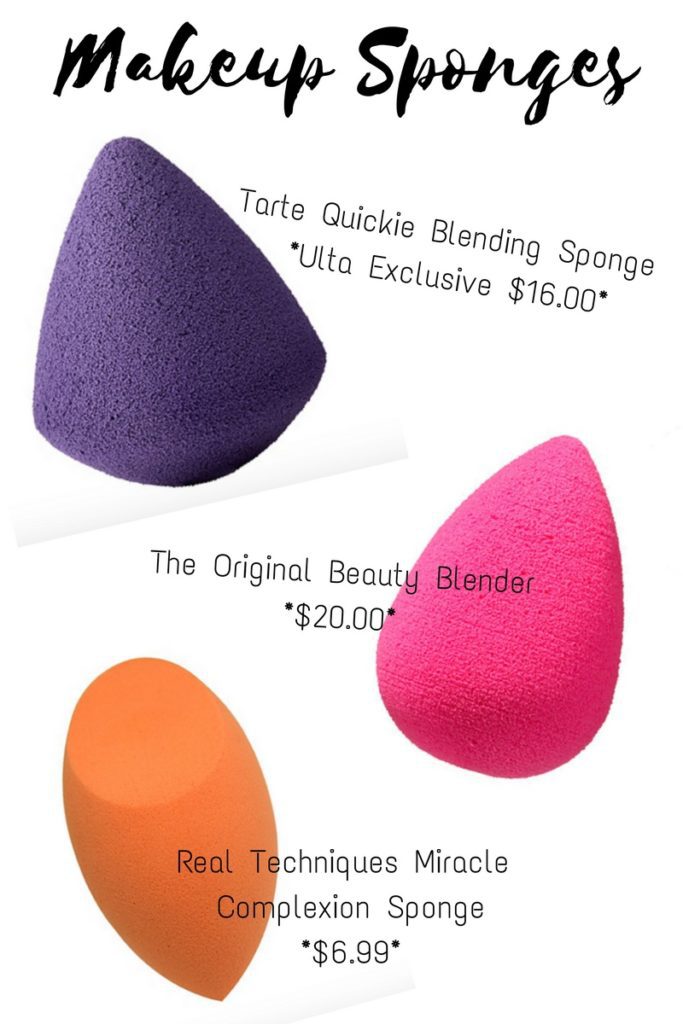 If you haven't tried a makeup sponge in your routine, you must! Take my advice and make your makeup routine easier for you! Play around with some different ones and see what one you like best! Have you used one that you love that I haven't mentioned? Let me know in the comments below!

[show_shopthepost_widget id="1830868″]

Affiliate Links included