This post has been sponsored by the PRIMP Network. All opinions are my own.
Imagine this if you will.  You sit down at your desk and a mirror instantly recognizes you by voice or by facial recognition. It responds back, "Hello there" and talks to you about the local weather in your area. It pops up with current news and asks you if you'd like to complete your skincare analysis for the day. You can instantly tell if your skin is dehydrated or if you're experiencing any issues with fine lines, wrinkles, dark spots and even redness. What if I told you that you could also keep track of your current skincare routine and that the same exact mirror also acted as a vanity with lighting. Welcome to smarter, more innovative beauty.  Meet HiMirror Plus and HiSkin: Your Two-In-One Mirror and Beauty Consultant.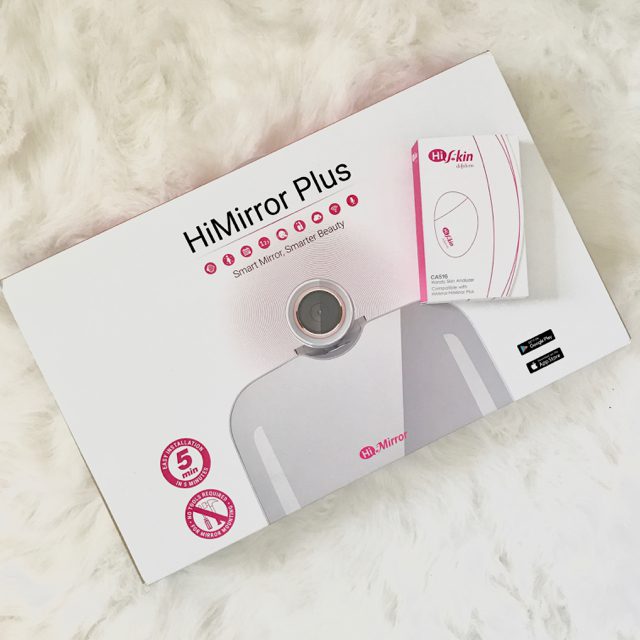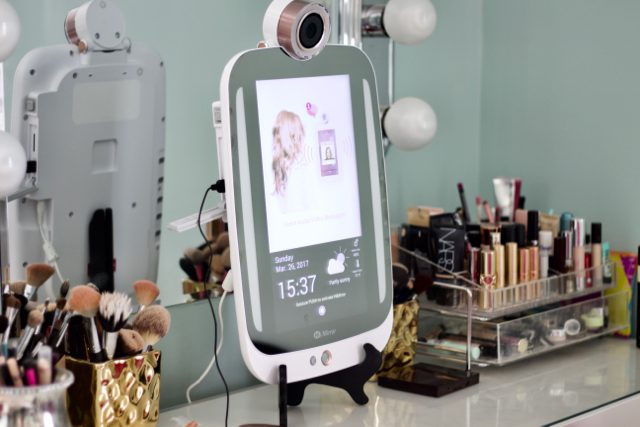 Here you can see that I have my HiMirror and HiSkin on my actual makeup desk
I have to admit that I'm constantly impressed with today's technology and being a huge skincare enthusiast and someone who's constantly working with new skincare products, the HiMirror Plus is right up my alley.  Why? Because I love knowing what's going on with my skincare and it does so much!  Now don't get me wrong, I understand that a lot of you might find this unnecessary and I totally get that. This is a high-tech, personal beauty system that basically acts as an at-home beauty and skincare consultant.  This isn't going to be something just anyone is interested in. However, I wanted to review the HiMirror Plus and HiSkin because I know so many of my readers are that interested in skincare and skincare technology.  So trust me, I won't be offended if you read this and don't find this beneficial for you.  I get it! 
Meet HiMirror Plus
The HiMirror Plus comes with an HD camera that takes high-quality images of your face so it can analyze those images to determine information about your skin.  I'm talking fine lines and wrinkles, dark spots, redness, pore sizes and so on.  This mirror is basically an at-home skincare consultant.  The way I approach this mirror is that since I'm constantly trying a lot of new skincare (since I'm a Blogger) this tells me how my skin is doing daily and I have a record of my improvements and set-backs.  I can input beauty products into the system by using the My Beauty Box and it will keep track of my current skincare routine and products.  I can pull up my product information at anytime and see what beauty products I'm using and make notes on the products and review them.  This data is always anonymous and secure.  Psst, I love that since there is a camera on this and it is getting images and such, you have the ability to close the camera lens yourself. Ensuring no images or anything will be taken, etc.
This is not a touchscreen device.  Thought it was, huh?!? I did, too! I can imagine if we were touching the screen over and over, there would be fingerprints all over it.  So the HiMirror Plus works by using hand gestures.  Yikes, these are not super easy to understand at first, but the more you use the device, the more you WILL understand it.  Trust me, it just takes time and practice.  My biggest piece of advice is to keep your hands closed, fingers together and when gesturing to go up or down, almost make a circle like movement.  It just works better.  They recently did an update that gives a little more direction as to what direction to move your hand (left, right, up or down) and that was so helpful.  I think the gestures are the most confusing thing to figure out on the HiMirror at first.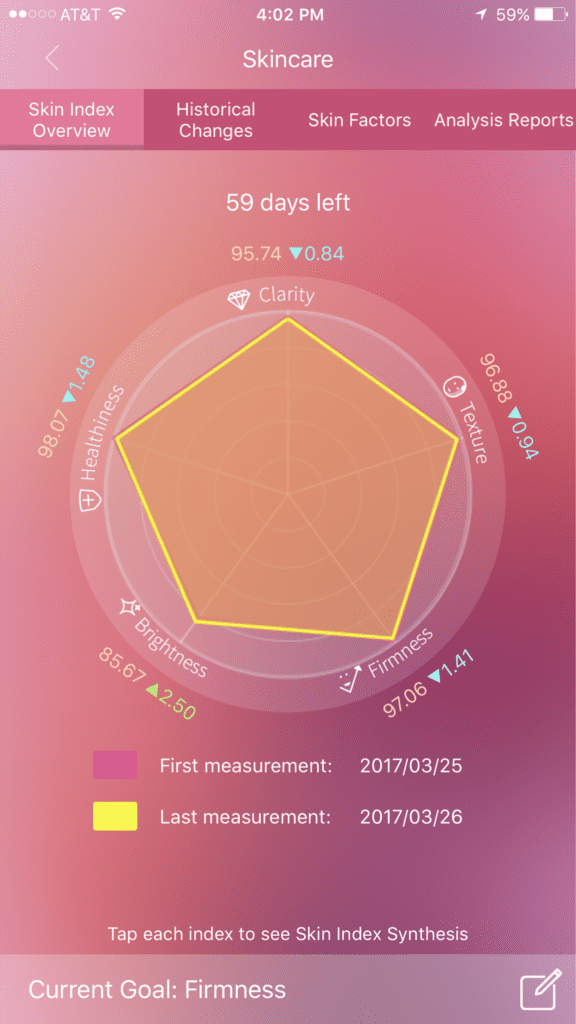 Set skincare goals for a 60 day period!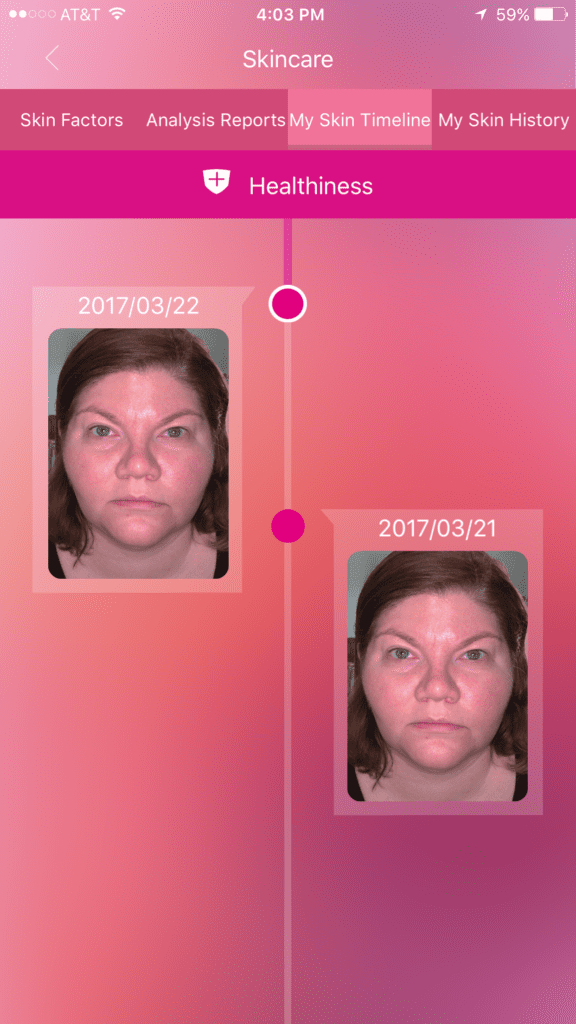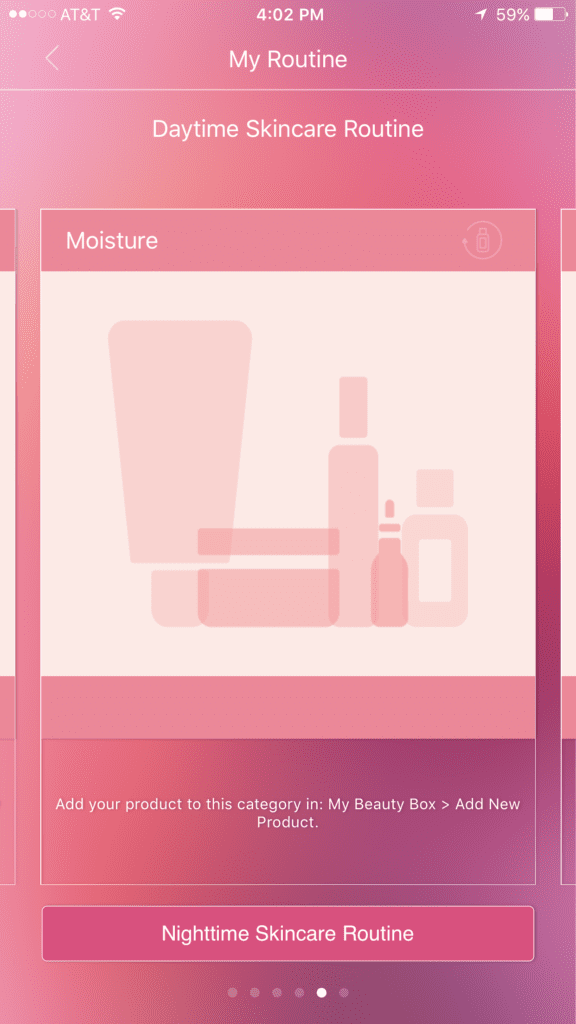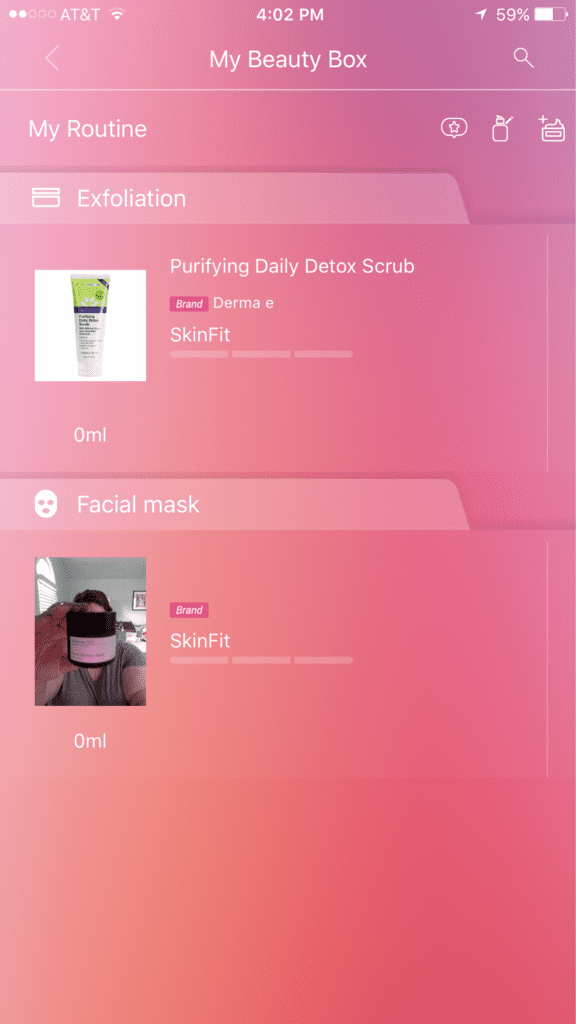 Meet HiSkin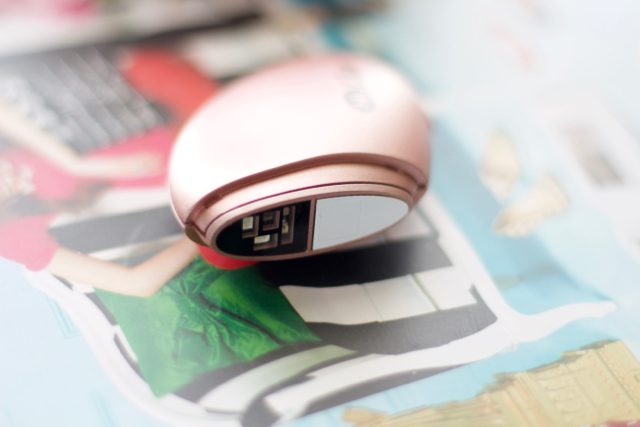 In addition to the HiMirror Plus, you can also use the HiSkin.  This little device, which can be used on-the-go as a portable skincare analysis tool.  Travel a lot? No problem!  You can take this with you and use the app to check your skin.  This will check for hydration levels in the skin and your melanin levels.  I charge mine by keeping it plugged into the mirror when I'm not using it. To use HiSkin, you simply place this device on the areas it asks (and you click, you'll see a reading on the screen) and it performs a skincare analysis to go along with what the HiMirror Plus is detecting. I love seeing my hydration levels in my skin!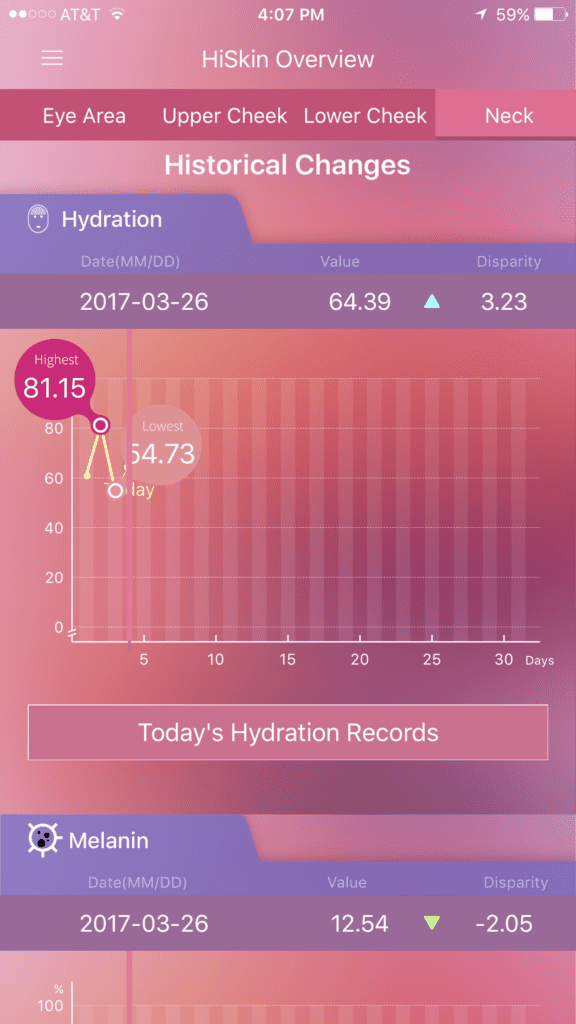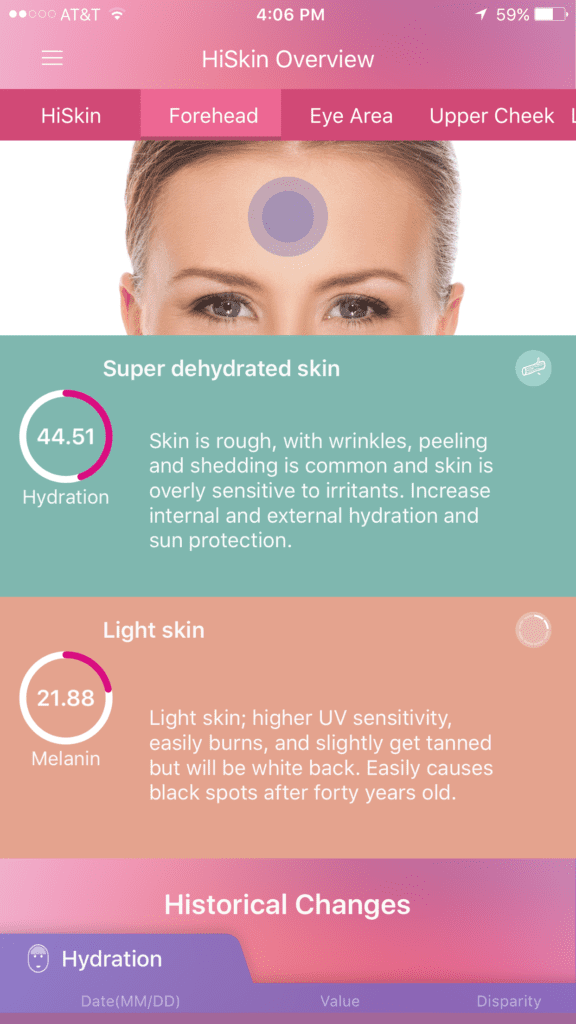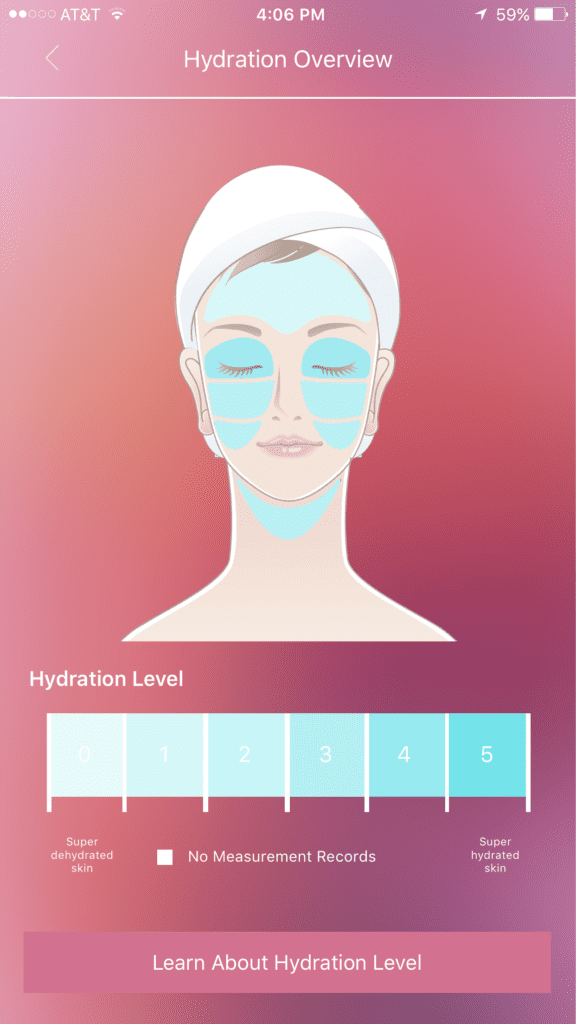 HiMirror also doubles up as a personal beauty system complete with lighting
Not only does the HiMirror Plus and HiSkin analyze my skincare, but this is also a mirror that can change lighting.  How many times have you left your house and swore your makeup looked perfect, only to discover that the moment you got into the restaurant, it looked totally different?  Lighting plays such a HUGE role in how our skin looks and with the HiMirror Plus, you have the ability to change the lighting to specific settings (restaurant, indoor, outdoors, sunset, etc) so you have an idea of what your makeup will look like in that type of lighting.  I can't say that the lighting is super bright, honestly, I wish it was just a bit brighter, but still, it's awesome to see the difference and it has helped with how I apply products based on where I'm going.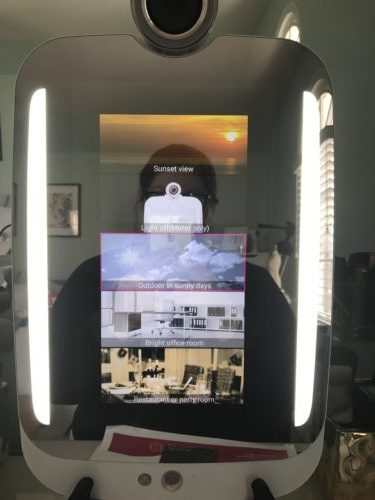 To switch to different lighting options, just move your hands in gestures up and down to get to the correct one.  These aren't super bright, so don't expect tons of light.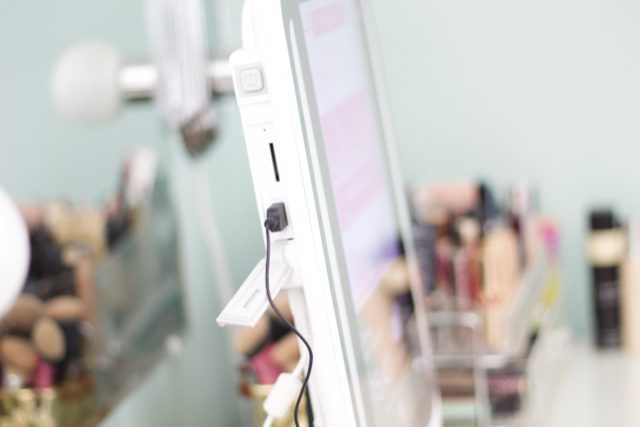 This is where I plug in my HiSkin and you can see there is additional space for an SD Card. The Power button is right on the top.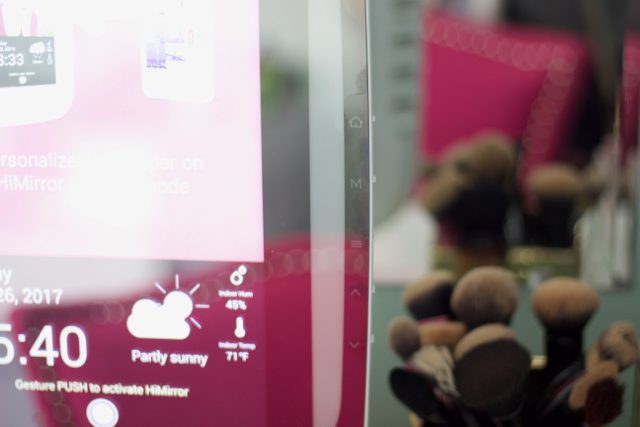 See those markings on the side? Those are where you'll touch (on the back, you can see the buttons on the next picture) to turn on the mirror and adjust the lighting, volume, etc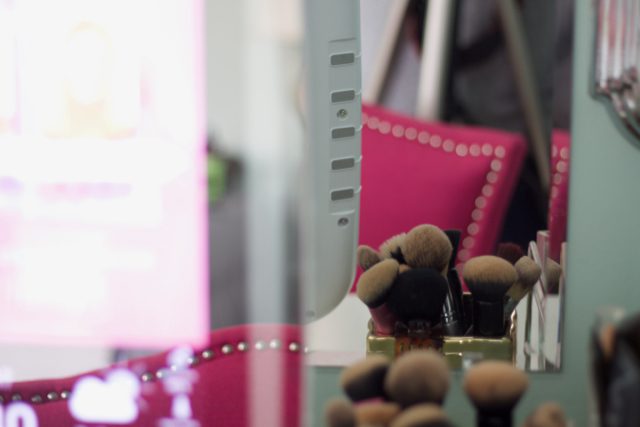 Just simply touch and these responsive buttons will turn up the brightness, volume, etc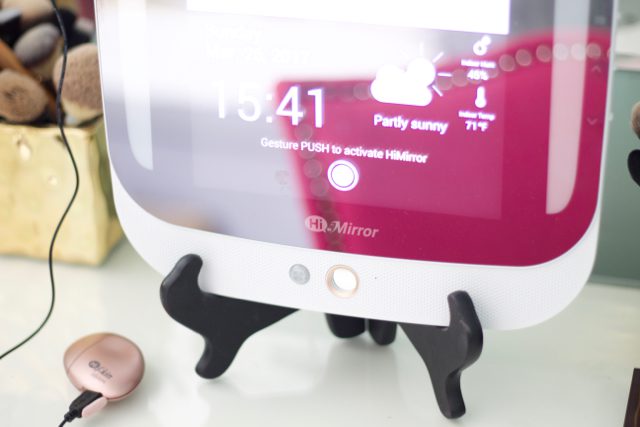 The HiMirror Plus will tell you the indoor temperate and humidity level of the room, as well as the time
My HiMirror Plus Analysis Reports
Oh man, these pictures are not me looking my best, ha!  I always look like I have total #RBF but I wanted to show you what my analysis looked like.  To get you skincare analysis, you will line up your eyes and the center of your face to the guidelines that you see on screen and you'll "push" (aka gesture in) to take a picture.  Then the HiMirror Plus will analyze what it finds in the picture.  I warned you, these pictures are me looking "so happy."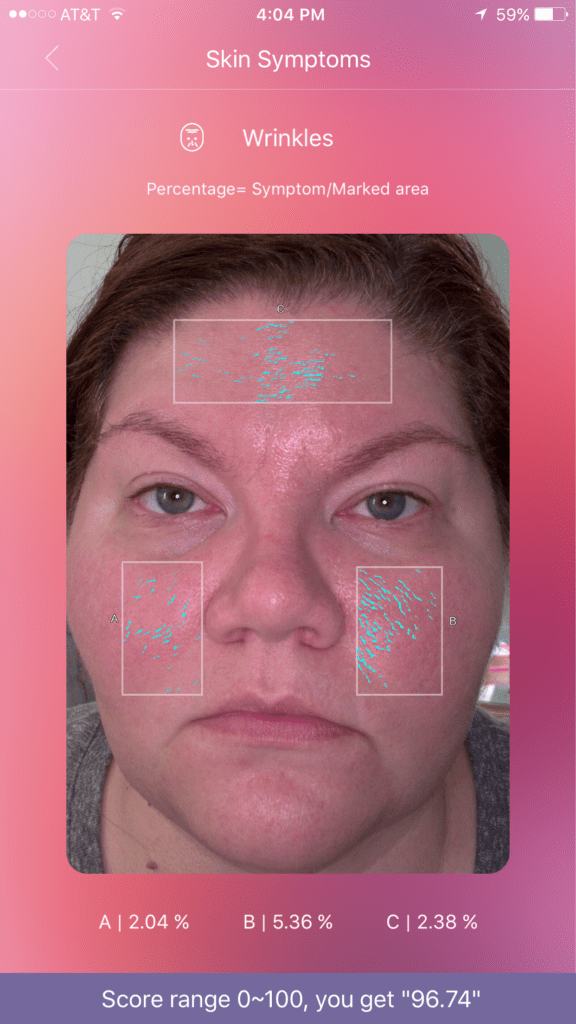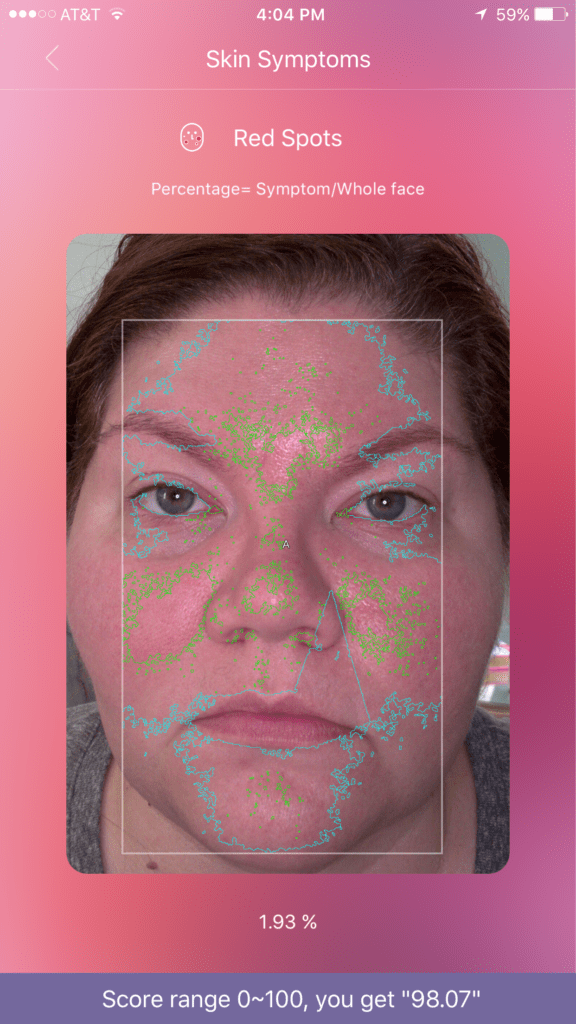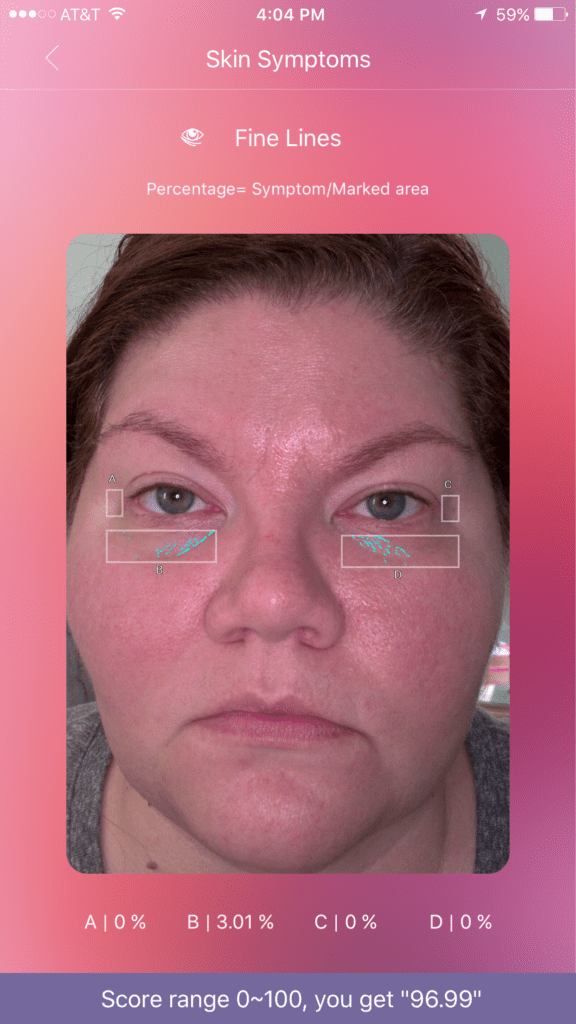 As you can see, with each analysis comes a grade.  I LOVE that it shows me the actual areas that it finds issues with and each area gets it's own "grade."  This is super helpful and I look forward to seeing how my skin changes each time.  There were areas with fine lines and wrinkles that I wasn't even thinking were an issue, so this was indeed a big wake up call for me to amp up that anti-aging routine.
The PROS and CONS of the HiMirror Plus/HiSkin
I will be 100% honest with you here and admit that I don't think the HiMirrorPlus is perfect.  There are some issues that I'm going to discuss in a bit that I find a bit frustrating, BUT I think that a lot of this can be on my end as well.  I want to use this more so I understand the HiMirror Plus better.  This is innovative technology and with that comes some trial and errors.  I've seen other reviews on the older version of this mirror, the HiMirror and there are some differences between the models.  Based on those reviews and from my own experience of using the HiMirror Plus, I think that they've made some amazing improvements to the device.  However, there are some issues I'd like for them to get worked out.
PROS:
Can set skincare goals based on issues it detects in your skincare analysis (firmness, brightness, clarity, etc)
Not only is this a mirror, but it's also a personal beauty system
I love that I can see my history of my skincare analysis and keep track of the products I'm using and if they're working
The facial recognition and the fact that it knows my voice makes me feel more secure using something like this
The APP's for both the HiMirror Plus and the HiSkin are great ways to get your information quickly, without having to be at the mirror
You can change the wallpaper on your mirror if you'd like, just by using the HiMirror App
They provide everything you need to set up your device and hang it as well.  I didn't hang mine, instead I used a stand that I bought myself.  You can buy a stand on their website for $12.99.
I can quickly glance the news and read skincare tips.  You can see the weather forecast and it will give your information like reminding you to wear sunscreen, etc if the weather is showing high temperatures and sunshine.
Can create different profiles so numerous members of your household/friends can use this device and keep track of their history
Love that it gives each (eyes, neck, cheek, etc) area a score and you can see what areas it's finding issues in and the severity of the issue
CONS:
This must be used near an area that you can plug the mirror into.  It has to be plugged in to be able to use it.
I wish this was touch screen, but I get that there would be fingerprints all over it.  However, the gestures do take some getting used to.
The price point on this is not at an amount that everyone can afford, but it is advanced technology, so I understand that.
This will connect with Spotify, BUT I was never able to get mine to connect.  This could also be something that with time, I'd finally figure out.
This is not something you pull out of the box and immediately understand.  I wish it was that simple, but with something this innovative and this advanced, you must take time to learn how to use it properly to understand it all, again, especially the gestures.  I will say that they recently did an update that now shows you what direction to move your hand to get to the next page or go back, etc that was SUPER helpful!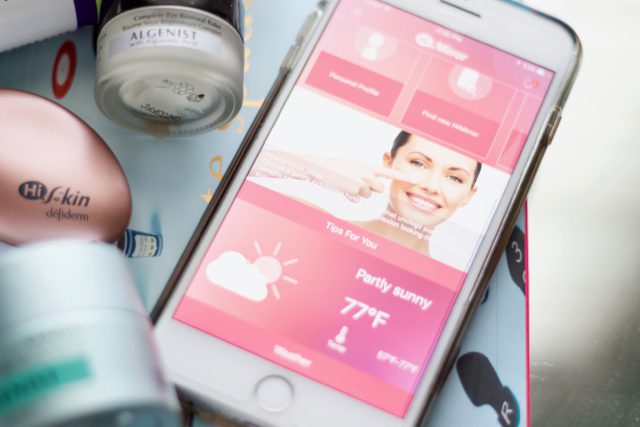 Helpful Tutorials for the HiMirror Plus and HiSkin and the differences with the other Model, HiMirror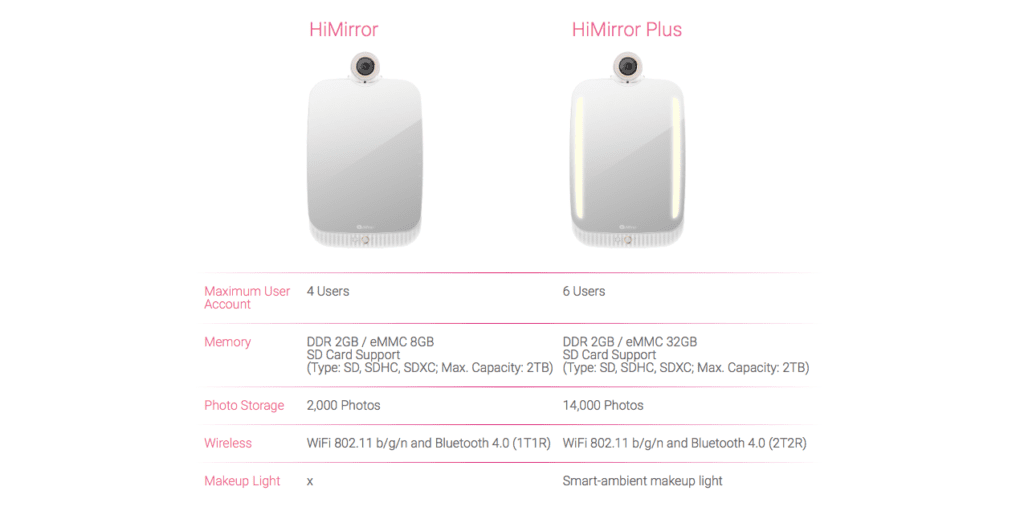 HiMirror Plus and HiSkin are basically your at-home (or on the go) personal beauty & health consultant and so far, I'm really pleased with what I see and I can't wait to see how much more this device improves with future upgrades and changes.  For those of you that are serious skincare junkies, you'll understand why this technology is so awesome! The fact that I can see if the products I'm using to correct issues and damage to my skin are working or not is amazing.  I plan to keep using the HirMirror and HiSkin to see what changes happen to my skin over the 60 days for the skincare goal that it put into place for me.  Skincare takes time to work on your skin and with a device like HiMirror and HiSkin, I can accurately keep track of my updates! I love that.
The HiMirror Plus can also be used along with their scale, which I didn't have, but it looks so interesting and seems like it would be very helpful if you're working on your fitness and overall health.  Want to purchase a HiMirror Plus or HiSkin? Use code SPRM6 to save 5% off your purchase. Below are the pricing information for each item I discussed:
HiMirror Plus $259.00/HiMirror $189.00
HiSkin $49.99